Home improvement contractors have to consider many variables before starting a renovation, remodeling project, or new kitchen build-out. For most projects, cabinetry is the biggest line item in the budget. While many contractors shop for cabinets at big-box stores and related supplies, they may not realize they're overlooking strong options elsewhere that can save them both time and money – and ensure they deliver the best possible project for their client's budget.
7 Things To Consider Before You Buy Cabinets At Big-Box Stores
Before buying kitchen cabinets at a big box store you'll want to know if you're purchasing the best cabinets for the money. You'll also want to consider your timeframe and if you'll have all of your materials on time, know the wood quality used in construction, get professional design help, use high-quality hinges and glides, understand the construction method used in each cabinet, and if it was built to maintain its shape and strength for 20+ years. 
1. First, find the best cabinets for the money. 
Every project has a budget.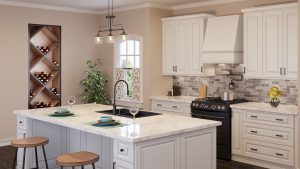 Good contractors strive to give homeowners their desired kitchen within that budget. Heading over to the big-box home supply store, they'll find most standard size, frameless kitchen cabinets priced at $4k – $10k with no bells and whistles. By contrast, comparable standard cabinetry from Cabinet Corp starts at $1900 for a 10′ x 10′ frameless kitchen layout. Even with accessories, your total cost for that 10'x10' layout comes out to less than $10K.
Do we have your attention? Big-box stores simply cannot compete with Cabinet Corp on price. We offer a complete selection of RTA (Ready To Assemble), Pre-Assembled, High-Quality, and Builder-Grade cabinets directly from our warehouse – at prices 40% below what you'll find at the big-box stores. 
2. Be sure you'll have all materials fulfilled at time of delivery. 
It's a familiar story: When you purchase items at a big box store or order from an online discount warehouse, you often find you're missing a screw, or hinge, or five of them, all necessary to complete the assembly.
This means you have to stop work to run to the local hardware or big-box store to pick up the missing parts. Often, these stores don't carry the exact part you are missing, so you improvise or order from the original manufacturer. Either way, lack of fulfillment wastes your time, delays the schedule and adds frustration to the project. 
When you work with Cabinet Corp, you are guaranteed 100% fulfillment on each order. We've surveyed contractors who buy from us. They tell us that while other suppliers typically fulfill only 80-90% of the necessary materials, our orders come in with 100%. This means that once you receive your cabinets, you'll be able to install them and finish the project on time and budget – with no wasted trips or waiting around on deliveries. 
3. Check out the quality of wood used for every cabinet component.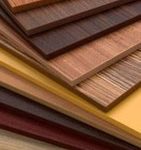 Most cabinets from big-box stores use particle board or MDF (medium-density fiberboard) instead of actual plywood construction. While this cuts costs for the big-box stores, materials like this limit the durability and strength of the cabinetry. A lower cost means higher margins but ultimately an inferior product. Most big-box cabinetry uses 1/2" particle board, which cannot support as much weight and is not as durable as plywood at the same thickness. 
When looking at wood quality for a client's kitchen, check for APC (all-plywood construction). The best quality cabinets will have both plywood sides and backs. This helps the cabinets hold their shape during transportation, delivery to the home, and when being fit to the kitchen layout. 
Plywood holds screws, fasteners, and glue more securely. Plywood resists moisture absorption much better than particleboard. This moisture resistance is particularly important around the sink area or other splash-prone areas. Lastly, plywood offers superior performance to support weight over time and holds up better against everyday bangs and bumps. At Cabinet Corp, we construct every cabinet using 1/2″ plywood. 
4. Consider the importance of professional design assistance. 
Big-box stores like to claim they have designers on staff. It's true; their employees have been trained to use design software so they can enter the dimensions from your specs to "design" your kitchen project. That's not the same as having trained kitchen designers on staff. A professional kitchen designer will help the contractor with the initial layout and provide expert input for the entire project that integrates kitchen workflow, lighting needs and other important factors. 
A professional designer considers the best hardware and accessories to make every cabinet and drawer easily accessible and useful for the homeowner – and helps the homeowner arrive at the desired look and aesthetic. A kitchen designer has the skill and experience to filter the construction and design through the eyes of a homeowner to arrive at a plan that meets every want and need for the kitchen. 
5. Construction materials for hinges and drawer glides make a difference.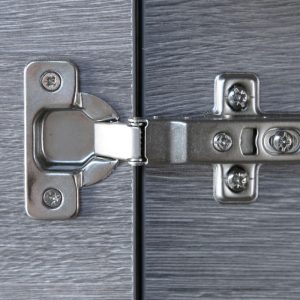 Big-box stores don't offer much guidance about materials to choose for soft close or soft glides, or making easy seasonal adjustments. The staff may or may not know how well a hinge is constructed. As a contractor, you know how vital a hinge is to how a cabinet door hangs, and whether it opens and closes correctly. 
High-quality cabinet hinges have a unique mechanism built in to ensure cabinet doors close softly. These hinges use a nickel plate on a hardened steel hinge, and the hinge adjusts six ways. This means that as the wood expands or contracts with seasonal weather, you can tweak the position of the door to make sure it always hangs straight.
At Cabinet Corp, every hinge we use has met stringent testing requirements and exceeds American National Standard Institutes standards.
Drawer glides (also called slides) are another cabinet component where big-box stores often cut costs. Low-quality glides eventually lead to drawers that sag or have a tendency to stick or become loose.
High-quality glides have ball bearings and are made from steel. This helps ensure the drawers open and close smoothly and function well for a long time. Drawers also hold a lot of weight, another reason to look for sturdy, well-made glides; Cabinet Corp drawer glides are rated for 90 pounds of weight and we mount them under the drawer box to provide the most support.
6. Look at how big-box cabinets are constructed.
How are the drawers and cabinet corners constructed and reinforced? Look for whether the big-box cabinets have butt or rabbet (notched) joints held together with staples. Watch out for these low-quality construction methods in cabinet drawers — especially in drawers with bottoms made from particle board, which also tend to sag. 
Cabinet Corp drawers feature dovetailed construction. The sides are maple or birch, and at least ⅝" thick; the bottom of the drawer is usually made from plywood. Our craftsmen attach the drawer bottom to the sides using dado (groove joints), then glue and nail it into position. The sides use dovetail joints, which add strength to the drawer structure. 
7. I-beam construction adds strength and helps maintain cabinet shape.
Most cabinets from the big-box store have low-quality corner gussets, often with plastic braces, although you will find some braces in wood or metal. The corner pieces usually get stapled to the corners – the intention is to help the cabinet hold its shape.
I-beam construction involves ½" stretchers used on base kitchen cabinets. The stretchers use a dado joint and hold all four sides of the cabinet, giving extra strength to the unit. The beams help maintain the cabinet shape over the long term, and also protect it during transportation and fitting.. 
Beyond the considerations discussed above, be sure to look for well-applied, durable exterior cabinet finishes that will hold up to daily use in the kitchen or bathroom. Watch for colors or styles that might be "in vogue" now, but could lose favor after a few years and cause a dip in resale value for your clients. 
It's your responsibility as a contractor to provide the best cabinet for your client's budget. Your knowledge and expertise can help safeguard your clients from installing attractive but lower-quality cabinetry they might have to replace in 5 to 10 years instead of high-quality, all-wood cabinetry that will last 20-30 years. 
To talk with a Cabinet Corp designer about your next kitchen project visit https://www.cabinetcorp.com/kitchen-design-services/