The kitchen and bath industry has focused on wellness for many years. The 2022 Kitchen and Bath Industry Show in Orlando in February had a primary focus on health and wellness to share with trade professionals. This trend continues in 2023.
As demand for residential remodeling projects soared over the past year, pandemic-inspired kitchen and bath trends are front and center. "Wellness design" to improve and support wellness in the home is now a top priority. Homeowners are looking for features that include low-maintenance finishes to simplify home hygiene, increased pantry space, additional freezers to accommodate bulk shopping, plus organizational and storage accessories for new hobbies, tasks, and even pets. Touchless and voice-control fixtures are gaining popularity, as are updated ventilation technologies to reduce viral spread.
Five facets of health and wellness to consider when updating a kitchen
1) Cooking and Health 
This first facet of wellness design prioritizes an optimal kitchen layout for homeowners who plan to cook more and healthier meals at home. This means plenty of countertop space for prep. A kitchen island can improve the kitchen's functionality by providing convenient storage for point-of-use appliances with customized storage accessories and creating an additional area for meal preparation so the whole family can participate. Homeowners want more pantry storage to stock up when supply chain issues threaten shortages. More people are cooking and baking at home and shopping in bulk to reduce trips and costs.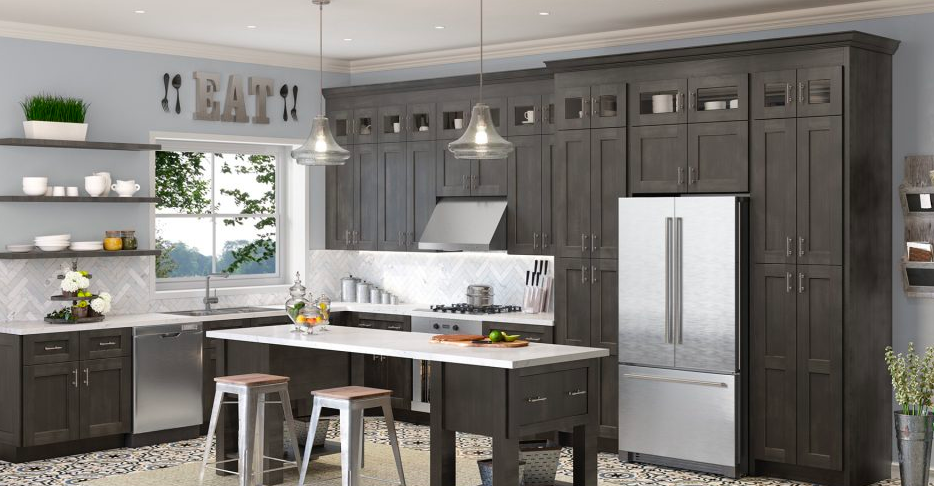 2) Ventilation and Sanitation
Ventilation to improve indoor air quality has always been in the mix for kitchen remodels, but the pandemic has made it even more critical. Homeowners want to ensure their kitchen ventilation systems are working correctly to prevent build-ups of grease, smoke, mold, or mildew – and clear out air-borne virus particles. A wood range hood system with separate ducting that fits the home's cabinetry adds value to any home. Smart and touchless faucets let users turn on the water with little or no hand contact to minimize the spread of food-borne contaminants and viruses.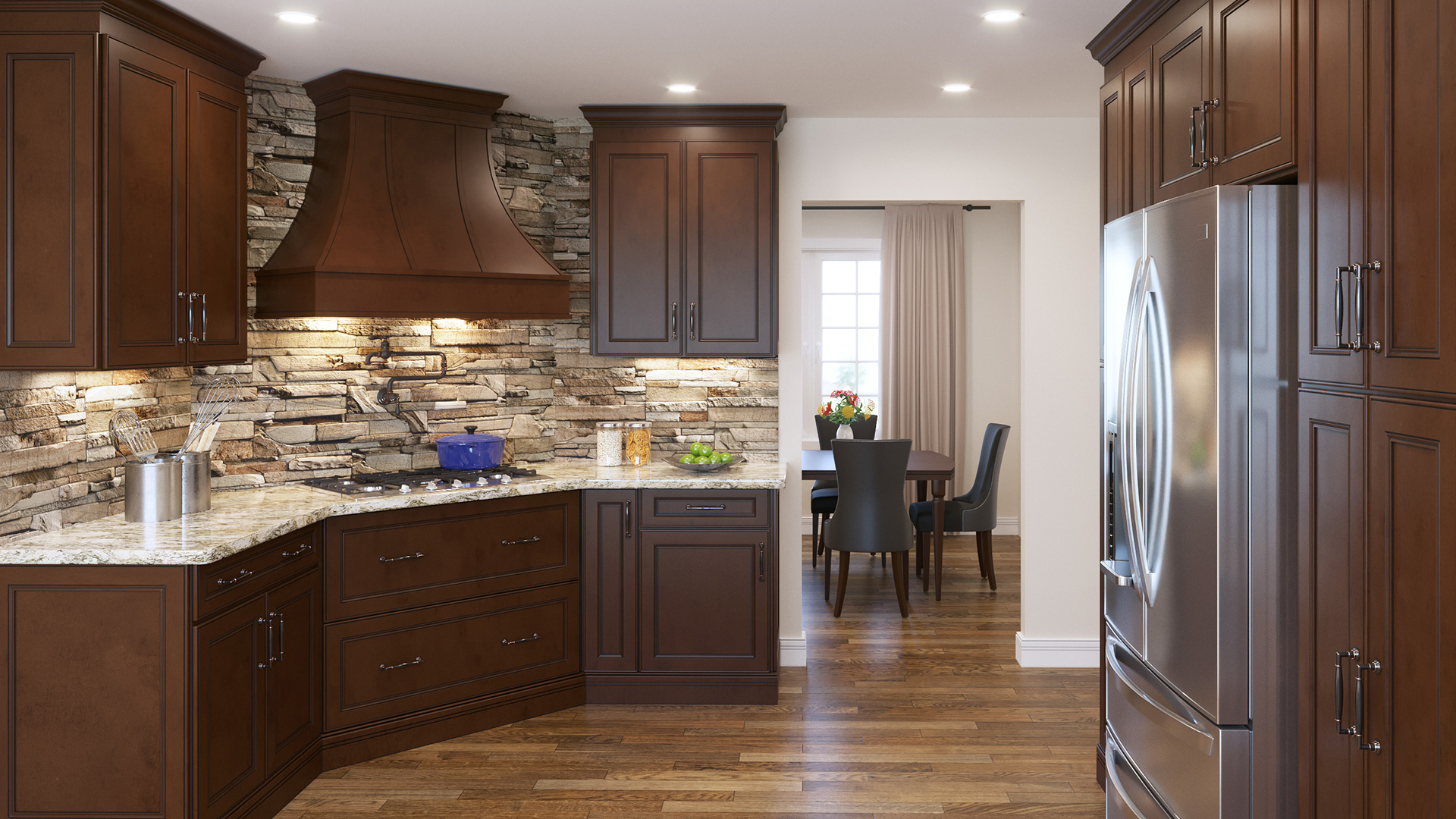 3) Accessibility
Cabinet storage accessories can help homeowners reach blind corners and organize their cabinets more effectively to accommodate bulk purchases. CabinetCorp offers Rev-a-shelf accessories – such as base cabinet roll-outs, lazy susans, and pull-out cabinets – to take advantage of small, hard-to-reach spaces and enhance the capacity and functionality of the entire kitchen. For wheelchair users or people with limited mobility, cabinet storage solutions can keep all dishware and cooking items within reach. A kitchen designer can suggest cabinet inserts, lighting, and motorized shelving help create working zones needed for accessibility in a multi-generational home.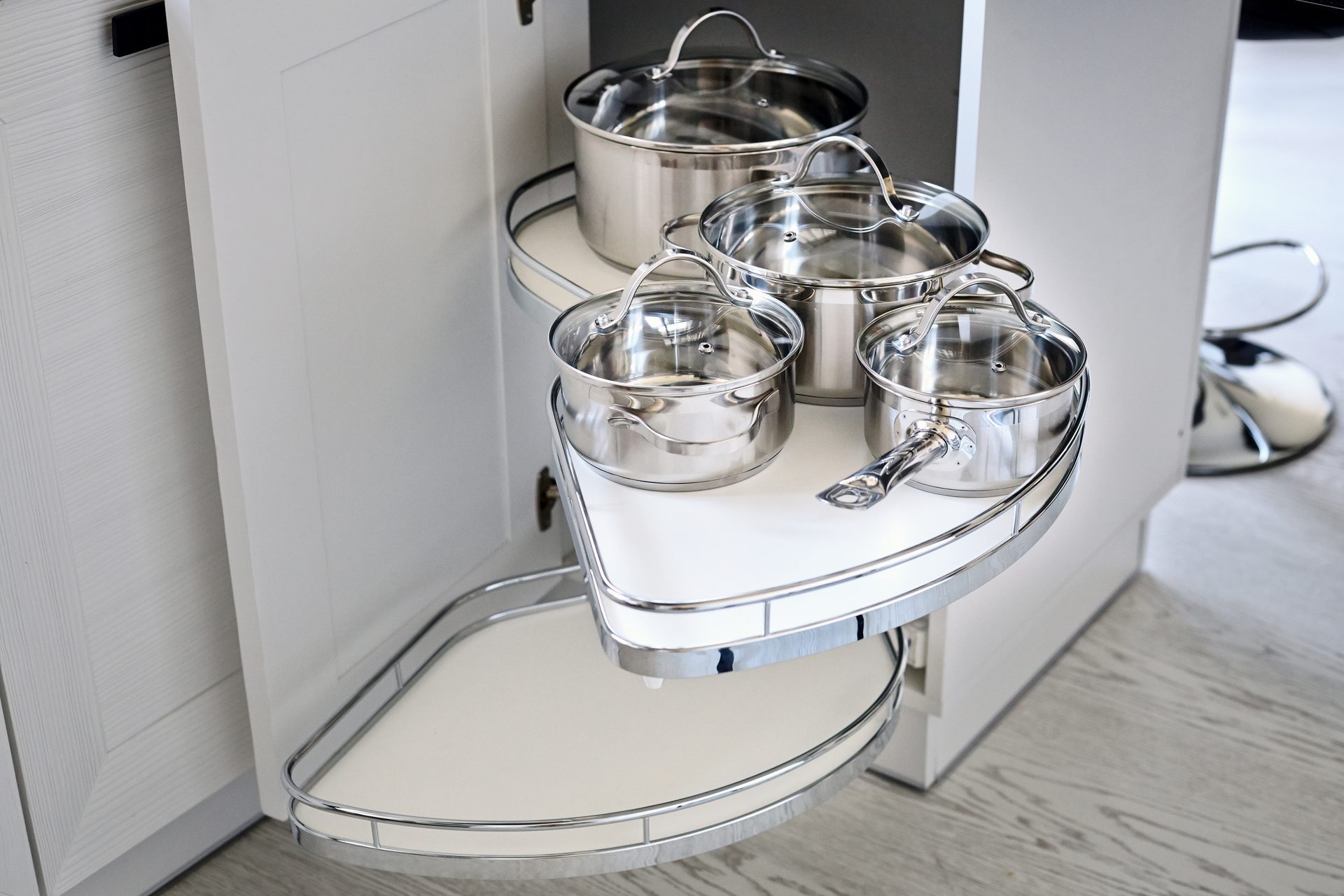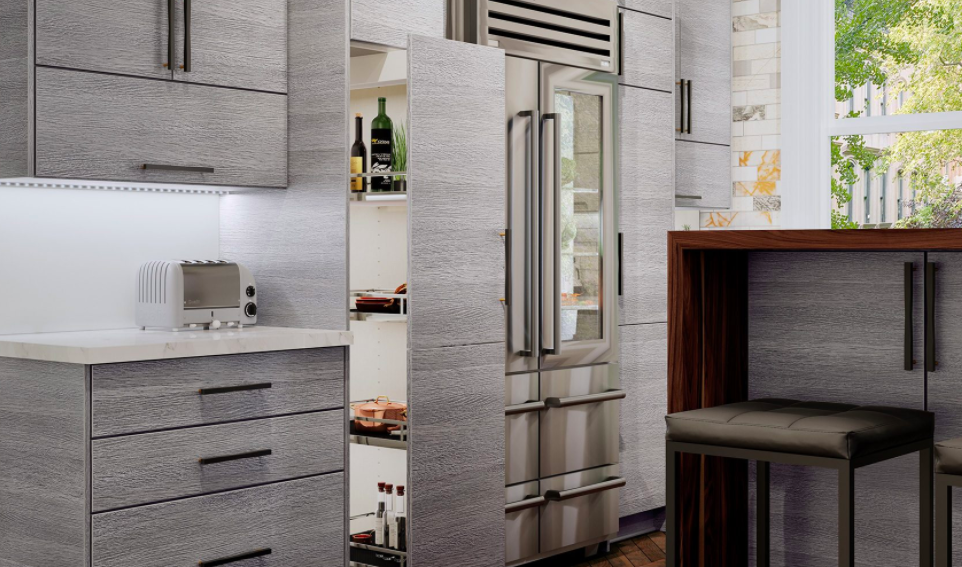 4) Functionality
Understanding the kitchen layout is the key to recommending the correct type of cabinet for the most efficient workflow. Functionality is the main focus of a kitchen layout, to give the homeowners the ability to use each of the working areas conveniently, without contaminating another prep zone or interfering with others using the space. Designers keep the working triangle in mind to help keep the kitchen more efficient and prevent injury or the spread of germs. Often food prep and cooking are in between the storage and cleaning areas. To add even more to the kitchen's functionality, homeowners request germ-resistant countertops like quartz and marble, touch-free faucets and soap dispensers, and under-cabinet lighting to eliminate the need to touch a switch.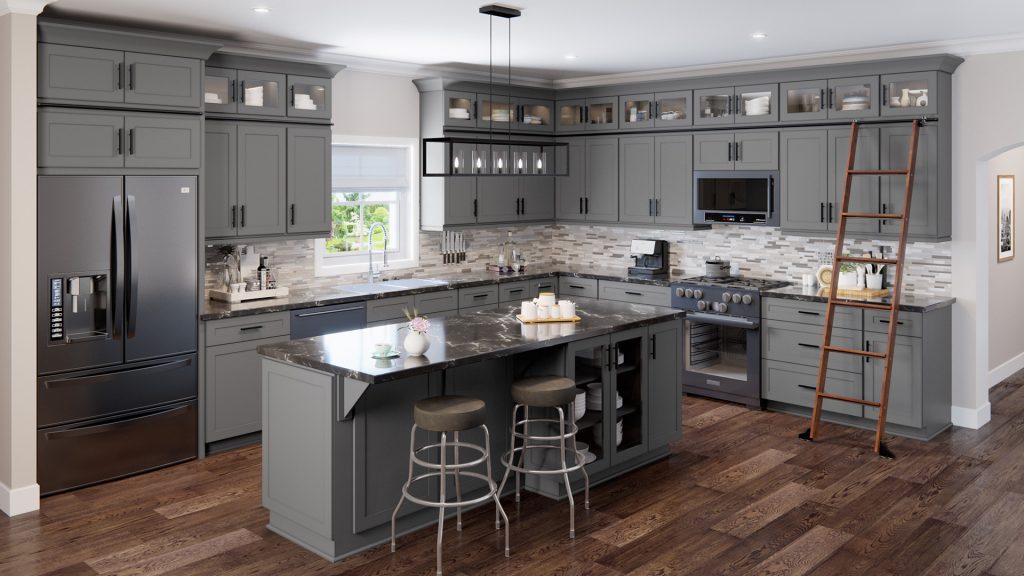 5) Comfort and Joy
Bringing in "comfort and joy" features to the home can contribute to stress management. Calming (cabinet) colors and kitchen decor, organization-enhancing design and accessories, and an efficient layout will help homeowners eliminate stress. Task lighting helps with food prep and working or schooling in the kitchen, while room lighting can help enhance the mood.
Cabinets with soft-close door hinges and drawer glides have long been popular to help keep the home quieter and less stressful and even prevent injury. Kitchen islands welcome multiple people into the kitchen and allow them to interact and socialize while preparing meals.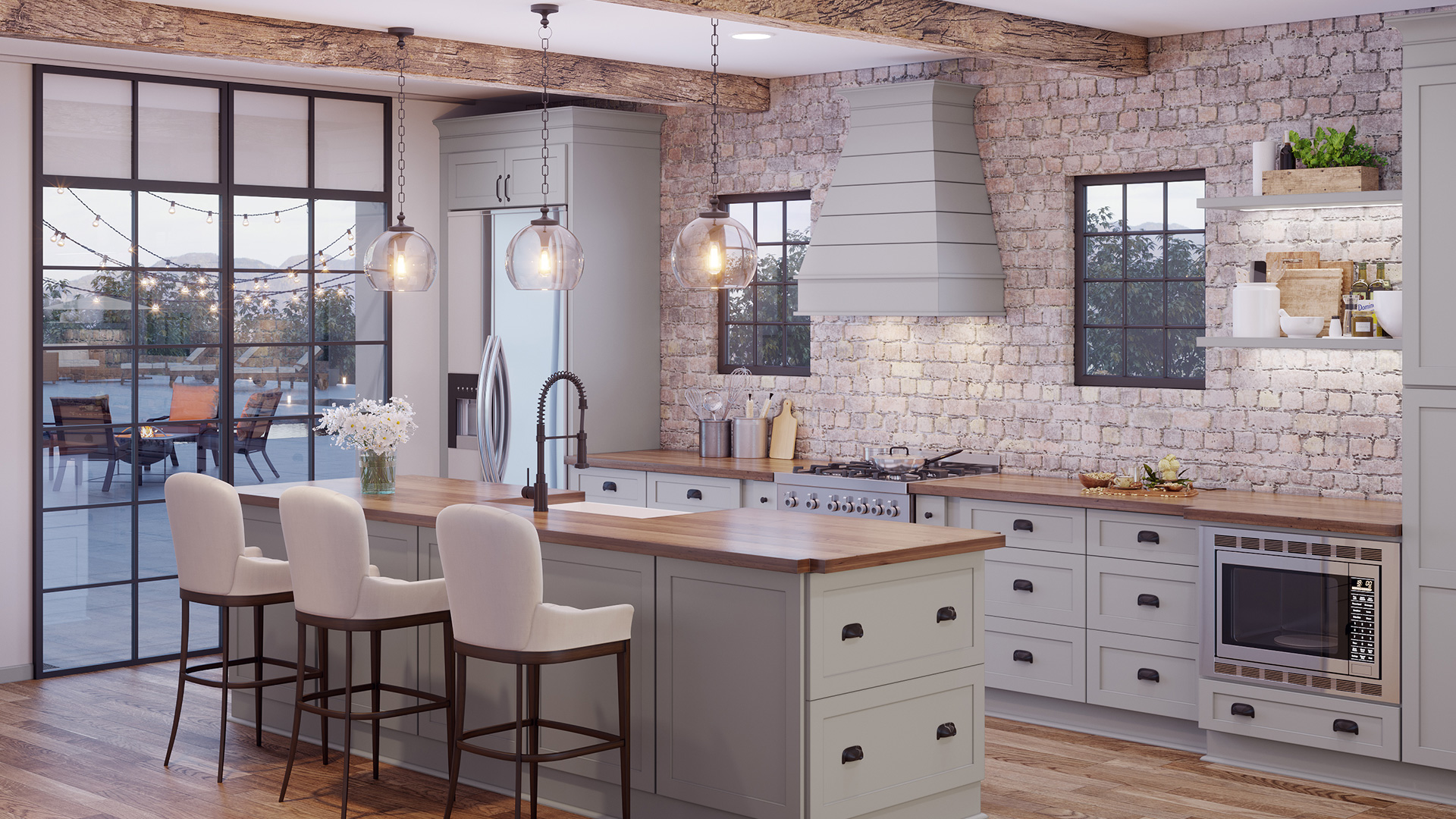 Additional design elements such as colorful backsplashes, two-tone cabinetry, and contrasting luxury vinyl flooring bring warmth and joy back into the kitchen. These elements enhance the room and create a pleasing environment where homeowners find comfort and want to spend their time.
When considering a kitchen renovation project to install new cabinets, flooring, countertops, and accessories, turn to the professional kitchen designers at CabinetCorp to provide you with the perfect layout for your client's kitchen. CabinetCorp designers are always up-to-date on the latest cabinet storage accessories and where they make the best impact in the kitchen. Your designer will help you choose the perfect cabinets and accessories to surround a primary cooking and prep area – or help style a multi-functional kitchen island for those who work from home.
Renovate your client's kitchen for health and wellness with CabinetCorp
With over 100 years of combined construction and cabinetry experience, CabinetCorp has the expertise you need at wholesale prices. Our expert designers can help you create a kitchen that supports your clients' health and wellness goals. Become a cabinet dealer today and receive your free set of 18 cabinet door samples for client presentations and help you match the cabinet, countertop, and flooring.