Learning Center
Table of Contents
Buying kitchen cabinets can bring on ceaseless confusion: You have to think about style, hardware, and color. Then, by the time you have made all those decisions, it's time to worry whether you are buying a quality product or not. If you are wondering how you can buy kitchen cabinet of high quality, then keep reading this article. Here, we will reveal all the little details which give low-quality cabinets away.
Learning Center
Article Sections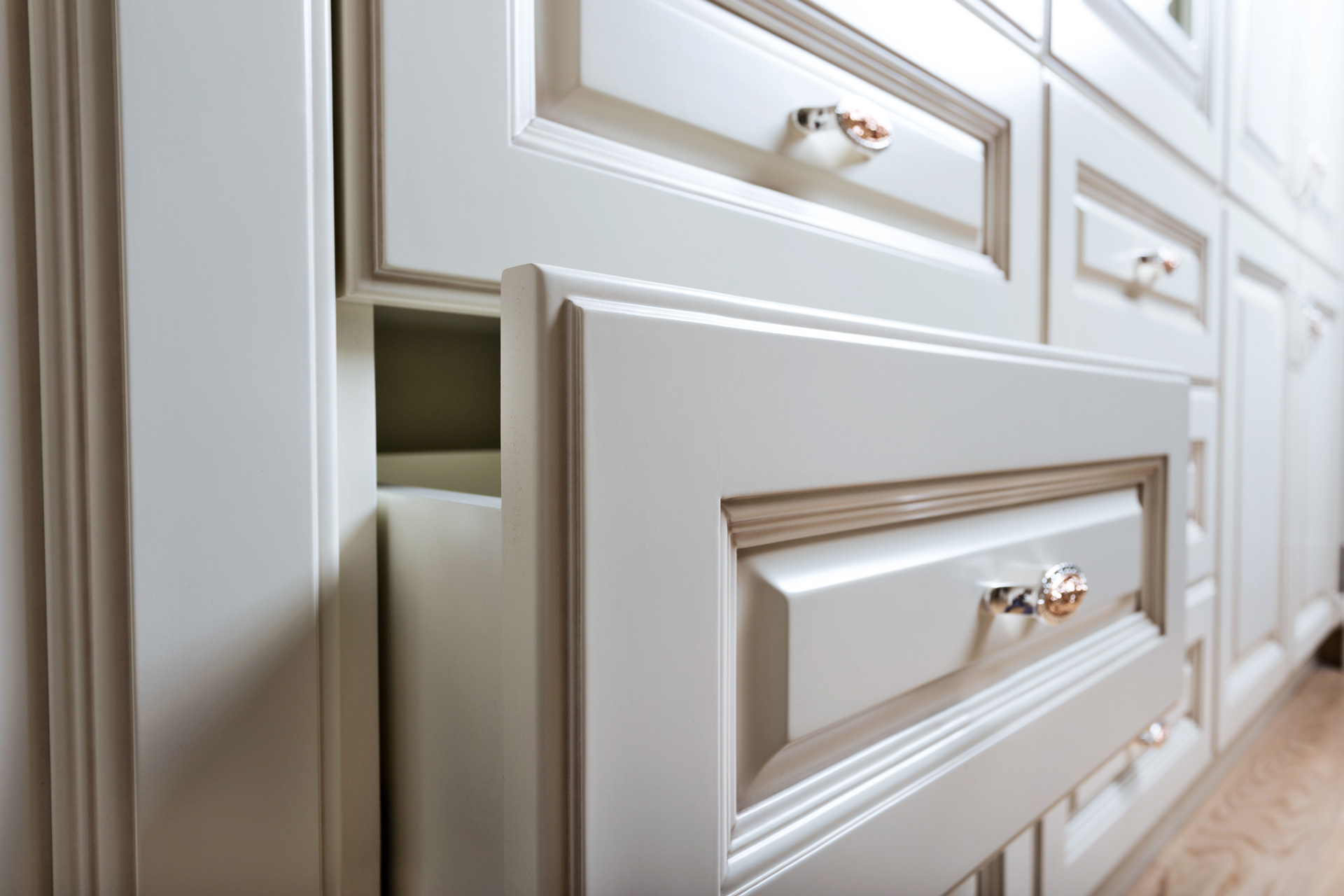 When the time comes to buy new kitchen cabinets, we all know we need to choose high-quality products. However, how do we know whether they are high quality or not? Good quality kitchen cabinets can look great and last a long time. Even 20-30 years is a realistic expectation. However, many people find their cabinets don't last for the long haul. They thought they spent on quality but, before long, they find the doors start to sag, drawers don't work as they should, surfaces get scratched and dented, hinges work loose, and boxes begin to warp. The culprit behind these problems is poor quality products. Yet, how can the average person, who lacks the necessary expertise, determine if he has chosen high-quality kitchen cabinets or not?
Poorly made cabinets usually end up looking bad too soon and stop working as they should. This generates extra costs as people try to fix them, and bring workers in to sort out the drooping doors, rattly drawers and wonky frames. To help you start off on the right foot, we've created this article, which will empower you to spot high-quality kitchen cabinets when you see them. Here are the 11 most important signs to look out for.
#1. All-Plywood Construction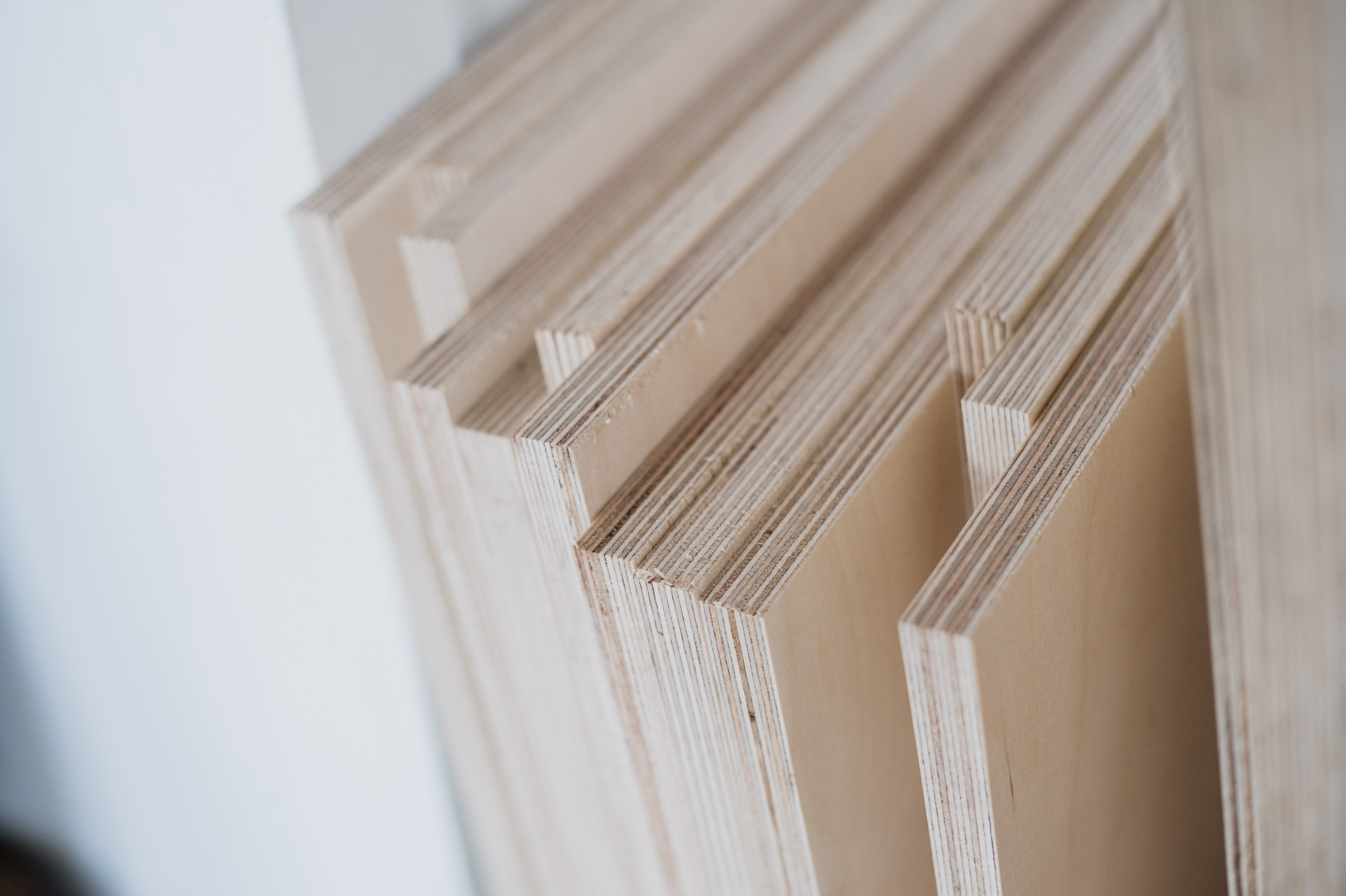 When inspecting the cabinet boxes, look out for whether products are made from plywood or particle board. Among these two, plywood is the strongest option. The best quality cabinets will have plywood sides and backs. This helps the cabinets hold their shape during transportation, arrival at your home, and the fitting in your kitchen. Once in-situ, the strong cabinets support the weight of the countertops, your kitchen accessories, and repel moisture.
Particle board isn't as good as plywood because the material has less strength. particle board can be prone to crumble, particularly on the edges, and wherever there are hardware attachments. Furthermore, the material has a tendency to absorb moisture. In addition, if there are problems with the screws and joints, the material is hard to repair.
Key Things To Know About All-Plywood Construction (APC)
Plywood has a better construction than particle board which allows the material to hold the screw, fasteners and glue better. They make plywood by fixing together layers of wood, with the grain running in alternate directions on each layer. This makes plywood really strong.
Furthermore, plywood can resist absorbing moisture much better than particle board. This is particularly important around the sink area or other areas that are prone to splashes.
Lastly, plywood comes out on top when supporting weight over time or when subjected to everyday bangs and bumps.
Key Things To Know About Particle Board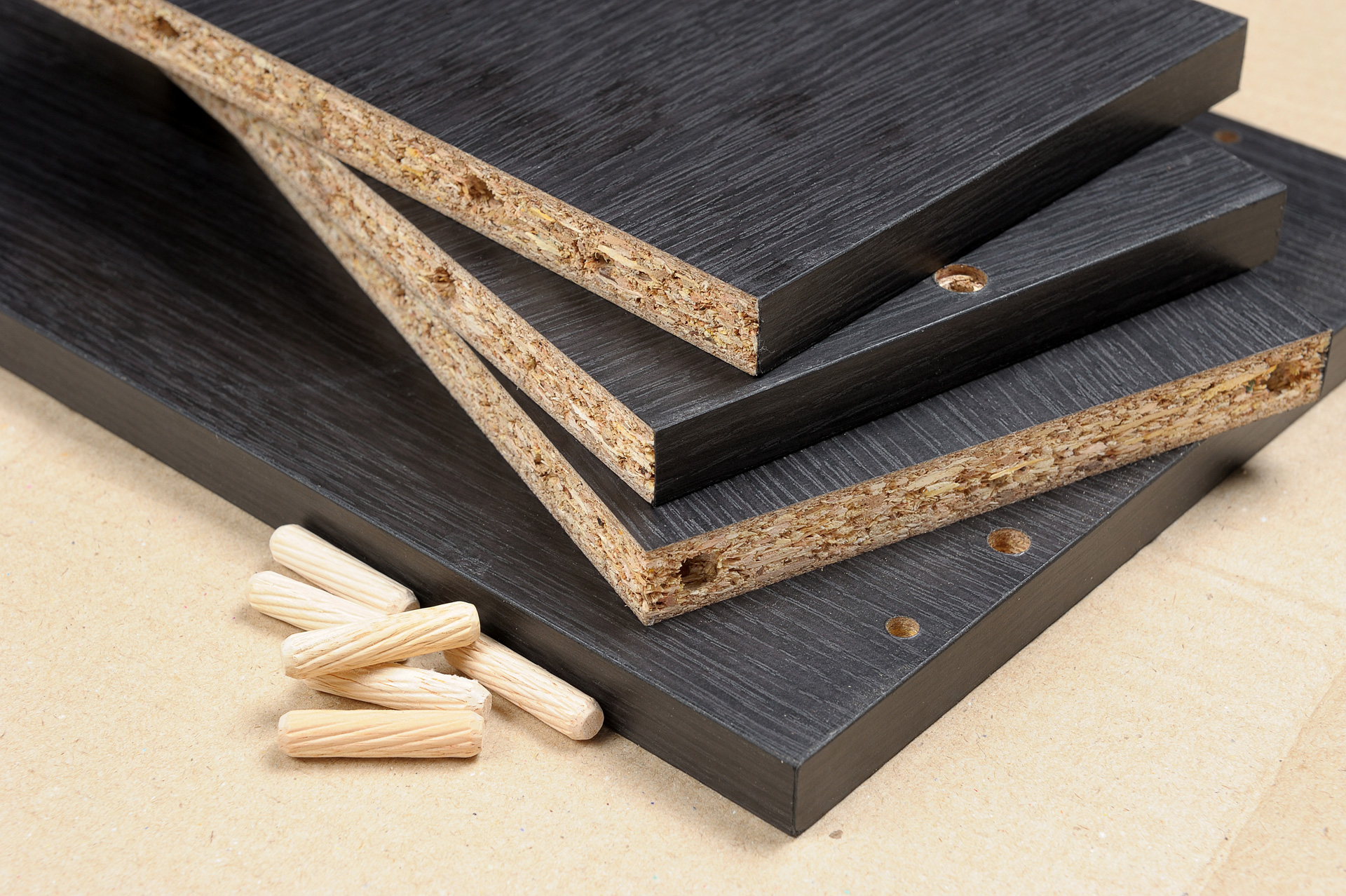 Particle board is a material of many different names. For example, you may hear it referred to as engineered wood, medium density fiberboard (MDF), substrate, hardboard, and furniture board. Either way, the method they use to make particle boards presses wood particles together at a high temperature and then fixes them together with glue.
One positive of the material is that it doesn't warp as the weather fluctuates. However, particle board will typically damage more easily than plywood, as well as, be more vulnerable to damage from moisture. Finally, particle board cannot support as much weight as plywood, and you will often notice sagging shelves as particle board cabinets age.
#2. Full-Height Back Panels
Have you ever seen a collapsed cabinet? If not, then count yourself lucky because the mess is considerable. You usually find all your kitchenware in smithereens. The weight of kitchenware in a cabinet is significant, and over time sustained. This means, if the cabinet isn't strong enough, you can come home to a cabinet disaster.
The biggest reason behind cabinet collapse is the back panel. The construction of the cabinet back contributes to the strength of the unit, and how easy it is to install. If you want to avoid cabinet collapse, then chose a strong cabinet from the get-go.
Key Things To Know About Solid Full-Height Cabinet Backs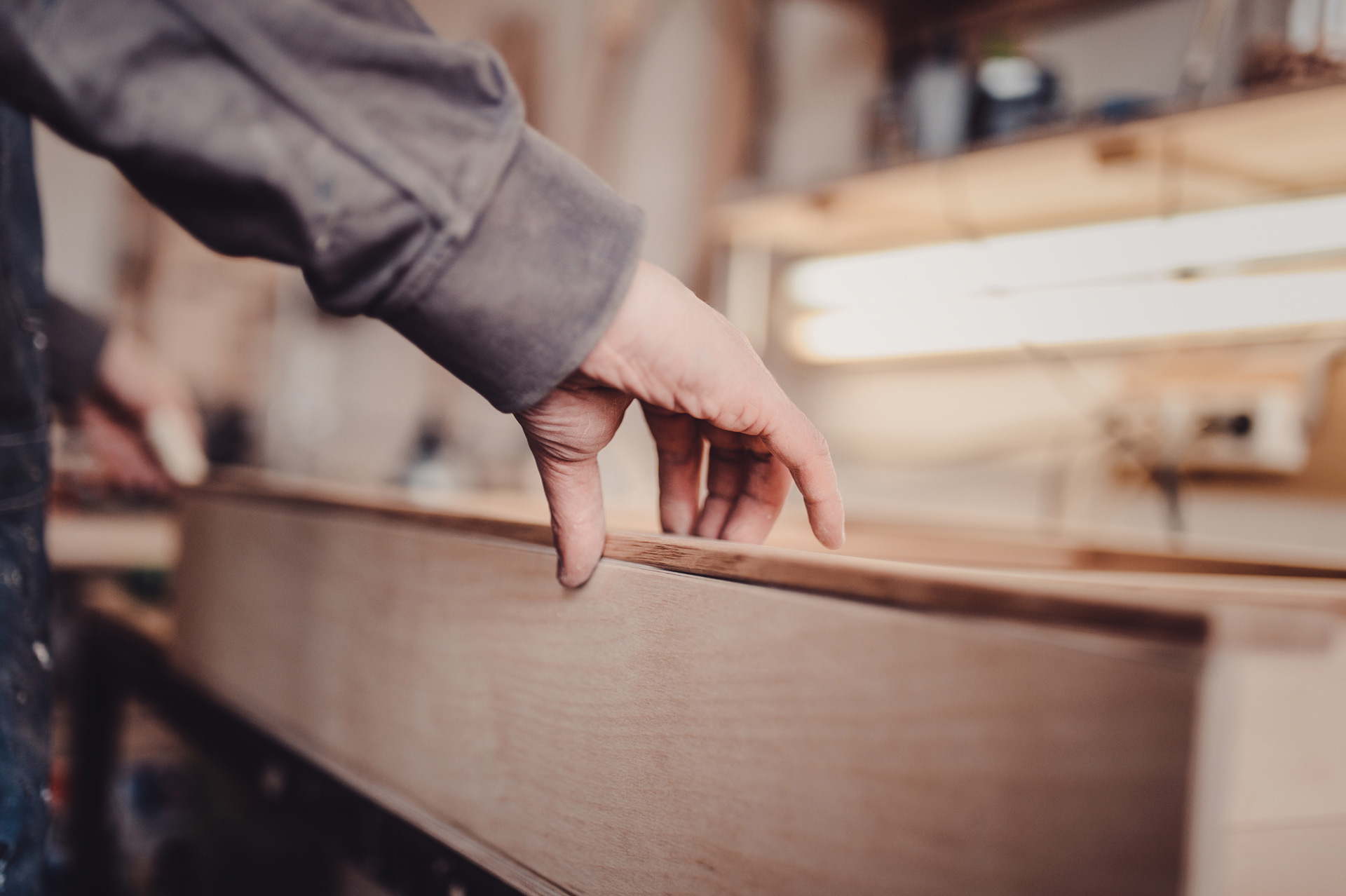 To ensure you have the strongest cabinet back, make sure you choose a heavy, full plywood, full-back panel. The best-constructed cabinets usually have a back panel of at least ⅜ inches. The panel means you can attach the cabinet to the wall studs from anywhere. Plywood has strength from the top to bottom, and from side to side, so you don't need to use hanging rails. Also, if you need to make a hole in the back for wiring or pipes, the cabinet will retain its strength.
Key Things To Know About Other Types Of Cabinet Backs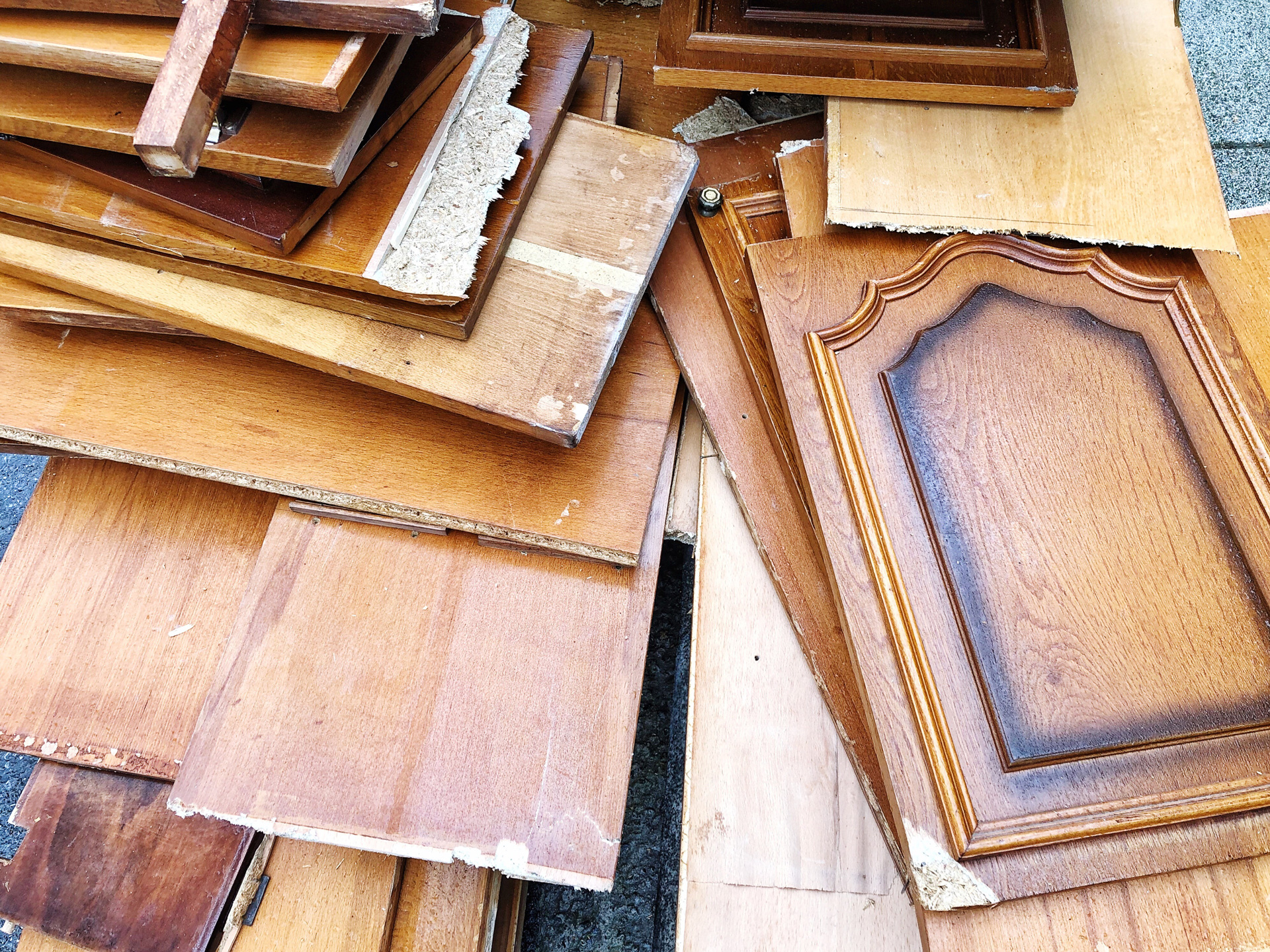 Cheaper cabinets will often use thin panels which then require metal hanging rails with brackets, rails, and a picture frame construction. Sometimes they leave the panel out completely, so the wall shows through. Or sometimes poor quality cabinets will have a particle board panel, at ⅛ inches to ¼ inches, at the full height of the unit. In this case, if the back is particle board, and you need to cut a hole for wiring, you will need to add reinforcements to the cabinet when you hang it.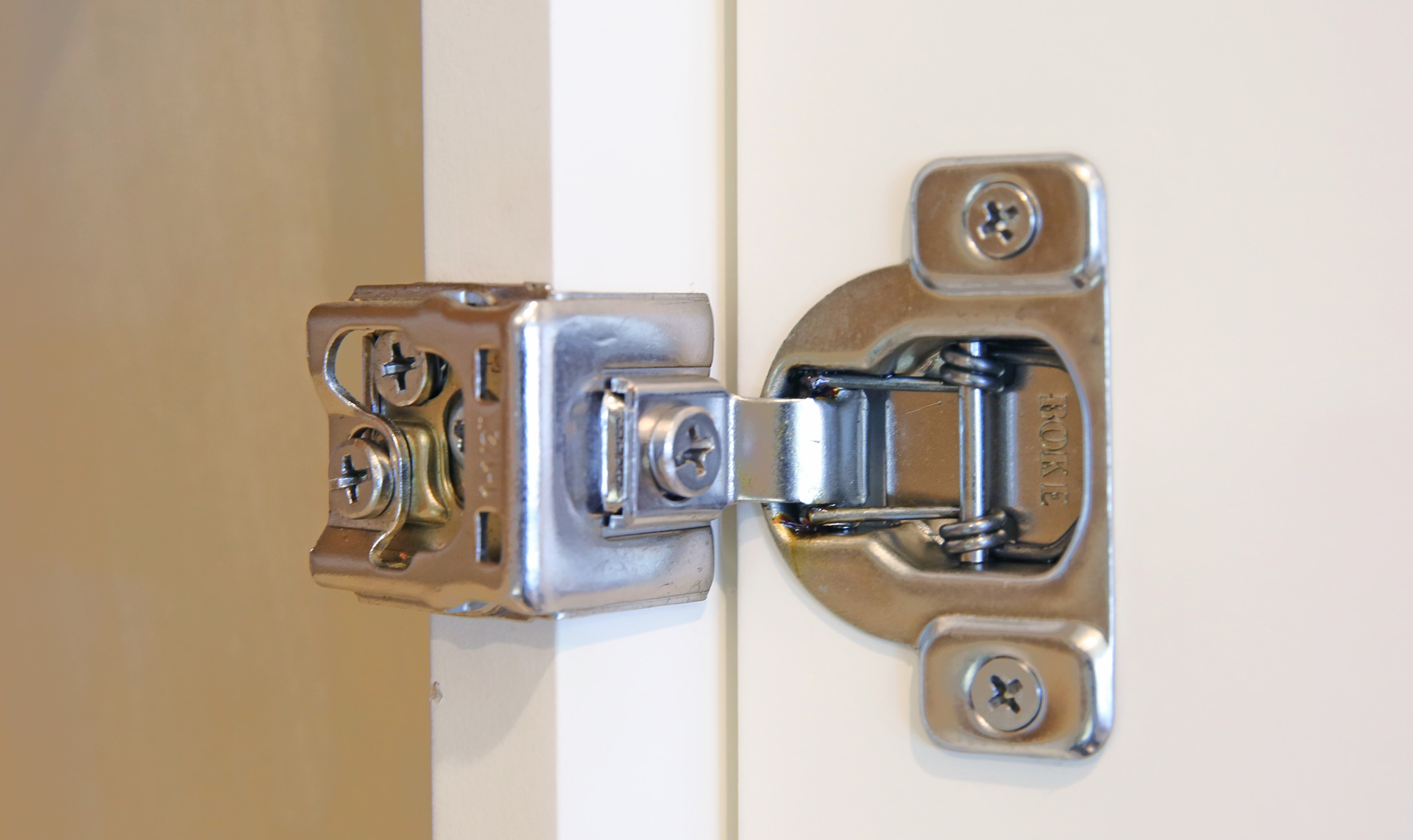 Out of sight and out of mind, cabinet hinges might seem unimportant. However, without them, you can't open and close the doors of your cabinets. If the hinges are weak, or badly made, the doors will quickly become loose, start sagging or never close properly.
Key Things To Know About Soft-Close, Steel, 6-Way Adjustable Hinges
The best quality cabinet hinges have a special mechanism built-in, which means the doors close softly. They use a nickel plate on a hardened steel hinge, and the hinge adjusts six ways. This means you can tweak the position of the door in case of seasonal movement with the wood expanding and contracting.
In any case, hinges receive a lot of use and wear-and-tear. The hinges we use exceed the American National Standard Institutes requirements and have met stringent tests.
Key Things To Know About Other Hinges
Cabinet manufacturers have a lot of choices available to them when they are selecting hardware for their products. Keep an eye out for manufacturers using cheaper products. Signs for low-quality hinges are those which can only adjust four-ways or those which don't have a lifetime warranty.
#4. Undermount, Soft-Close Drawer Glides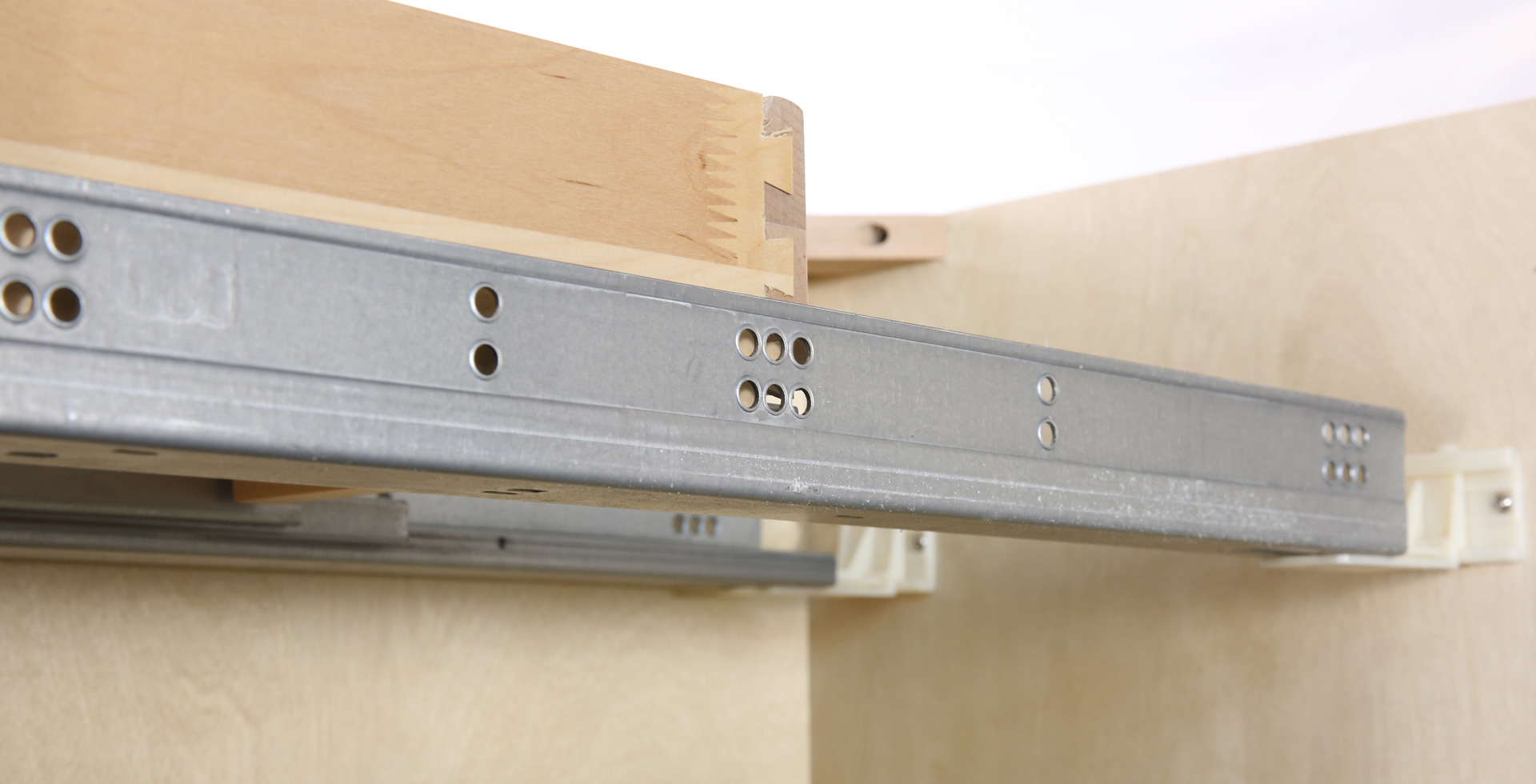 The drawer glides are another important feature of kitchen cabinets and an area where some manufacturers will see an opportunity to cut corners. Having quality glides, or slides as they are also known, is important if you want to have smooth, silent cabinet drawer action – over many years. Drawers also hold a lot of weight, and this adds to the importance of having strong well-made glides. If your cabinets have low-quality glides, over time you will notice sagging, drawers with a tendency to get stuck or drawers which are too loose.
Key Things To Know About Undermount, Steel, Soft-Close Glides
When you open a drawer, a good sign to look out for about the glide's quality is to see if the drawer is able to open fully. Some low-quality glides will not run the full length of the drawer, and this can mean the drawer doesn't open fully.
The best glides have ball bearings, and they are made from steel. This helps ensure the drawers open and close smoothly, and last a long time.
They should also support at least 90 pounds of weight – there are different ratings which indicate the weight limit the drawer can support. The best glides are usually mounted under the drawer box.
Adjustable glides are a sign of a high-quality product and the soft-close system means the drawer is close to silent when opening and closing.
Key Things To Know About Other Drawer Glide Systems
Manufacturers have a huge choice when it comes to drawer-glide systems: There are literally hundreds on the market. You will often find glides which use epoxy-coated metal and plastic rollers. These are not as strong as steel products, and plastic rollers will quickly break.
When opening the drawer you will often find you can only pull out so far. This usually leaves around 25% still inside the cabinet, making using the drawer difficult.
Furthermore, you will find low-quality glides mounted on the side (rather than on the bottom as with superior versions). Side mounted glides also reduce the width of the drawer. Glides mounted on the side can't soft-close which isn't essential, but there are many benefits to soft-close drawers.
The lowest-quality glide options usually consist of a center-mounted wooden or metal glide with a plastic brace. This is a cheap attempt to smooth the motion, but you probably know that plastic and weak metals don't give the strength needed in a drawer.
#5. Hardwood Dovetail Drawer Boxes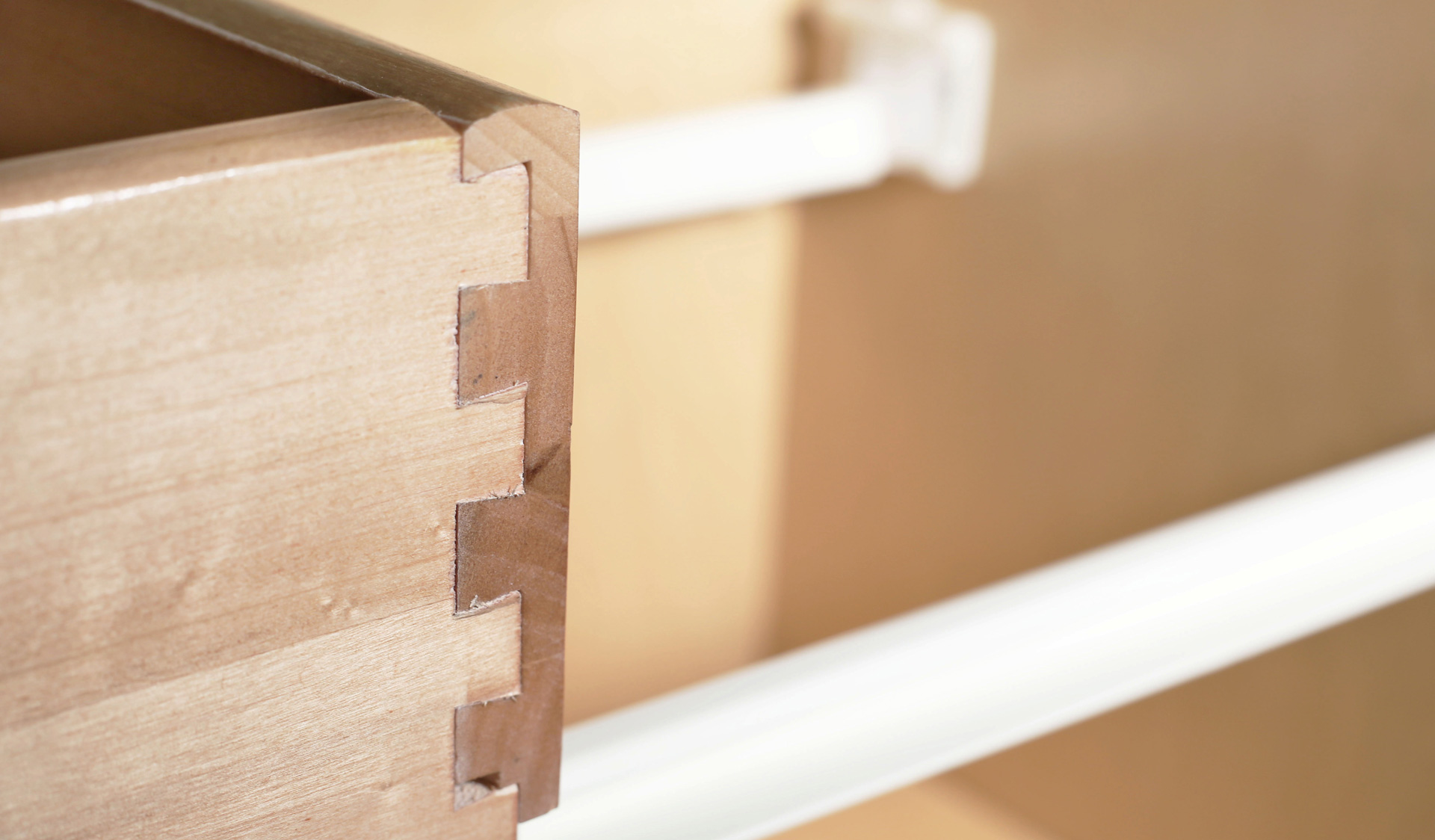 While you might not think it matters how they make the drawer box, it really does matter. Typical problems with low-quality drawer boxes are when the face breaks off or the bottom and sides begin to sag. This means the materials used, and the type of joints used to make the box, count if you want your drawers to last. The drawers are a high action area in the kitchen, and these are usually the first places where wear-and-tear begins to show.
The lowest-quality products normally use staples and notched butt joints. These construction methods are not as strong as dovetail joints. When using the dovetail joint, the two sides of the box fix together with interlocking teeth.
Key Things To Know About Hardwood Dovetail Drawer Boxes
The longstanding standard of American cabinetry has been drawer boxes with dovetail joints, and strong plywood bottoms. This is because the result is one of quality, strength, and beauty. Usually, a high-quality drawer box will have sides which are at least ⅝ inches thick. Sometimes they are more. Usually, the wood will be maple or birch. The sides use dovetail joints which add strength to the structure. The bottom of the drawer is usually made from plywood. Then, the bottom attaches to the sides using dado (groove joints), are glued and nailed into position.
Key Things To Know About Other Materials And Construction Methods
You can find a lot of different products on the market using inferior materials, and construction methods. Watch out for cabinet drawers made from particle board, solely plywood, metal, and even plastic.
The way these materials are put together varies a lot. Sometimes you will see butt or rabbet (notched) joints held together with staples. Watch out for these low-quality versions of cabinet drawers. Especially those with particle board drawer bottoms, which have a tendency to sag.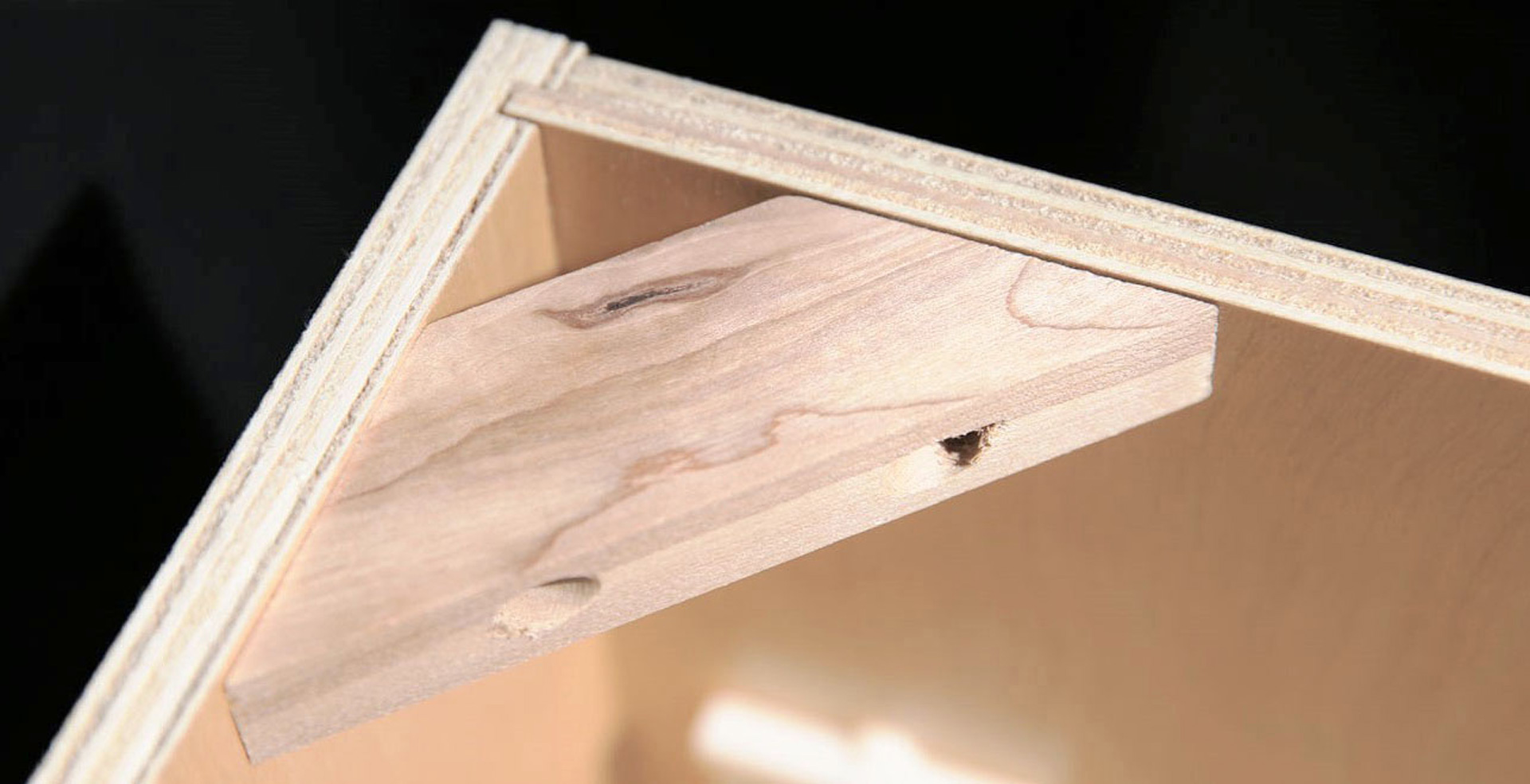 No, this isn't some kind of technology belonging on Star Trek! I-beams are used on the upper sides of the cabinets installed at the ground level. These beams give extra strength over the long-term, and help cabinets hold their shape during transportation, and when they are fitted into your kitchen.
Cheaper alternatives to the I-beam are triangular gussets on the corners and brace. These get stapled to the sides of the cabinet and don't add any strength at all. Cabinets which don't have an I-beam are more vulnerable to changing shape, bending or sagging over time. Especially if the cabinet is in regular contact with moisture.
Key Things To Know About I-beams
They are ½ inch stretchers seen on base kitchen cabinets. They use a dado joint and hold all four sides of the cabinet giving extra strength to the unit. Not to mention giving extra strength during the delivery and installation phase of the kitchen cabinets life.
Key Things To Know About Corner Gussets Or Braces
Low-quality corner gussets and braces are often made of plastic, but you can also find them in wood or metal. The corner pieces usually get stapled to the corners and the intention is to help the cabinet hold the shape. Glue, screws, and nails are used sometimes as well. Either way, they are not as strong as a full I-beam. Some cabinets will have a large integrated gusset. This is preferable to the corner gussets and braces, but they still aren't as strong as the I-beams.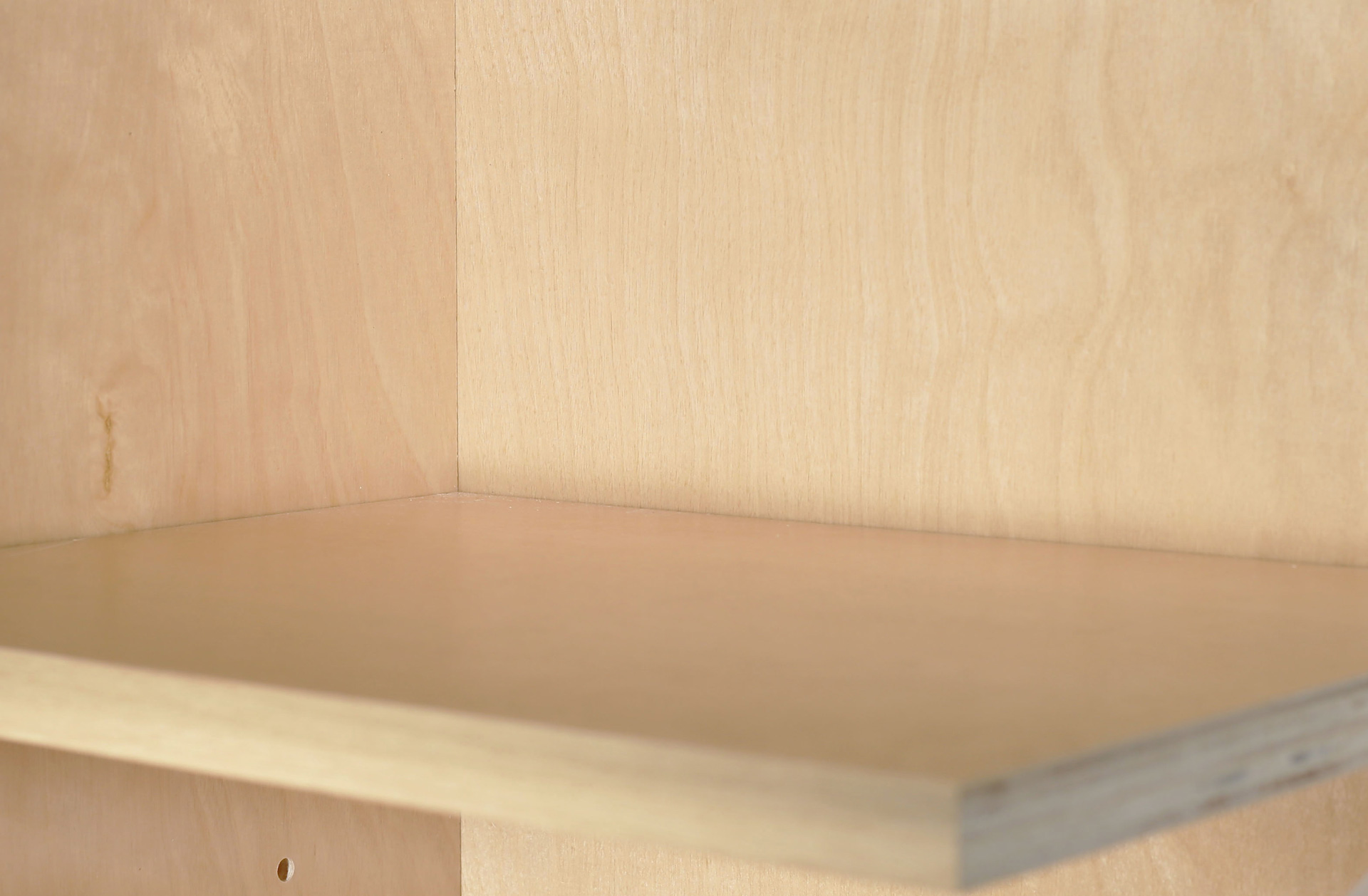 When you look at the inside of a kitchen cabinet you should see a smooth, non-porous surface which you can wipe clean easily. The surface needs to last a long time, without damage. Low-quality interior surfaces will often stain, bubble or otherwise show wear-and-tear quickly. A light-colored interior makes a good choice because you can see what is inside the unit more easily.
There are different options for interior surfaces. Melamine is the best quality option and gets applied to plywood, particle board, and wood veneers.
Key Things To Know About Melamine
Melamine is a high-quality option for the internal cabinet coating. Melamine coating is fire-resistant, stain resistant, waterproof, and strong. You can also use strong household detergents on the coating without having to worry about damaging it. You can find Melamine on whiteboards, countertops, dishware, and floor tiles. The coating comes in different colors but usually in kitchen cabinets they use a light birch shade. This gives a nice bright look to the inside of the cabinet.
Key Things To Know About Stained Wood Veneer
When a cabinet uses a wood veneer on the interior or shelves, the porous surface can soak up moisture and provide little nooks and crannies for germs to grow. In addition, you can't use cleaning detergent because it will damage the veneer. Wood veneer is also vulnerable to damage from moisture in the air, greasy fumes from cooking, and food particles which can collect in the porous wood surface.
When you purchase a kitchen cabinet you can choose a framed cabinet or a frameless cabinet. In the framed version, a solid hardwood frame attaches to the cabinet, then the hardware attaches to the frame. When you have a frameless cabinet the door itself attaches to the sides of the cabinet. Both methods look quite different and can vary a lot when it comes to quality. A frameless version usually costs more to install.
Key Things To Know About Framed Cabinets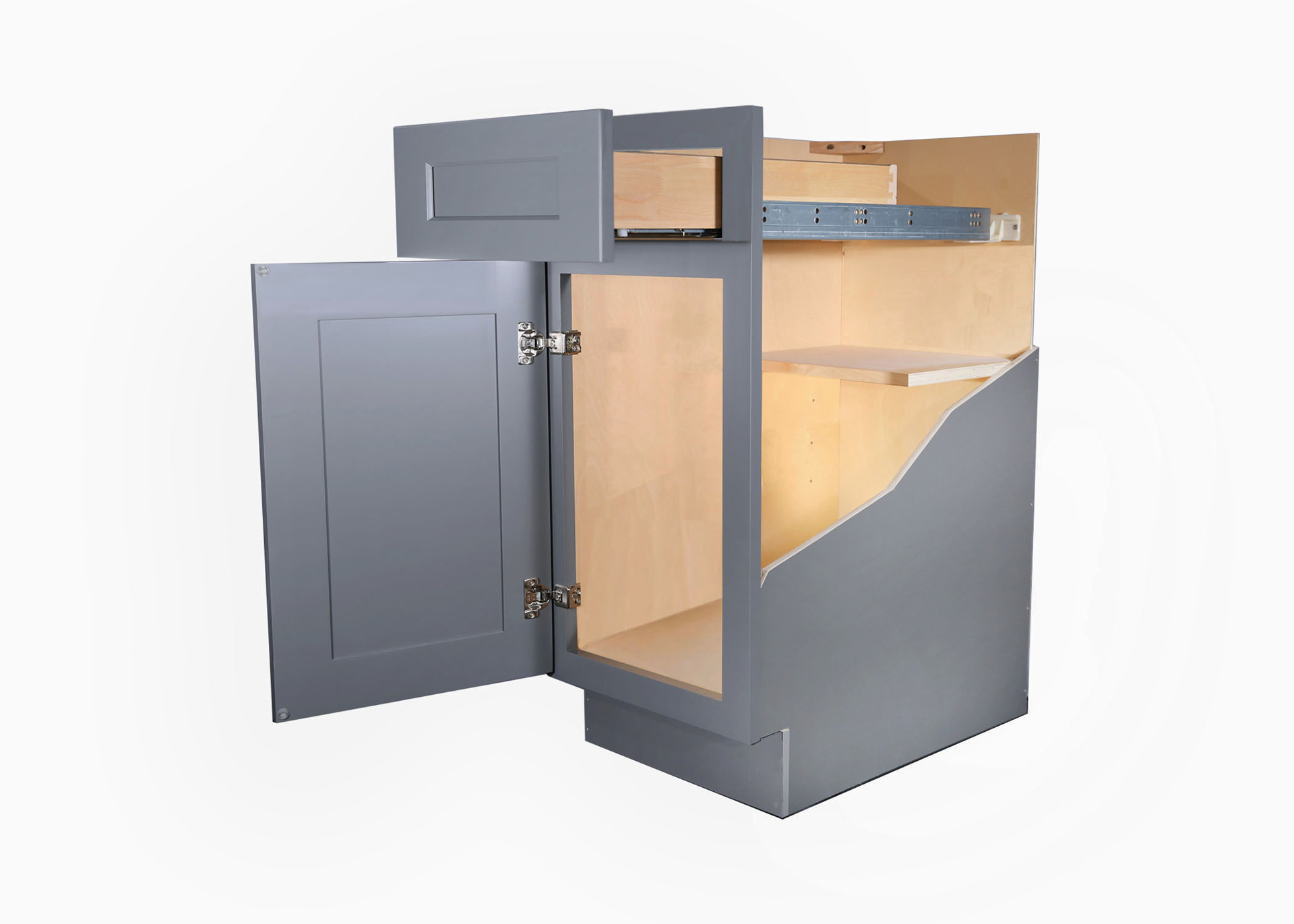 When manufacturers use a frame, this is a good sign of a quality cabinet. When the hinges and other hardware are attached to the frame it acts as a solid hardwood base for the attachments. This is much stronger and longer-lasting than a frameless cabinet. Also, you will find the frame adds strength to the unit helping to prevent damage in transit and during installation. Framed cabinets come in three styles – partial overlay, full overlay, and inset.
Key Things To Know About Frameless (European) Cabinets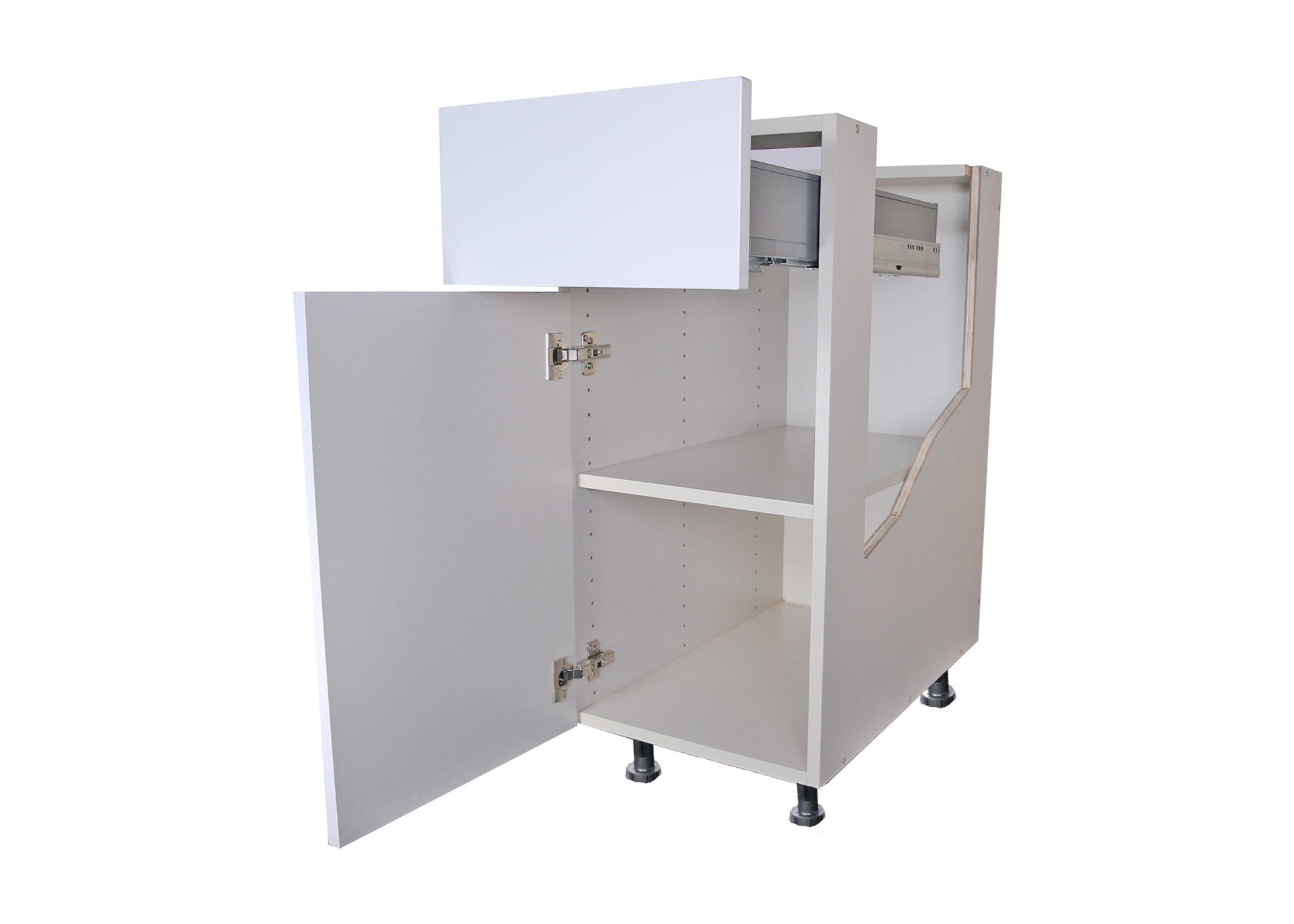 European cabinets is another name for frameless cabinets, and they don't have a frame on the cabinet box. This means the doors have a full-overlay style meaning around a ⅛ inch around the drawer fronts and cabinet doors show. Often, the side panels are thicker than framed cabinets so the hardware can attach to the walls. Many frameless cabinets use particle board. This material has a high risk of degenerating as the particle board can crush or crumble, causing the hardware to work loose.
When installing frameless cabinets precision is really important because even small mistakes are noticeable. This is why sometimes frameless can cost more to install because a higher level of accuracy is required.
#9. Fully Assembled And Ready-To-Assemble Kitchen Cabinets
Cabinet manufacturers can either build the unit at the factory, box it up and transport the unit out – ready to install. Or, they make ready-to-assemble (RTA) units which arrive in parts and the homeowner or contractor assembles them on-site. For the consumer, the main differentiating factors are price, convenience, and strength of construction.
Key Things To Know About Fully Assembled Cabinets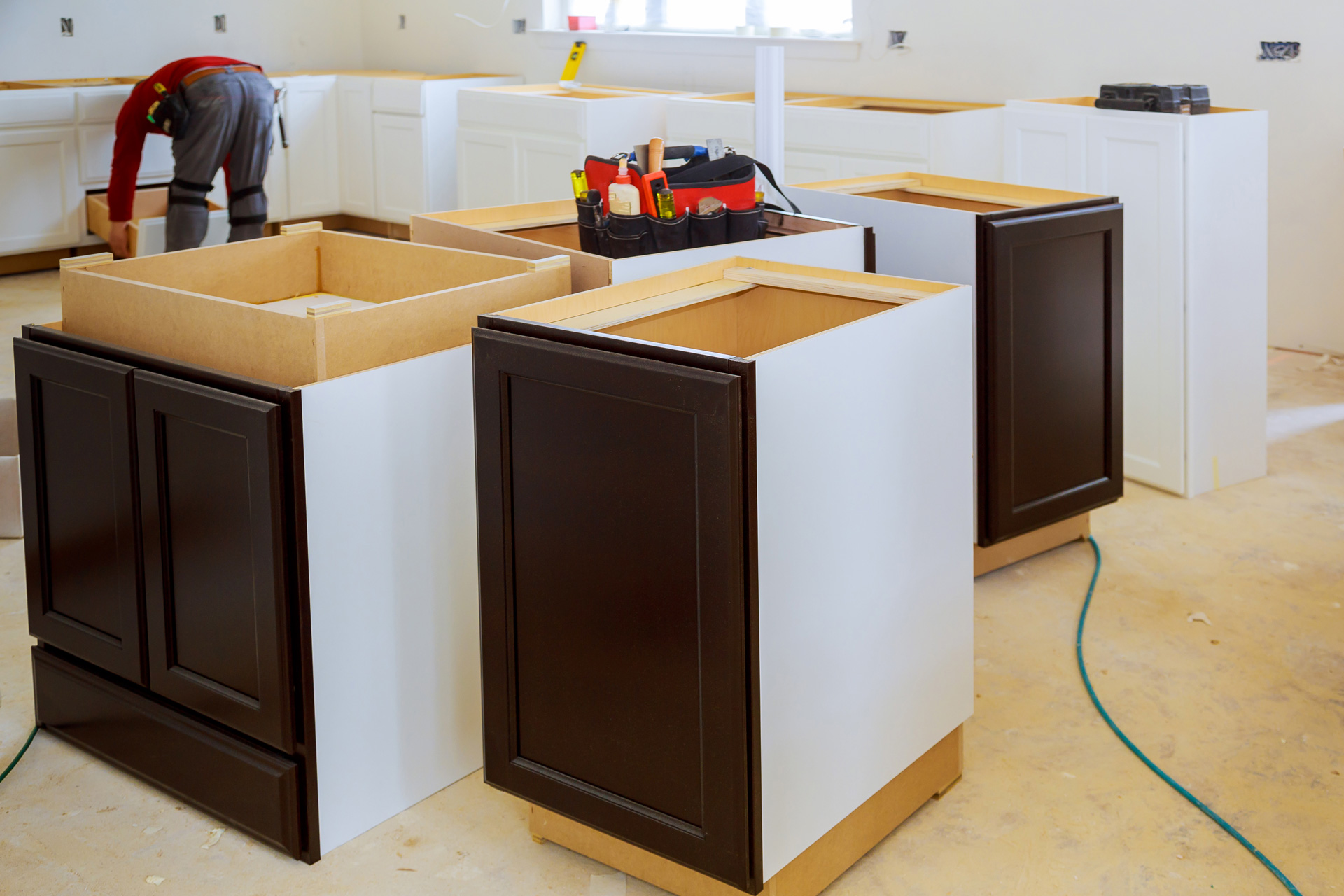 When they build a cabinet at the factory they are much stronger and will last longer. This is because the methods for construction used at the factory will produce stronger results. For example, they use dovetail joints, hot and cold glue, power fasteners and other factory techniques. You can't replicate these techniques at home, even if you hire a contractor.
At the factory, they put together all the pieces in such a way that they join together on a macro level, and this adds to the strength of the unit. Once ready, the factory packs up the unit and ships it out as a whole, even with all the doors and drawers in place. Once they arrive they just need installing in your kitchen.
Key Things To Know About Ready-To-Assemble (RTA) Cabinets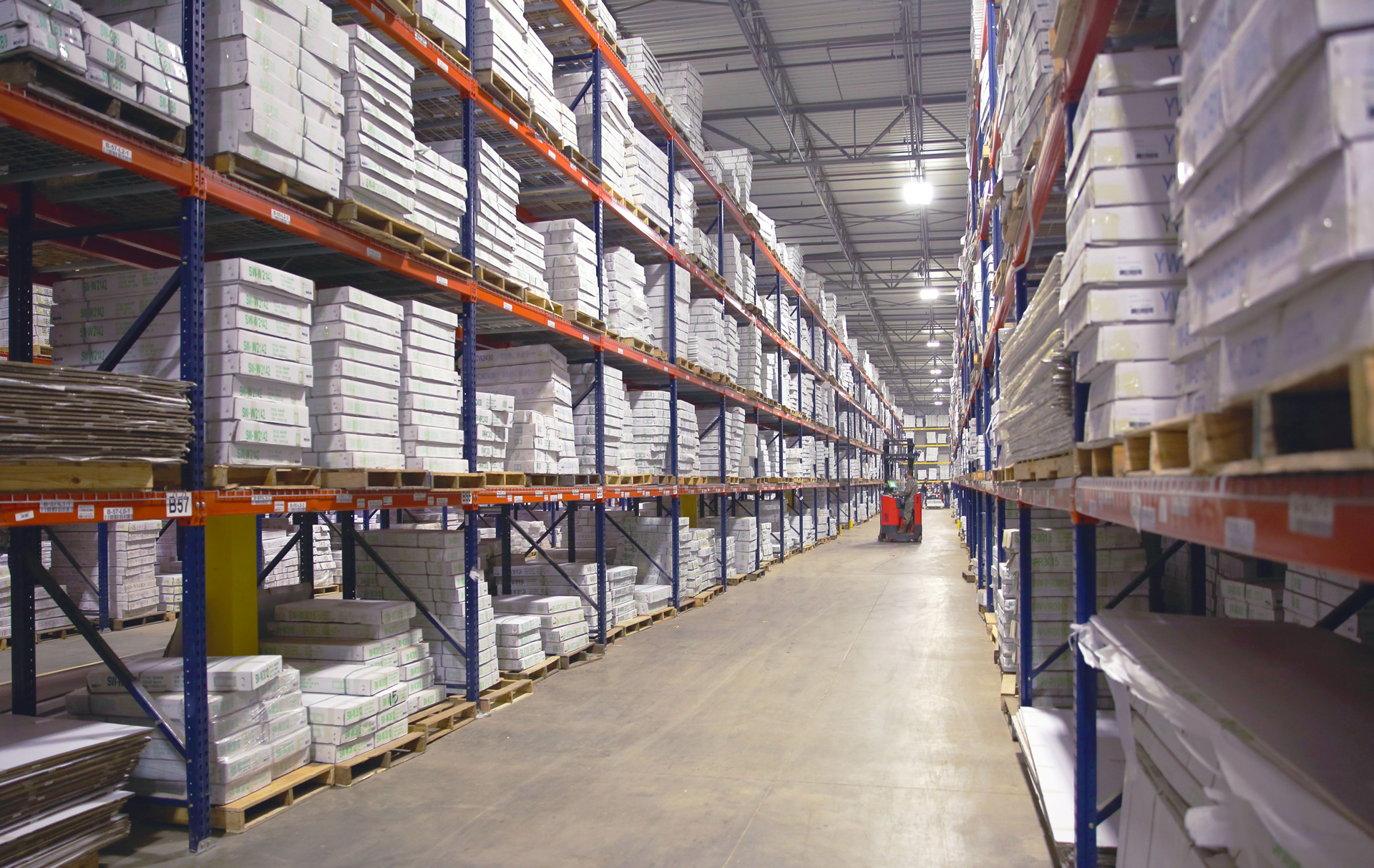 Buying up RTA cabinets will often save you money. However, the practice can simply introduce other costs. Not to mention, the lower-quality construction which won't last the number of years you expect. Building the units (they arrive in pieces) will take you time or cost you money to pay for someone to do the installation for you. Furthermore, when putting the unit together at home you can't replicate some of the factory methods. This means the unit won't have the same strength as a factory built unit.
#10. Customizability And Modifications
Custom modifications add a plethora of choices to the kitchen cabinet. You can select from different sizes, colors, styles, and other specific features suited to different customer needs. Some customers wrestle with the problem of not enough choice from standard cabinets but find the price of fully customized cabinets too high. What many people don't know is in semi-custom cabinets, with modifications, you can find a compromise between the two.
The semi-custom cabinets, with modifications, give more choices than the standard units – but they are not a 100 percent down to your every whim. Basically, you are taking the middle ground route. There are different options for size, style, and extras. The manufacturer makes your kitchen a custom product but starts from a basic line to save cost. Your modifications get added further along the production line.
The kind of adjustments you can make are choosing finished interiors, one-inch incremental adjustments to the cabinet base box size, the door styles (glass-ready, open-front, mullion doors etc.), angle cabinets and so on. Giving a kitchen designer these extra options can help them achieve a lot more in your space without going for a full custom job.
#11. Lifetime Warranty And Industry Certification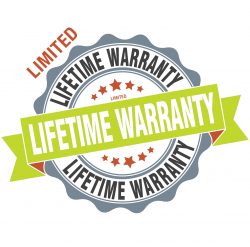 The warranty doesn't necessarily guarantee quality, but what it does show is that the manufacturer is confident about their product. If a product has a lifetime warranty you know they have some confidence, and this implies quality. Products which don't have a warranty, perhaps, the implication is opposite.
You know you have bought low-quality cabinets when they begin to show signs of wear-and-tear, and breakage after five to 10 years. Usually, most warranties will have run out by this time. Kitchen cabinets are no doubt very expensive, and you would hope they will last much more than just five to 10 years. In fact, a good quality product should, and will, last much longer. This is why a lifetime warranty can reassure you, that what you are buying is set to last, and last a long time into the future.
Key Things To Know About A Lifetime Limited Warranty
The lifetime limited warranty states the manufacturer guarantees the cabinet will operate and function as expected, for as long as the person who bought the product owns it. Normally, the guarantee will afford a repair or replacement in the case of a cabinet failure.
Key Things To Know About A Short-Term Or No Warranty
Many manufacturers will go for a one, five or ten-year limited warranty, and some won't even offer a one-year warranty. If the cabinet you are considering has a short or no warranty, beware, because if the cabinets break early on you can't do anything about it.
Key Things To Know About A KCMA Certified Product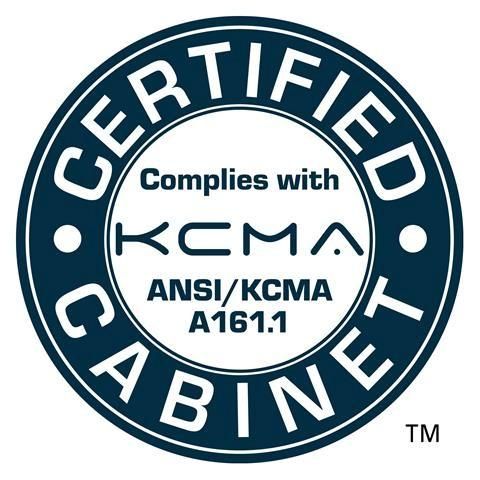 The American national standard for kitchen cabinets or bathroom cabinets is ANSI/KCMA A161.1-201 2. This is a special standard which sets the bar for the minimum performance and construction methods for cabinets. If a unit is being sold with this certificate (as ours are) you can have confidence the materials and methods will meet minimum quality requirements set by the American National Standard.
Learning Center
Continue Learning