Learning Center
Table of Contents
When renovating or remodeling a kitchen, it is essential to understand what clients are looking for in new cabinetry. This kitchen introduction will help the planning process go smoother quicker and ultimately help you ask your clients the right questions so they feel good about the choices made for their new cabinets. In kitchen cabinets 101, we'll help you discover all you need to know about kitchen cabinets before buying.
To have a successful renovation, it's essential to understand the basics of kitchen cabinets and all of the options available. Whether you choose cabinetry for the bathroom, laundry, kitchen, basement, or garage, CabinetCorp's kitchen cabinets 101 can help.
Kitchen Shape
While you may have a particular style or finish in mind, everything begins with the kitchen shape. The kitchen floorplan determines the design. Before you start, decide what floorplan works with your kitchen.  Most kitchens are L-shaped, U-shaped, G-shaped or they are one-wall kitchens.
Regardless of the shape of the kitchen, the positions of the stove, sink, and refrigerator in relationship to each other are essential. These areas define the "work triangle." Consider which shape would be ideal for your remodel. Think about the floor plan which allows for the best flow.
L-shaped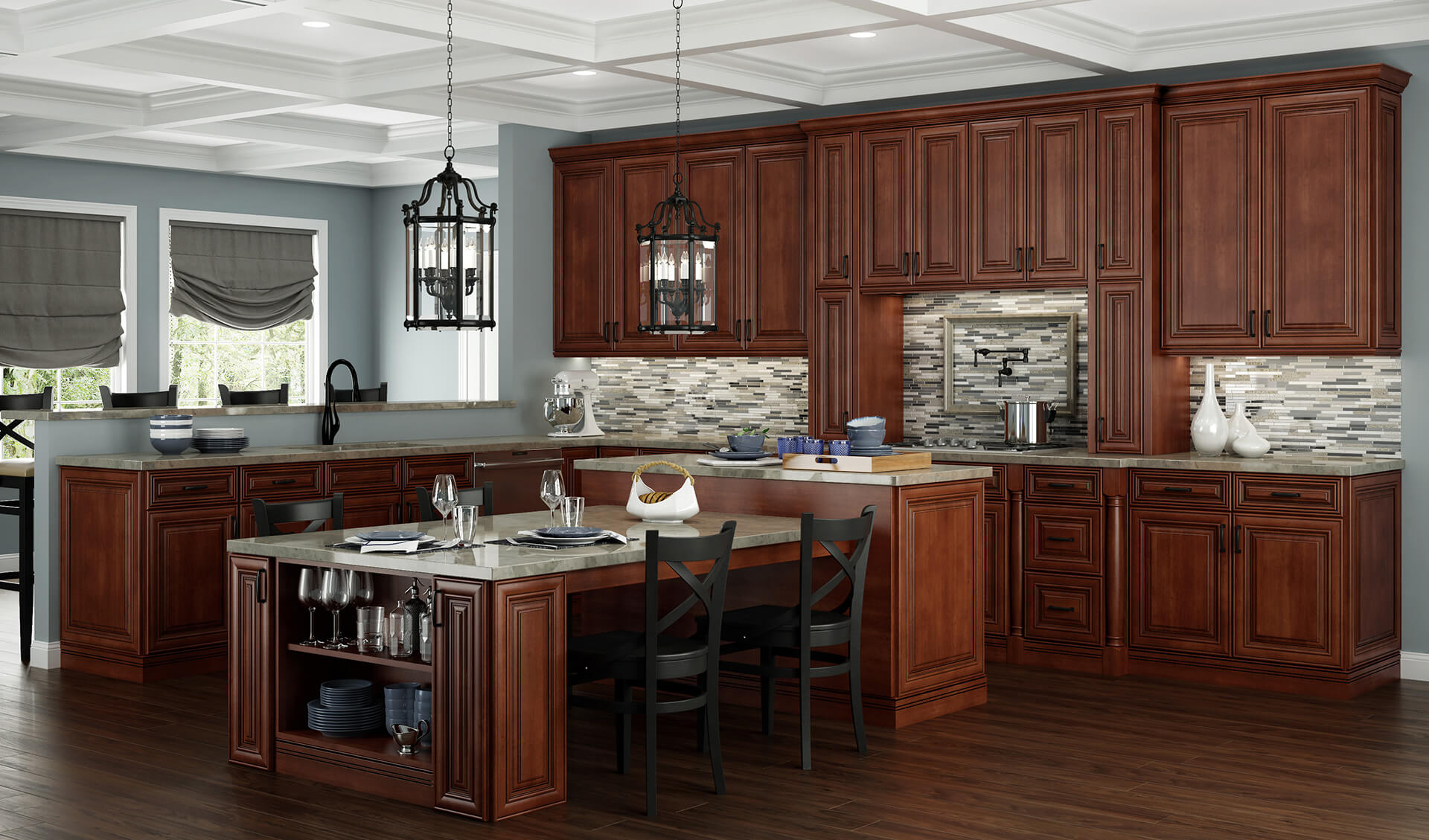 Most versatile of all designs is the L-shaped kitchen. It maximizes space and function in a small to a medium-sized kitchen. Cabinets and appliances spread out against two adjoining walls to form an "L".
U-shaped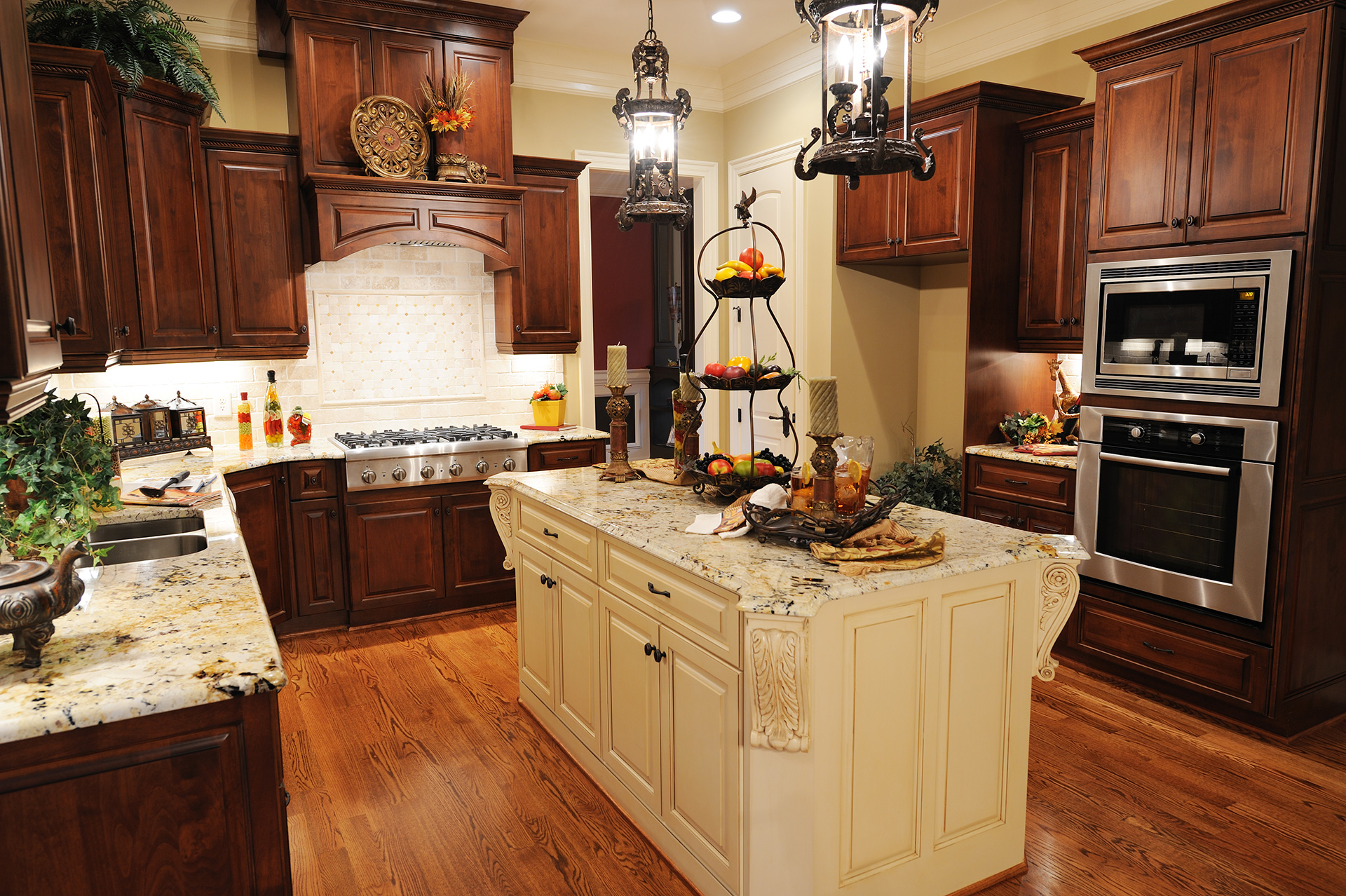 The U-shaped kitchen uses three adjacent walls. Similar to the L-shape but with an additional "leg". Ideal for large kitchen concepts, this design improves the efficiency of the work triangle. By adding an island, countertop space, seating, and storage is maximized.
G-shaped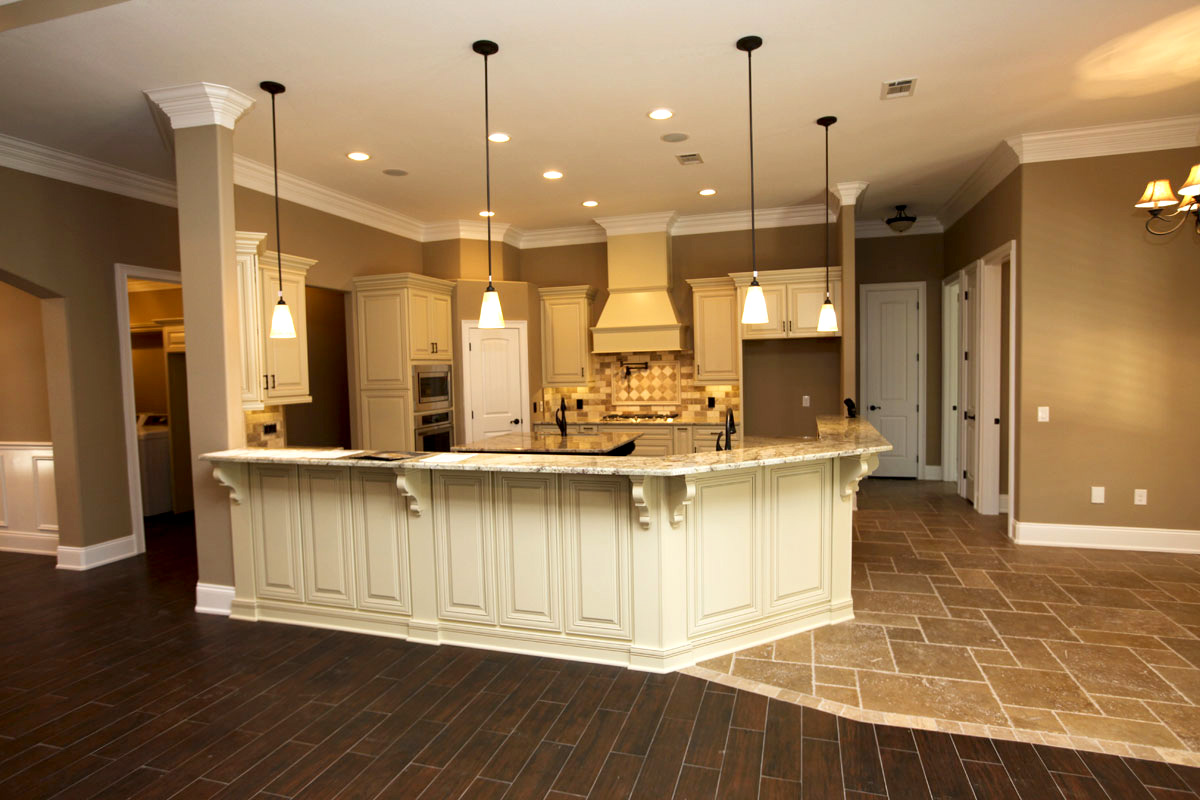 The "G" shaped kitchen includes four walls of cabinet storage and counter space, and a single countertop peninsula for food prep and seating. Found in larger kitchens, it maximizes counter space and provides an eat-in kitchen or breakfast nook.
One-Wall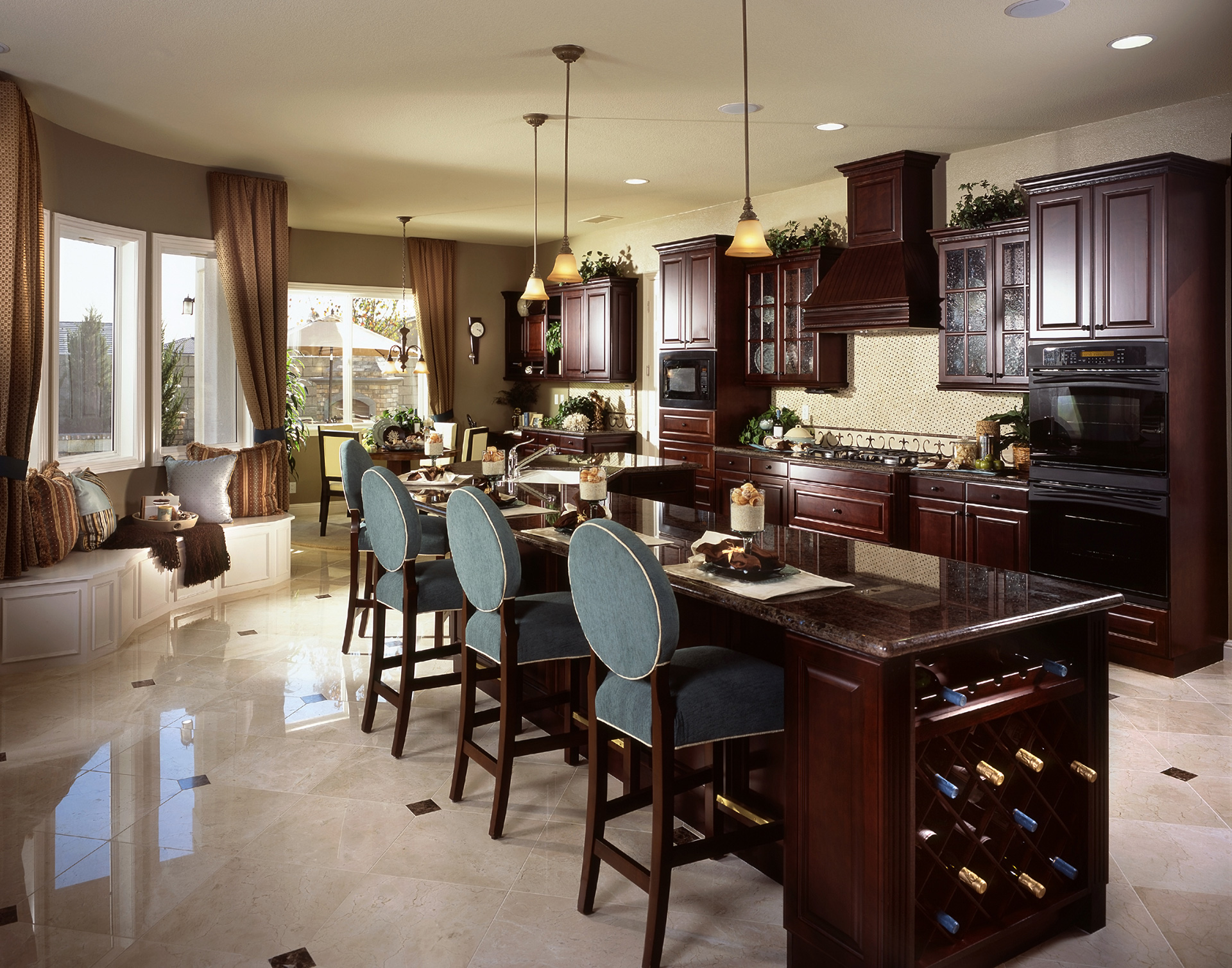 A one-wall kitchen shape has all the cabinets and counters sit along one wall. Usually found in smaller spaces, studios, or open-concept kitchens, they allow for a much more open area.
Galley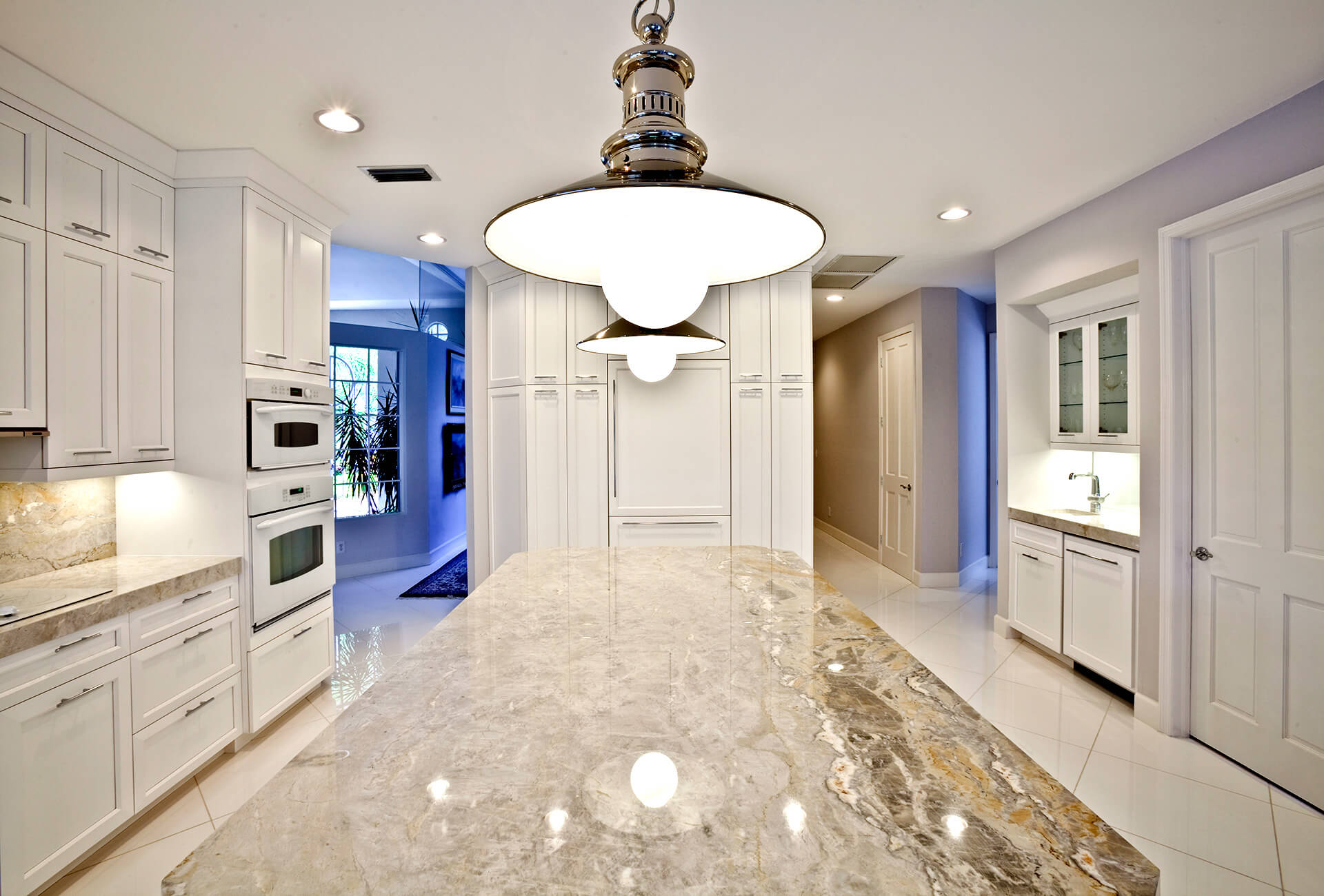 Named after the kitchen layout found on boats, is a great alternative to the U-shape for smaller spaces. Two walls parallel in which cabinets and appliances oppose each other. Typically best for a single cook, it provides smooth workflow and convenience inside work triangle.
Kitchen Concepts
Kitchen Triangle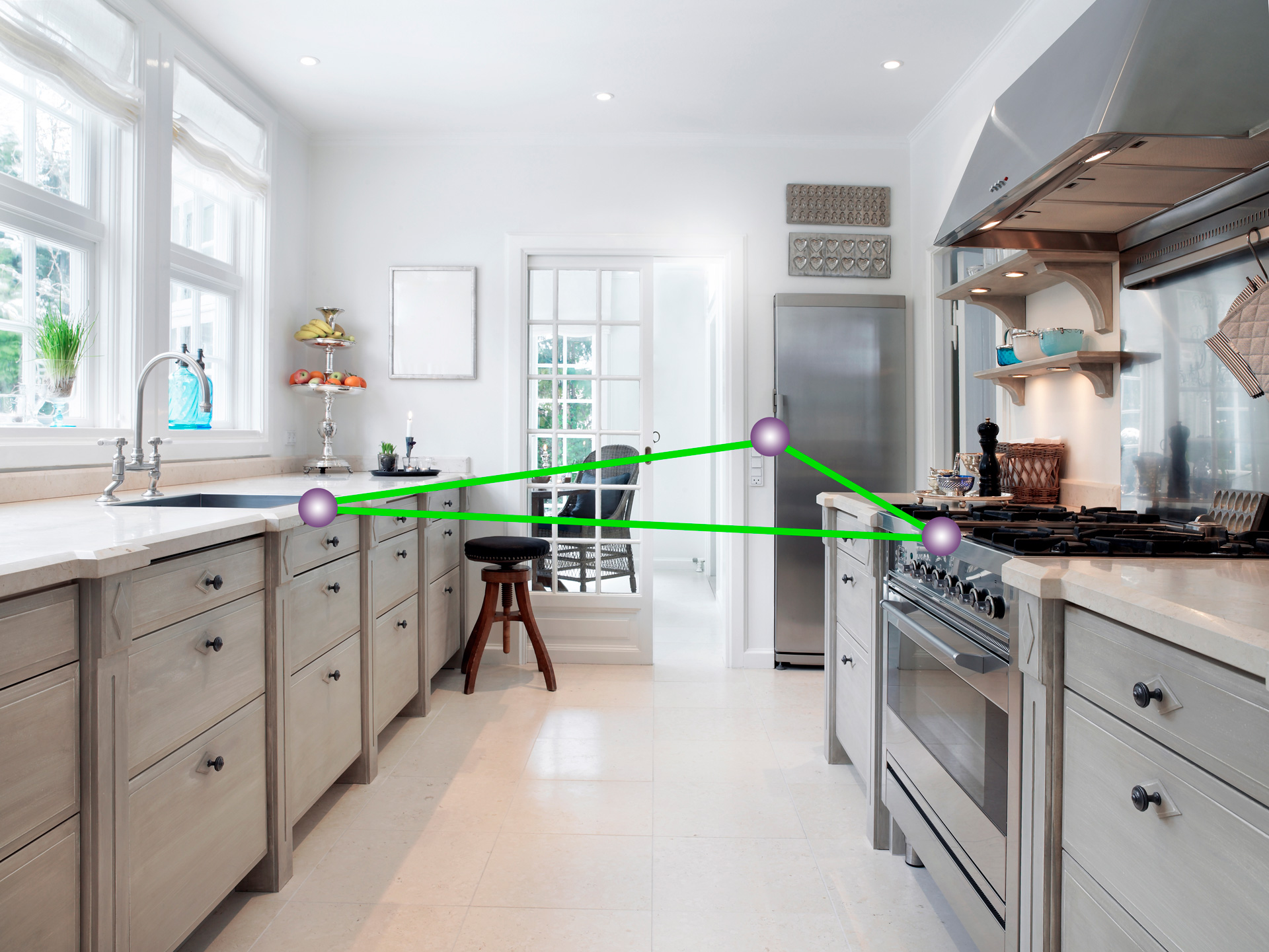 The work triangle is the most important consideration when deciding on a kitchen design concept. Referencing the space between sink, refrigerator, and range, the majority of kitchen work happens here.
Within all shapes, the work triangle is essential. Each leg of the triangle should be between 4' and 9'. If the triangle cuts into an island or peninsula, it should not be by more than 12 inches. The main sink should be placed between the refrigerator and the range or across from them. No major traffic should be passing through the established triangle.
The triangle concept is something by which most designers swear. Decide for yourself if it works for you. Other things to consider:
Do you currently have a triangle in your kitchen? Does it work for you? What would you like to change?
If not, would cooking and food prep be easier?
Do you use your kitchen for purposes other than cooking?
Is your kitchen large enough that you need the triangle, or small enough that it might not matter?
While these are standard practices, there are no set rules. The kitchen remodel should increase efficiency in your kitchen.
Kitchen Island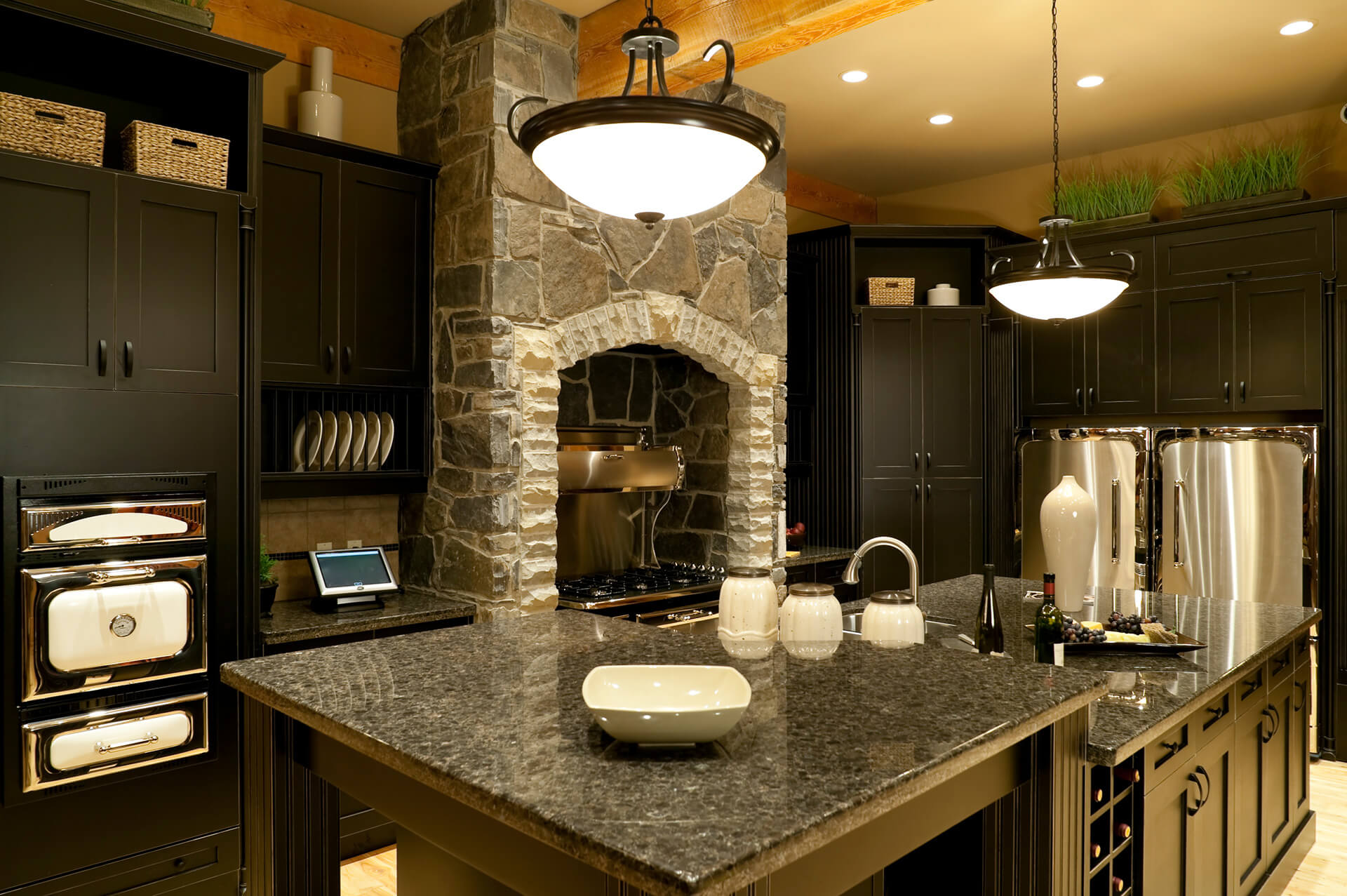 If you have space, kitchen islands are a great feature to add to your remodel. They provide additional counter space, storage, and seating. Many stylish options are available, and you can even add extra features like sinks and stovetops. There is also a wide range of choices, from simple, stand-alone islands with basic shelves, to built-in islands that match your cabinets.
Designs – Scratch Sheet vs. Rendering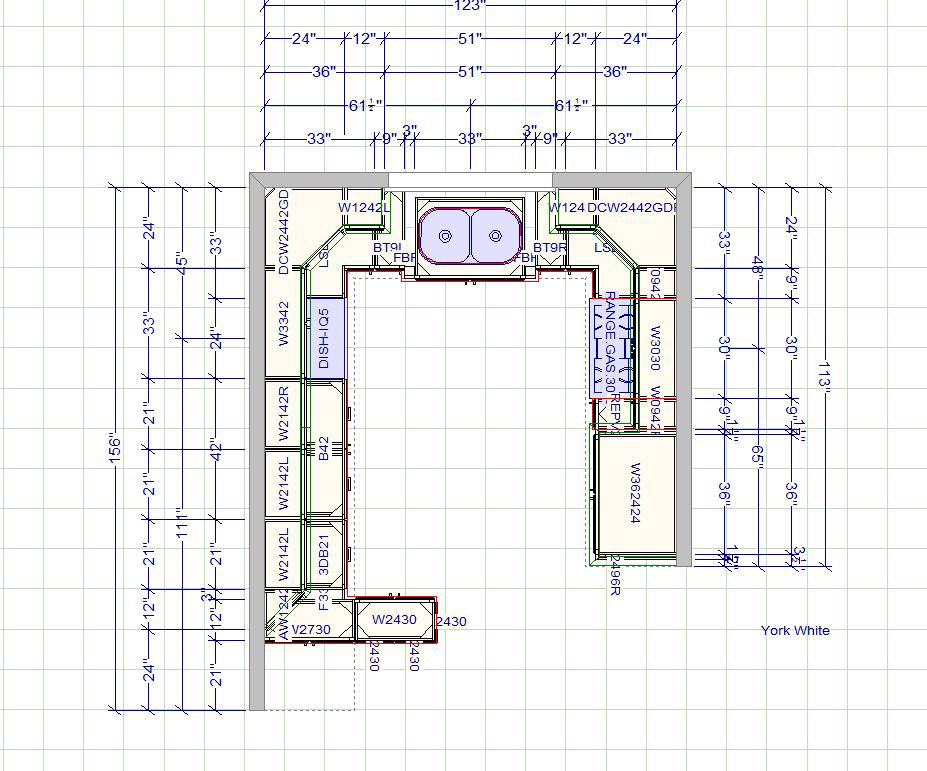 A scratch sheet is an excellent way to plan out your kitchen layout. You can take your kitchen floor measurements, as well as the dimensions of your appliances, cabinets, and furniture, and plot them out on the sheet to experiment with different layouts.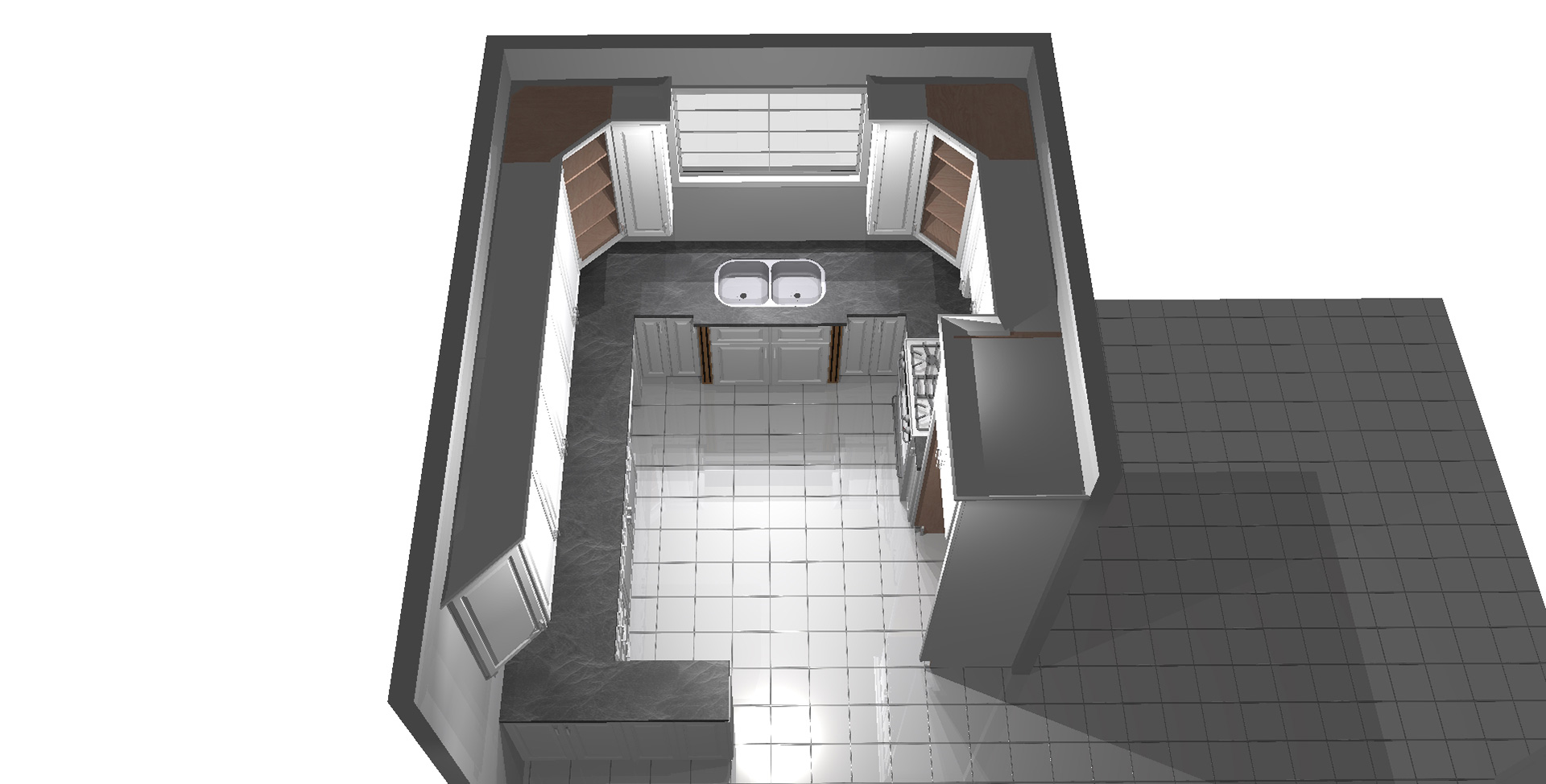 Renderings, a high-tech variation, adds visuals to your kitchen ideas. It is a drawing not just of the design, but how the components will look in the placement you have chosen to have rendered.
Understanding Kitchen Functions
Divide your kitchen up into zones for different functions: cooking, storage, and preparation. You will need to consider the function for each one and their relationship for one another.
Cooking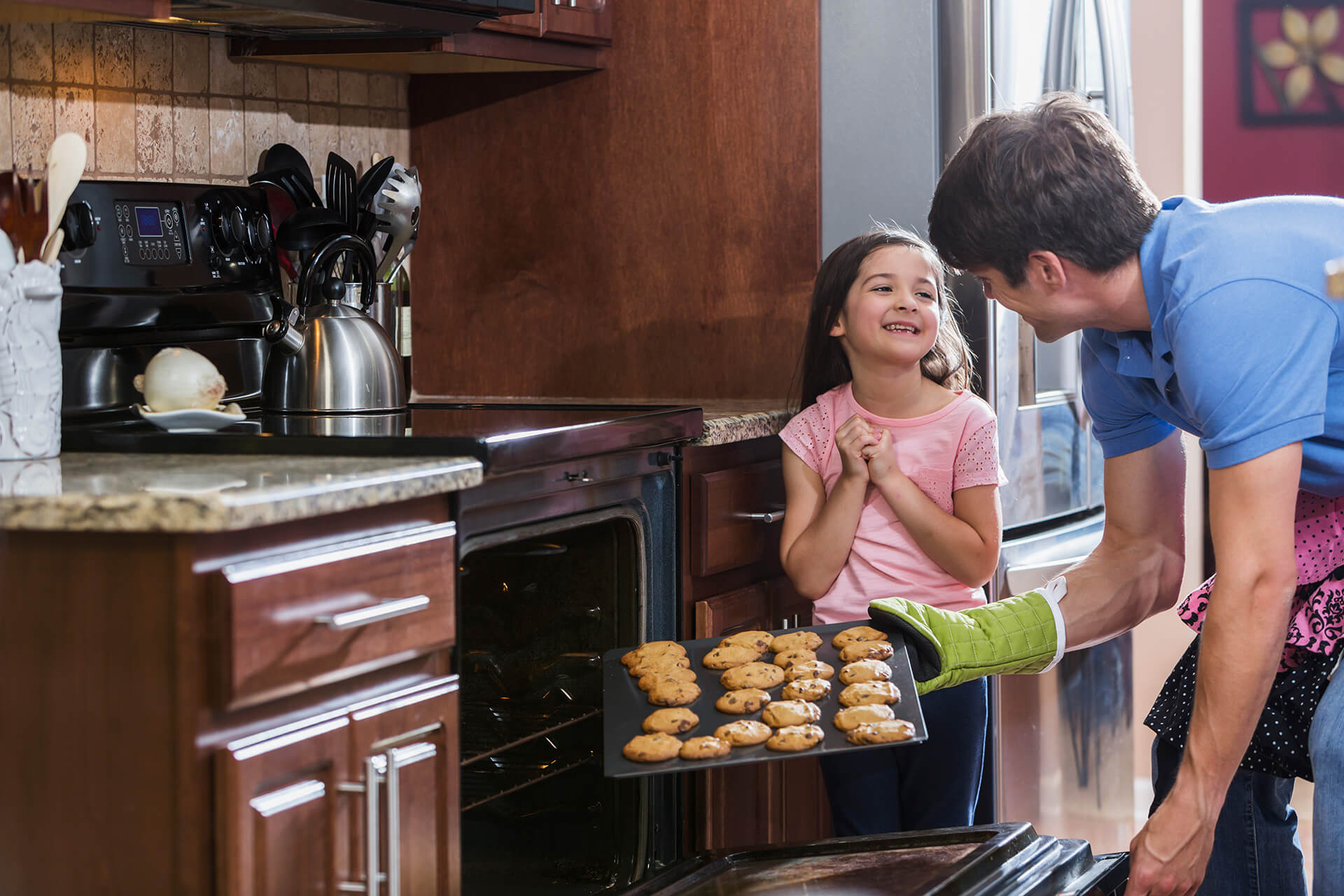 Cooking is the primary role of a kitchen! Most of the "action" happens here, as open flame and high temperatures transform your ingredients into delicious meals. It will need to be open, accessible and safe. Most likely you will want easy access to the cooking area from the food preparation area. Many cooks prefer having a prep area next to the range. Consider storing every day like pots, pans, utensils, and the dishes close to or easily accessible from the cooking area.
Storage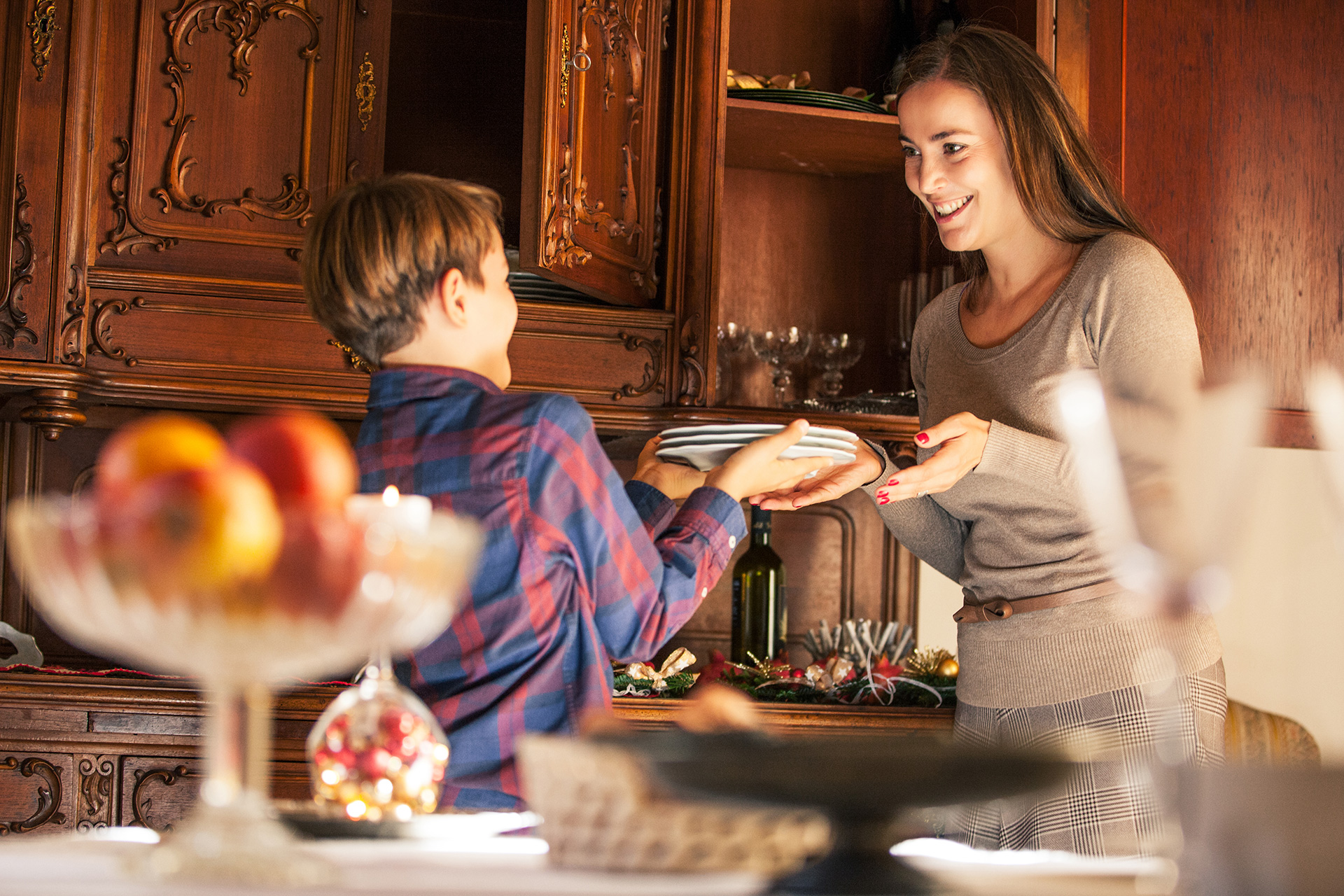 Storage is where you keep both your food and your kitchen equipment. Make sure there is both adequate space and easy accessibility. There should be enough room for cleaning your cupboards and shelves without interfering with high-traffic areas.
Preparing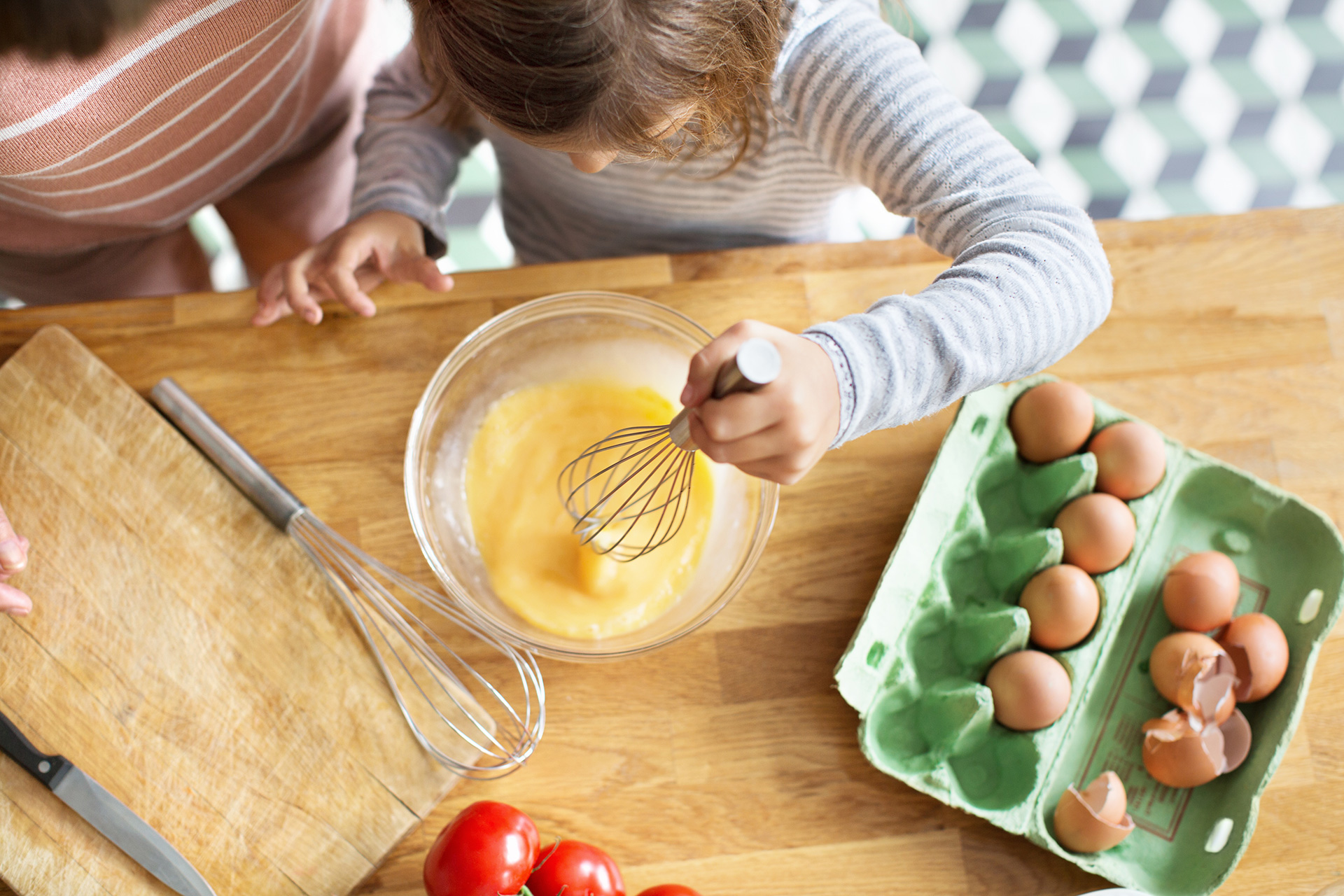 Lots of counter space is a highly coveted kitchen feature for most cooks. To prepare your ingredients for cooking, spread out cooked food for easy serving, and not be bogged down with constant clutter, you will need an open, prominent food prep area. Being central to the cooking and storage areas is also ideal, with your most frequently used items stored closest.
Cabinets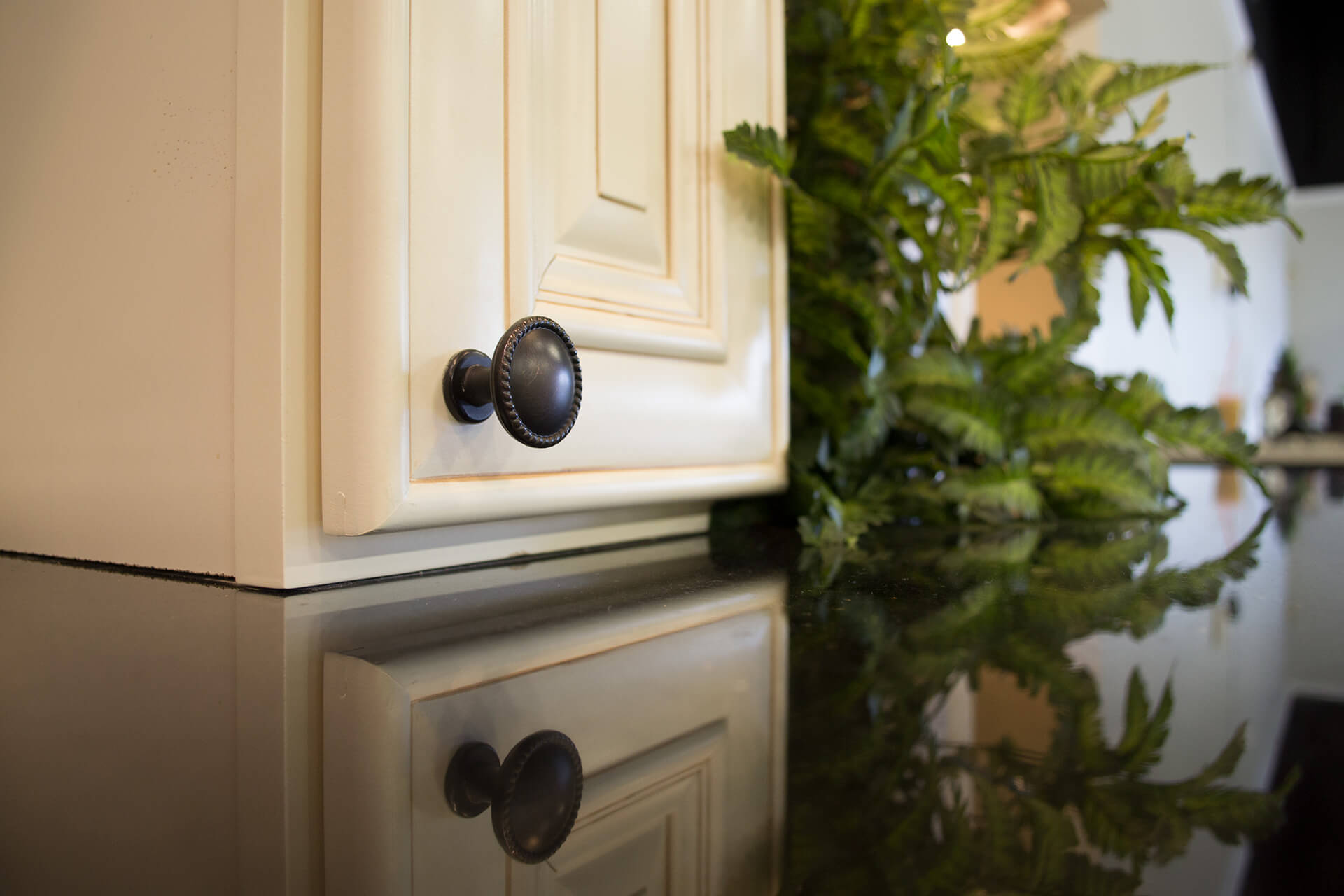 Once the layout is determined,  move on to the stylistic components, namely, cabinets. Among the most visually striking aspects of a newly remodeled kitchen, the cabinets can set the whole look. Remember, the function is equally as important. So it is crucial you choose the right ones for your purposes.
Materials
Over the years, different types of wood have risen and fallen in popularity. Cherry, oak, alder, and maple are some of the choice wood for quality cabinets over the last few decades, but what's in style is not as important as a classic, functional material that will last over time.
Style and Color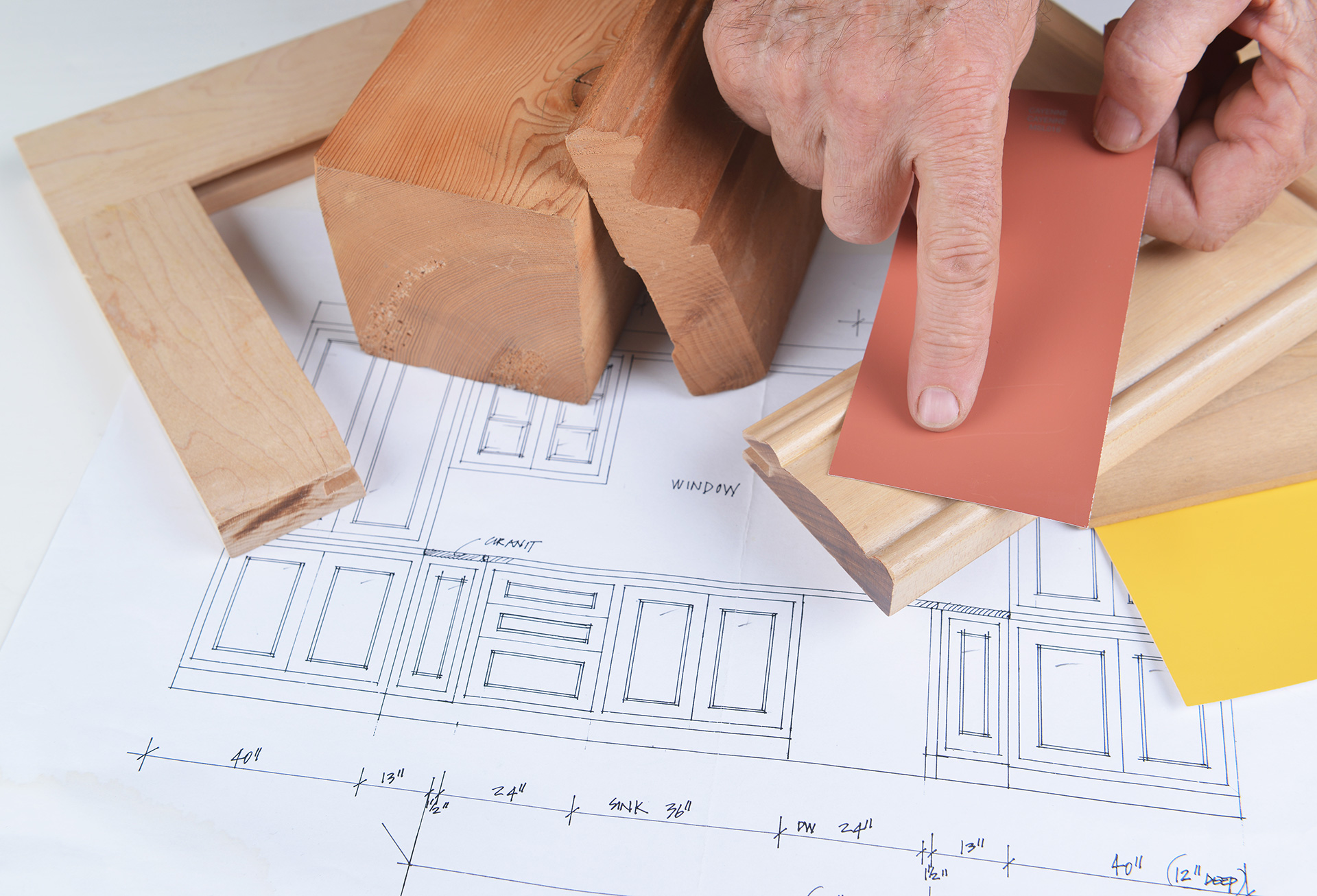 Selecting the style and color of your cabinets can be daunting. It can be tempting to opt for bold, fashionable colors that will make your kitchen pop. However, neutral kitchens are standard for a reason. While this is an area that you can express your personal style and preferences, it's important to keep in mind the resale value and versatility of your overall kitchen design. Some styles and colors will always be chic and classic and will suit different decoration schemes if you want to change things up in a few years or sell your home. Neutral does equate boring. Pale blues, bold grays or light natural wood can still look beautiful.
Consider kitchen size. Bright colors compliment small kitchens. In larger kitchens, you might be able to showcase a darker cabinet color. Consider the natural light your kitchen receives.  Not much natural light? Choose colors that will brighten the kitchen.
Cabinet Functionality
Wall
Wall cabinets can significantly increase the amount of storage space you have. Stylistically, they can dominate a room. Because they require the most effort to hang, examine the construction of your kitchen before choosing your wall cabinets.
Base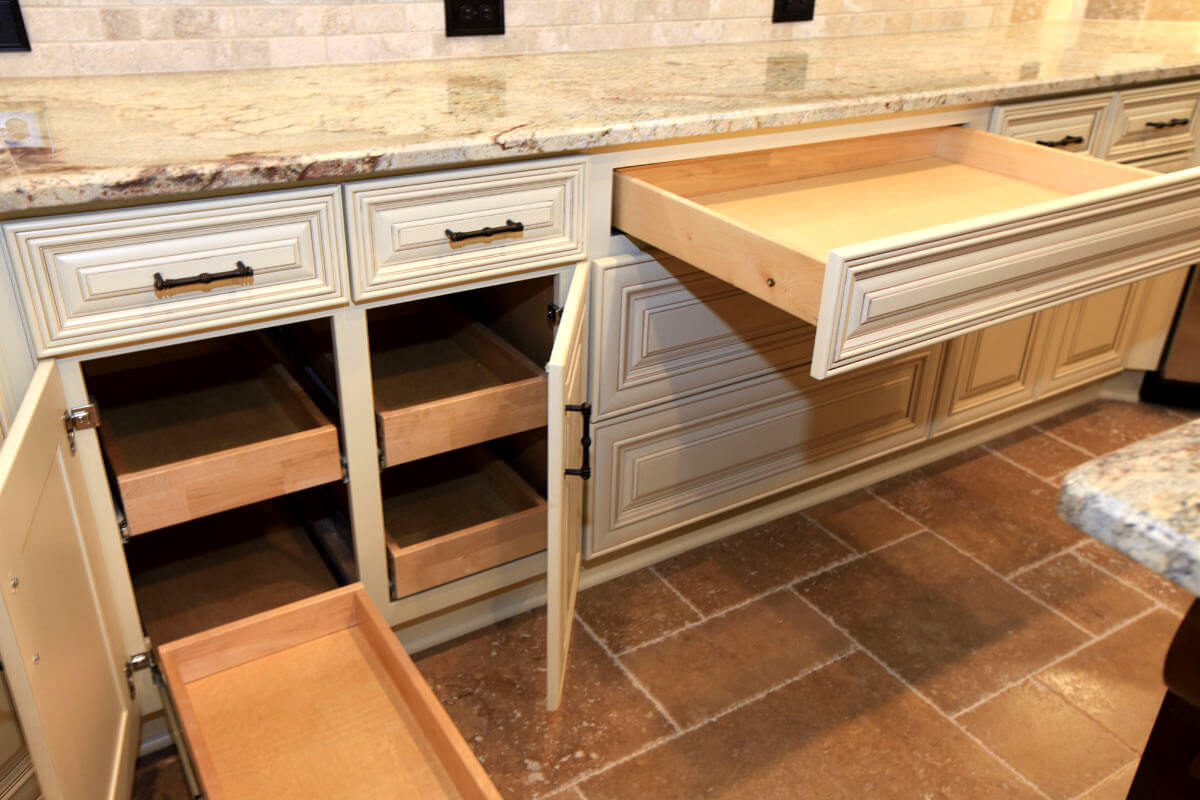 Base cabinets are the cabinets below the counters or under a kitchen island. They will need to be durable as they'll experience considerable wear and tear. They can provide lots of discrete and functional storage space, especially for larger, heavier kitchen equipment like large pots and pans, small appliances, or non-perishable food items.
Corner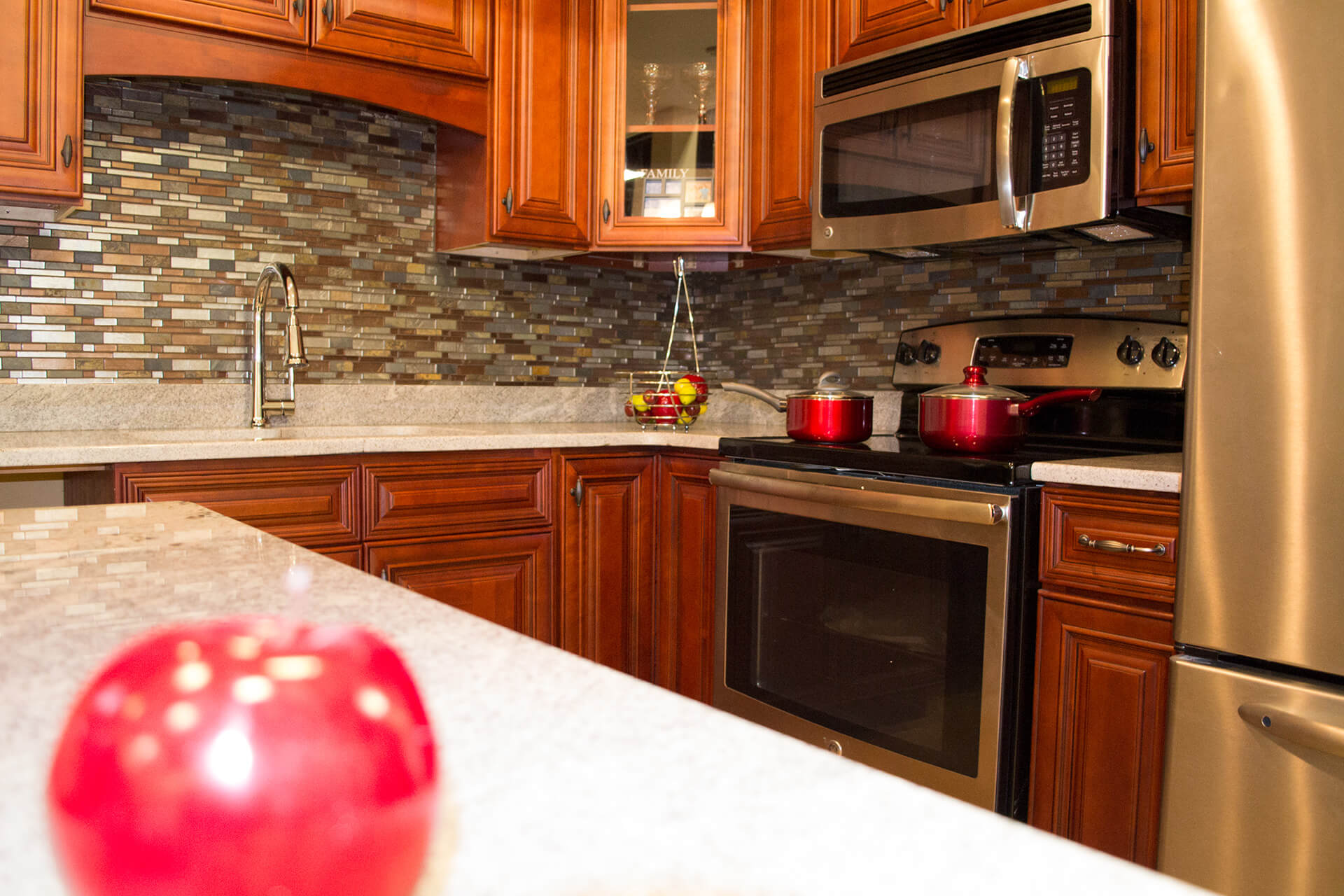 Corner cabinets were once awkward and difficult to access.  Recent innovations and simple design tweaks can make them extremely versatile functional. One example is a swing-out corner cabinet. Another example is the lazy-susan corner cabinets. These contain shelves that rotate making access and storage a breeze.
Tall/Pantry
Tall or pantry cabinets vary in size. Typically, tall cabinets extend from the floor to ceiling. A great option for pantry-style storage, and provide considerable space. Often they are custom made which can be very expensive. You can still find great options for tall stock cabinets.
Glass Door
Glass door cabinets are a straightforward and beautiful. Glass can update old cabinets, and most do-it-yourself people would be able to do a DIY version at home.
Filler Panel Molding
Panel molding provides many stylized options. Molding fills the space between the cabinets and the ceiling. Because cabinet size and ceiling height will fluctuate, crown molding creates a clean-looking and attractive finish. For extremely high ceilings stacked crown molding gives an elegant final touch. Edge molding adds an edge to cabinets and shelves, accentuating open shelving. Light molding conceals strategic under-cabinet lighting, and will often come standard with a cabinet. Shoe molding applied to the bottom of all cabinets coordinates with your flooring. Applied molding creates a cohesive look with the rest of the cabinet details.
Accessories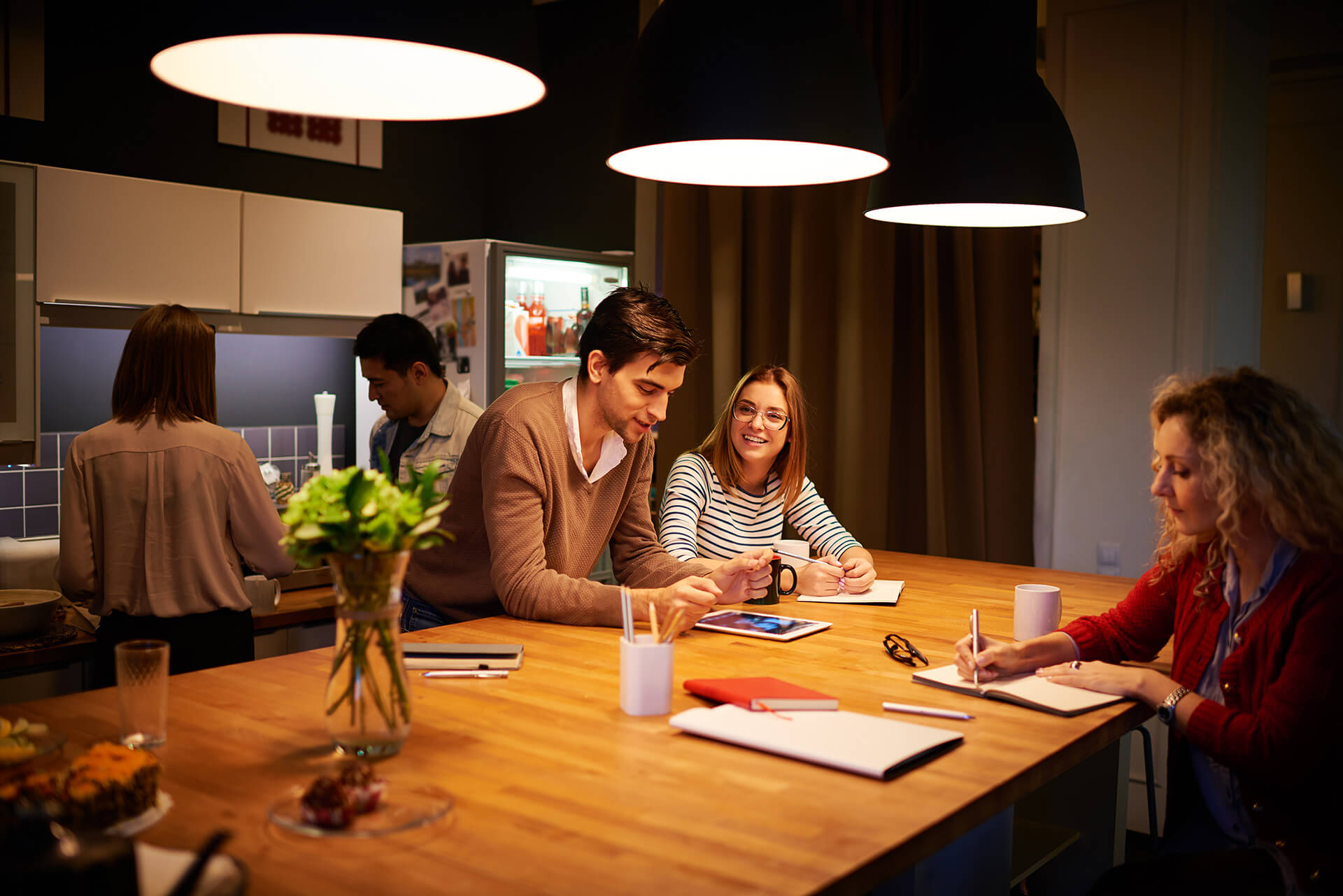 After selecting your cabinets, the focus should shift to functionality by using accessories. Pull-out cabinets  give maximum usability and space.  Kitchen cabinet organizers come in a wide range of options, from built-in, high-range, and low-range options. Either custom made or purchased separately, they provide individual cubbies for various items. Spice racks declutter busy cabinets. Either built into the cabinets or purchased separately as well, they give the kitchen a gourmet-looking touch to your kitchen style. Wine racks, like spice racks, can be built into your cabinets or purchased individually. Many modern kitchens feature prominent, open wine racks that add a level of chic modernity to the look of the kitchen.
Kitchen counters are a huge focal point of kitchen design. The material dictates not only the look of the kitchen but the function as well. Choose cabinet tops that provide a  visually cohesive look.  Granite countertops are stunning-looking and durable.  They are quite coveted, but they are heavy and require special cleaning. Formica is economical.  It is easy to customize and easily cleaned. However, it can also be worn down.
Lighting is a critical feature of your kitchen design and function, and there are a lot of different options. Under-cabinet lighting is ideal for lower light that focuses on your food prep and cooking area, and there are simple, easy-to-install options that will brighten up your whole kitchen.
Working with Your Designer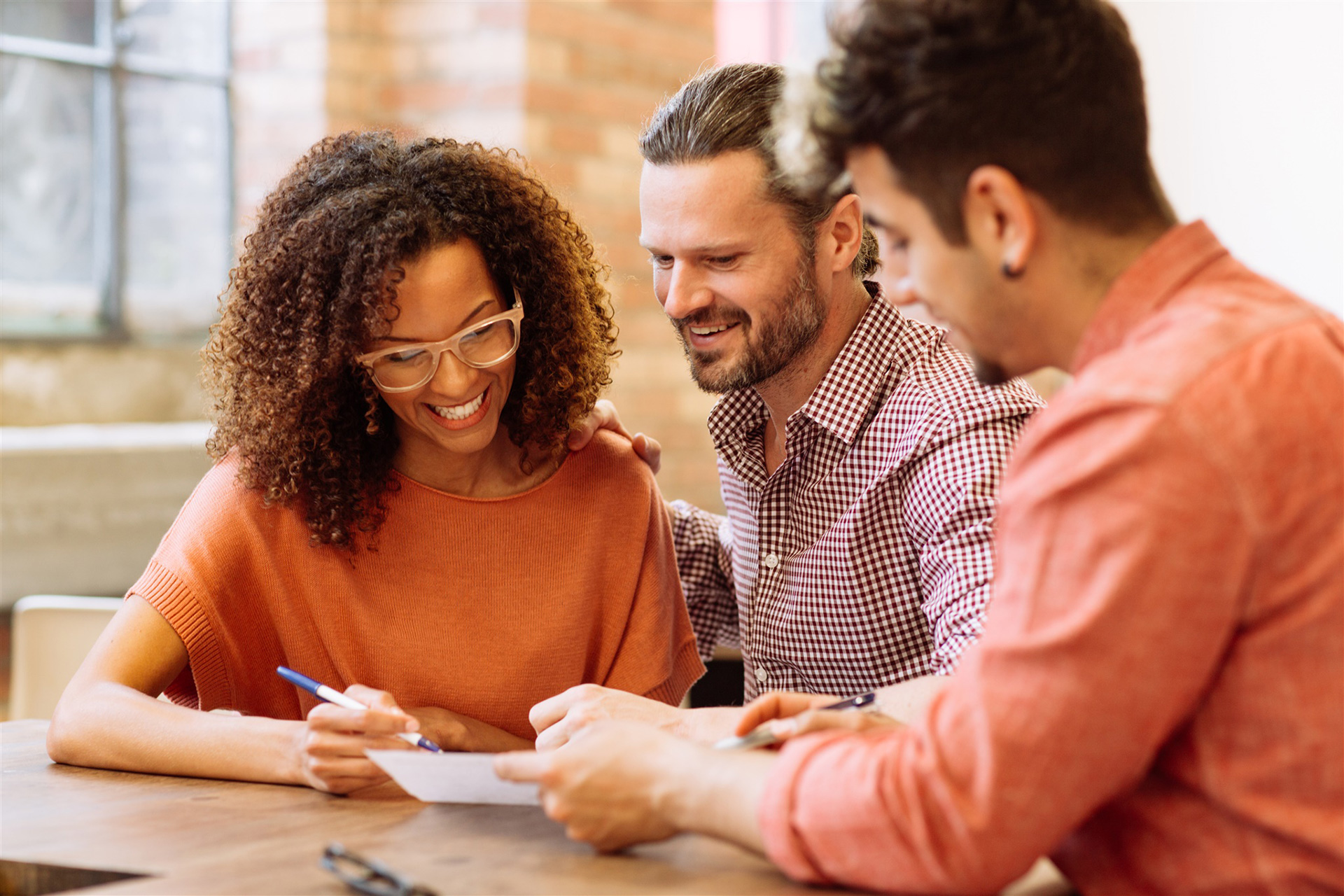 Using a designer can significantly improve the remodeling process. With their experience, they help ensure to maximize your square footage while providing the right mix of style and function. Select the person that will serve you well. Designers can help you plan out the design of the remodel. Some will oversee the execution of the entire project. From hiring contractors and managing the ordering, they are with you every step of the way.
When you are choosing a contractor, ask the questions and review their qualifications. It is vital that you understand their level of involvement in the project. Ask about how much of the project will be insured, and permits necessary for the remodel.
Choosing a designer is a big decision.  It is wise to ask friends and acquaintances who have gone through a kitchen remodel for recommendations.
DIY or Contractors
DIY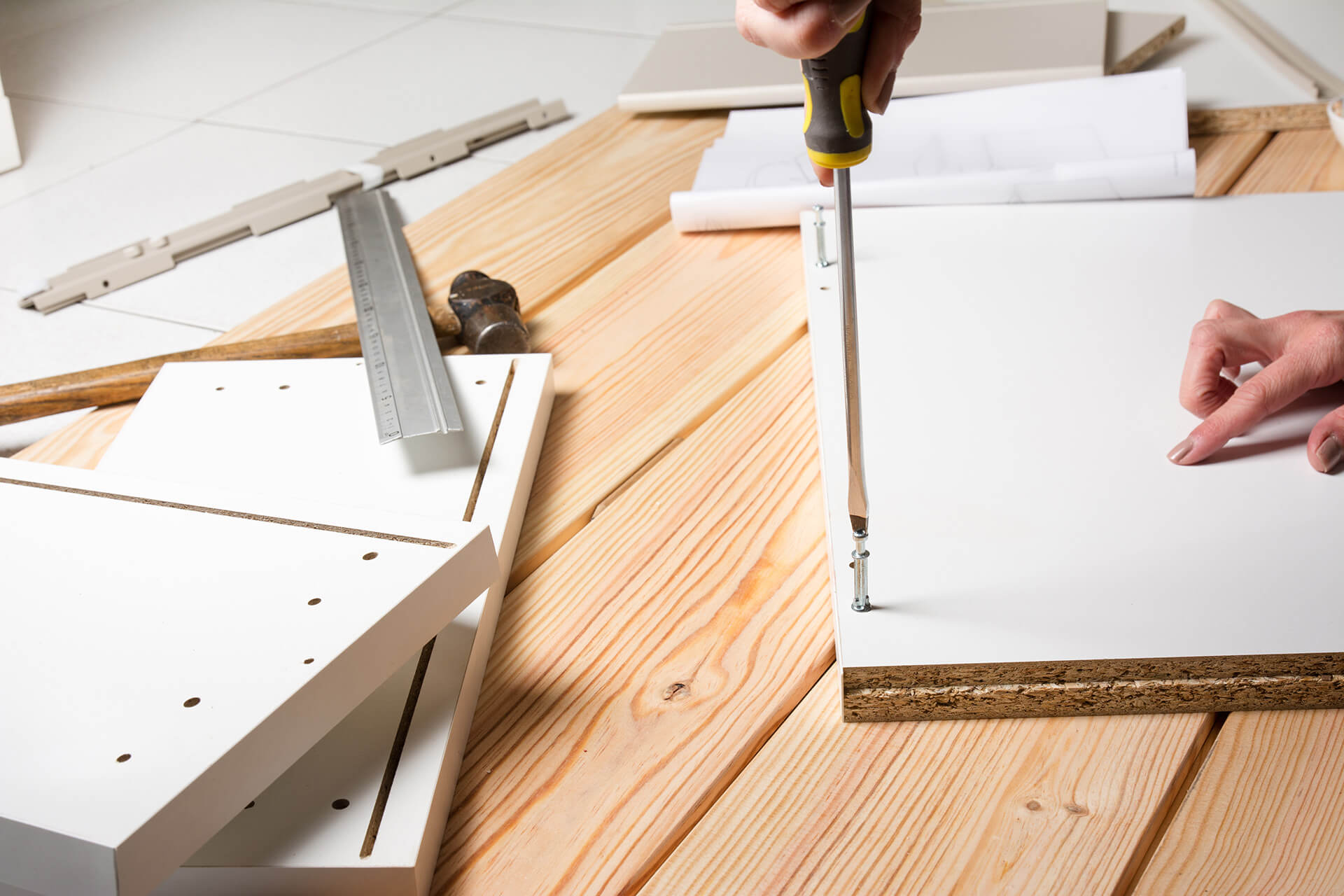 With any kitchen remodel, you have the option to do some of the work yourself. It's no small undertaking, but it is possible. Part of the project is reinstalling new cabinets. Doing this can save quite a bit of money. It is an easy way to update your kitchen without too much money spent.
The first step would be choosing and ordering the right cabinets for your needs. Make sure you have entirely removed the old cabinets and rerouted any utilities if necessary. Inspect them to make sure you have all the proper components, and they are in good shape. If there is damage from shipping, it will be difficult to install them correctly.
Pre-assembled vs. Assembled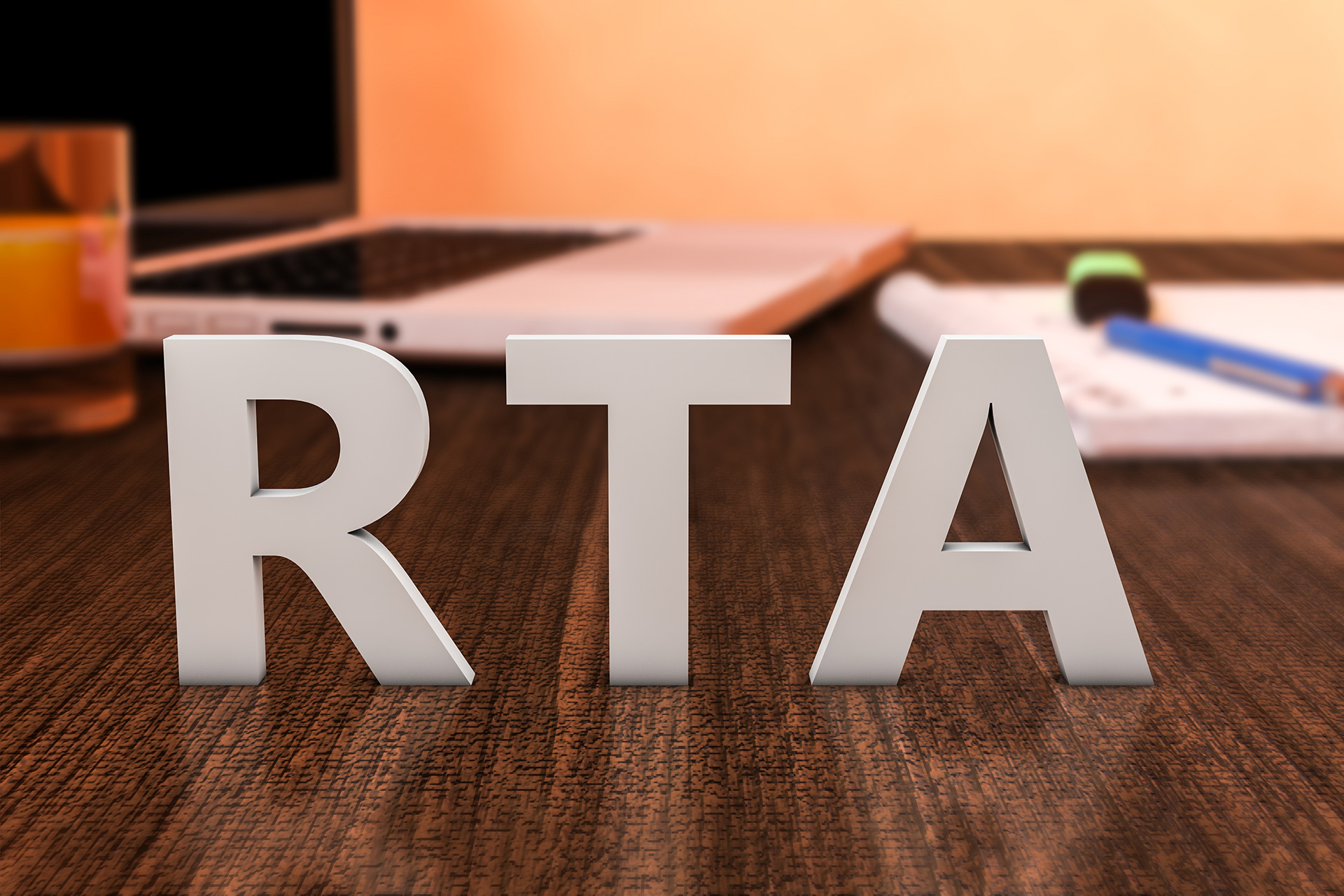 One choice you will have to make if you decide to install your cabinets yourself is whether you want to buy pre-assembled or assembled cabinets. There are pros and cons to each. The pros of pre-assembled cabinets are that they are easier to install. Often they are easily picked up or shipped to your home.
Ready-to-assemble cabinets are cabinets that are packaged together with all the necessary components to be put together by you or your contractor. A distinct advantage to RTA cabinets is that they are more cost-effective, ship much faster, for a lower cost, and are less likely to be damaged during shipping. Because of this, you can typically afford higher-end cabinets for the money you save in labor and shipping.
Contractors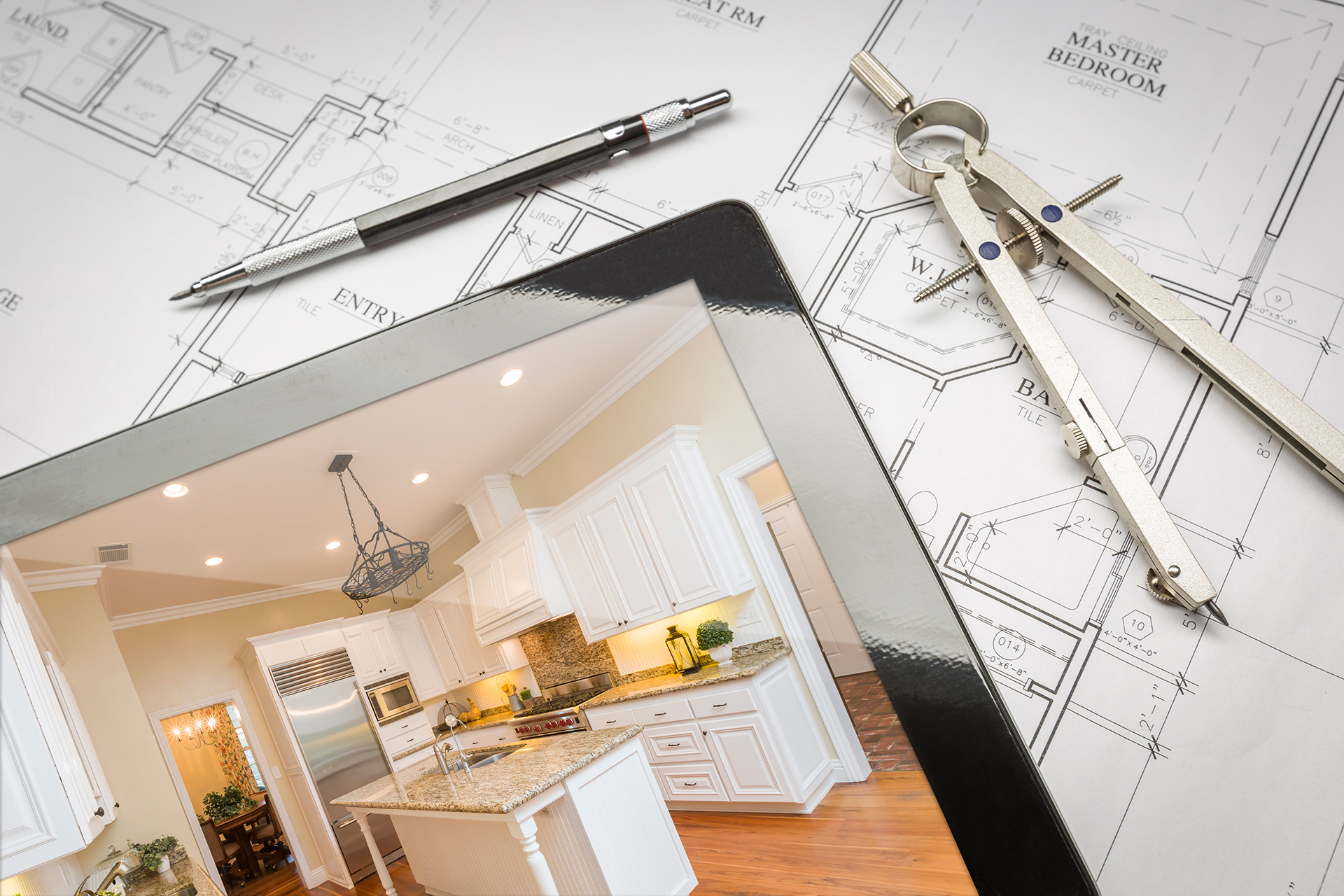 Contractors can be great to use for your kitchen remodel. They are experienced in all the processes of construction and installation of kitchen cabinets and appliances. Hiring a contractor is much like hiring a designer, you will want to make sure you choose a qualified, cost-effective individual for the job so that the price you pay for them will express itself in a smooth remodel. Rely on personal referrals and online reviews, ask to seek work they've done and make sure they are qualified. Inquire about permitting, the labor they use, what their quote for the job includes, and how they come to this quote.
Kitchen Cabinet Construction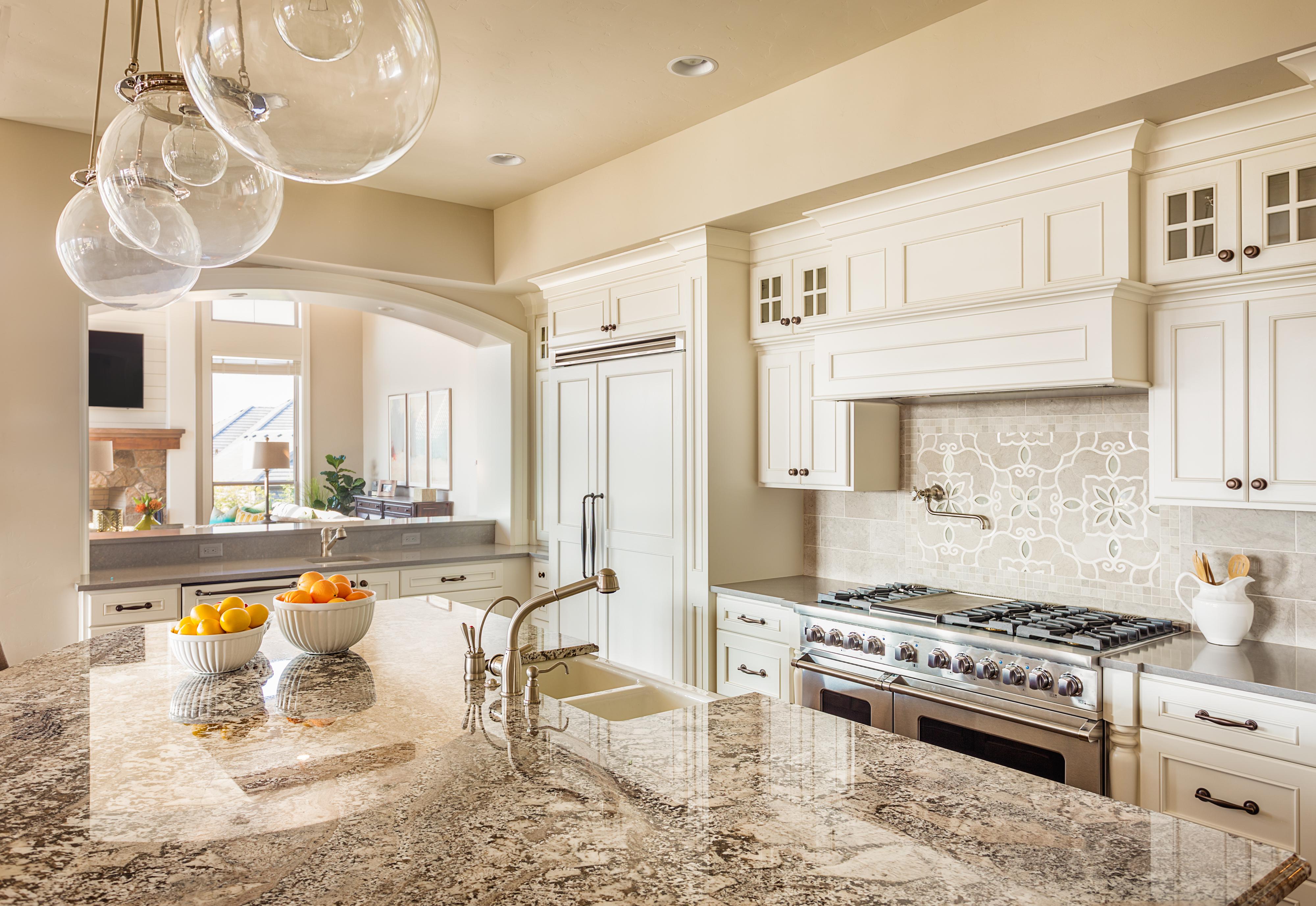 Every part of your kitchen serves an important function in the food preparation process, and your cabinetry is no exception. Cabinets are not only used to store dry goods like cereal and baking supplies, but they also serve to house cooking tools (pots, pans, and small appliances) and dining implements (dishes and utensils).
Kitchen cabinet construction is important for some reasons. For one thing, you want your kitchen space to be attractive since you spend a lot of time in this hub of the home. Subpar cabinets that lean or sag can compromise function and undermine an otherwise beautiful kitchen aesthetic.
Also, your cabinets need to support the weight of the items in cupboards and drawers, and you want to make sure that they are capable of keeping out children, pets, dust, and even pests. In other words, the way in which your cabinets are constructed is of great importance, especially since frequent kitchen remodels are out of the question for most homeowners.
As a consumer, you may not know a lot about how kitchen cabinets are constructed or what to look for when you purchase new cabinetry. However, you're the one who has to live with them, so you need to do some research to make informed decisions. Here are just a few things you should know about cabinet construction before you start your kitchen remodel.
Choosing Quality Materials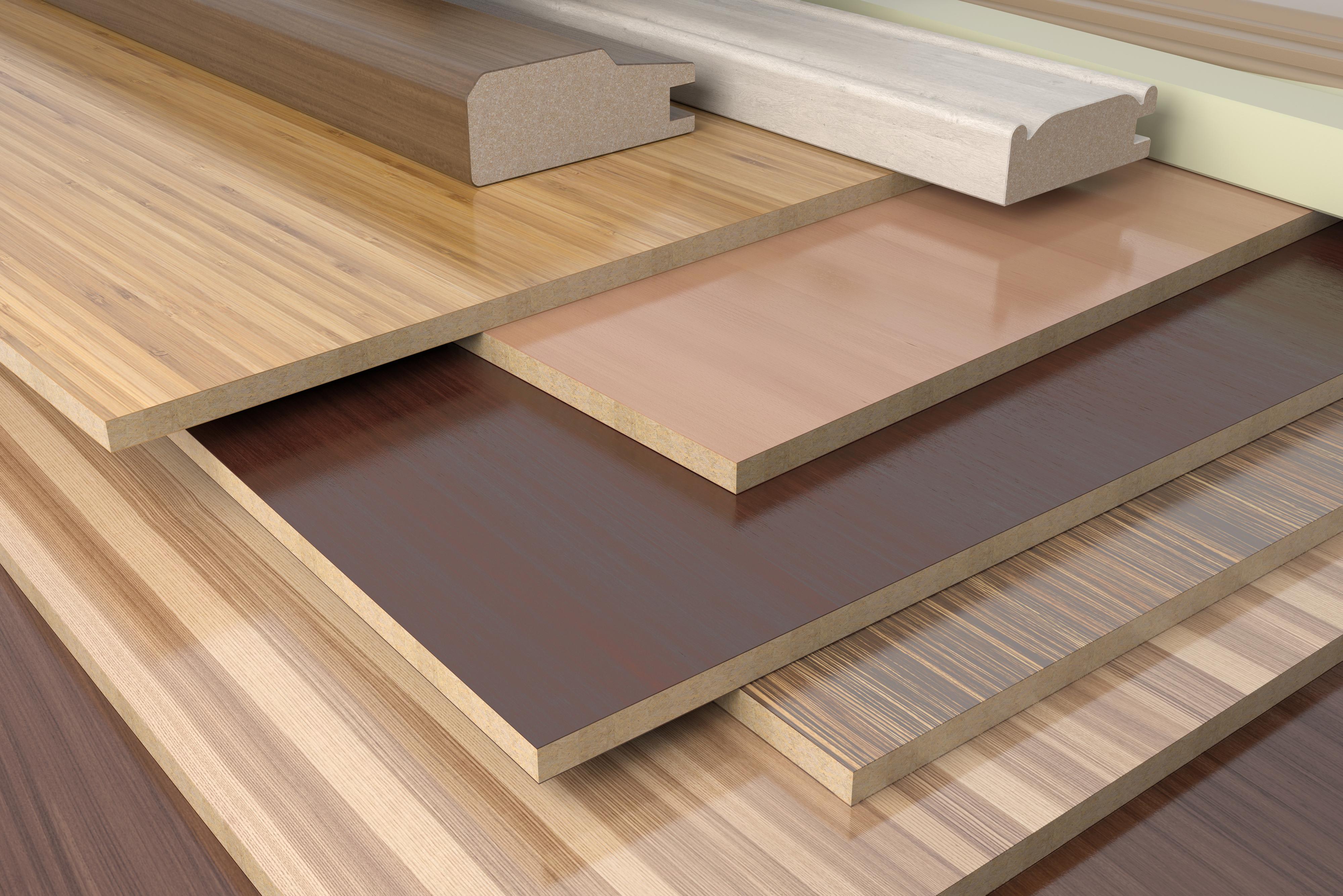 When it comes to cabinet construction, there are a wide variety of materials to choose from, with the most common being some form of wood. Generally speaking, cabinets are not made from solid wood as it is simply too expensive when compared to engineered wood products that function just as well. It is, however, normal to see products listed as "all wood," which implies composite materials like particle board, medium density fiberboard (MDF), or plywood.
The most common material used for kitchen cabinetry is particle board, which consists of wood chips fused together with adhesive to create a strong, durable wood product (similar to MDF, which is made with wood fibers). It is often faced with a wood veneer for visual appeal. If you opt for particle board construction, just make sure to look for products that are at least half an inch thick for sturdy construction and adequate support.
Plywood is also common and is considered more stable than some particle board or MDF products. It is also higher-end and may, therefore, entail greater expense. Some cabinet manufacturers only offer plywood in certain product lines, or not at all.
Stainless steel cabinets are also an option, although they're not nearly as popular as wood construction due to the high cost and the fact that they are particularly difficult to keep clean. Stainless steel is a magnet for fingerprints and smudges, making it less than ideal for the average, high-traffic kitchen space.
Understanding Joint Construction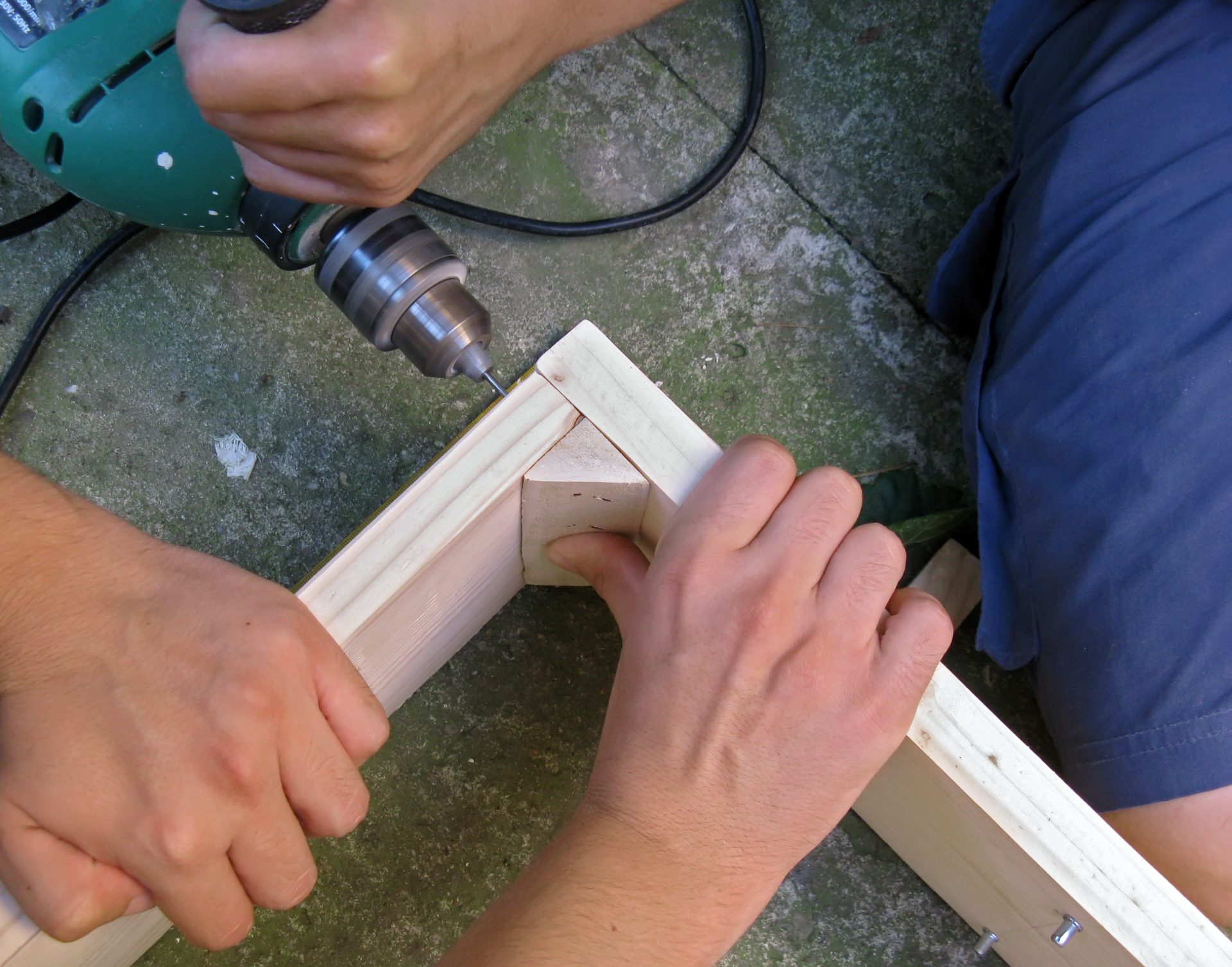 Solid construction materials are of little consequence if the joints used in building cabinetry are weak, so it's important to know what to look for if you want to ensure sturdy and long-lasting kitchen cabinets. Dovetail joints are considered extremely strong, but unless cabinets are delivered fully finished, you probably don't want to mess with trying to put together such cabinetry yourself.
A better option to look for is ado joints, especially if cabinets are ready to assemble (RTA), as opposed to already assembled (although this type of construction is also desirable in assembled cabinetry). Dado joints include a groove carved into one panel, into which an adjoining panel is inserted. This type of construction is much stronger than simply gluing, nailing, or screwing pieces together.
Framed versus Frameless Construction
Generally speaking, the average homeowner will almost certainly prefer framed construction, which consists of a front face, or frame; that delineates where doors and drawers will go. Although frameless construction may free up more cabinet space for usage, it is not ideal regarding construction.
The front face of a cabinet completes the four-sided box, making for much sturdier construction and helping cabinets to remain true (rather than listing or sagging). It also creates a separation of space thanks to the framing that makes the addition of doors and drawers easier. Traditional, framed cabinets are much more common than frameless construction because of their many advantages regarding form and function.
Added Convenience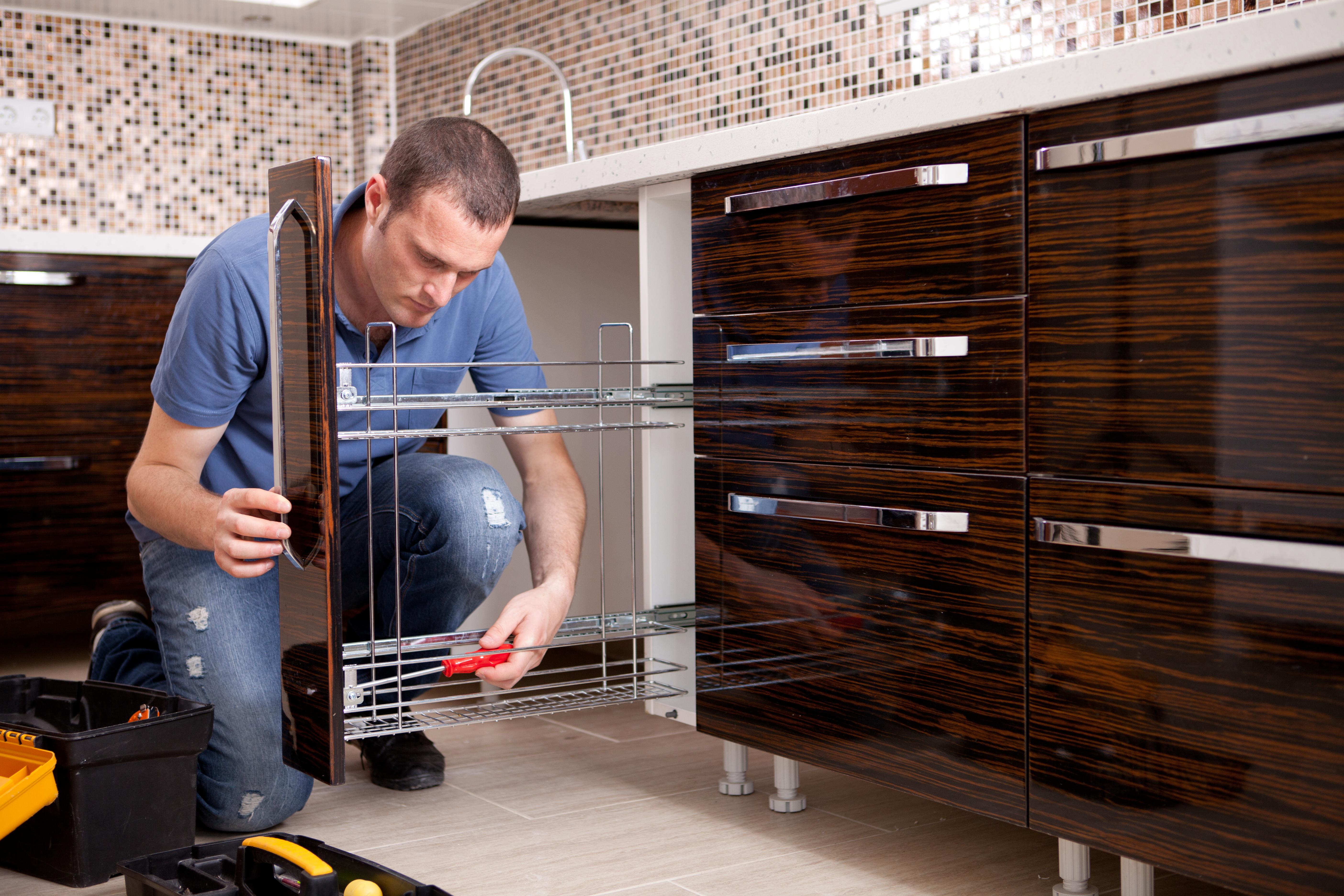 Cabinet construction includes not only the cabinet boxes but also what is inside them. Once you've found solid materials and sturdy construction, it's time to consider how you're going to use cabinets and what additional amenities you prefer.
Many cabinet manufacturers offer extras that help to make your kitchen more functional and convenient. Spice racks, plate racks, wine racks, and more can all increase utility and organization in this busy space, and pull-out drawers can help you to make the most of the cabinet space at your disposal by keeping everything in easy reach. Think about these things when finding a suitable manufacturer and determining the cabinets that will best suit your kitchen space and your lifestyle.
Return and Replace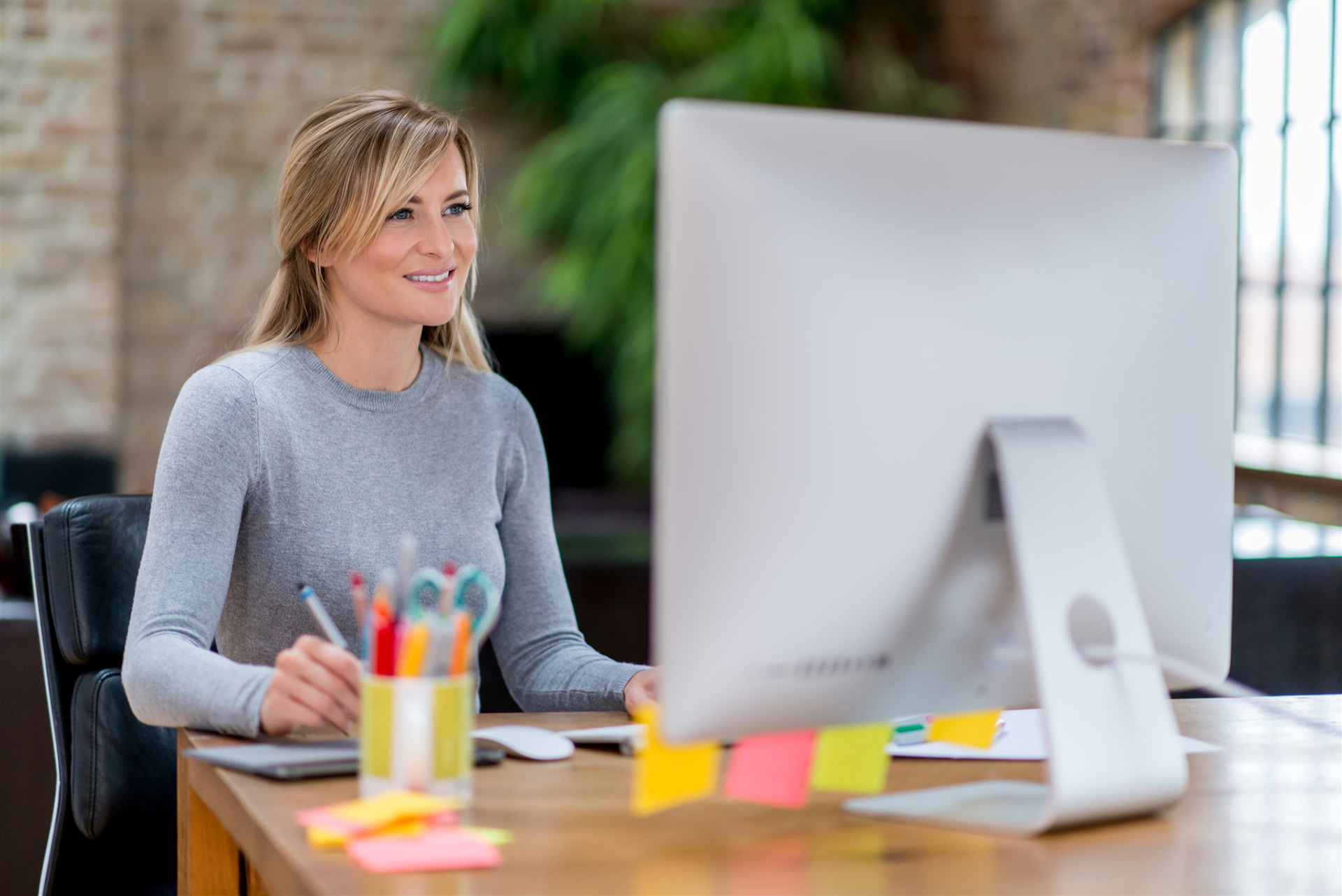 If you might need to return your cabinets, make sure to check everything thoroughly when you receive them and before and after installation. Keep your receipt and warranty paperwork in a safe place, and make sure to read the conditions of both return and filing a warranty claim before purchasing.
Maintenance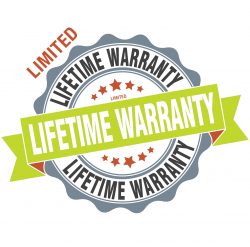 It's important to get a good warranty for your cabinets, so if you experience damage or issues, you can have the parts or cabinets replaced. It is also important to maintain them well to keep them in working order. Regularly clean out your cabinets and wipe down the outside doors and hinges to prevent the build-up of dirt, dust, and moisture. Most cabinets, especially those made with natural materials, rarely need anything more than a good wipe with a damp rag. Before using harsh cleaners or chemicals on tougher dirt or stains, make sure to research what products are safe to use on your cabinet materials.
Get Inspired – Home Designing
Take a look at our gallery of kitchen and bathroom pictures featuring our quality cabinets. Get ideas from these inspirational examples and discuss them with one of our Professional Home Designers to help you build the home of your dreams.
Learning Center
Continue Learning