Semi-custom cabinetry can bring organization to any room of the house. You can help your clients add style and functionality to their pantry, laundry room, bathroom, hobby and crafting spaces, garage and mud room, playroom, basement, bedrooms, living room, home office, and even a hallway.
The best ways to use kitchen cabinets in other rooms of the house
Here are a few ideas for incorporating kitchen cabinets into any area of the house. Using the same style cabinets throughout the home unifies the look and brings cohesiveness to the overall interior design.
1) Kitchen Pantry
Help clients optimize the pantry area with tall cabinets and pullouts specifically for storing cans, boxes, spices, and more. These convenient kitchen storage solutions roll out and are easy to access and organize.

2) Bathroom
Adding cabinets to the bathroom makes efficient use of what is often a small space and helps keep all the toiletries, towels, and cleaning supplies organized. There are roll-out organizers, pullout cabinets, and slide-out shelving to improve storage in the bathroom.
Kitchen cabinets also add style to the bathroom; upgrading a tired vanity can create a style statement in the bathroom.

3) Laundry room
Every homeowner wants a well-organized laundry room. Installing kitchen cabinets in a laundry room can brighten the space and add functionality. A lazy susan in the corner, pullout cabinets, and slide-out shelving can keep laundry and other cleaning supplies handy and make doing the laundry a breeze. Consider cabinets for hanging laundry, adding countertop space for folding, and a utility sink for soaking stained laundry and other household projects. Consider keeping the decor similar to the kitchen or customizing the color in the laundry room to fit the homeowner's personality. White Shaker kitchen cabinets are a great modern yet simple look for any decor.

4) Garage and mud room
A well-organized garage is a breath of fresh air. Kitchen cabinets in neutral colors work well to store tools, seasonal outdoor items, sports gear, and yard and garden equipment. If there's a mudroom off the garage, cabinets and accessories will provide storage for coats, winter clothes, shoes, boots, and more.

5) Basement
Kitchen cabinets can transform the basement from a drab, unfinished afterthought into an entertainment center, workout area, family room, or even a home office. Consider pullout cabinets or drawer organizers to keep the games, equipment, movies, remotes, cables, and cozy blankets organized and out of the way.

6) Hobby and crafting spaces
Kitchen cabinets can provide shelves and cubbies to store supply bins and crafting tools. Add a workstation countertop, and the homeowners have the perfect crafting and hobby table. Storage solutions for the drawers, such as peg systems or utensil dividers, can be used for small craft items, boxes of art supplies, brushes, and all of an artist's or crafter's tools.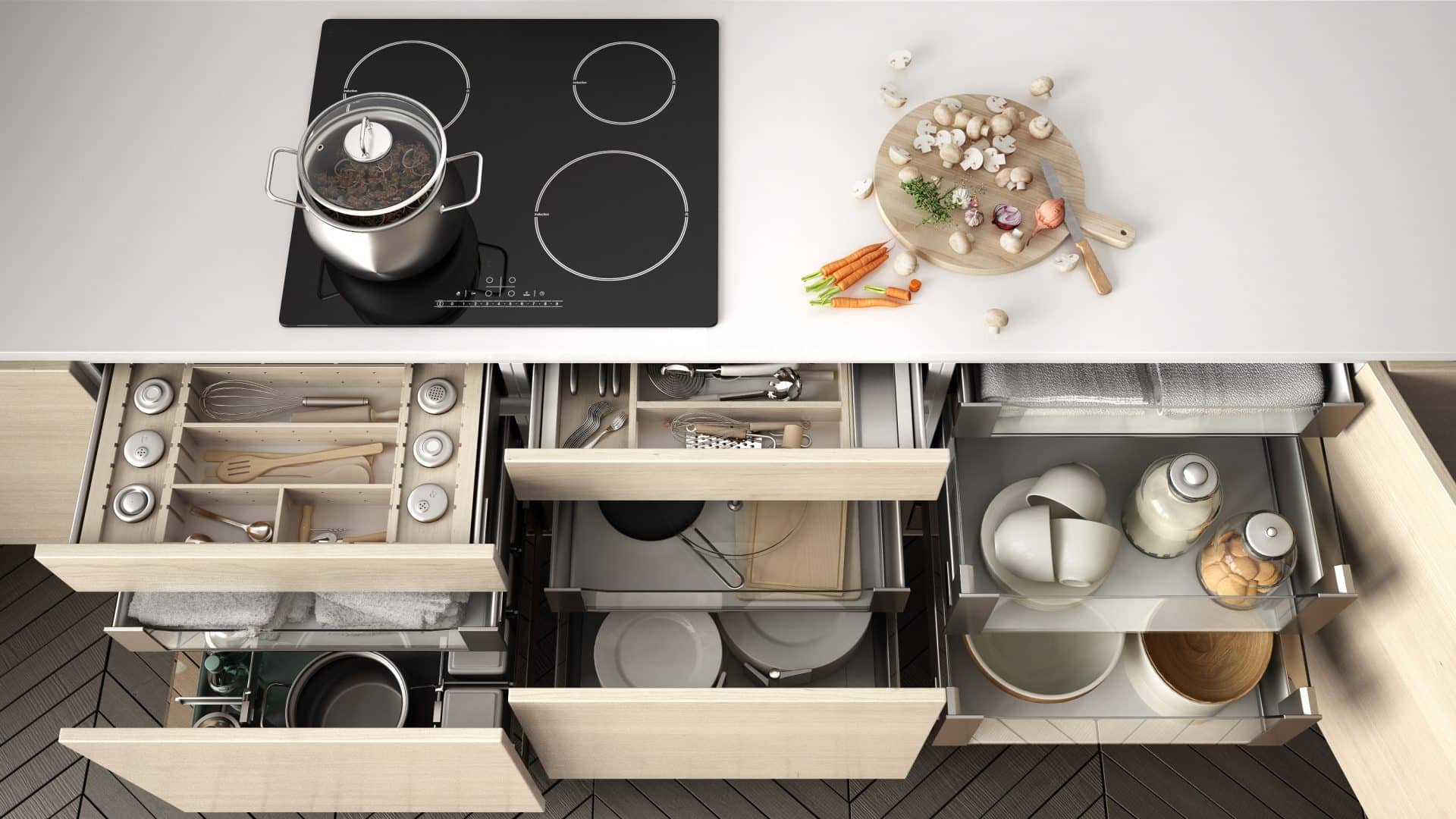 7) Bedrooms
Organize a walk-in closet with various storage accessories, or install cabinets as freestanding wardrobes. All shelves are adjustable, and separate cabinet pieces, like hanging bars, shoe racks, or cabinets with doors, can be interchanged to put the most-used items within arm's reach.
The closet cabinets are ideal for extra storage in a bedroom area, with some drawer cabinets that can be used to store folded clothes or smaller accessories. Hide valuables behind cabinet doors, and organize shoes with shoe shelves. The same closet systems can be used in a child's room to store toys and clothes.
Homeowners can use freestanding base kitchen cabinets with a countertop for bedside tables or add a complete set of drawers for a semi-custom dresser that will last 20-30 years.

8) Living room
Believe it or not, the living room is a great place to install kitchen cabinets. With kitchen cabinets, you can create an entertainment center, add bookshelves, movie storage, and much more.
Tall cabinets can be added to the ends of the entertainment center or in a separate corner to serve as storage to house the vacuum and cleaning supplies. Or swap out shelving for drawers to keep the blankets organized. Homeowners can choose cabinets without doors to showcase photos and other collectibles.

9) Playroom
Homeowners can use kitchen cabinets to organize all of the toys, crafts, and other small gadgets kids have collected over the years if there is a playroom in the home. Kitchen cabinets with storage organizers can store all toy cars on one side and toy blocks on the other while keeping them handy for children to grab. Consider cabinets with doors to make the room look clean.

10) Hallway
Hallways can house a closet storage system for shoes, coats, linens, and other miscellaneous household items. Frameless cabinets with push-to-open doors allow easy access and won't snag clothes as people walk by.
Consider a neutral door front that blends into the wall to keep the cabinet unobtrusive, or add a textured door front for a wall-paneled look.

11) Home office
Kitchen cabinets can transform a home office into an organized and efficient space while adding a little style. Add a countertop to create an extended workspace. Pullout cabinets and drawer accessories can house filing systems, cables, electronics, and books.

Should all the cabinets in the house match?
A common question is whether all the cabinets should match throughout the home. While there are benefits to keeping the cohesive look throughout the home, semi-custom cabinets can be selected to give each room a separate personality or create a streamlined look that complements the other rooms. Matching cabinets create a seamless look and are cost-effective by keeping the same style and color. The decision about whether to mix or match colors and styles all comes down to personal taste.
Design a cabinet solution for every room of the house
At CabinetCorp, in-house cabinet designers can help you create just the right look for your client's cabinetry in the kitchen and throughout the home. Visit the photo gallery for inspiration, and when you're ready, our designers can help you create the living spaces your clients will love for years to come.