Your client's kitchen floor works hard over its lifetime. It stands up to spills, stains, foot traffic from people and pets, and the moving of heavy appliances. During that time, even the best quality flooring takes a beating – it's your job to help your clients choose the flooring that's up to the task.
This year's trends in kitchen flooring trends present fresh options for your clients to consider. With new colors and styles available, you can help your homeowner clients create the luxurious kitchen they want with attractive, timeless, and durable flooring that works with any budget, type of kitchen cabinet, and decor.

Four characteristics of the best flooring for a kitchen
1) It's durable
The kitchen flooring should withstand spills of all kinds, from food to liquids, as well as the impact of heavy cookware and sharp knives, and survive without damage or staining.
2) It's water-resistant
A kitchen is considered a "semi-wet" room, meaning it is never truly dry. The moisture level is higher than in other rooms of the house because cooking, cleaning, and spills create humidity. The right flooring choice will hold up for years in a semi-wet environment. Contractors can find many types of water-resistant flooring, like hardwood, tile, and sheet vinyl, but each option will break down over time. The newest types of waterproof vinyl planks solve that problem.
3) It's washable
It can be hard to keep the kitchen flooring clean, especially if the homeowner likes to cook, owns pets, or wears outdoor footwear in the house. The best type of kitchen flooring is an easily washable one.
4) It's timeless
Homeowners planning a kitchen remodel want a new kitchen that looks good now but will also adapt and still look good if they change their decor down the road. The 2022-2023 kitchen flooring trends show flooring that can be beautiful and timeless.
Here are the pros and cons of the five most popular types of kitchen flooring selected in 2022-2023
1) Porcelain or ceramic tile
Pros: Tile has been a homeowner's favorite for many years due to its wood or stone look and availability in various colors and textures. Both porcelain and ceramic tiles are waterproof, making them a great choice for the kitchen; tile is also more affordable than natural stone flooring.
Cons: Tile installation can be complicated and time-intensive, even for a professional. Additional time and labor can increase the cost, pricing tile out of the affordable category. Tile can also be cold to walk on barefoot and can crack when heavy objects like cookware are dropped.
2) Water-resistant laminate
Pros: Water-resistant laminate features three layers: a high-density fiber core, the image layer (the top pattern or color), and the wear layer, which makes it very water-resistant and durable. Some laminates are manufactured to resemble hardwood. This flooring type is affordable and easy to install.
Cons: While reasonably durable, water-resistant laminate is not 100% waterproof, only resistant. It is not as durable as other forms of laminate and can rip when homeowners move heavy appliances. With repeated spills, water can leak into the interior of the HDF core.
3) Wood-polymer composite (WPC) or wood-plastic composite waterproof vinyl
Pros: WPC waterproof vinyl is 100% waterproof. It is easy to install and holds up well to foot traffic. Its printed vinyl layer looks like wood or stone, and it's covered with a durable wear layer.
Cons: This luxury vinyl flooring costs more than other laminate flooring products.
4) Rigid-core engineered wood
Pros: Rigid-core engineered wood is also 100% waterproof and has a rigid composite core. Engineered wood looks like natural wood and has a durable wear layer. It is easy to install.
Cons: Rigid-core engineered wood comes in at a higher price than most of the other durable, water-resistant, and waterproof flooring types. It is the most expensive choice for rigid core flooring.
5) Stone plastic composite (SPC) or stone polymer composite core waterproof vinyl
Pros: SPC waterproof vinyl is 100% waterproof with a wood or stone exterior layer and a stone plastic or stone polymer composite core and wear layer. It is easy to install, has a rigid core, and is not as expensive as the rigid-core engineered wood or WPC waterproof vinyl but with improved qualities of toughness and durability with a stone core instead of the softness and flexibility in a plastic core.
Cons: It is slightly less resilient underfoot and cooler than WPC vinyl. WPC vinyl is made for comfort and softness, so it has more of a give.
SPC waterproof vinyl brings all of the advantages of the other flooring types without the cons, at a price point that's affordable for any homeowner. Here's what you need to know about this durable and versatile flooring product.

What is SPC waterproof vinyl?
SPC flooring is a stone plastic composite, also referred to as stone polymer composite. This type of flooring is 100% waterproof and offers unparalleled durability. The rigid core in SPC vinyl is virtually indestructible, making it an ideal choice for high-traffic areas like a kitchen. The luxury vinyl planks are created using advanced technologies to mimic natural wood and stone but at a lower price point.
SPC waterproof vinyl flooring is the top-of-the-line choice for both appearance and functionality. The ultra-tough, stone-plastic composite ensures that the core layer will maintain its form even on top of uneven subfloors. With rigid-core vinyl, you'll find beautiful planks in all the latest wood and stone-look trends and colors for 2022-2023.
Greenguard-certified SPC flooring is phthalate- and chemical-free. This means it has low chemical emissions and is pet-friendly, fire-resistant, antimicrobial, recyclable, and radiant-heat approved—the perfect green flooring to reduce your client's carbon footprint and keep people and pets safe from chemicals.
SPC waterproof vinyl has five layers:
EVA sound barrier:This foundation layer is a pre-attached performance-enhancing pad that helps prevent sound transmission.
SPC Core:The SPC waterproof layer with its proprietary Uniclic Interlocking system keeps the flooring solid and waterproof and quickly locks in place during installation. This core is ultra-dense without the formaldehyde used in some WPC flooring. This means slightly less resilience underfoot, but it makes the flooring extremely durable. The SPC vinyl won't off-gas chemicals, swell, ripple, or peel no matter much liquid is spilled on it. This is the highest quality vinyl on the market.
Printed image layer:This printed image achieves a look in vinyl almost identical to wood and stone. People will swear it is hardwood or stone flooring.
Wear Layer:The 12–20 mm wear layer is made from a scratch-resistant material that protects your client's flooring from dents and other damage. The thicker the wear layer, the better the buffer –SPC flooring has a thicker wear layer than other types of vinyl, offering more protection. While other types of vinyl have negative reviews regarding dents, you will have difficulty finding the same comments for SPC; it just doesn't happen.
UV coating– Many types of vinyl don't feature UV coating, but it is integral to the timeless look of your SPC waterproof vinyl. Direct sunlight can fade flooring over time; the UV coating protects the flooring from sun exposure, so it will look beautiful for years to come.
How to get SPC waterproof vinyl flooring for your clients
Cabinet Corp now carries two beautiful lines of SPC waterproof vinyl in various color patterns and textures that are trending in 2022-2023.
The Opulent series has a 20mm wear layer and a lightly embossed surface. It comes in 4 color choices.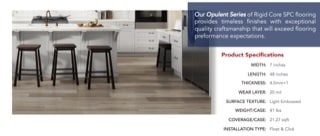 The Provident series has a 12mm wear layer and is lightly embossed. It also comes in 4 colors.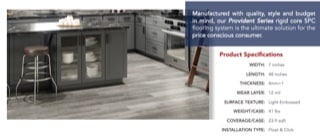 Work with your CabinetCorp designer today to plan your next kitchen remodeling project with SPC waterproof flooring.