Dated floor plans – those often found in homes built between the 1950s and 1970s – are starting to cramp homeowners' styles as many people dig into their long-awaited kitchen renovation. Even newer homes built in the past five years may prove that builders are guilty of recycling out-of-date floor plans because their crews can build them efficiently and without the stress of learning something new.
Homeowners increasingly prefer larger living areas, and open-concept kitchens remain popular. But an open plan is not perfect either. Whether you're dealing with a floor plan of small rooms that chop up the space or an open plan where the living area is cold and smells of last week's dinner, the kitchen design can affect how homeowners feel about their remodeling project.
Issues a poorly remodeled kitchen can cause
Cooking in front of a crowd
Whether making last-minute adjustments to seasoning or wiping down the edges of the plates before serving, most cooks have their cooking quirks that are better left private. An open concept kitchen leaves nothing to the imagination.
Wafting aromas
You may love the smell of fresh bread or cookies, but not many want the smell of last night's salmon stinking up their furniture. With an open concept, every smell produced in the kitchen can waft around the main living area and settle in the walls, rugs, and upholstery.
Lack of efficiency
The open concept design is often less efficient for cooking as it stretches out the working triangle. This causes the cook to take more steps from the food prep areas to the fridge and the stove. This contant back and forth makes cooking cumbersome and less efficient.
Dangers in the open
Kitchen injuries can happen whether you're in a walled-off space or have an open concept, but there is some extra security when hazards are out of sight and out of mind. Parents have said they love the open concept because they can keep an eye on the children while cooking. However, this also allows the children easy access to all kitchen appliances, boiling water, knives, and hot pots and pans.
Messes in plain sight
When you host family and friends for a meal, the last thing you may want to tackle is cleaning your dishes. However, with an open concept design, they are right there in your face as you try to relax.
Relaxing with noise
The kitchen is not typically quiet. Whether you're cooking or cleaning, if you use the kitchen, there are sounds from appliances that can interrupt your conversations, music, or tv shows in the main living area.
To fix these issues, homeowners want a functional, transitional home that creates a feeling of ample space even in a small footprint. The kitchen's design, as the home's heart, is critical to achieving this goal.
What homeowners want from their home and kitchen design
Flexibility of room uses
Flexibility is now a priority for many rooms in the house. Rather than walled-off rooms with specific functions, homeowners want a multi-function, open-concept home where the kitchen flows into the rest of the house.
The open concept is now expected to serve multiple functions. Instead of the traditional closed-off formal living room, a three- or four-way flex room can open up additional space and allow the homeowner to decide how to maximize the living areas best. Updating the kitchen with a "batwing" island or peninsula with a raised 42" bar top and breakfast nook creates multiple working, entertaining, and cooking areas.
The modern kitchen look is still a significant player in current remodeling trends. According to the Houzz Summer Report, homeowners are searching for "mid-century modern kitchen ideas," "beach style design," and "Japandi kitchens," also called "Scandanese," which blends Japanese and Scandinavian design. Each of these looks can be achieved with modern, minimalist cabinets and countertops to give the home a cohesive look that can be personalized with decor. These open designs optimize the home's space and allow homeowners to define their style. See CabinetCorp's examples of modern cabinets, beach styles, and Japandi designs below.
Storage areas
Carving out as much storage space as possible has always been a priority for homeowners; since the pandemic saw many people acquiring too much stuff to fit into space, remodeling to create more storage space is high on the list.
According to the Houzz report, remodeling hallway and entry closets with closet systems to create more functional storage is an in-demand project. People also want to stack washers and dryers and build open-tread staircases for more storage. Closet pantries with cabinet organizers and pull-out accessories are the go-to solutions to add storage in small areas.
Outdoor living
Along with remodels to update the main living areas and kitchen and add storage wherever possible, many homeowners are focusing on their outdoor living spaces to give them more entertaining, dining, and relaxation options. Many people are choosing to add an outdoor kitchen and covered porch. There's been a 130% increase in projects involving full decks with hot tubs. Such projects often involve extending the deck into the yard to gain dining and entertaining space.
Other common remodeling projects include building additions, finished basements, and expanding kitchens and bathrooms. NAHB Chief Economist Robert Dietz says, "…residential remodeling activity is expected to increase 7% in 2022."
2022 kitchen designs for mid-century modern, beach, and Japandi-Scandanese styles
Mid-century Modern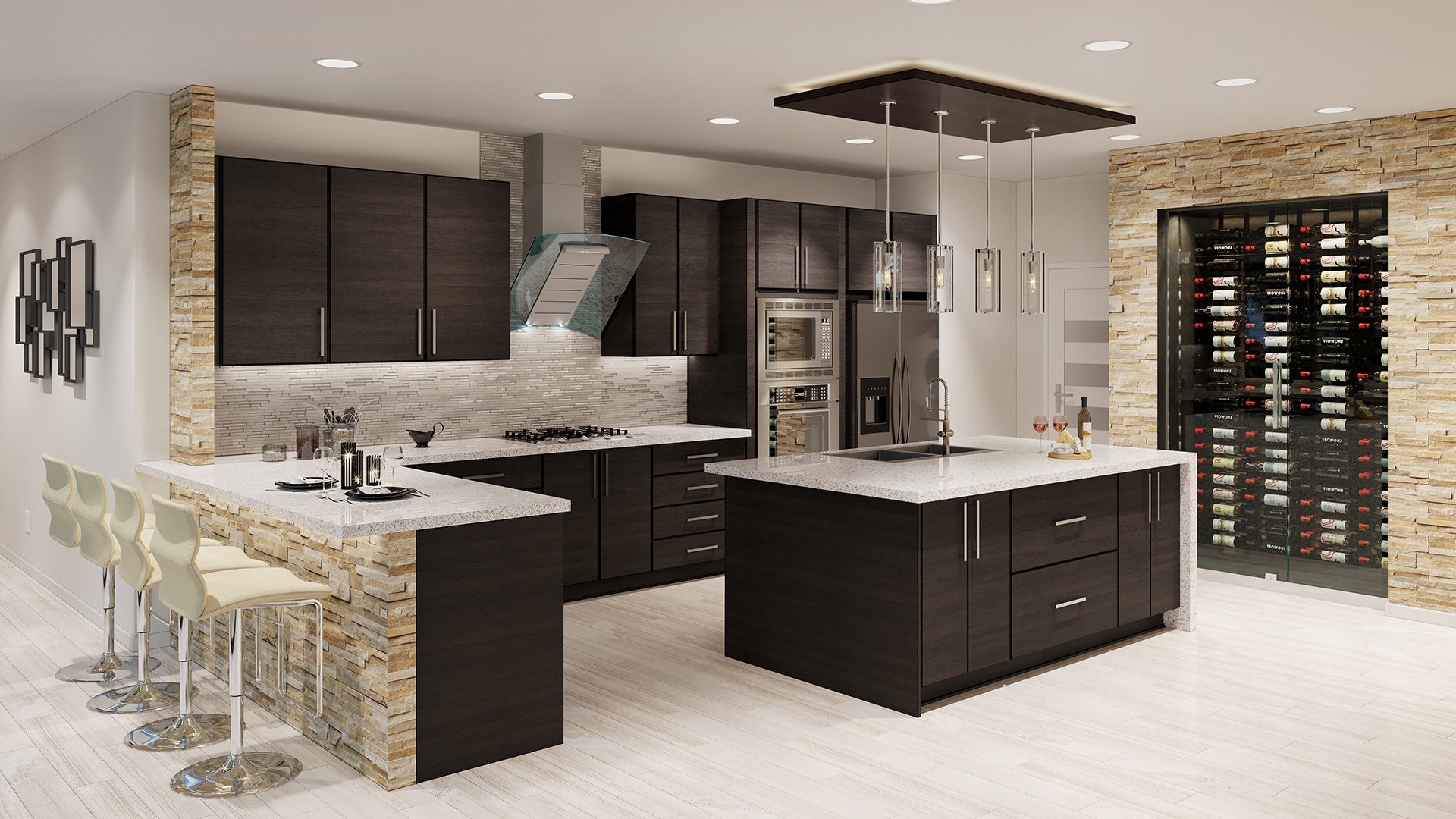 Dark frameless cabinets, light quartz worktops, and metal elements add richness without overcrowding. A large island adds dramatic contrast to the space and creates separate areas for food prep, dining, and entertaining. The natural stone and modern lighting complete the look.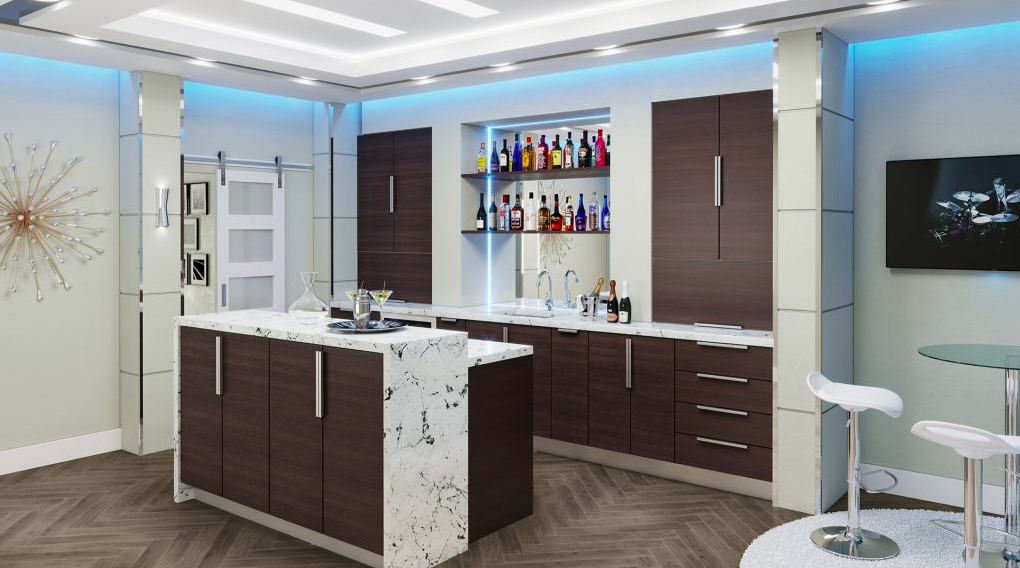 This mid-century look for the bar creates attractive contrast between light and dark cabinets and countertops. The design features multi-function storage accessories to keep the kitchen free of clutter and distraction.
Beach-style kitchen
Nothing says beach-like light, natural colors. The frameless cabinets with a light grey tint give the kitchen a neutral feel. The sea glass backsplash mixes beige, tan, and white to represent the sand, while barstools and decorative shelves made from wood bring nature inside.
This beachy kitchen shows how the mix of light-colored countertops in quartz, granite, or recycled glass mimics the beach and sky. White quartz with beige or light grey veins creates a natural look to keep the kitchen airy.
Japandi or Sandanese design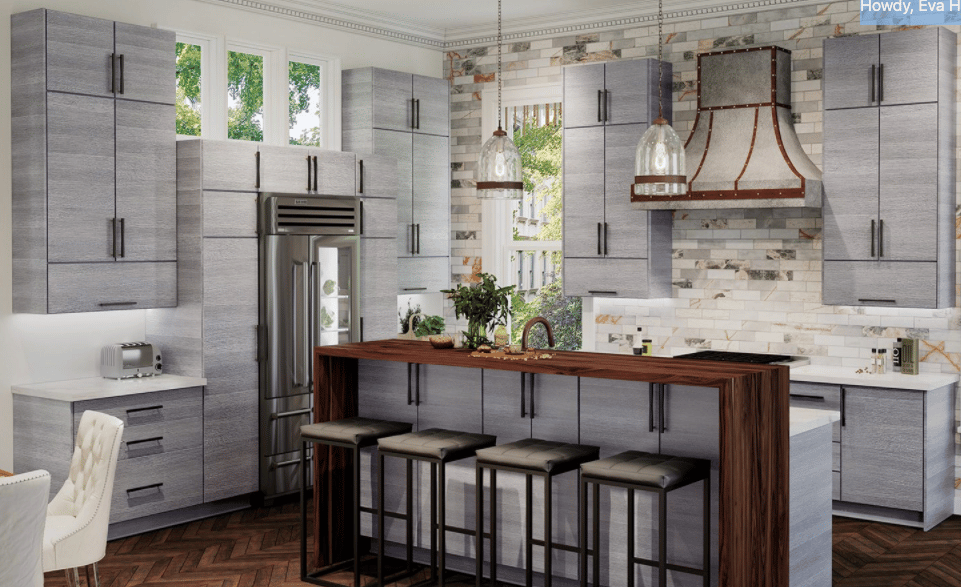 It's all about contrasting colors and the feeling of comfort in a natural setting. This modern kitchen mixes dark wood countertops with the soft neutral of the frameless grey kitchen cabinets.
Large windows bring in plenty of natural light, and plants provide easy decor elements to pull the look together.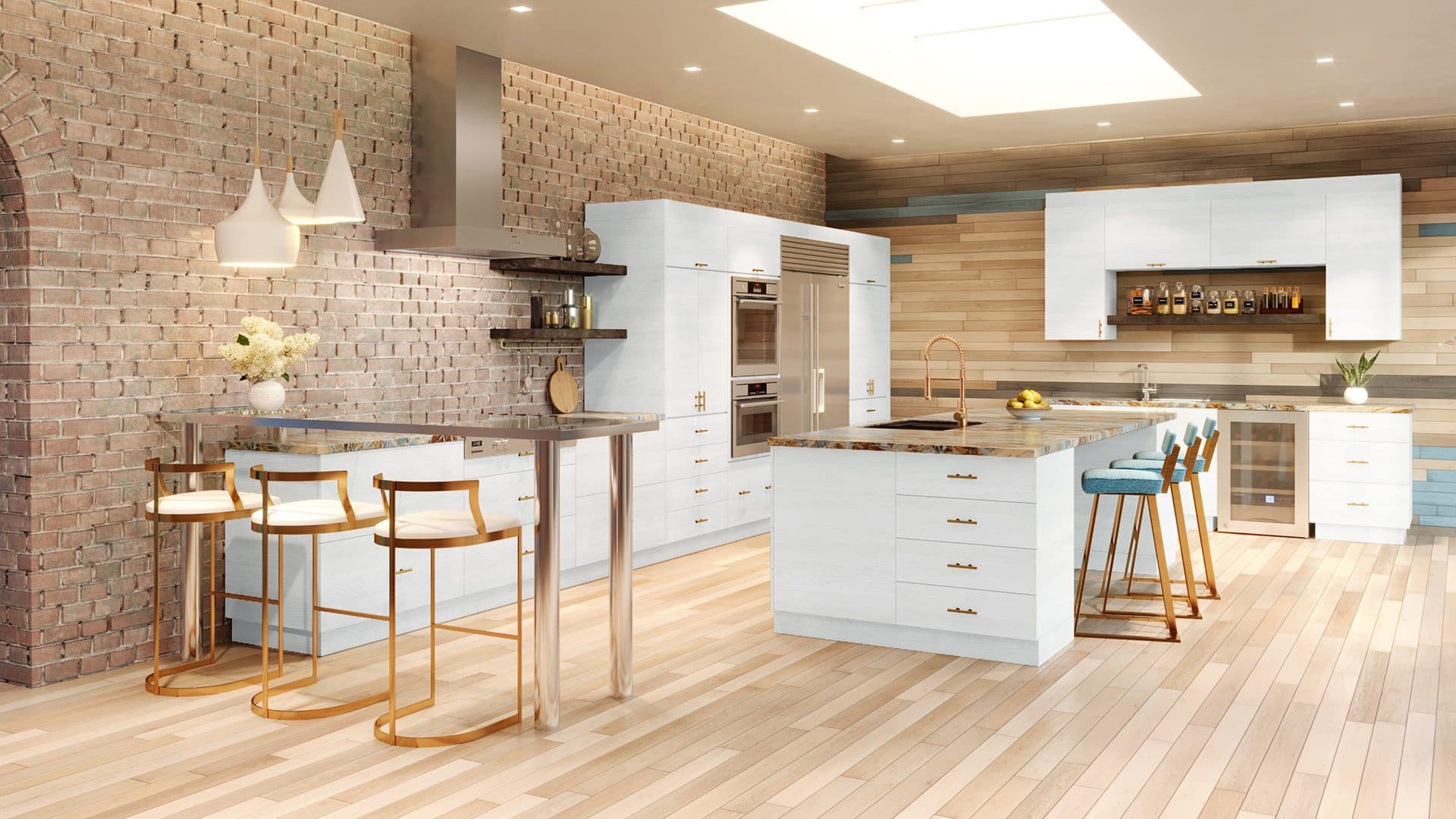 A comfortable kitchen can include touches of luxury. This modern kitchen mixes the clean lines of Japandi design with bright gold fixtures to add a touch of elegance and warmth to a bright white kitchen.
Help your clients steer clear of remodeling woes by becoming a cabinet dealer!
When you become a CabinetCorp cabinet dealer program, you always have an expert designer on your team to help you work through any kitchen layout issues to achieve a renovation that reflects the contemporary style and improves functionality. Storage, multi-use spaces, and comfortable design are right at your fingertips with cabinets and design from CabinetCorp.