When helping clients choose flooring for their kitchen, you want to guide them to a style and color that will create a cohesive look that will enhance the room's overall design. The right combination of flooring texture and colors can make the kitchen feel welcoming and stylish. In some cases, the right colors can make the kitchen seem larger. Discover how to choose complementary flooring for the cabinetry and answer questions clients commonly ask.
To choose the perfect flooring for the cabinetry in the kitchen, consider complementary colors and styles to ensure the kitchen's visual appeal. Most design experts would suggest that you avoid carrying the same pattern and color from the cabinets to the flooring; strive for a similar but not identical look.
Contrasting colors for flooring and cabinets
Contrasting colors are those on opposite sides of the color wheel, such as red and green, blue and orange, or purple and yellow. While your client is not likely to be looking for that color scheme, you can bring in an attractive contrasting effect with light and dark shades to create visual appeal and balance between the flooring and kitchen cabinets.
Contrasting color combinations look great in a traditional kitchen – pair light-color cabinets with darker luxury SPC vinyl flooring.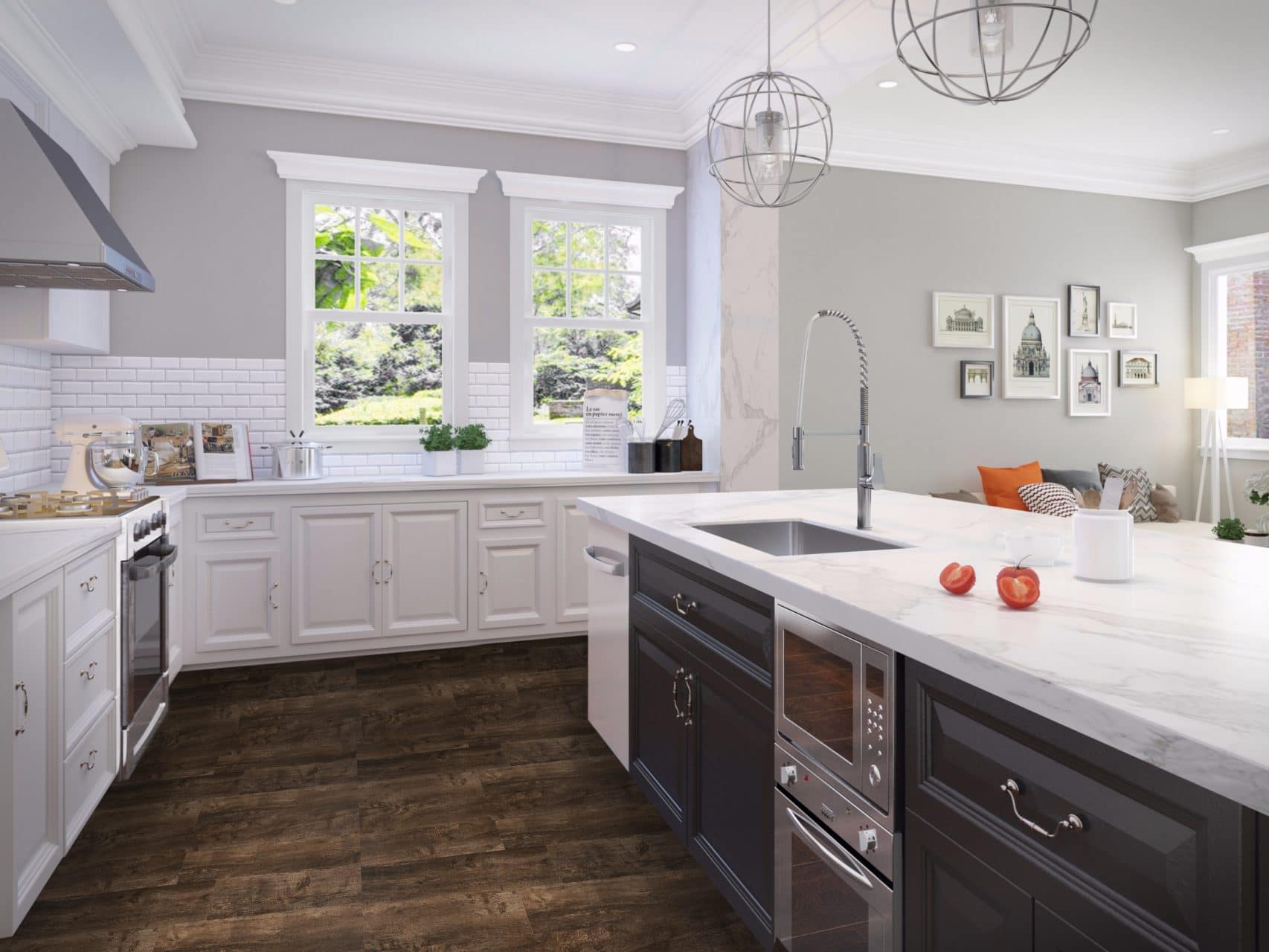 Contrasting flooring and cabinet combinations also work well in a modern kitchen. Go for high-impact contrast with white Shaker cabinets and an island in a bold color, then add gray vinyl flooring. This modern design also features contrasting materials, such as the metallic cabinet handles and the island with a shiplap cabinet face.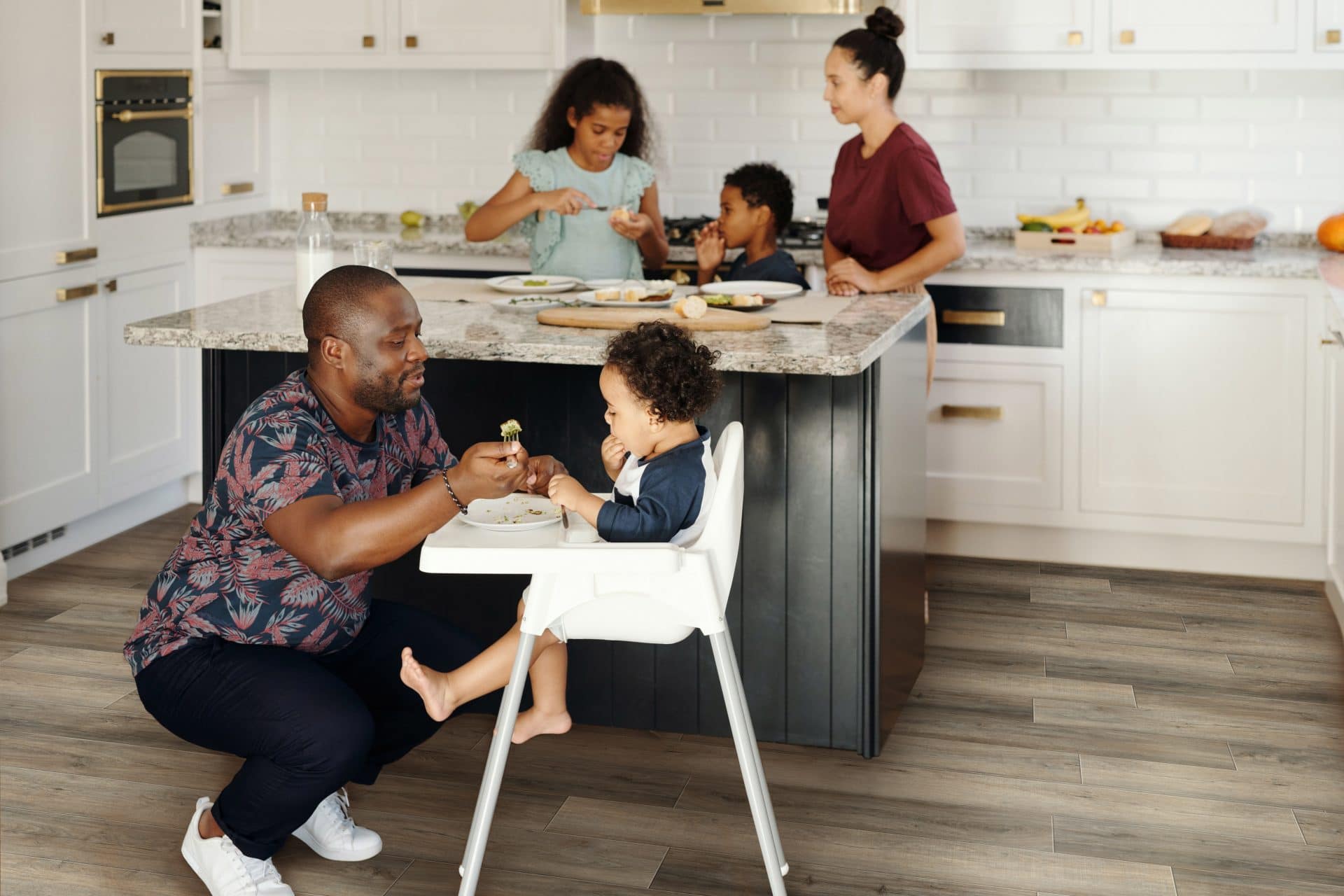 When working with contrasting kitchen cabinets and Floating with I4F System (Innovations Locking) flooring with a 20 year warranty, consider materials that will create contrast without clashing, such as subway tile in one color and quartz countertops that bring in a contrasting color element.
Same colors for flooring and cabinets
A monochromatic design can make the kitchen seem larger. Your kitchen designer can suggest monochromatic combinations of textured SPC vinyl flooring and cabinetry and how to bring in a pop of color for a focal point. Help your client consider using several shades of the same color; the mix of different shades will add subtle visual interest and avoid an institutional look.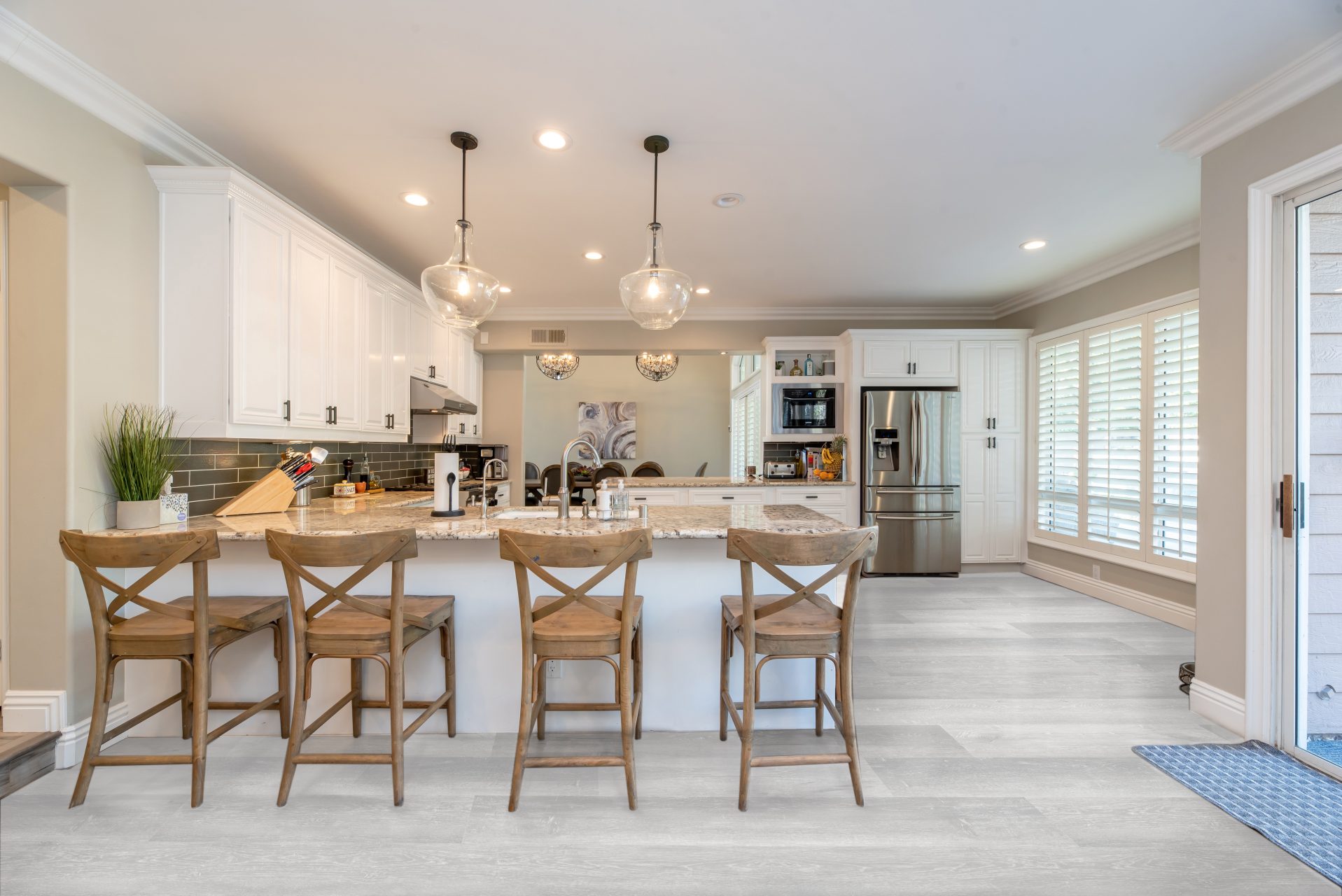 Introduce some color variations among similar shades to add liveliness to the room. In a predominantly white kitchen, vinyl flooring in a soft gray and white pattern ties in with white cabinets. The wall color also picks up the gray. In this example, the backsplash is a dark gray subway tile; the quart countertop features similar colors. The white cabinetry adds brightness to the flooring, backsplash, and countertop for an attractive contemporary look.
Balancing flooring style and color with the cabinets
Kitchen cabinets take up a lot of real estate in the kitchen. The upper cabinets are often the first thing you see when you walk into a kitchen and set the tone for the style of the rest of the kitchen. Balancing the contrast and colors between waterproof SPC vinyl flooring and cabinets achieves a harmonious design.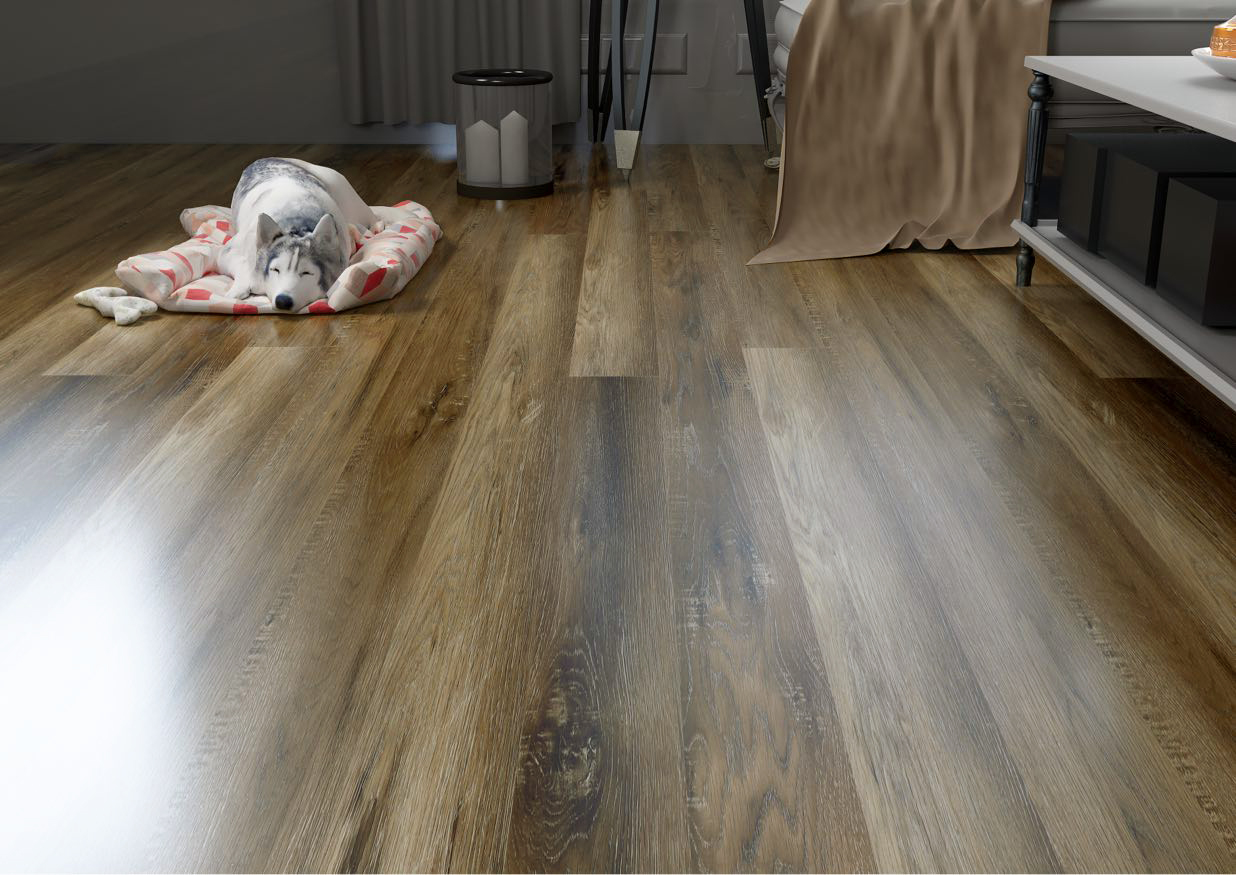 Dark kitchen cabinets with a light-colored countertop call for a dark-colored floor for balance; alternatively, a medium-toned floor with a dark grain to match the cabinet color will also create balance.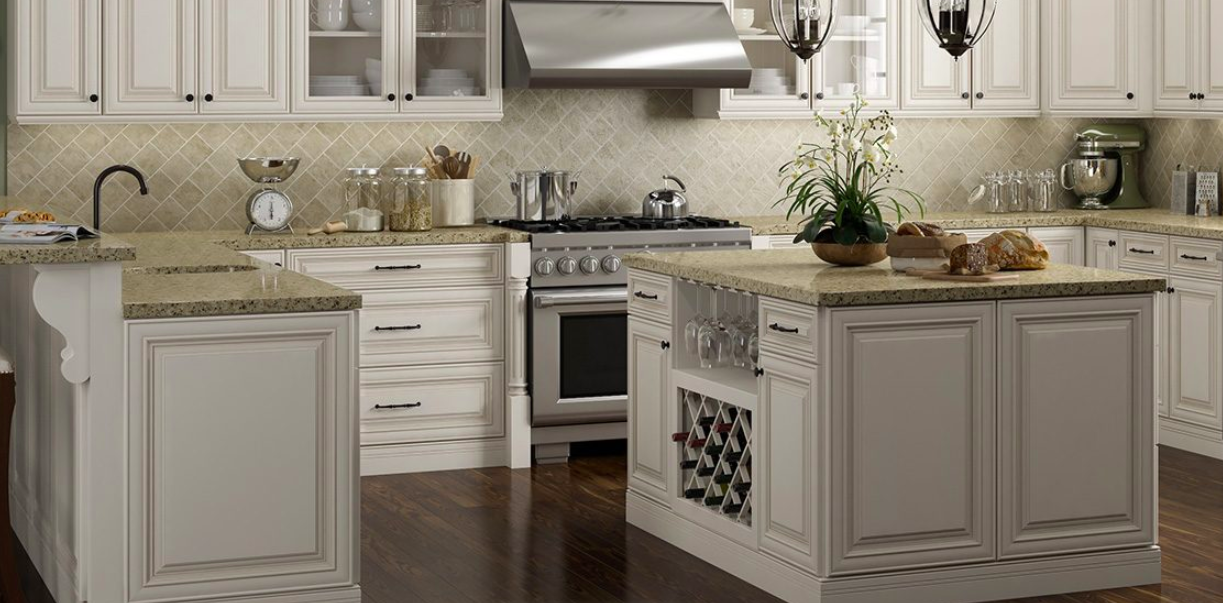 Darker flooring works well if the cabinets and countertop have lighter tones. Consider the WoodClif Lake, Stoney Iverson, Toasted Cafe3, Java Hut, or Walnut Grove shades of SPC interlocking luxury vinyl.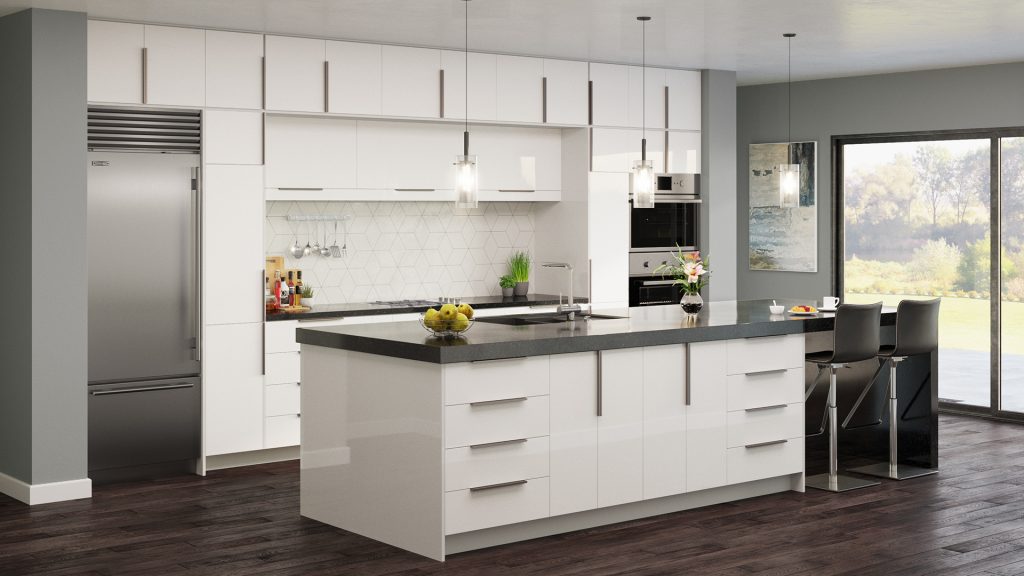 Flat-front cabinets with a sleek finish give the kitchen its modern style. White frameless cabinets, paired with a darker luxury vinyl floor, keep the room comfortable and grounded.
FAQs about flooring and cabinets
Which happens first, installation of the cabinets or the floors?
Most experts recommend installing cabinets first. If you put the flooring before the cabinets, your cost will be higher because you'll pay for flooring you'll never see hiding under the cabinetry. You also risk possible damage to the SPC vinyl flooring, depending on its type – you could scratch, tear, cut, or dent new flooring during cabinet installation.
Should kitchen flooring match cabinets?
Most design professionals recommend not matching the color of your kitchen floor exactly to the cabinet color. A more appealing effect comes when colors complement each other in a coordinated way.
First, choose the colors for your cabinets and your countertop; pick colors that work well together, whether similar or contrasting colors and patterns.
Next, choose interlocking vinyl flooring in a color or style that is either similar (not matching) or contrasting. For example, this kitchen's antique white cabinets and quartz countertop in a similar beige with a dark pattern give the room a warm feeling. The dark brown flooring adds a pop of dark color, giving the whole kitchen a feeling of comfort and luxury.
How do you pick flooring to match cabinets?
Head off any inclinations to directly match flooring and cabinets! You'll likely end up with an unappealing "almost-match," which can come off like a design flaw. Choose two different colors for the cabinets and floor to add visual interest and achieve a better result. A kitchen designer can help you avoid unattractive clashes that come into play when there are too many patterns or colors in one room. Your designer will guide you to the right neutrals for the countertop and backsplash to complement your cabinets and flooring.
Should flooring be darker or lighter than the cabinets?
Light-colored flooring works well in a space with dark cabinets or countertops because it contrasts with the two dark elements and allows the cabinetry to stand out. Lighter colors are often seen as peaceful and calmer; however, lighter colors can also feel less luxurious than darker floors.
Dark floors can make a statement in the kitchen. The contrast between the dark floor and lighter walls or cabinetry can make the room feel contemporary. Dark floors can feel cozy, but the look veers toward harsh when paired with bright white. Dark floors can soak up light in a small kitchen and make the room feel smaller. A medium-to-dark floor will be a good choice for a classic or formal style. For a modern, relaxed look, lighter floors work well.
Choose the perfect flooring for your client's cabinets
Before planning your client's kitchen, consult with a professional kitchen designer at CabinetCorp. Your designer can help you choose the perfect luxury SPC vinyl to complement any cabinetry, whether the look is traditional, contemporary, or modern, and make your client's kitchen feel warm and inviting.