It's a common story: Homeowners put off their kitchen remodel until the chaos reaches a breaking point – which might actually be the dishes crashing to the floor. Common complaints include insufficient storage or counter space and workflow problems, which lead to frustration with existing kitchen cabinets.
As so many homeowners continue to spend more time at home, you can help them get their kitchens back under control even when budgets are tight. Discount kitchen hardware can be part of the solution.
With these 6 must-have kitchen cabinet accessories, homeowners will love their kitchens again. 
More and better storage, increased efficiency, and improved functional workflow helps the homeowner banish kitchen chaos with these 6 must-have cabinet accessories: 
between-cabinet pullouts
in-cabinet pullouts
waste container/recycling pullouts
lazy susans
cabinet organizers
drawer organizers
1) Between-cabinet pullouts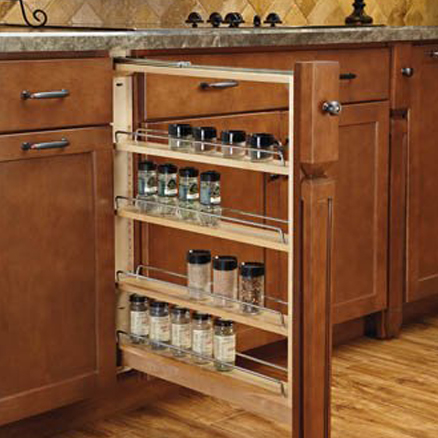 The space between cabinets, next to an appliance or at the end of the cabinets run, used to be dead space. Just a few inches here and there, it was often concealed by a non-functional piece of cabinet front and forgotten.
Thanks to a smart cabinet innovation known as the "between-cabinet pullout" that can fill the void and solve a myriad of storage problems, that's no longer the case. Available in 3-, 6-, and 9-inch widths, these between-cabinet pullouts can accommodate a range of useful storage accessories. Popular must-haves include spice racks and pantry shelves.
The addition of these relatively small storage features can free up an entire cabinet or pantry shelf for other items.
2) In-cabinet pullouts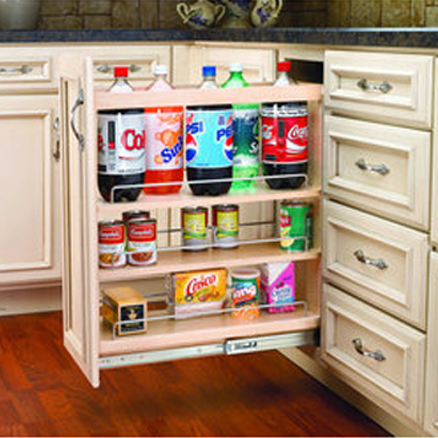 In-cabinet pullouts have elevated kitchen cabinet organization to a new level that brings truth to the motto "a place for everything, and everything in its place." In-cabinet pullouts come in standard cabinet sizes and fit perfectly into both base cabinets or tall cabinets. Choose among different configurations and accessory options to supercharge the functionality of an in-cabinet pullout:
A unique top-shelf hanging utensil holder with two shelves for towels or small storage canisters.
Food-saver container storage with a deep bottom section for the containers and an upper section to corral those pesky lids.
Pullout appliance shelves to hold a mixer, blender, bread machine, or other heavy appliance that otherwise takes up countertop space.
Pullout pot and lid gliding rack to store pots and lids, with a variety of hooks.
Pullout spice and pantry shelves.
Pullout organizer racks under the sink or vanity to keep cleaners, toiletries, and wastebaskets accessible but out of sight.
Pullout tray and wrap organizer, with dividers for baking pans, serving trays, and plastic wrap rolls or foil.
With so many different pullout options, you can now keep anything you don't want sitting on the countertop out of sight – but still easy to find.
3) Waste container pullouts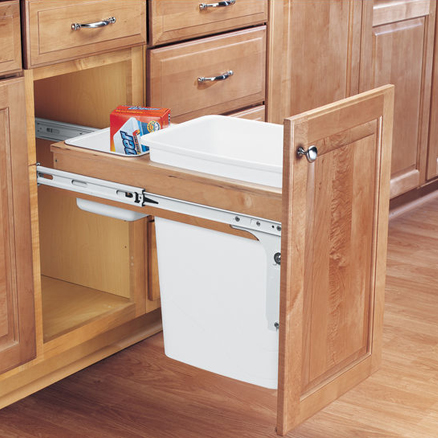 Waste and recycling containers need a home that's discrete but easy to find. Everyone in the household uses them frequently, but no one wants to have trash receptacles front and center in their kitchen. The next-generation waste container pullout solves this problem, and accommodates a variety of practical accessories:
The top-mount single or double can holder hangs the waste or recycling can and has a separate container for trash bags.
The bottom-mount shelf holds the waste or recycling can in place. The shelf even has space for trash bags next to it.
The double bottom-mount shelf holds two waste cans in a wire holder with a shelf underneath.
The 8-quart bottom-mount shelf fits under a bathroom vanity kitchen sink. It holds a small waste can along with a few cleaning supplies.
A door mount that mounts the waste or recycling bin to the door's back with a wire attachment.
With your trash and recycling out of the way, it's time to tidy up the corner cabinets.
4) Lazy susans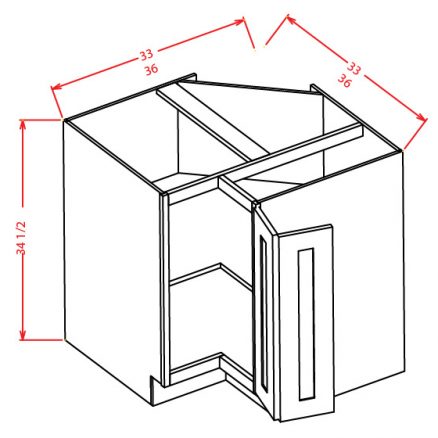 Lazy susans are the perfect corner organizer and essential in any kitchen cabinet with deep or hard-to-reach corners. The lazy susans have come a long way from being just a flimsy single-level turntable. New versions are made from wood and feature high-quality bearings for smooth turning. The next exciting upgrade to lazy susan design is the half-moon that glides into a blind corner, allowing homeowners to use all the space underneath the countertop. Must-have accessories for a lazy susan include:
Single-tray turntable — which fits in an upper or base corner cabinet. Homeowners can use it to keep pantry items, dishware, or spices visible and organized.
Double-tray turntable — to create two levels of accessible storage.
Half-moon shelves — are wood shelving units attached to the back of the base cabinet door and supported underneath inside the cabinet. These can hold heavy appliances, pantry items, or dishware.
Cabinet organizers have evolved to meet the homeowners' specific storage needs and their desire for a clean and efficient kitchen.
5) Cabinet organizers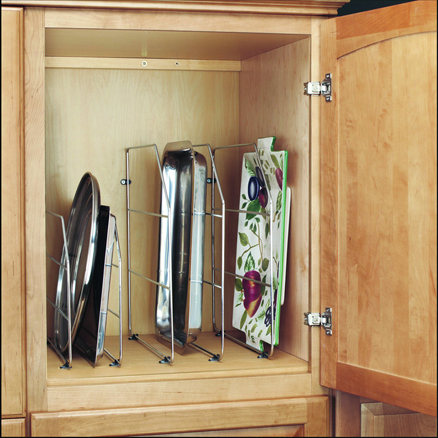 These cabinet wonders can maximize storage in existing cabinets. Essential cabinet organizers include:
Pullout towel bars installed under a sink or in a bathroom cabinet keep a towel handy but out of sight when not in use.
Base-door storage racks added to the back of any base cabinet door to organize cleaning supplies.
Upper-door storage racks added to the back of an upper cabinet door to organize spices or hang stemware.
In-cabinet tray dividers feature a vertical divider to keep trays and pan easily accessible.
Base drip tray for the bottom shelf of an under-sink base cabinet or bathroom vanity to protect the wood shelf from spilled cleaners or a plumbing leak.
With the kitchen cabinets covered, the many options available in drawer accessories will make homeowners wonder how they ever lived without them.
6) Drawer organizers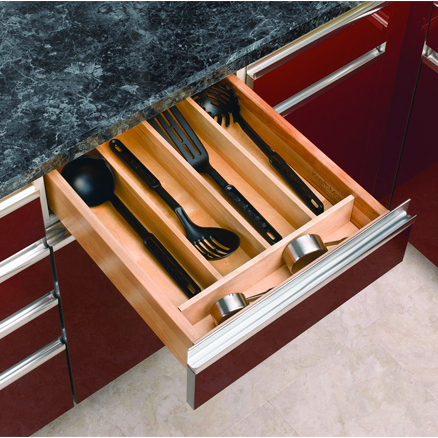 Contrary to what you see in many kitchens, the kitchen drawers do not need to be a catch-all for anything not wanted on the countertop. With the right drawer inserts and accessories, you can easily store and organize flatware, dishware, spices, utensils, and extras – and free up cabinet space for other uses. These accessories come in all standard sizes so they'll fit nicely inside any cabinet drawer. Consider adding a:
Wooden cutlery tray – available for both narrow or wide drawers. With built-in dividers, you can separate flatware, utensils, kitchen gadgets.
Spice drawer organizer – to keep all of your spices neatly organized and in plain sight. The organizer has three sloped inserts that hold spice jars at an angle to prevent spillage.
Knife block – to get knives off of the kitchen counters where anyone can grab them. With an in-drawer knife block, all steak knives, food prep knives, and even a knife sharpener can be kept safely out of the way.
Sink-front trays – to make use of the dead space in front of your sink. These trays store brushes, scrubbers, and cleaning supplies nicely out of sight, but still right where you need them.
Peg drawer systems – to create stable storage for stacks of dishware. With pegs and a drawer tray with holes, you can prevent dishes from sliding around inside the drawer. Place pegs in the holes around the dishware to hold the stack in place. Moving dishware out of an upper cabinet and into a drawer makes it easy for everyone to access.
These six must-have kitchen cabinet accessories are easy to install and can make any homeowner's life easier. Everyone appreciates increased efficiency in the kitchen that comes from easy-to-access storage that improves functional workflow. More and better storage also helps the homeowner banish kitchen chaos by taking advantage of underused cabinet space that adds storage and makes for a cleaner kitchen.
Visit the rev-a-shelf accessories to start picking out your favorite cabinet accessories today.