13 Frequently Asked Questions About Cabinet Corp Construction, Finishes and Types of Wood
We get asked a lot of questions, and rightfully so, as a contractor, you want to be using the best quality cabinets for your remodeling and building projects. Here are the most frequently asked questions we receive about the construction of our cabinets. 
How are the cabinets constructed?
We offer cabinets from multiple manufacturers with varying construction specifications. Most of our cabinets are all 1/2″ plywood box construction with a beautiful matching interior and sides. All hinges are concealed and adjustable; shelving is typically 3/4″ plywood for extra strength to prevent sagging. All drawer glides are soft close. Our cabinets are the highest quality stock cabinets on the market and make an excellent price to value purchase.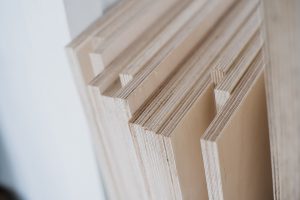 Are these cabinets strong enough to support a granite countertop?
Yes! Our "all-plywood" construction ensures the strength required to support granite, concrete, or any other countertop material that you may select. No additional cabinet reinforcement is needed.
How long is the warranty on the cabinets?
It has a limited lifetime warranty. The Design Center can provide you with a copy of the warranty.
Are your cabinets all wood?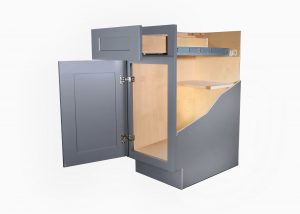 Our framed cabinets are constructed from solid hardwoods and furniture grade plywood. They do not contain any particleboard. Painted doors will utilize HDF for longer life and reduce the cracking that generally happens with hardwood joints over time.
Our frameless products are constructed from MDF and furniture grade plywood. All materials are CARB2 compliant for restricted formaldehyde emissions.
Is there a warranty with your products?
Yes, our cabinets come with a limited 5-year warranty.
What is the interior finish of your cabinets? 
Our cabinetry comes standard with UV Coated Natural Interior. Glass door cabinets have interiors that are painted or stained to match the exterior.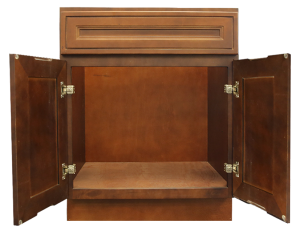 Will I need a finished panel to cover the exposed sides of the cabinets? 
No, all our cabinets come with finished ends. Decorative ends may be ordered that match the door profile.
Can I get these Ready-To-Assemble Cabinets Unfinished?
No, our cabinets are only available finished.
Can I get a color sample? 
Color samples should be obtained from your design center. Please keep in mind they are a small representation of the overall wood grain and color; therefore, we do not recommend ordering your cabinets from a small sample. Please visit the design center and view a door sample or kitchen display in the door style and finish color you are interested in purchasing.
Do the cabinets come assembled?
We offer both manufacturer assembled cabinets and ready to assemble cabinets (RTA). The assembled cabinets allow you to open the boxes and install right to the walls; the RTA cabinets require approximately 10-20 minutes of assembly time for each cabinet.
What is the difference between the standard overlay and full overlay?
Overlay refers to the amount that a door covers or overlays the cabinet face frame. Standard overlay doors typically cover 1/4″ to 1/2″ of the face frame leaving a 1″ to 1 1/4″ reveal (amount of face frame showing). Full overlay doors typically cover 1 5/16″ of the face frame leaving a 3/16″ reveal. All of our door profiles are a full overlay.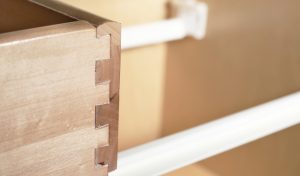 What kind of drawer construction is standard with these cabinets?
Our drawers are dovetailed drawers, giving them a durable construction with a luxury look without the additional cost.
Do you sell matching cabinet accessories?
Yes, check out our Shop Cabinets page to see all the available accessories that come in the same finish as your cabinet of choice. Choose from wall panels and toe kicks to decorative crown molding, spice drawers, and more.
Visit our FAQ page to see more of our frequently asked questions. https://www.cabinetcorp.com/faqs/