Help Your Clients Renovate For a Quick Sale
An up-to-date home renovation can make the difference between a house that sits on the market for months or sells quickly. One of the main reasons a house will sit is due to a buyer's perception of the amount of work needed to improve it.
No one wants to buy a home that needs significant repairs before they can enjoy living there. Most people want to move in and then make the changes to add their personal touch. This means that renovating a house before putting it on the market might be the right idea for the seller. But not every renovation makes sense. 
As a contractor, you can recommend a few simple and inexpensive changes to update any home and attract buyers – rather than having them turn around at the front door. Your experienced professional input can help the client ready to sell, make changes that will bring a decent return on the sales price. While kitchens and bathrooms can cost the most, they can also bring a quick sale and reasonable return for the seller's investment and time.  
Small changes can help a home sell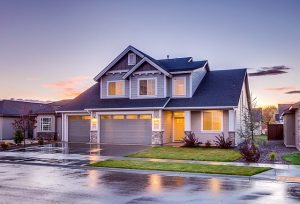 Home exterior— Yes, the home's curb appeal and general condition are very important. If your clients have lived in the house for more than five years, they may not notice outside maintenance items that could use some attention. They may need to trim bushes, pull weeds, add new mulch, paint trim and exterior doors, and power wash the siding and repair any light fixtures that are don't work. They'll want to mow and clean up the yard before a showing or open house – they don't want potential buyers to walk into a jungle of overgrown bushes and spiderwebs to get to the front door … if they don't drive away without coming in to take a look. They may also need to consider re-coating an asphalt driveway and filling in any cracks in the sidewalk or driveway cement. 
Front entryway— Take a look at the entryway with the eyes of a home buyer. Think hard about what catches the eye first as they enter the home: Will they notice the condition of flooring and paint, or get distracted by clutter? The first easy remedy is to declutter the entryway. (Sellers can find useful tips on decluttering in our article here.) After decluttering, the next step is a thorough deep cleaning. Then decide if you need to advise your clients to clean the carpets or replace the flooring, or if they can wash the walls or need to paint. 
Help your client choose the right paint color to sell their home quickly. Bright, neutral colors will complement most furniture and add light to the room. Any shade in the white, off-white, beige, light grey or light blue range is a versatile neutral. The idea is to choose colors that will appeal to the broadest range of buyers, and stay away from trendy or bold colors.
Flooring preferences can be subjective, so this is not the time to install the hardwood or tile your client always wanted. Their best bet is to go for a clean, functional, and neutral look. If the carpet looks "good enough" after it's clean – meaning it doesn't catch anyone's eye with spots or wear, don't worry about replacement. The real estate agent may suggest replacing it; if that's the case, find a nice neutral carpet or reasonably priced vinyl or other resilient flooring that will look good with any trend.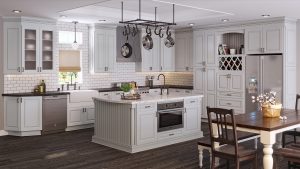 Kitchen— The kitchen is everyone's favorite room. Both small and large changes can update the room and allow buyers to see themselves living there. Sellers can spend a little – or a lot – to update their kitchen. 
Again, try to help your client look at the room with a buyer's point of view. A big sweep to declutter is always the best first step. If the room is dark, consider a lighting update. Unless the cabinets are completely falling apart or very dated, new hardware for handles and organizational accessories for cabinet interiors can make them beautiful and add welcome functionality. Fresh paint in a bright neutral color will also help add light to a dark kitchen.
If your clients are leaning toward replacing the kitchen cabinets, working with an online cabinet wholesaler like Cabinet Corp can help them save money. Cabinet Corp offers both pre-assembled and ready-to-assemble (RTA) cabinets. Whichever way your client's choose to go, Cabinet Corp cabinet's will price out 40% less than stock cabinets from the home improvement store. 
Cabinet Corp designers can help you choose cabinets to improve function and update the current kitchen footprint. Of course, working within the existing footprint is the least expensive way to update the cabinets. However, buyers welcome the sight of new cabinets because they know they won't have to make that replacement anytime soon. The best advice you can give your clients is to stay away from trends, find a style that will last and work with a designer to help arrive at a choice that's both cost-effective and likely to appeal to a broad range of today's buyers. 
Another option is to reface cabinets and replace countertops if the cabinet boxes are in good shape. In many cases, this approach can be almost as expensive as installing new cabinets from Cabinet Corp. Whether your client chooses to replace or reface cabinets, a remodel like this can return nearly 70% on the investment, so money spent in the kitchen is a good bet for resale.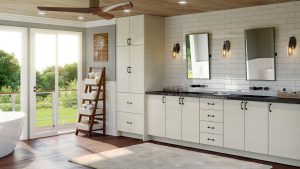 Bathroom—The bathroom is another room where small improvements can go along way to make a home more marketable. New paint color can make a small bathroom appear larger. Again, counsel your clients to stick to those neutrals to appeal to the more buyers. New shower fixtures, faucets and towel bars can update a bathroom's appearance even without replacing the tub or shower stall. If the tub or shower is in good shape but needs a new look or color, refacing them is the best use of renovation money. 
When your client is prepping for resale, it's not the time to be installing the unique tile pattern they saw on vacation overseas. If the bathroom needs new flooring, think practical, safe, and functional. Often a good vinyl product that looks like tile will give the bathroom an updated look – and can even be grouted to give it more of a high-end look. A bathroom remodel typically brings as much as a 63% return. 
For improvements in the mid-cost range, your clients might consider replacing the garage door (for a 79% return) or installing a new entry door instead of painting it (for a 63% return.) 
 Your clients can spend a little or a lot on updates as they prepare to sell their house. As they consider improvements or renovations, they will want to understand how to best spend their money – which improvements add value to the eventual sale and which ones are more for their enjoyment as long as they live in the house. 
According to homeadvisor.com, the average remodeling project for a 1,500-square-foot house can range from $15,000 to $90,000. Projects that don't involve new windows or replacements for a furnace, water heater, A/C, or other major home systems will come with a lower price tag. Help your clients understand that many small, less-expensive updates will give their home a fresh look and make it ready to sell. Encourage them to research what's necessary for their market and know what they can expect for a return before investing in any changes. 
Visit our photo gallery for inspiration for your next project.