As a contractor's online source for wholesale cabinets, we at CabinetCorp had to share news of a new study showing the demand for cabinets in America is expected to rise 6.6 percent each year to $16 billion by 2018. The driving factor for the increase is the strong rebound in residential building construction.
Kitchens and bathrooms are expected to claim a large share of square footage in new housing, increasing the demand for cabinets, according to the new study from The Freedonia Group, an industry market research firm based out of Cleveland. Builders and contractors will install more cabinets in these rooms as part of the desire by today's homeowners for attractive storage solutions.
Growth in Home Improvement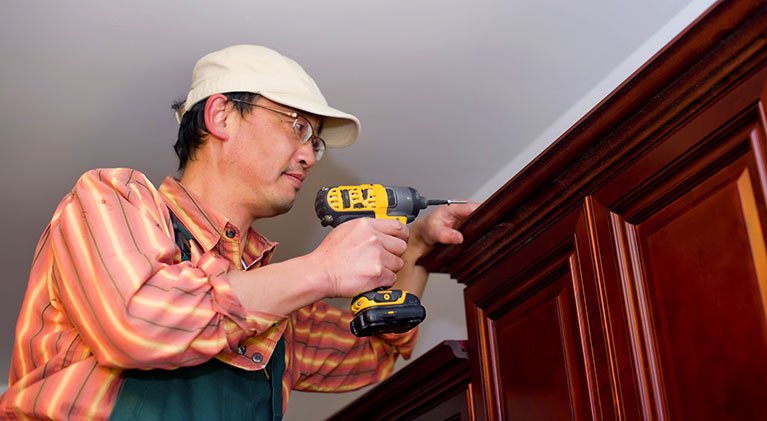 Also driving the increased demand for cabinets is the growth in home improvement and repair spending. Rising home values and a more attractive lending environment encourage homeowners to renovate or remodel bathrooms and kitchens. A recent study by the by the National Association of the Remodeling Industry affirms this growth with kitchen remodeling a top priority for 82 percent of its members. The demand for kitchen cabinets is expected to grow from $9.5 billion in 2013 to $13.1 billion in 2018.
Design Trends
Current design trends also have a role to play in the increase. Along with the trends of larger kitchens and open space plans come such features as kitchen islands and breakfast bars, along with more cabinets and larger cabinets to provide plenty of storage space. Think floor-to-ceiling cabinets. The cabinet survey also noted such amenities as pull-out shelves, storage racks, easy-to-open doors and light-emitting diode lighting beneath cabinets. The NARI study sited such trends as built-in accent cabinets to house china or other kitchen items, wine storage and a mix of different wood tones and finishes to create a customized look.
Demand Up for Bathroom Cabinets, Too
Meanwhile, the demand for bathroom cabinets is expected to rise to $1.9 billion in 2018, up from $1.5 billion in 2013. While not as big as the kitchen, today's bathrooms are being equipped with more cabinetry, including such feature cabinets as medicine chests or vanities that provide space for personal items and cleaning supplies. As we've written about previously, cabinets are indeed a hit in bathrooms, too.
As a contractor's online source for wholesale cabinets, CabinetCorp is happy to share this industry news with our contractors and regular readers of this blog. What do you think about these studies and trends?  Please contact us or comment on one our social channels. We'd love to hear from you. Want to share this story? We've got the tweet ready for you.
We like: US demand for #cabinets to grow to $16 billion by 2018, fueled by #home #construction: http://t.co/ehaTJOOV6Y

— CabinetCorp (@CabinetCorp) June 4, 2014
Connect with us on: