If you're in the market for a new bathroom, whether creating a new one or remodeling an existing one, make sure you include plenty of cabinets in your design. Bathroom cabinets are all the rage.
Yes, in fact, include all the cabinetry that your space can hold. After all, no one has ever complained about having too much cabinet space, whether in the kitchen or bathroom.
When some start planning their dream bathroom, they start thinking about a bigger soaking tub or a cool walk-in shower. They plan for his and her sink vanities – those are definitely a must – and maybe even a separate toilet room. But as you plan your dream bathroom, don't forget about the bathroom cabinets.
Here at CabinetCorp, we offer quality, wholesale cabinets that are shipped quickly to contractors. We know the potential a space can have and how cabinetry can help you make the most of your space. While cabinets are a must for the kitchen, they're certainly important for the bathroom too.
As you work with clients on bathroom remodeling projects, use this guide to help them see the many uses and potential for cabinets in the bathroom.
Towel Storage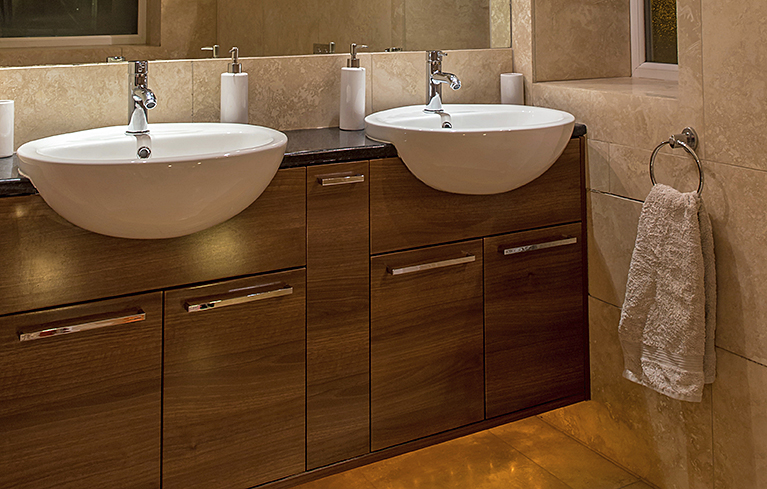 Towels are must for every bathroom, which means you need a place to store them. If nothing else, this is often considered the main storage function for bathroom cabinets. You'll want to make sure your clients have plenty of cabinet storage for all the towels and washcloths used in the bathroom.
A Pantry in the Bathroom
Along with all the towels, you need space in bathroom cabinets for all the toiletries, cosmetics, gadgets and other electronics one might use. Drawers and cabinets are perfect for storing all these items, so make sure your clients have cabinets for these. Consider using a pantry-like cabinet with pullouts, giving your clients easy access to all their toiletries and supplies.
Linen Closet Cabinets
Some houses don't include space for a linen closet but with great cabinetry in the bathroom, you don't have to worry about that. Your clients will love the thought of extra cabinet space dedicated to all their household linens – the sheet sets, comforters, throws and extra pillows that every household uses. Suggest a wall of floor-to-ceiling cabinets and your clients are sure to love it and rave about your great ideas.
Accessories
We've written previously about how accessories can give a kitchen a customized look. The same is true for your bathroom. Consider vertical spice drawers for makeup and other toiletries, end shelves for displaying decorative items and pullouts for ease of access.
What do you think about these uses for cabinets in the bathroom? If you are considering remodeling a bathroom and have questions about any or our cabinets or cabinet accessories, please contact us or reach out to us on any of our social channels. We'd love to hear from you. Want to share this article? We've got the tweet ready for you.
Why should the #kitchen get all the #cabinets? Give your #bathroom some cabinet love, too. http://t.co/kCbnuCgrID

— CabinetCorp (@CabinetCorp) May 28, 2014
Connect with us on: