Looking to ramp up your game and set yourself apart as a contractor who remodels kitchens and bathrooms?
Consider the power of cabinet accessories. And we're not just talking hardware like pulls, handles and knobs, which can certainly accentuate your cabinetry. We're talking accessories like wine racks, spice drawers, arched valances and roll out shelves, to name a few.
For some, these may just be an afterthought but don't follow suit.  Instead, put cabinet accessories at the forefront of your planning and visualization and you're sure to woo more clients with your creative ideas and solutions. You'll find these accessories on our Shop Cabinets tab. Just click the style you're looking for and see the options below.
As you're planning your next kitchen remodeling project, consider these accessories:
Wine Rack Wall Cabinet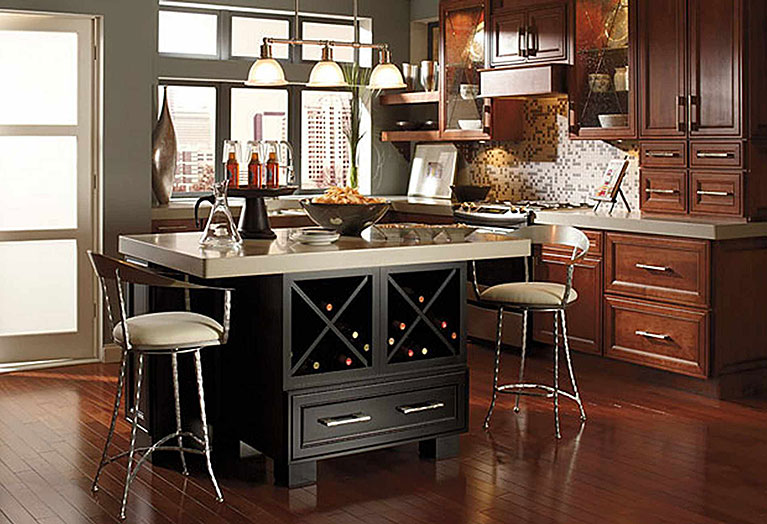 Everyone's a wine connoisseur these days, or so it seems. This makes a wine rack wall cabinet the perfect accessory for today's kitchens. Not only it is perfectly functional and complementary to each of our existing cabinet lines, but the wine bottles also add nice touches of color to the kitchen.
Spice Drawer
A common quandary for today's homeowners is what to do with all the spices used for cooking in the kitchen. The wall or base spice drawer accessories offers built in storage made specifically for this purpose. The base spice drawer is a skinny but deep vertical shelf drawer, allowing you to store your spices upright. The wall spice drawer offers storage suited for this purpose with sections within the drawer. Having these drawers makes for a better fit for your spices and frees up counter space.
Wall End Shelf
The wall end shelf is a great way to customize the look of cabinets, whether you're using them for the kitchen, bathroom or even the laundry room. The wall end shelf accessory is attached to the side end of wall cabinets, creating instant storage and display space. Whether you use it for practical storage or decorative display purposes is up to you. Today's homeowners want a kitchen that is not only totally functional with plenty of storage, but one that offers plenty of decorating options. The wall end shelf fits both needs and comes in various sizes to match the cabinets.
 Roll Out Shelf
How did we ever get along without roll out shelves? This cabinet accessory is perfect for today's modern kitchens, offering easy access to whatever is inside the cabinet. No more squatting on your hands and knees, digging in the back of the cabinet for that big soup pot and lid. The roll out shelf, available in seven different sizes, brings the items to you.  This is also a must for universal design, which allows the home to grow with homeowners.
Wall Plate Rack Cabinet
This is the perfect accessory for today's busy families. Why stack the plates back into the cabinet each day, when the plate rack cabinet keeps them within easy arm's reach. From the dishwasher to the plate rack, and back to the table again. This is also a great way to show off pretty and colorful plates, adding some style and color to your kitchen.
Custom Molding
There is nothing like molding to really customize your cabinetry.  It can add a touch of elegance to the   top of your cabinets and the whole room. It comes in a variety of sizes to meet your style needs. This molding can take your kitchen, bath or laundry room redesign to the next level. We recently shared this article on our social channels, offering more tips on the use of molding. We sell molding in a variety of sizes that matches each of our cabinet finishes.
What do you think about these cabinet accessories?  Have you had success with using these with your remodeling projects? Contact us if you have questions about wholesale cabinets, cabinet accessories or more. Want to share this article? We've got the tweet ready for you.
Consider the power of #cabinet accessories in customizing your next #kitchen #remodeling project: http://t.co/SESPnDZdHS

— CabinetCorp (@CabinetCorp) May 16, 2014
Connect with us on: