ANNOUNCEMENT:
We've been cleaning our warehouse this spring (it's never too early to get started on your Spring Cleaning!), and we have more Vanities than we need! These are great Vanities in both White and Sable and are available in many different configurations (One Drawer, Drawers on Left, Double Drawers, etc). We recommend that you come in and pick these up in person (since the shipping would probably be more than the vanity you're buying) but shipping is available for these.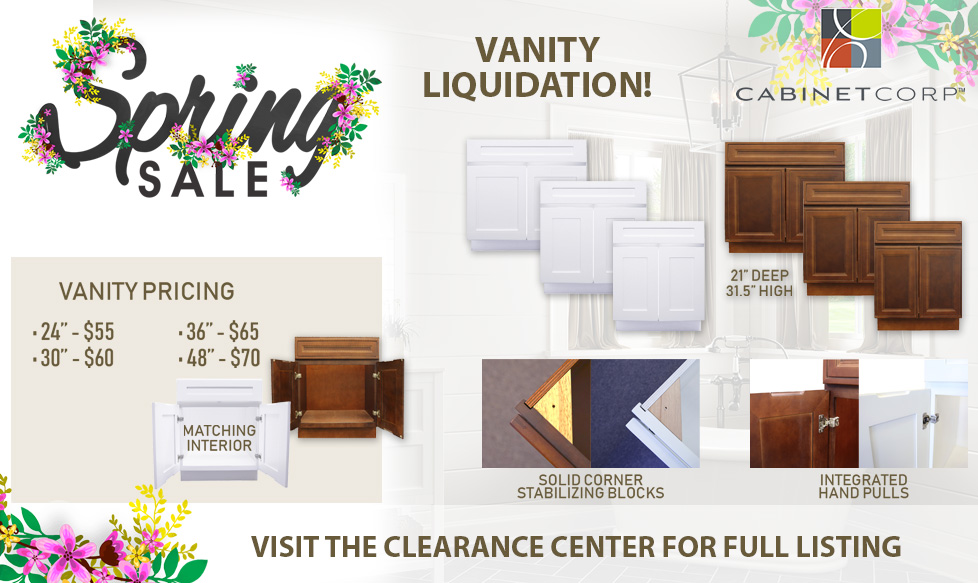 In order to offer these great vanities, we decided to put together a special section of our website dedicated to special items that we want to feature from time to time. This is our new CabinetCorp Clearance Center!
To check out the Vanity Special, click the button below to visit the new Clearance Center!
Check back often for new sales and discounts from our Warehouse overstock! Also don't forget to click the SKU on the Clearance Center to get more info including more pictures about each vanity!
We wish you all the best this Spring and hope you all have a safe and wonderful season!
-CabinetCorp Staff