The trend that never stops trending is the white kitchen. Considered a timeless classic that offers up a fresh and clean look, white kitchen cabinets are easily one of our biggest sellers here at CabinetCorp. As a dealer with CabinetCorp, you have the ability to sell one of three white "kitchens" from our collection. Each style is represented as a half door in our Sales Presentation Kit so that you can see and handle the differentiating detail in each.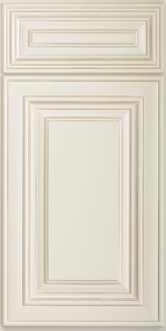 The Cambridge Antique White – a perfect neutral that works well in a variety of kitchen or bath sizes and spaces.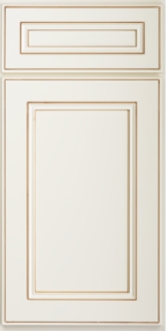 The Yorkshire Antique White – another beautiful neutral with more defined cutouts to add drama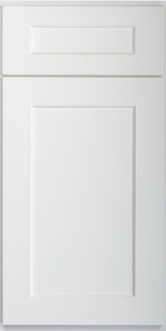 The Shaker White – this contemporary style offers a sleek, strong look that pairs beautifully with bright colors (even reds and bright greens).
Aside from the timelessness of white kitchen cabinets, their look allows for any splash of color elsewhere in the kitchen. Many of our interior designers and contractors will work color into backsplashes, tiles, countertops and walls, all of which are framed perfectly by white kitchen cabinets.
When it's time for renovation or changes in the kitchen, the white cabinets can stay while the simple contrast colors can change, making for an entirely "new" kitchen at a fraction of a "new" cost.
White kitchen cabinets work very well for small kitchen spaces, too, as they actually open up a space and make it appear larger that it is.
And, white kitchens have proven the most popular in resale value, too, as they offer so many options to incoming buyers.
This summer, introduce the cool and classic white kitchen concept to your buyers. With our next business day delivery, kitchens can be completed or transformed in just a matter of days!
P.S. For the month of June 2015, there's still time to purchase more than $2,000 in kitchen cabinets (of any color) and receive a bonus free sink base! See details here.