Three Priorities Contractors Emphasize When Buying Cabinets
Builders and contractors must assess three factors – budget, materials for construction and the assembly process – to complete a project that suits their client's needs. Buying cabinets that fit their client's criteria is crucial for a successful project. 
Builders and contractors earn their reputation, at least in part, because they help their clients develop realistic budgets, and complete projects within the agreed upon budget. Blowing through a budget without a finish line in sight can lead to unfinished projects or a client who withholds payment – neither of which are desirable situations!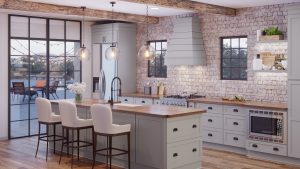 For anyone considering a kitchen remodel, it's helpful to understand a reasonable investment range necessary to bring your new kitchen to life:
On average in 2020, a

remodel for a small kitchen starting at 70 sq.ft. runs anywhere from $7,000 – $8,000. Remodels in this budget range typically rely on refacing cabinets (rather than replacing them) and use lower-cost materials for the countertop and flooring.
A mid-size kitchen of 100-200 sq. ft. remodel comes in at an average cost of between $8,500 -$25,000. This budget includes new stock cabinets and a higher grade of flooring and countertop. The price increase is mainly due to size.
Remodeling a large kitchen over 200 sq. ft. calls for a budget in the range of $30,000 – $75,000. At this level of investment, you can consider custom cabinets and premium flooring and countertop. 
As extensive as they are, these budget ranges call for builders and contractors to explain what makes up the difference: the biggest factor is construction materials and cabinet how the cabinets are assembled . This information will help the homeowner decide on the right level cabinet quality for their needs. 
Construction materials
Construction materials determine a cabinet's durability and longevity; see our in-depth look at cabinet quality here. Homeowners have three basic categories from which to choose:
Stock cabinets – good

Semi-custom- better

Custom – best

Stock cabinets 
Stock cabinets are stock-in-trade at the home improvement store (no pun intended.) Available in a range of styles and finishes, stock cabinets also vary in quality of both construction materials and how they are assembled. As you might expect, stock cabinets are the least expensive option for replacement cabinets. 
Stock cabinets typically use particleboard and MDF. These materials look nice at the outset and hold up for a few years, especially under light wear. Compressed wood and glue do not withstand moisture well and are likely to  break down over time. Particleboard and MDF present well, with a veneer or thermofoil finish that makes them look like a painted or wood grain product. 
Stock cabinets differ from custom and semi-custom in the method of assembly. Many stock cabinets rely on glue, staples and notched butt joints. These cabinets don't have the more stable and durable dovetail joints you'll find in semi-custom cabinets. These cabinets often lack adjustable hinges, and drawer glides run along the outside of the drawers.
Side-mounted glides reduce the width of the drawer, and thus its capacity. At an even lower level of quality, you might see drawers with a center-mounted metal or wooden glide with a plastic brace, to smooth the drawer's motion. Cabinets with drawers assembled this way might in the short term, but plastic and weak metal don't add strength to a drawer.
Semi-custom cabinets
When you step up to semi-custom cabinets, you can choose from a variety of styles and finishes but you are restricted to stock sizes for your cabinets.  Semi-custom cabinets feature all-plywood construction to give them similar durability and stability to all-wood cabinets, but with a lower price point. Semi-custom cabinets support more weight, and incorporate construction features that improve their longevity.
Semi-custom cabinets offer better overall quality than stock cabinets.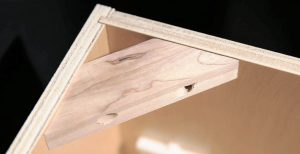 Cabinet boxes are built with I-beams to provide extra support in the corners  and add strength to the entire unit. A semi-custom cabinet will maintain its shape during transit and installation and should last many years in your kitchen. All-plywood cabinets resist moisture absorption better than stock cabinets. 
Semi-custom cabinet drawers are constructed with dovetail joints. These joints add to the strength and durability of the drawer. Steel drawer slides are under-mounted and incorporate ball bearings for a smooth, long-lasting slide that opens fully. Drawers like these are rated to hold 90 pounds – that is a lot of silverware! 
Semi-custom cabinet hinges are made from hardened, nickel-plated steel and can be adjusted six ways. This range of adjustability allows you to tweak the hinge slightly in the case of any seasonal movement and changes in humidity that cause the wood to expand or contract.
Custom cabinets
With custom cabinets, the sky's the limit – and your budget reflects just that. A rough estimate for custom cabinets comes in at $400 per linear foot per cabinet, and varies with the type of wood. Expect to pay for the best materials and the most meticulous construction methods.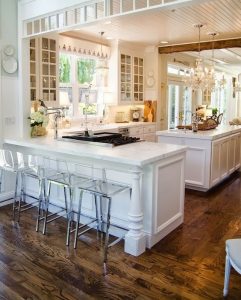 For the homeowner just starting their kitchen remodel journey, it's often hard to tell the difference between between types of cabinets available at a home improvement store. It's your job as a contractor to guide the homeowner and help her  understand which cabinet type best suits her long-term needs and of course, her budget.
If stock cabinets are the right answer, then point out any concerns you might have about materials and assembly.  Semi-custom cabinets are often a great alternative – they can be affordable for everyone, and with financing options available, homeowners can plan a quality kitchen remodel at an attractive price. 
Visit our cabinet gallery to find the right semi-custom cabinets for your clients.