What Dad Prefers When Remodeling A Kitchen
Grilling season brings all the men to the yard and firing up the charcoal for brats, hamburgers, kabobs, and steaks what's not to love about summer cooking. Dad is probably out there in front of the man-made fire, watching over his family's precious meal. I can hear the echo of the Tim Allen grunt from the old show Home Improvement now. 
Outdoor cooking can be relaxing and rewarding; many fathers like to be in the kitchen, creating a dinner masterpiece. Yes, macaroni and cheese with hot dogs count if it makes the children happy. 
Family members of all ages can learn the culinary skills of cooking and baking. With their love of cooking for others, 77% of all professional chefs are men.
Since Father's Day is coming soon, there are some kitchen remodeling ideas that men prefer more than grilling or open fire cooking. 
Dad's kitchen remodeling ideas.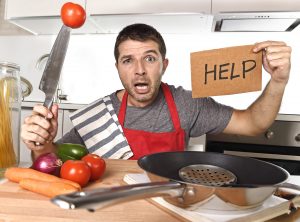 Kitchen remodeling is very methodical and step-by-step, the perfect approach for the men of the family to follow with their logical brain. They will have lots of great ideas about how to optimize function and maximize space. 
We found a few recurring themes in a short informal survey we did of a few Fathers we know. They wanted better appliances, preferably a gas stove, a commercial range hood, and heat resistant natural stone countertops and cabinet with ample storage options. It sounds like every wife's dream, but to be sure the style and color schemes may be different. 
Let's take a closer look at what Dad has on his Father's Day list when it comes to kitchen remodeling. 
Appliances
Dads love to grill, Imagine if you could bring your fire into the kitchen. A large gas stove with a stylish commercial range hood was the top priority on our Dad's lists. This makes sense; if you have a gas range, you want a good range hood to push the fumes back out of the house. Dads with commercial kitchen experience recommended the commercial version would rather have a commercial rated hood for better ventilation. Add in a double oven for the Bakers in the bunch, and our Dads are set with their kitchen appliances.
Style and Color
The style and color of the cabinets are the first decisions made by the women in the family. Style and color come secondary in male logic. However, when they did focus on style and color, the theme was dark-colored wood with simple yet stylish hardware or no hardware option for a handleless closure.  
The cabinet style wasn't as important as the color. There are a few fathers out there who preferred the modern, contemporary look of the frameless kitchen cabinets. A decorative, large tile backsplash and durable (non-tile, non-laminate) no crack flooring were more critical than color choices. Our Dads didn't want to crack the dishes if they were dropped and to be able to clean up if something exploded.
Kitchen lighting was an essential factor for the Dads. They wanted good task lighting, not just task lighting–multi-stage lighting so that the food prep area could be brighter than the sitting area. 
Countertops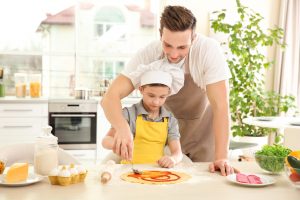 Natural stone countertops were a must. Not only for durability and how nice they look but more for the heat resistance. The Dads wanted to be able to set down a hot pan without ruining the countertop. Quartz, granite, and marble countertops were their choices and then based on price, durability, and ability to withstand heat and staining. Second, to heat, was the amount of power available within reach. The countertop must have many outlets for appliances.  
Lots of storage
Many didn't even want the daily use of appliances like coffee makers, instant pots, or a simple kitchen utensil holder on the countertop. They liked their kitchens free from clutter. It was all about keeping the kitchen looking clean and organized, even during cooking. 
By adding pullout spice shelves, pantry shelving, utensil holders, roll-out shelves with organizers, and extra deep drawers with organizers, you can accomplish a stark countertop look. 
 Storage is a kitchen remodeling must-have for both men and women. Most families could get along while cooking with the proper functional storage in their kitchen. 
What do Dads' want when they are remodeling their kitchen?
If they had it their way, they would go with sleek, contemporary styles in dark colors and stone countertops. The focus is on cooking, function, storage, and making sure the kitchen looks clean even if the turkey burns. 
To find the perfect gift for the men in your kitchen, visit our photo gallery.