Stone Polymer Composite (SPC ) vinyl flooring is here to stay, and why not? Your clients will love how it delivers an ultra-modern look with supreme durability. SPC vinyl's rigid core and waterproof surface make it an ideal flooring choice for any kitchen. SPC vinyl flooring provides an attractive update to any kitchen look from traditional to modern.
Benefits of SPC vinyl flooring
100% waterproof: SPC vinyl works well in water-prone areas like the kitchen and bathroom. Your clients will not have to worry about humidity or spills ruining their flooring.
No expansion or contraction: Traditional wood flooring contracts, expands, and shifts over time. SPC vinyl will not contract or expand even when moisture is present, so it always stays level and in place.
Adapts to imperfect subfloors: Rigid core SPC vinyl flooring installs easily over uneven subfloors. The core is designed for these types of situations. It is engineered to be installed over any existing surface, including tile.
Realistic wood looks: SPC vinyl mimics natural wood so that you can match the exact color of hardwood flooring. Available in various light and dark colors and low- or high-variation patterns, you'll think you're working with natural hardwood flooring.
Ultra-durable: This ultra-tough material will maintain its form for years. SPC vinyl comes in thin layers so that it can be placed over existing flooring. SPC is strong enough to install successfully over an uneven subfloor.
Low maintenance: An occasional damp mop or vacuum will keep SPC flooring looking beautiful. Unlike hardwood, there is no need to buff, scrub, wax, or seal.
Chemical-free:Greenguard-certified SPC flooring is phthalate- and chemical-free. This means it has low chemical emissions and is fire-resistant, pet-friendly, antimicrobial, recyclable, and radiant-heat approved—the perfect green flooring to reduce your client's carbon footprint and keep people and pets safe from chemicals.
Easy installation: SPC rigid core vinyl planks are easy to install. The interlocking planks float over any existing surface.
Extra warmth: SPC rigid core vinyl provides extra warmth, especially compared to cold ceramic tile or stone.
Sound absorbing: The SPC's rigid core helps absorb sound, helping keep the noise down in the kitchen, entry, and second-story room.
10 Updated Kitchen Flooring Design Ideas with SPC Vinyl
1) Distressed wood look for a farmhouse kitchen
Natural hardwood floors get beaten up over time, and colors start to fade and distress. With SPC vinyl, you can start with a distressed look that will remain consistent for the lifetime of the floor. The planks simulate aged hardwood with none of the sealing or polishing that wood demands. This distressed wood look is maintenance-free and an ideal choice for a busy kitchen.
2) Ultra-modern shine for an ultra-modern kitchen
This SPC vinyl kitchen flooring is as bright and shiny as the ultra-modern frameless cabinets in white gloss. You can't see a plank seam or joint in this flooring, making it look like one continuous piece.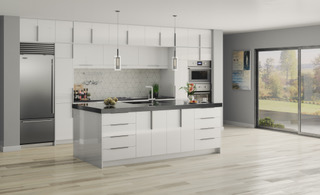 3) Contemporary gray for a contemporary kitchen
This smokey grey gives a farmhouse kitchen with contemporary grey cabinets a rustic look. Authentic wood-like SPC vinyl is maintenance-free and easy to install–it makes a great flooring choice for high-traffic areas like a busy kitchen.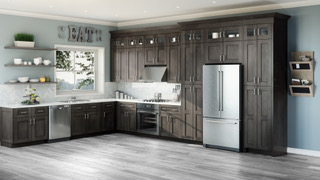 4) Keep it light and bright
The dark quartz countertop and light wood SPC vinyl feature authentic textures and colors inspired by natural hardwood. The contrasting countertops add an attractive focal point to this light and airy kitchen.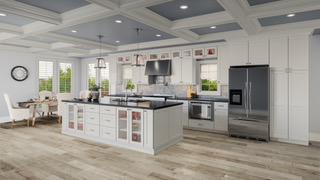 5) Go dark to accent modern kitchen cabinets
Dark wood tones bring a warm and inviting atmosphere to a kitchen. The dark colors add depth to the space. The dark wood SPC vinyl in this kitchen creates a sophisticated feel, contrasting beautifully with the Grey Wilderness frameless kitchen cabinets and dark wood countertops.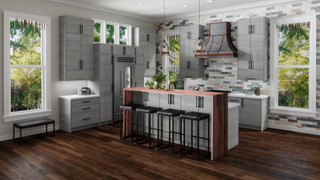 6) Warm gray to welcome and comfort
Timeless and sophisticated, a warm gray SPC vinyl floor in your kitchen is versatile and long-lasting. A warm gray shade for SPC kitchen flooring will stand the test of time, especially if clients want to change other kitchen features, as it can seamlessly coordinate with any decor.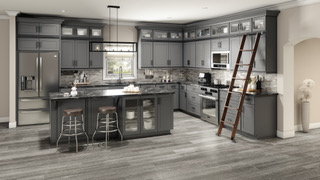 7) Improved wood textures
SPC vinyl planks have improved wood-like textures. The authentic wood grain printed pattern creates a 3-dimensional appearance with realistic cracks and knots. SPC vinyl has a full line of wood-look products offered with a matte finish that suggests the textural features of wood and its natural colors.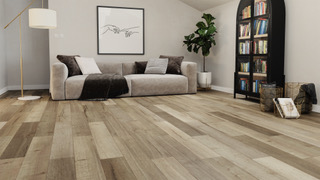 8) Light colors with high variation
Wood lovers don't have to choose between uniform colors or washed-out patterns. A high-variation floor features color variations within each plank and among different planks. The color variations and inconsistencies found in natural wood combine for a rustic look that can be contemporary or traditional. High-variation floors work best in large, open-space kitchens.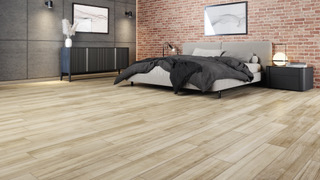 9) Timeless, all-wood styles
All-wood styles reflect more traditional trends. The subtle wood patterning adds warmth to any space. Use it to design a contemporary, clean aesthetic, a comfortable traditional style, or a rustic, farmhouse-style kitchen.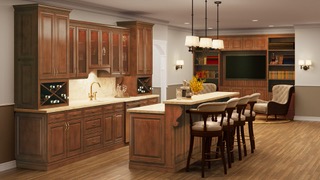 10) Dark wood look with high variation
Similar to the light wood look, this dark wood-look SPC vinyl can give a kitchen with Gray shaker cabinets an almost monochrome style. The dark, high-variation flooring complements the dark kitchen cabinets and even gives a hint of charcoal grey for visual interest. This complimentary wood look is great for a high-traffic area.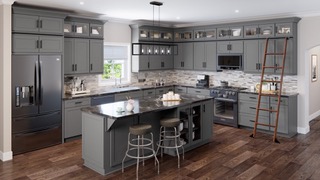 Bring the Perfect Kitchen to Life
As a contractor working with CabinetCorp, you'll be partnered with one of our talented professional kitchen designers, who will prepare a certified 2020/3D kitchen rendering at no charge. We can show you how to complement your client's newly remodeled kitchen with SPC vinyl flooring to enhance the beauty of high-quality kitchen cabinets.