When designing your client's dream kitchen, it's essential to balance the new trends with timeless features. You want to help your clients reflect their personalities but keep the design fresh and modern. With the right kitchen design, you can help clients add color, texture, and patterns to their kitchen design.
According to the NKBA, the 2023 kitchen design trends are here with three main ideas for remodeling the kitchen: combining elements for a unique style, open kitchens with minimal clutter, and large multifunctional islands that make the room.
1) Designers combine multiple elements to create unique styles for clients.
Two-tone cabinets: Two-toned cabinets can bring depth and subtle variation into your kitchen. They are gaining popularity as a way for homeowners to express their personalities.
Different color cabinets on the island—monochrome kitchens are out, and homeowners are changing it up with an island in a contrasting color.
Mix colors and wood cabinets—Wood cabinets are back but not by themselves in all kitchens. Some homeowners opt for a bold color that is balanced by wood cabinets.
Blue and green cabinets—We've seen navy and other blue tones arrive in the last few years, and sage green made a big push last year. Neither has gone away. However, homeowners are mixing the two with serene results.
Bold colors— Two-tone in bold colors are popping up in more kitchens. Homeowners have decided self-expression is the key to loving their homes and choosing strong colors.
Mix medals:It's not just the cabinets with different finishes; mixed medals add bling to the kitchen. Brass, bronze, stainless, and nickel create a rich and inviting style.
Patterned cabinets:Homeowners are not only choosing bold colors for cabinets, but they are also choosing patterned door styles. The Shaker clean line and modern frameless slab doors are still popular but so are beadboard, glass, and metal mesh.
Butcher block countertop-Countertops in marble and quartz are still popular, but the butcher block is breaking through in 2023. The butcher block is durable and functional, giving the kitchen a warm, comfortable feel.
Marble and quartz backsplashes – quartz and marble backsplashes in a subway tile add movement to the kitchen. The pattern can be subtle or dramatic, but it's always making a statement.
All-wood cabinetry:Many homeowners bring the outside in with all-wood cabinets. The natural look gives a kitchen brings balance and grounding.
All stone waterfall countertops:Butcher block is not the only popular countertop this year. The marble and quartz waterfall countertop makes a statement. The dramatic stone of the waterfall islands brings life to the whole kitchen.
Sustainable and natural materials:Timeless, classic designs with sustainable and natural materials are high on homeowners' lists this year. The durable and beautiful wood, stone, and metal all stand up to any design change.
Traditional style kitchen:Ultra-modern kitchens are not gone, but the traditional style is back. The furniture look of kitchen cabinets in a Cambridge style with corbels and trim are big with homeowners. The look is mixed with large windows and eclectic decor.
Statement lighting:Whole room lighting of the past consisted of recessed lights in the kitchen. Now, homeowners are choosing statement lights that pop.
Designer details:Over the past two years, looking at the same walls and cabinets got old. In 2023, the kitchen is becoming a showcase for handmade designer details and original decor.
Wood range hoods:Whether minimalist or traditional, a range hood makes a statement. These wood range hoods show creative ways to highlight the kitchen.

2) Homeowners prefer kitchens with an open look and feel that have features to hide clutter.
Lower kitchen drawers– People are tired of having everything in the open. They are opting for lower drawers and easy-glide pullouts instead of cabinets. These drawers are easier to access with extra large cabinet hardware.
Butler's pantry –If they have the space, homeowners opt to hide everything behind a cabinet in a butler's pantry. This separate room is excellent for all appliances and anything extra that would clutter the kitchen counter.
Designated coffee bar – The coffee bar is getting upgraded with new colors. Homeowners are choosing greens, blues, and mixed wood grains to add a pop to a neutral kitchen.
Hidden outlets– Power outlets move under the cabinets instead of in the wall and backsplash. Pop-up outlets are added with motorized controls to sink into the countertop and underneath when not used.

3) Large, multi-function islands for food prep, dining, work, and device charging are gaining popularity.
Dining and entertaining– Homeowners choose larger kitchen islands to accommodate dining and entertaining. If possible, the kitchen is expanding to accommodate the change from formal dining.
Workspace – Don't forget the larger islands and countertops for continued working from home. This trend is not going away, and a work zone has been established with large enough islands.
Technology is making life easier – Smart appliances, touchless faucets, and lighting create a convenience many will not give up in 2023. Millennials and Gen Z are taking it further with voice-activated lighting and appliances controlled on their phones.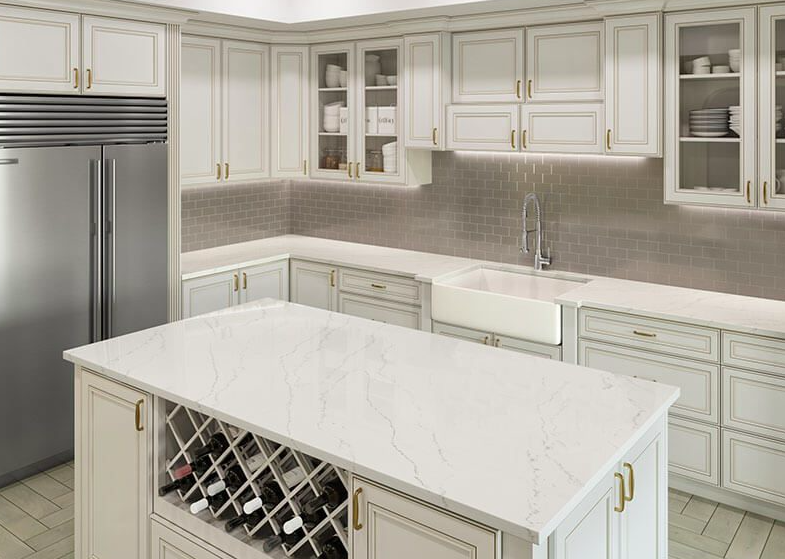 The kitchen design trends for 2023 are focused on personality and self-expression with everything from bold colors to sustainable, natural materials. The mixed bag of design means that homeowners are finally designing the kitchens they love and, with their kitchen contractor's help making it a reality.
Bring the Perfect Kitchen to Life
When working with CabinetCorp, kitchen contractors will be partnered with one of our expert kitchen designers. We will show your client their newly remodeled kitchen with 3D renderings to show your client their new kitchen before installation begins. Contact CabinetCorp designers today to give your clients the kitchen of their dreams.