With the busy holidays behind us, many homeowners feel overwhelmed by clutter and disorganization in their kitchens. A cluttered and disorganized kitchen can make cooking a hassle and make the space feel small and cramped.
The good news is that you can enhance the organization and functionality of your clients' kitchens to make them look clean, feel open, and showcase fabulous style.
Tips and techniques for an organized kitchen your clients will love
1) Max out on storage: One of the most important things to consider when designing a kitchen is storage. Without enough storage, a kitchen can quickly become cluttered and disorganized. Consider adding extra cabinet storage organizers like pull-out shelves, lazy susan, and drawers with peg systems. Another option is to install lower drawers instead of open cabinets.
In-between cabinet organizers can add storage where there was dead space previously, such as between appliances or between the sink and cabinets.
Take advantage of all available space above the cabinets. Cabinets that reach the ceiling can add much-needed storage for rarely used or seasonal items.
If needed, you can add motorized pull-down shelving to hard-to-reach areas. Or add a pull-out shelf organizer under the sink to house cleaning supplies.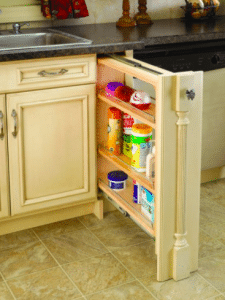 2) Add a magic corner: A "magic corner" is a cabinet designed to make the most of the space in the corner of a kitchen. It typically has two pull-out shelves that store various items, such as pots and pans. This can be a great way to free up space in other parts of the kitchen. You can also design it with drawers, swing-out shelving, or lazy susans.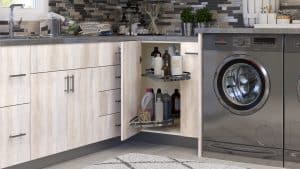 3) Put everything in its place: One of the best ways to keep a kitchen organized is to ensure that each item in the kitchen has a designated spot to store it. This includes items such as utensils, dishes, and small appliances. Drawer organizers are great for keeping the smaller items secure. You can also consider an appliance cabinet with a slide-out shelf that is strong enough to hold a stand mixer or other heavy appliance. Install in-between cabinet shelving for the canned and boxed foods.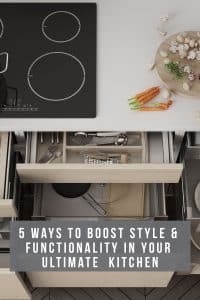 4) Hide small appliances: Small appliances like toasters, blenders, and coffee makers can take up a lot of counter space. Consider creating storage for them in a cabinet or drawer to get them off the counter. You can add a tall pantry cabinet with pull-out shelves to house small appliances. This can help to free up space on the counter and make the kitchen look cleaner and more organized.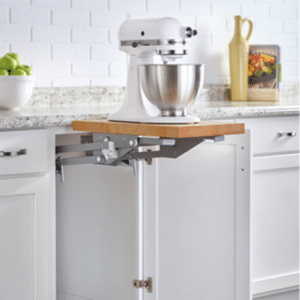 5) Hide and organize the garbage: Garbage and recycling bins can take up a lot of space in a kitchen. Consider adding a pull-out garbage and recycling bin to the end of a cabinet run, island, or under the sink, so it doesn't take up the space for another set of drawers or cabinets.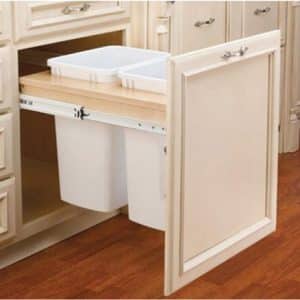 6) Think outside the cabinet: Cabinets and drawers aren't the only way to store items in a kitchen. Add glass doors to the upper cabinet to display unique dishes and cookbooks. This can help to create a more open and airy feel in the kitchen.
It can also be a great way to use dead space above the upper cabinetry to showcase heirlooms and decor items or add lighting and let them shine.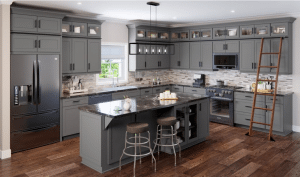 7) Create continuity: Work with a thoughtful and consistent selection of colors, materials, and design elements to create a cohesive look and make the kitchen feel larger. Contrasting colors, such as a lighter color for upper cabinets and a darker color for lowers, can open up and brighten a kitchen. Consider adding a contrasting kitchen island for more storage and seating.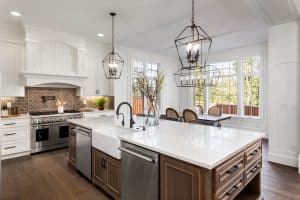 8) Let the light shine: A well-lit kitchen can make a big difference in the overall feel of the space. Consider adding extra lighting to the kitchen, such as under-cabinet lights or pendant lights. Don't forget the floor lighting along the bottom of the lower cabinets. This can help to make the kitchen feel more open and bright.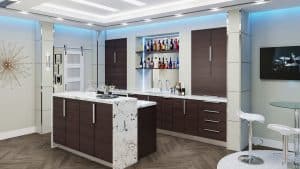 9) Create a workspace: A designated workspace for cooking and meal prep can make these tasks more manageable. Consider adding a kitchen island or a worktable to the kitchen to create a dedicated workspace.
A split-level island countertop allows you to separate the cooking area easily while keeping the working space on either side. Or turn an unused corner in the kitchen into a mini-office by adding a small cabinet with drawers and a countertop for a workspace.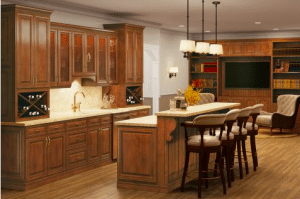 10) Customize it for your client: When designing a kitchen, you must consider your client's needs and how the space will be used. Make sure that the design of the kitchen is functional and meets their organizational needs. Designers are pros at keeping the working triangle in mind when they design a kitchen. This helps homeowners keep the correct space between cooking, prepping, storing, and cleaning. Remember that a kitchen is where homeowners spend a lot of time, so creating a space they'll enjoy being in is essential.

Choose expert kitchen designers for the best kitchen organization solutions.
Consider working with an expert kitchen designer when creating a dream kitchen for your clients. At Cabinet Corp, our kitchen designers can help you create a functional and beautiful space that meets your client's needs at no additional charge. They can help you with everything from layout and design to selecting materials and finishes. With well-considered design and organization systems, your client's kitchen will become a room where they'll love to spend time, no matter what they are doing. Contact one of Cabinet Corp's expert kitchen designers today to get started on your next dream kitchen.