Help your clients climb out of the basement and welcome some light to their dreary laundry chores. U.S. households have increasingly started to see the wisdom (and convenience!) of first- and second-floor laundry areas.
While feasible for laundry, these areas often lack the storage, organizational and countertop amenities necessary to enjoy doing laundry. We won't presume very many homeowners genuinely look forward to their laundry chores, but attractive, functional cabinets and countertops, can alleviate some of the pain. 
Different cabinets for different spaces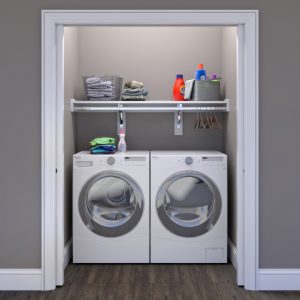 While not all homes have the space for a sizeable laundry room, smart planning and efficient cabinetry can repurpose even a small under-used space for laundry.
Other homes have room to go all out with a multi-purpose laundry, mudroom, and studio combination. Let's look at a few areas to see how little changes can make the first- or second-floor laundry room functional and maximize storage. 
Options for small laundry areas
A typical contractor's challenge when working in smaller spaces is the homeowner's desire for more storage than the space can accommodate. The remedy? Give them the best of both worlds: a pared-down (but still functional) laundry area and efficient storage to keep it clutter-free. 
In a small home, you can point the homeowner to a stacked washer and dryer combo to gain floor space for much-needed cabinetry and countertops. If it's not possible to stack the appliances if you have an area that spans 86 inches (the absolute minimum), you have 60 inches for a side-by-side washer and dryer and a 24-inch base cabinet and even a little wiggle room. And with 86 inches of upper wall space, there's room for three upper cabinets for storage – not bad!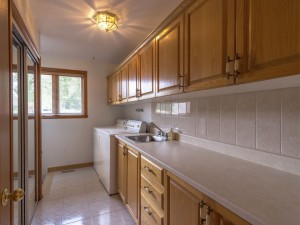 Even in a small area, one or two base cabinets next to the washer and dryer along with one or two upper cabinets will unify the space and streamline laundry activities. If you have enough clearance to frame the washer and dryer with a countertop, you've created a highly functional workspace for the homeowners. Consider rollout shelves with organizers to add easily accessible storage. Rollout units conceal laundry detergent, softener, and stain remover while keeping these frequently used products at hand. 
Waste container pull outs – the type frequently used in the kitchen – can hide away laundry baskets. Depending on the kind of pullout, you may have space for laundry supplies on the same shelf. Retractable drying bars, behind-the-door storage, and small, vertical cabinet pullouts create options for capturing small useable spaces and putting them to good use. 
Options for mid-size laundry areas
With a slightly larger area, let's say 5.5 ft.x 6.5 ft. and up to 7 ft. x7 ft. (35 -49 sq. ft. overall) you have the potential for a medium-sized laundry room. This may not seem like a lot of space, but with more than one wall to work with, you can separate the washer and dryer from the cabinetry and accommodate more base and upper cabinets.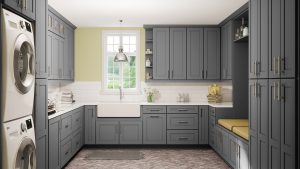 This layout type opens up more possibilities for hanging racks, vertical pullout shelves, and corner cabinets with lazy susan storage options. If there's a sink, consider under-sink storage that pulls out to take advantage of every useable inch around under-sink plumbing. 
It can now do double-duty as a mudroom if there's space in the laundry room to install upper coat racks along with a bench seat and lower drawers. 
Options for large laundry areas
Contractors love larger spaces as they are easier to plan and work within. 
 A big space means plenty of options for base cabinets, with ample drawers and pullouts. How about a full set of upper cabinets for hanging and storage options? You can also include a dedicated countertop area for folding, plus a work surface and storage for sewing and other crafts?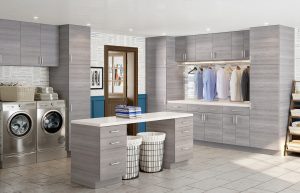 Whether your project involves a tiny space, a mid-size area, or a large room where the sky's the limit, a professional cabinet designer will help you consider the floorplan to optimize storage and include functional accessories to meet the homeowner's needs. 
The laundry room doesn't have to be drab and dreary! It can be one of the best-organized rooms in the house. As a contractor, it's your job to make the best suggestions for a layout to make the laundry space function well and offer cabinetry that will hold up in a humid environment. 
You never know the laundry room might be your homeowner's "gateway" project, inspiring dreams about a remodeled kitchen, a new bathroom, or bedroom closets with increased storage capacity. 
Visit with our designers today to help you plan a laundry room for your client.