Looking for a way to add both style and function to your next kitchen remodel? Consider the power of cabinet roll-outs.
Cabinet roll-outs – also called pull-outs or sliding shelves –  are the hot trend for cabinets in the home, whether it's the kitchen, bathroom or laundry room. As an online supplier of wholesale cabinets to contractors, we at CabinetCorp like to share news of the latest trends for kitchen and home remodeling in our blog. That's why today's blog article is all about cabinet roll-outs and other accessories to help you make the most of your kitchen remodel. Your clients will love these ideas and they'll love you for sharing them.
All About the Spices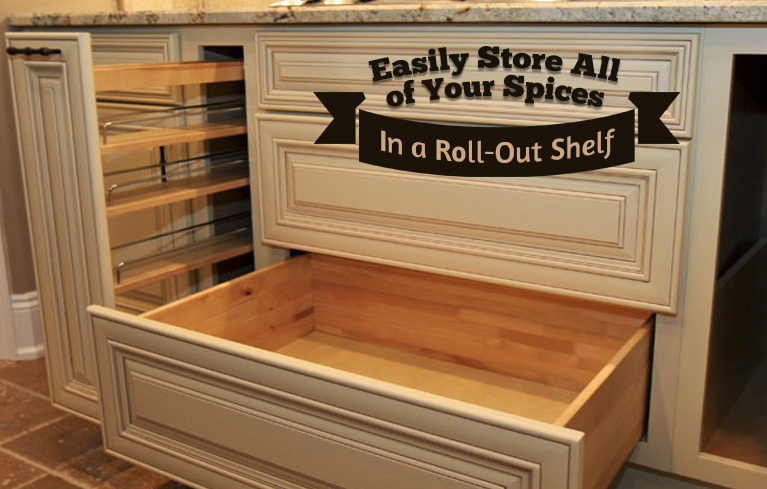 When it comes to spices, cabinet roll-outs are the nicest. Consider a pull-out spice drawer that is actually shelving for all your spices. From the outside it looks like a skinny cabinet door. But when you pull on the knob, the rack pulls out providing several shelves for all your spices. How handy is that? A single shelf roll-out with sides also makes great storage for large pans. The trash can roll-out is also popular, keeping your kitchen trash can hidden from view. Don't think these roll-out features are just confined to the kitchen. These can also work in the laundry room or in the bathroom, where there is always a need for great sliding storage.
Rolling Out the Pantry
How about a tall pantry cabinet of roll-out shelving? Can't you just imagine it? You'll like it but your clients will love it and love you for suggesting it. This makes it easy to see everything in your pantry. Can't see what's in back? Roll that shelf on out and you'll never have to tear apart your cabinets looking for that one item again. Cabinet roll-outs are your friend.
Cabinet Roll-Outs Offer Easy Access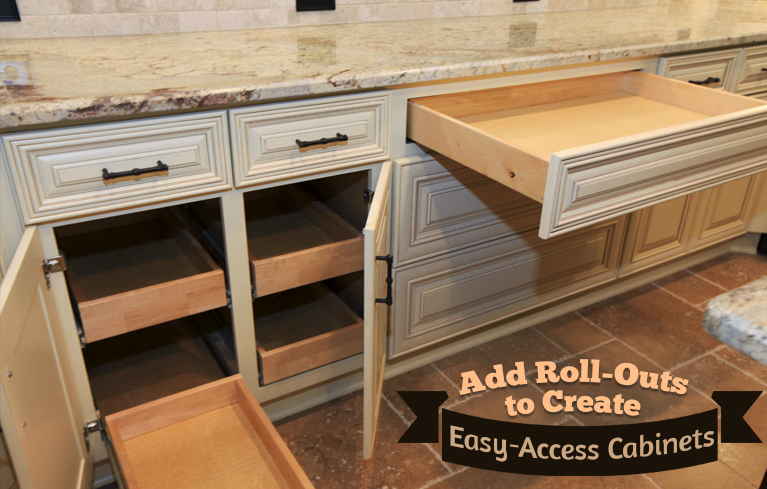 You can't go wrong with adding roll-out shelving for your lower base cabinets. Who wants to stand on their head  trying to get that spaghetti pot out of the back of the lower cabinet? Use roll-out shelving, which comes in a variety of sizes to match our cabinet dimensions, and your life will be made easier. Don't forget the oldest cabinet roll-outs known to all – the cabinet drawer. Many people are asking for deep drawers for their base cabinets instead of shelving for the ease of access they provide.
Lazy Susans
Lazy Susan corner cabinets are also great for adding a little extra storage mojo to your kitchen cabinets. Corner cabinets can be hard to access, almost requiring a homeowner to crawl halfway inside to get what you need. With a Lazy Susan, you just turn the rotating circular shelving around and around until you see what you need.
What do you think about these ideas for cabinet roll-outs? Have you been inspired to try them in your next kitchen remodel? You'll be glad you did. If you're in the market for wholesale cabinets, please contact us or click our Become a Dealer tab. We'd love to talk cabinets with you. Want to share this article? We've got the tweet ready for you!
Rolling with #cabinet roll-outs – the must-have #accessory for your #kitchen #remodel: http://t.co/SyvmdtRchp

— CabinetCorp (@CabinetCorp) September 26, 2014
Connect with us on: