Universal design has become a popular trend in home and kitchen remodeling. As the baby boomer generation eases into retirement, many are looking for homes and kitchens that can adapt to their growing needs as they age. They want a space that will grow old with them and adapt to the changes that are coming.
Think lower upper cabinets and a variety of countertop heights, plus pullouts, lighting and more. As an online supplier of wholesale cabinets, we at CabinetCorp like to keep our contractor clients and readers of this blog up to date on the latest kitchen trends. If you have a client that is considering universal design for their kitchen remodel, today's blog article will help you.
Here are the eight universal design elements for the kitchen:
Maneuverability
For someone who uses a walker or wheelchair, the kitchen will need a maneuvering space of 30 x 47 inches in front of controls, work areas and appliances. This can be part of the overall required maneuvering space minimum of 59 x 59 inches. For power wheelchairs and scooters, the minimum space goes up to 71 x 71 inches.
Cabinets and Drawers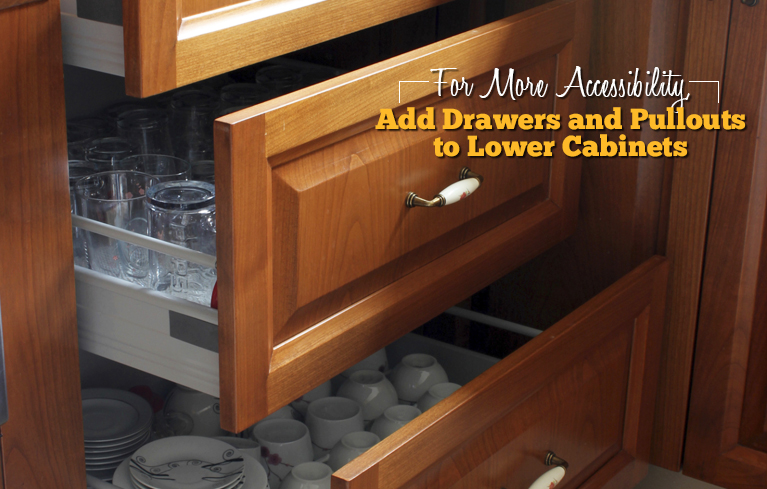 Consider more drawers and pullouts for lower cabinets in the universal design kitchen. A pantry full of pullouts or rollouts is ideal. These make the items inside more accessible from a variety of heights. For upper cabinets, consider installing them with the bottom edge about 16 inches above the countertop, instead of the more traditional 18 inches. This will help ensure that the lower shelf is within reach of someone seated. Also think about glass cabinet fronts and cabinet pulls rather than knobs.
Countertops
For countertops, consider installing a variety of heights in the kitchen. Most cabinet bases come at standard heights – ours at 34.5 inches – but you can use our accessories to create kitchen desks and prep areas at lower heights. For example, we offer table legs that match the finish of our cabinets that can be used for partial support of these countertops. Such spaces can be adjusted accordingly to be used with chairs or wheelchairs, should the need arise. You'll also want to consider a countertop that is not so busy, so think more solid colors. A pullout countertop beneath a wall oven is also a great idea.
Food Prep Areas
For your prep areas, consider adding at least one pull-out shelf. Another idea is to install a pull-out chopping board from a drawer, complete with a hole for waste that can be placed directly over a trash can. Task lighting is also important for this space.
Sinks and Clean-up Areas
If possible, consider having two accessible sink locations in the kitchen. An extra sink in the kitchen island can be ideal. Also consider a motion sensor faucet and a pull-out hose with a spray nozzle, which provides convenience for all. Accessibility is crucial for universal design.
Plenty of Lighting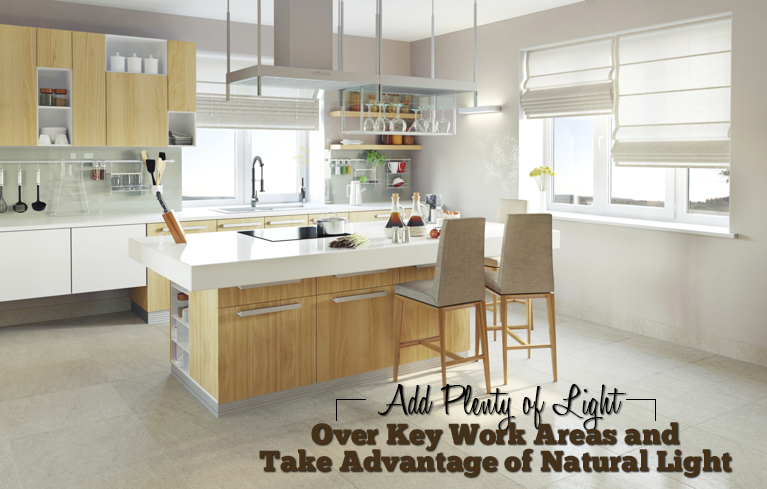 Make sure lighting levels are adjustable and supplemented with task lighting over key work areas and the island. Take advantage of natural lighting from windows, if possible. Also, install lighting inside the pantry and inside cabinets, as well as beneath the upper cabinets. This can be beneficial to all. We've written about kitchen lighting in a previous blog post.
Universal Design Flooring
Slip resistant flooring that is durable and easy to clean is what you want for universal design in the kitchen. Vinyl flooring is available in both tiles and sheets for low maintenance. Ceramic tile is a hard surface that is both easy to clean and easy to maneuver in a wheelchair. Consider cushioned vinyl or cork if the homeowner is prone to falls or dropping things.
Easy Switches and Controls
Think low and easy for switches and controls in the kitchen. Consider installing electrical outlets in the front of counters for easy access. Think lower switches for things like the stove hood and light. And make sure all switches can be easily operated with one hand.
Depending on the needs of your clients and the space available, these universal design elements can be incorporated into almost any kitchen design. We hope this has helped you prepare for future clients. If you're in the market for wholesale cabinets, we'd love to talk with you. Please contact us or check out our Become a Dealer tab. Want to share this article? We've got the tweet ready for you!
8 #UniversalDesign elements to incorporate into your next #kitchen #remodel: http://t.co/Ab3UOrCCmS

— CabinetCorp (@CabinetCorp) September 30, 2014
Connect with us on: