You or your client has invested in quality cabinets for the home. So it just makes sense that you'd want to know the best way to take care of your investment.
As an online supplier of wholesale cabinets for contractors, we at CabinetCorp know the importance of cabinet care and maintenance. That's why we've written this article to share with our contractor customers. This guide will make you more informed on cabinet care and you'll be ready to answer any questions your clients may have.
The good news is that our cabinets require low maintenance. But in the kitchen environment there is always some kind of accident waiting to happen. So we want all who use our cabinets to be prepared.
Regular Dusting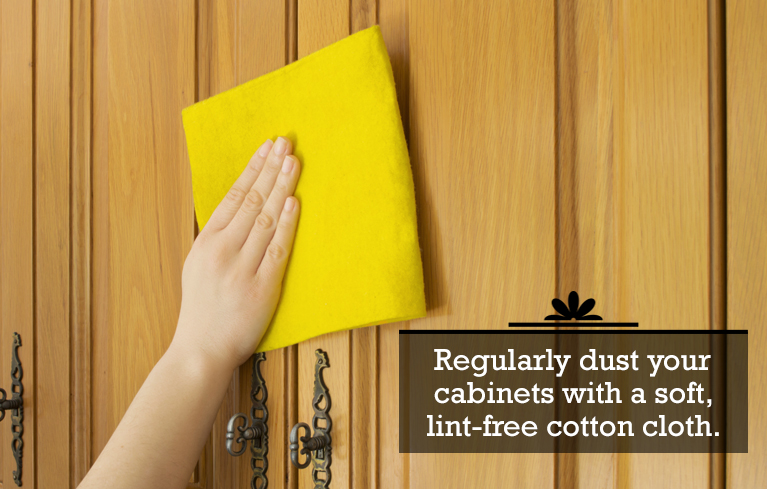 Your cabinets collect dust like everything else in your house so it behooves you to do some regular dusting. Using a soft, lint-free cotton cloth for regular dusting will go a long way for cabinet care and maintenance. This will help to keep your cabinets in tip-top shape and looking good.
Soft and Gentle Cleaning
The best tool for cabinet care and maintenance is a soft cloth dampened with water. That's it. That's what you need to clean your cabinets for most situations. However, sometimes more thorough cleaning is needed. That's when we suggest using a solution of warm water and mild dishwashing liquid. After cleaning cabinets with this solution, you should wipe all surfaces again with a clean damp cloth. Finish it up by drying with another soft cloth.
Don't Let Spills and Splatters Sit
Your mom was right. You should immediately clean food spills and cooking splatters from your cabinets. You can't just let that spaghetti sauce sit there, no matter how exciting your dinner guests are. Take time to wipe and clean your cabinets immediately after such an incident. Prolonged exposure to kitchen spills from food, water or other liquids can be detrimental to cabinets, causing permanent discoloration or damage to the finish. Grease and oil splatters could do the same. And no one wants discolored cabinets.
Avoid the Harsh Products
There's no need to invite harsh detergents, abrasives, sponges or brushes to your cabinet cleaning party. These products are no-no for cabinet care and maintenance. The same goes for scouring pads and powder, steel wool, ammonia and bleach and products that contain ammonia and bleach. Likewise avoid the silicone based waxing and polishing products. Such products can cause unwanted damage to your cabinets and are not necessary. Waxing and polishing may seem like a good idea, but over time those products can create buildup that is difficult to remove.
Cleaning Glass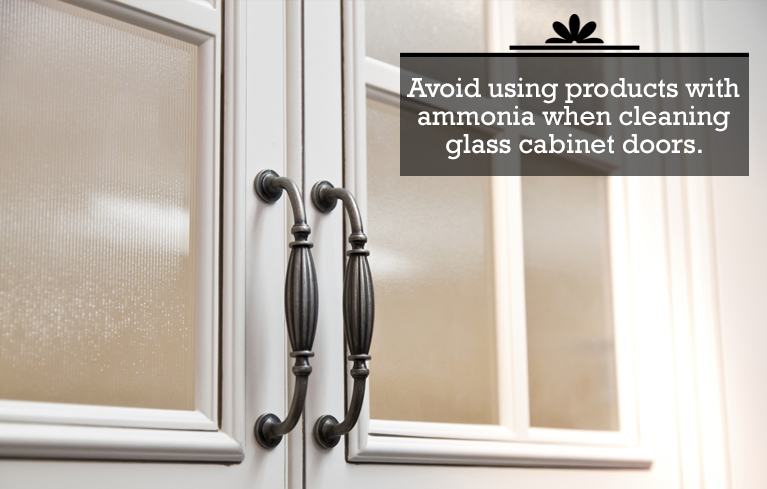 For cabinets with glass door fronts, avoid using cleaning products that contain ammonia. Spray the product on a soft cloth or paper towel and then clean the glass. Avoid spraying the product directly on the glass as some may leak behind the glass, potentially causing damage to the cabinet door.
Touch Up Kits
CabinetCorp offers a Touch Up Kit for each color of cabinetry we offer. These Touch Up Kits can be used to hide surface damage like nicks and scratches. Use the touch-up pen to hide minor blemishes. Use the putty stick or crayon to fill deeper nicks. Instructions come with each kit. It's the perfect tool for cabinet care and maintenance.
What do you think about this cabinet care and maintenance guide? If you have any further questions, please contact us or reach out to us on any of our social channels. If you're a contractor in the market for wholesale cabinets at discount prices, check out our Shop Cabinets or Become a Dealer tabs. Want to share this article? We've got the tweet ready for you.
Teach your #clients well with our #cabinet care and maintenance guide: http://t.co/5q4FK3OEex #contractors

— CabinetCorp (@CabinetCorp) September 18, 2014
Connect with us on: