So your client is on the fence about kitchen remodeling. They want to do it, but they're just not ready to commit to the cost and the process.
As a contractor you can help their kitchen dreams come true. Help them visualize what their new kitchen will look like. This remodeling work is sure to help them love their kitchen again. And kitchen remodeling is one of the home improvements that also adds value to your home.
As an online supplier of wholesale cabinets for contractors, we at CabinetCorp like to help our clients. As you talk with your customers, discuss these five factors of kitchen remodeling.
Energy-Saving Appliances
Today's appliances are so much more energy efficient. They add value to the kitchen and to the home because they cost less to operate. According to EnergyStar.gov, a new Energy Star qualified refrigerator uses less energy than a 60-watt light bulb run continuously. What's more, these models use at least 20 percent less energy than required by federal standards.
New Cabinets
Kitchen remodeling is not something you do every couple of years, so choose a new set of cabinets that will help set the tone for the look you want. Whether it's the sleek and modern look of our Shaker Jet cabinets or the traditional Cambridge Antique White, you're sure to find the style of cabinets that will please your clients. Our selection of online wholesale cabinets makes it easy to choose. And don't forget the cabinet accessories. These can really help you to set your work apart from the rest.
A Good Range Hood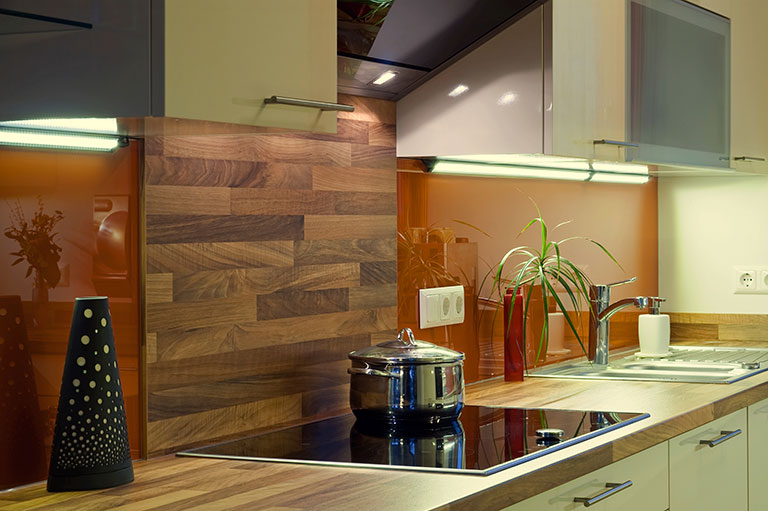 What's the point of doing all this kitchen remodeling if you don't have a great range hood to help you eliminate the smoke, grease and odors from your cooking? Sure that garlic was great with the pasta, but you don't want to smell it all night. And no one wants extra grease falling on their beautiful new cabinets. Shop around for an efficient range hood, but don't be afraid to get something stylish, too.
Improved Flooring
There is no shortage of great flooring options for the kitchen. Like the look of wood, but don't want wood in your kitchen? Smart move! Consider tile or linoleum that looks like wood. Or check out Luxury Vinyl Tile or LVT, which is very durable and resistant to stains and water. Tile is always a popular choice for the kitchen, but don't forget concrete. We've seen stained concrete that looks stunning in the home.
Better Lighting
We can't stress enough the importance of lighting in the kitchen. In fact, we've written in the past about the three types of lighting that must be present in any kitchen. There are so many things going on in today's kitchens besides cooking and prep work that you need to make sure you have a variety of lighting. Personally, we are loving the undercabinet lighting. What a difference it makes!
Looking for cabinets for your next kitchen remodel? Check out our Shop Cabinets tab or learn how to Become a Dealer. Got questions? Contact us or reach out to us on any of our social channels. We'd love to talk cabinets and kitchen remodeling with you. Want to share this article? We've got the tweet ready for you.
5 ways to fall in love with your #kitchen again: http://t.co/OBjynmNqH1 #remodeling

— CabinetCorp (@CabinetCorp) August 28, 2014
Connect with us on: