Looking for a way to ramp up the style in the kitchen? Think two tone cabinets and you're sure to impress your clients.
Two tone cabinets are very popular right now and we don't see it going anywhere anytime soon. Think one color of cabinets on top, another color on bottom. Just check out some of your favorite décor websites and magazines and you're sure to see it.
As an online supplier of wholesale cabinets to contractors, we like to share news and trends about all things related to cabinets. In today's blog post, we'll offer tips for incorporating two tone cabinets into your next kitchen remodeling project.
Same Style, Different Color
Check out our Shop Cabinets tab and allow your customer to see the different styles and finishes we offer. Depending on your color scheme, you could go with Cambridge Antique White for your upper cabinets and mix it with Cambridge Cherry for your bottom cabinets. The Cherry and White offer a more traditional look for your kitchen, with the bottom cherry adding some warmth to the space.
Countertop and Hardware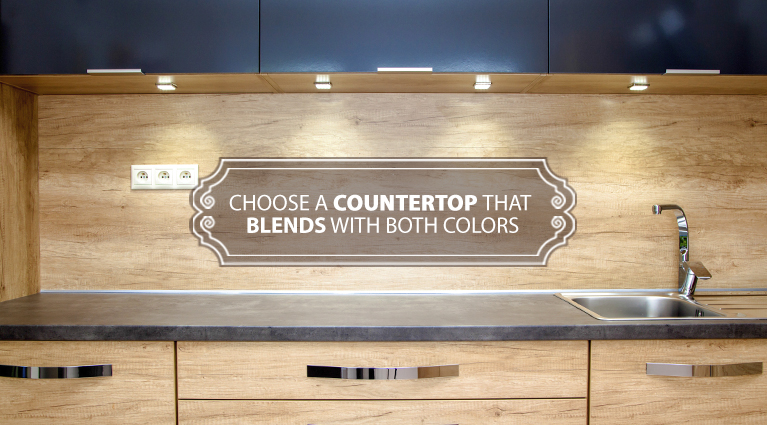 When mixing it up in the kitchen with two tone cabinets, choose a countertop that blends well with both colors. There are so many options available, you're sure to find one in your material of choice whether marble, granite, quartz , etc. To complete your look, choose cabinet hardware – your pulls and knobs – of the same style for both upper and lower cabinets. This helps to tie it all together.
Two Tone Cabinets in Chocolate and White
For a more modern upscale look, go with the Cambridge White and Sable. Yorkshire Antique White and Yorkshire Chocolate would also work for this same impact. With both of these mixes, the off-white color really complements the brown. While darker cabinets continue to be a popular choice, some homeowners tire of a sea of brown in their kitchen. The white upper cabinets help to break up the dark brown sea, bringing back some light to the kitchen. The same can be said for earthy brown bottom cabinets breaking up a sea of white in the kitchen. For clients trying to choose between the two, two tone cabinets offer the best of both worlds.
Contemporary Vibe
If your client wants a more contemporary look, consider Shaker Espresso and Shaker Sandstone. These two tones would work well in the kitchen together and are sure to energize your cooking efforts. As with other combinations, go with the lighter Sandstone above and the darker Espresso for your bottom cabinets. This look of these two tone cabinets has a natural feel to it and would work well for those clients in a Craftsman or Mission style home.
Mixing It On The Island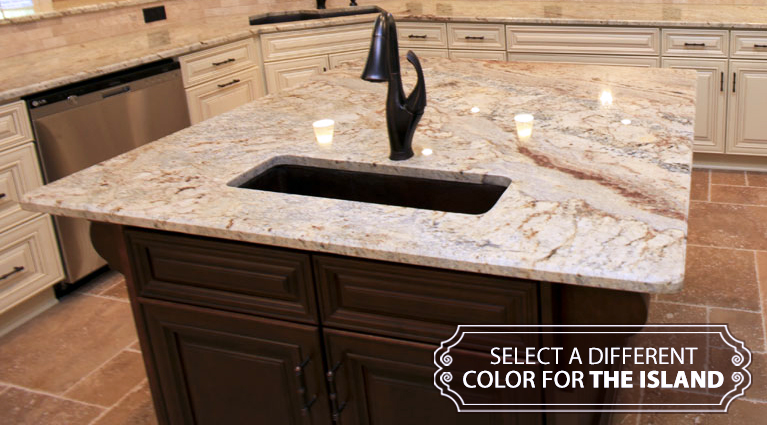 Is your client too afraid to commit to two tone cabinets? Don't worry, there's still a way they can get in on the two-tone trend. Instead of going all out with two colors throughout the kitchen, they can choose a different color for their island. This is a very popular look. As suggested previously, go with the darker color for the island. Here's a look we recently saw that looked stunning together. Think Shaker White for cabinets and Shaker Jett for the island.  The same look you'll see in the photo at top.
What do you think of these suggestions for two tone cabinets? Would these work for any of your upcoming remodeling projects? If you're looking for an online source of wholesale cabinets, we think you've come to the right place. Contact us with questions, check out our Become a Dealer tab or reach out to us on any of our social channels. We're always happy to talk cabinets and kitchen remodeling. Want to share this article? Of course, you do! We've got the tweet ready for you!
Two tone #cabinets in the #kitchen? You bet! This #trend is hotter than the oven! http://t.co/RZM5jWiwqQ

— CabinetCorp (@CabinetCorp) September 4, 2014
Connect with us on: