BLURB: In the previous article, we spoke about kitchen colors that are trending in 2018 and now it's time to continue that flow and move over a part of your kitchen that probably needs more attention than most: The kitchen countertop trends. No matter how less or often you use your kitchen, one of the most-worn out parts will be your counter. So, if you're looking at remodeling and thinking about changing your kitchen, knowing what countertop trends are ruling the roost in 2018 is a good way to start.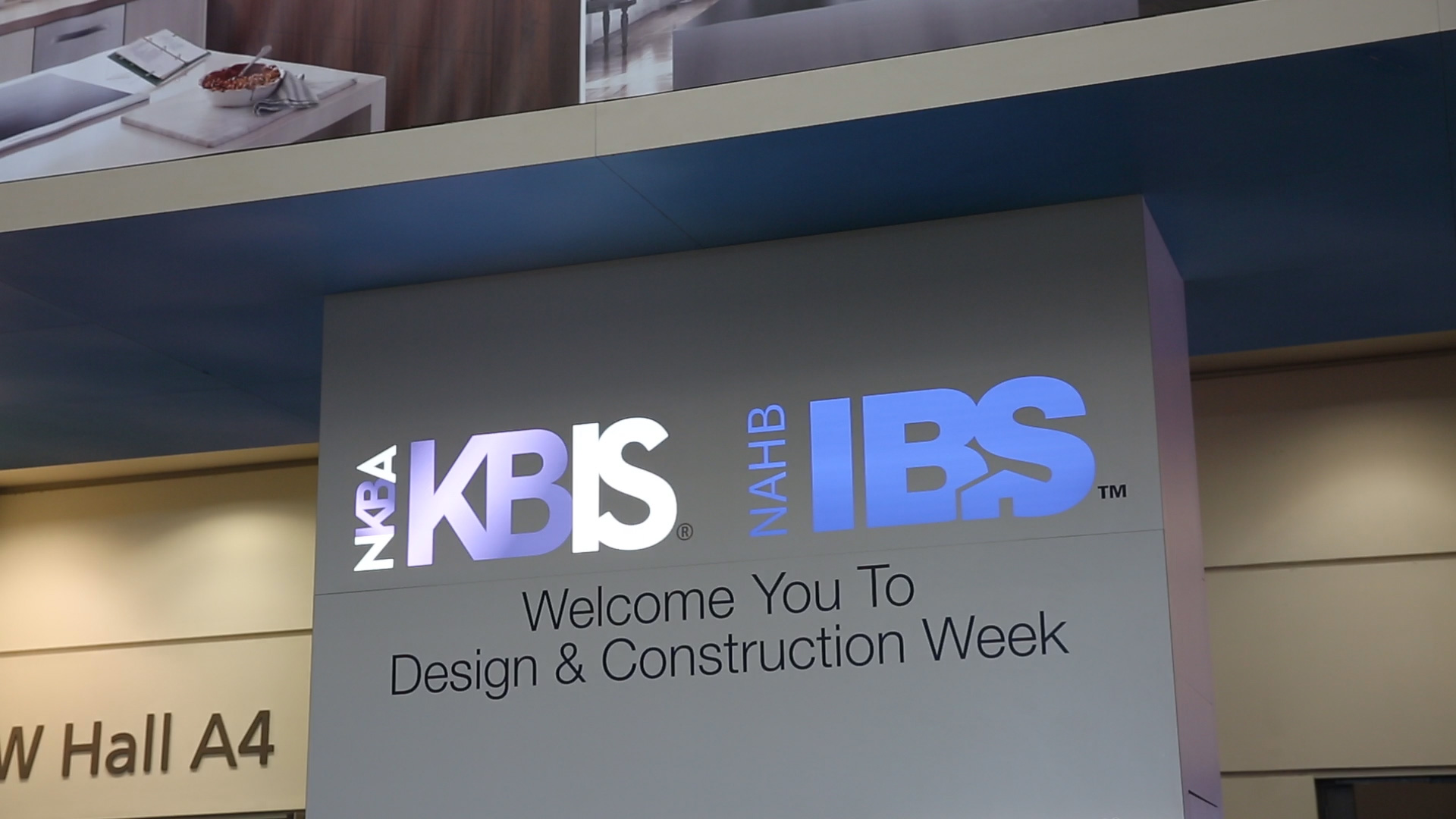 Where do you even begin when you're looking to replace your kitchen counter? There are so many options and most of them are timeless and have been used for eternity. What is a good fit for your kitchen, while still making it look like one of those featured in this year's home improvement magazines? Here are a few options that could give you an idea.
Much like the previous article, it would be great to give The Kitchen and Bath Industry Show a good look. This show, done in association with the National Kitchen and Bath Association (NKBA) is an inspiring, interactive platform that showcases the latest industry products, trends and technologies. KBIS is an age-old name that is trusted and a show that's gone on for over 50 years now. It has been at the forefront of kitchen and bath design, hosting 600+ leading brands in the kitchen and bath industry.
The event offers an interactive look at the top brands; allows you to compare them, and talk to the people behind the designs. The following design options are from the KBIS show this year.
Why The Counter?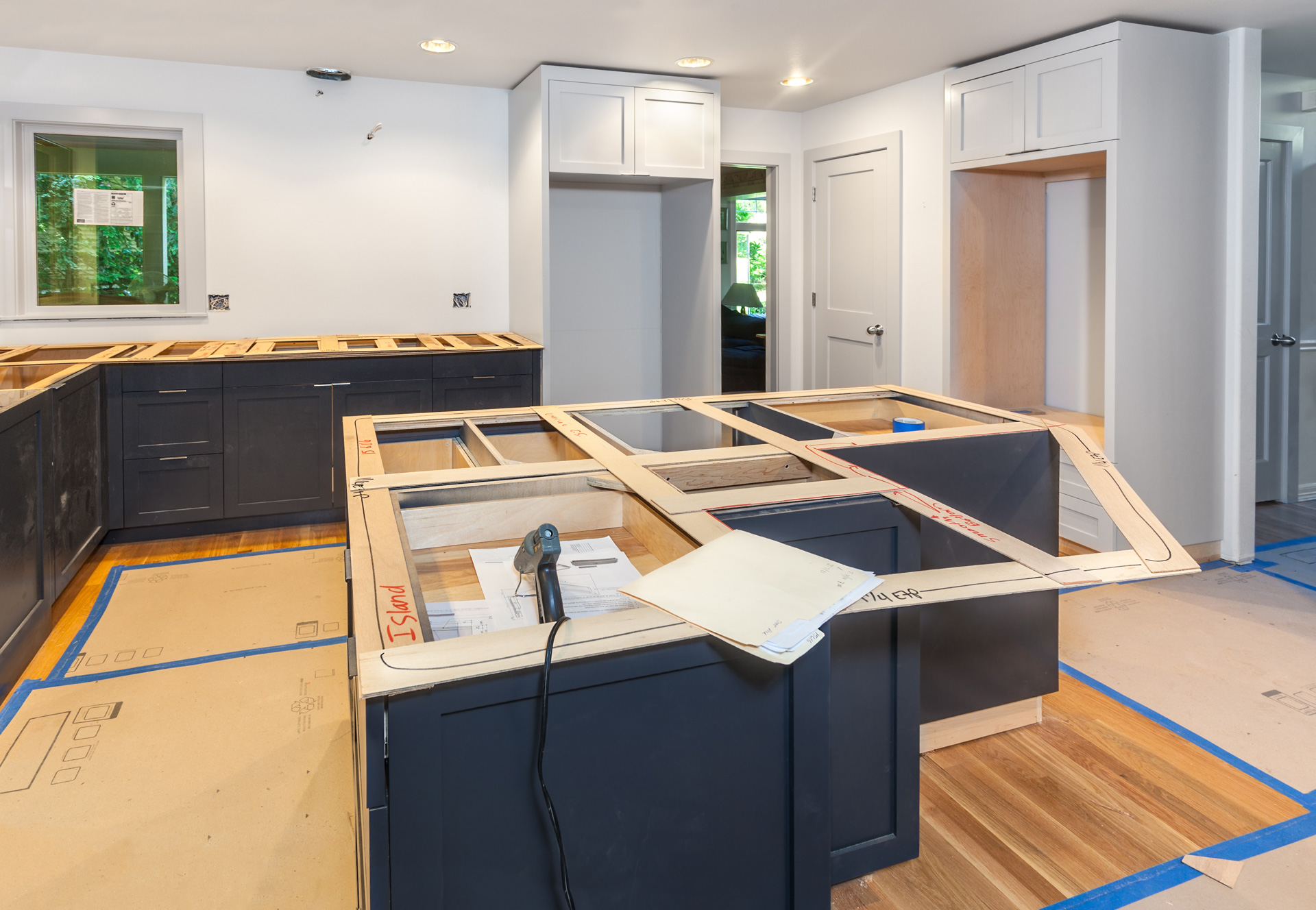 Because sometimes, counters deserve a fresh, new look. Perhaps your old wooden one is looking a tad too rustic or your old marble one has chips and has even frayed at the edges. A good time to change this would be now, when the new kitchen trends are out on the market and you can take your pick and even be a trailblazer and form your own trend.
There have been, and still are, plenty of options for your countertop and not all of them leave a gaping hole in your pocket and your finances. The important thing is to realize what your needs and aesthetics are before you make your choice.
Decisions To Be Made
Before any decision, it would be wise to know the entire range of choices that you have before you. First, there are the traditional countertops that are made of natural stone – marble, limestone and granite. Then come the silicate mineral ones like quartz. Of course, you have metal countertops and then the old-fashioned, rustic wooden ones.
Old And Faithful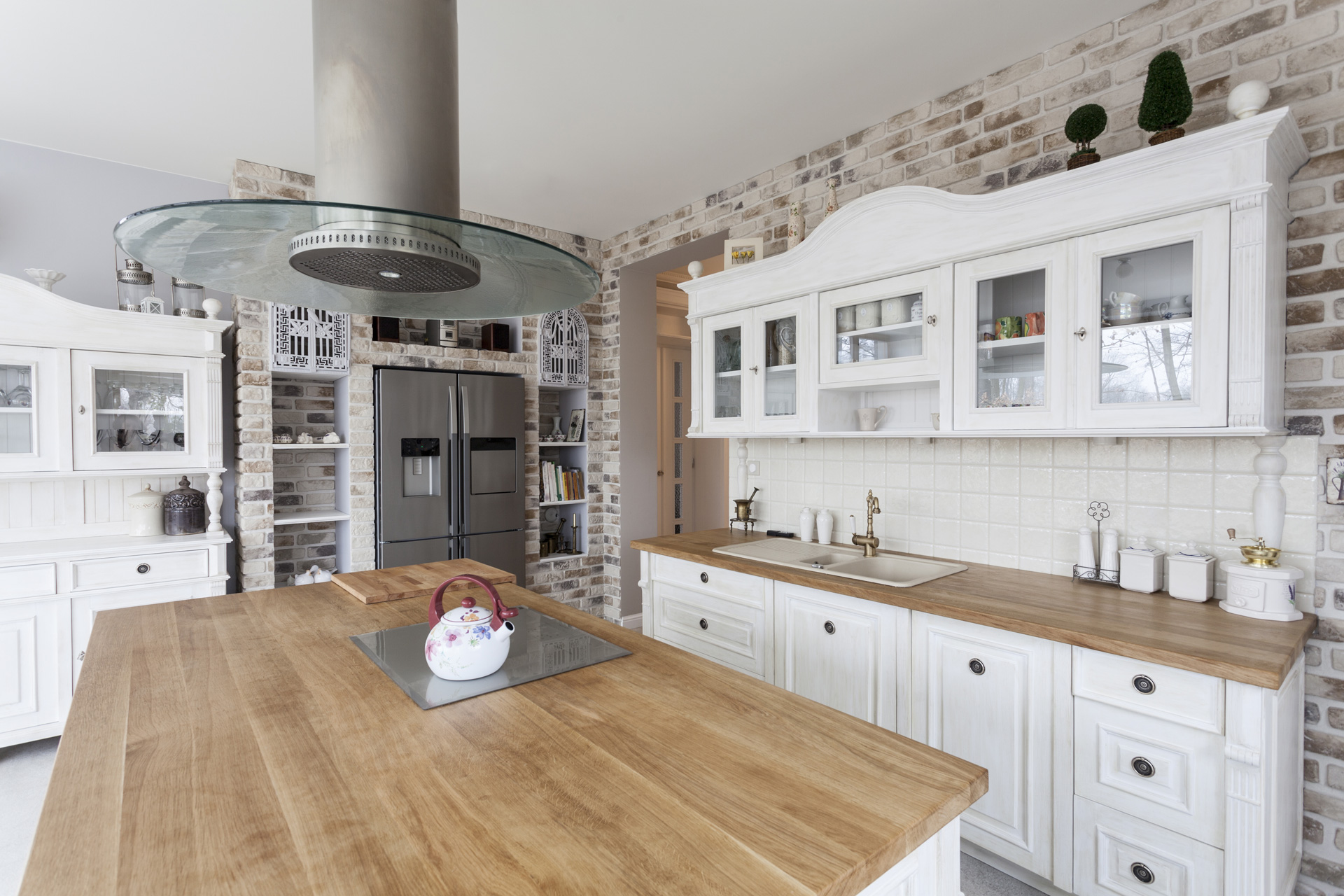 Traditional countertops are the ones that have been in kitchens for ages now. The most popular ones are wood and metal. Metal countertops are thin sheets of metal that are fastened to a wood backing. The metal part of it is wrapped around the edge of the counter to give it that finish. These countertops were popular because metal is non-porous, with good hygienic qualities. Most metal countertops are heat-proof and will take a hot pan better than laminate or solid surfaces.But the only problem with this is that the color or sheen of the metal will change over time. To prevent this from happening, you will need to give your countertops the occasional pampering they need.
Wood countertops offer a classic look, warm and cozy and even come in a range of colors. You can even choose the finish you want – matte, gloss and so on. Among the kind of wood available for the kitchen, hardwoods such as maple and oak are most often used as countertop woods. Wooden counters are easy to clean; smooth and can be worked on in case of little inconsistencies. But the problem with them is that they can be damaged by water over time and need good care.
Kitchen Countertop Trends 2018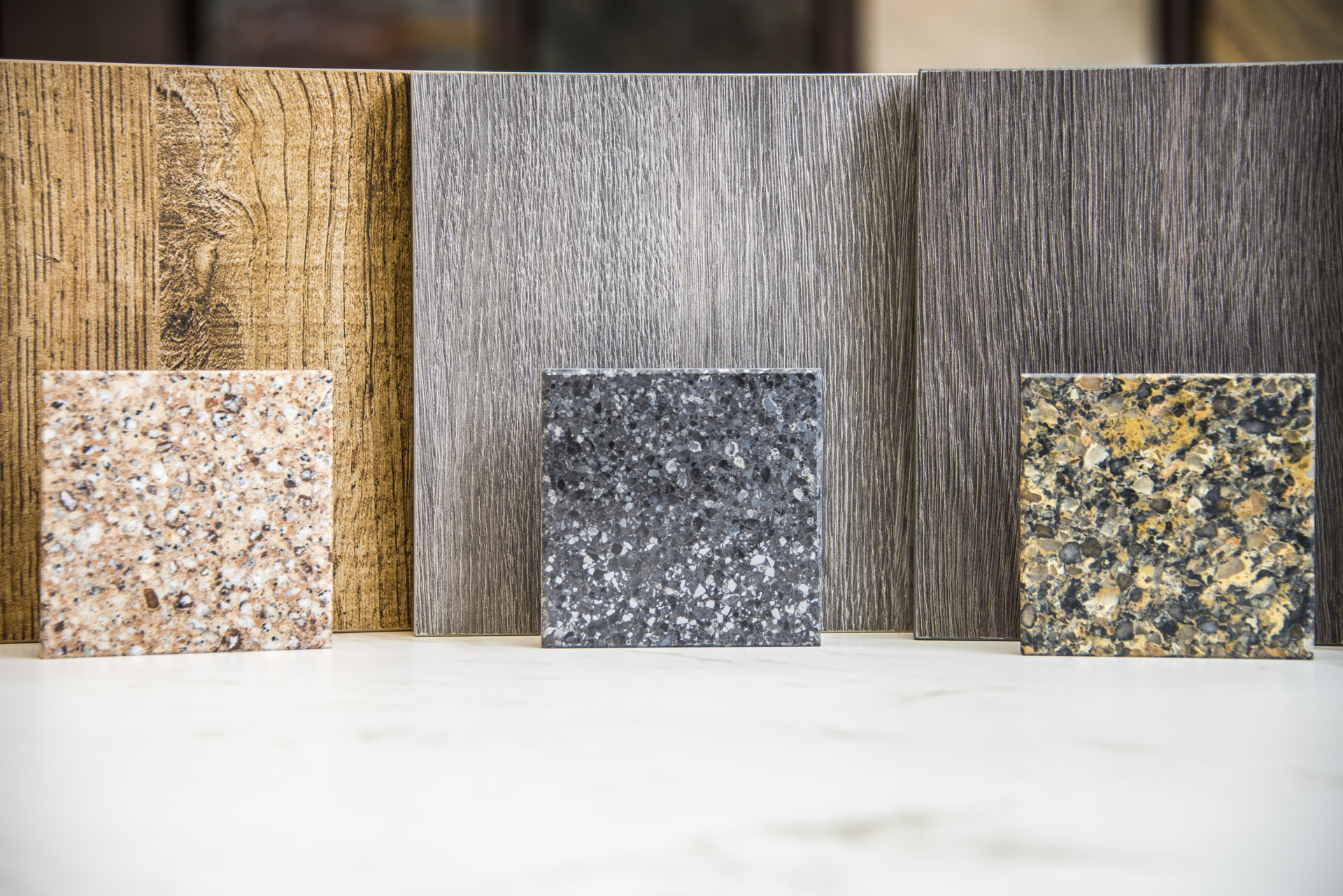 These days, natural stone countertops are more popular than their traditional counterparts. Among these are granite and marble, probably the most used countertop materials in kitchens. They are strong, have a long life and look great with any design.
In spite of its classic looks, marble is one of the cheaper, natural stone, hard-wearing countertop materials. It can be more affordable than granite, and certainly more so than quartz and stainless steel. The problems with natural stone counters are that they stain too and can even get scratched over time.
Quartz Countertops
So, the winner this year among trending countertop materials is quartz! This new material has really taken the kitchen countertop market by storm. Elegant, timeless and yet trendy, this material has captured many a designer's heart. Quartz has the same durability as concrete and granite, but it doesn't chip or crack easily.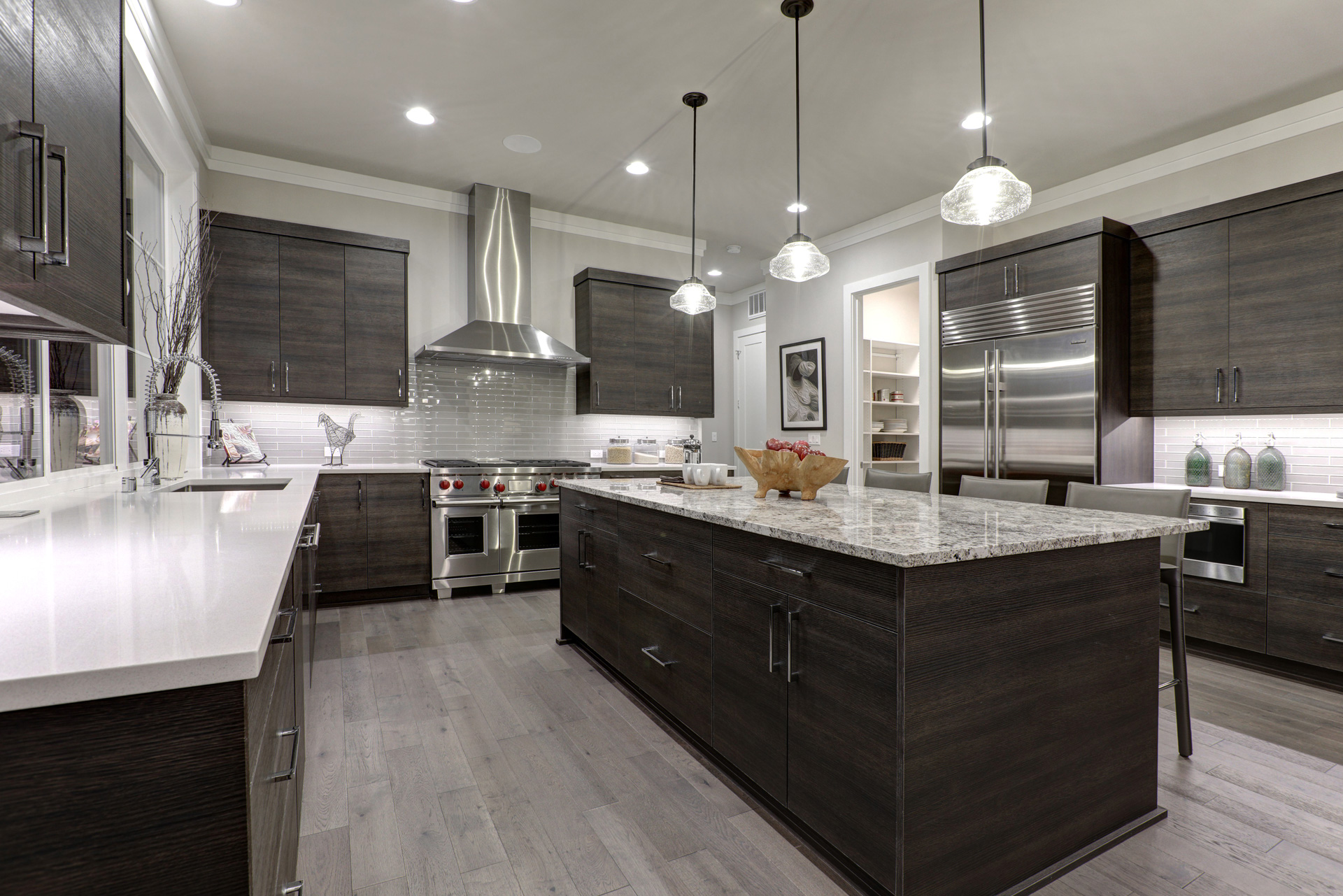 Like other hard surface countertop materials, quartz is non-porous and so it's harder to stain. It doesn't let bacteria linger so when you are cleaning your quartz countertop, you can be sure that it is absolutely clean. These countertops are pretty strong too but have the benefit of being more flexible to work with. The installation process is easier and the material does not need any sealing.
And, need we even say that it looks gorgeous?
Getting Glassy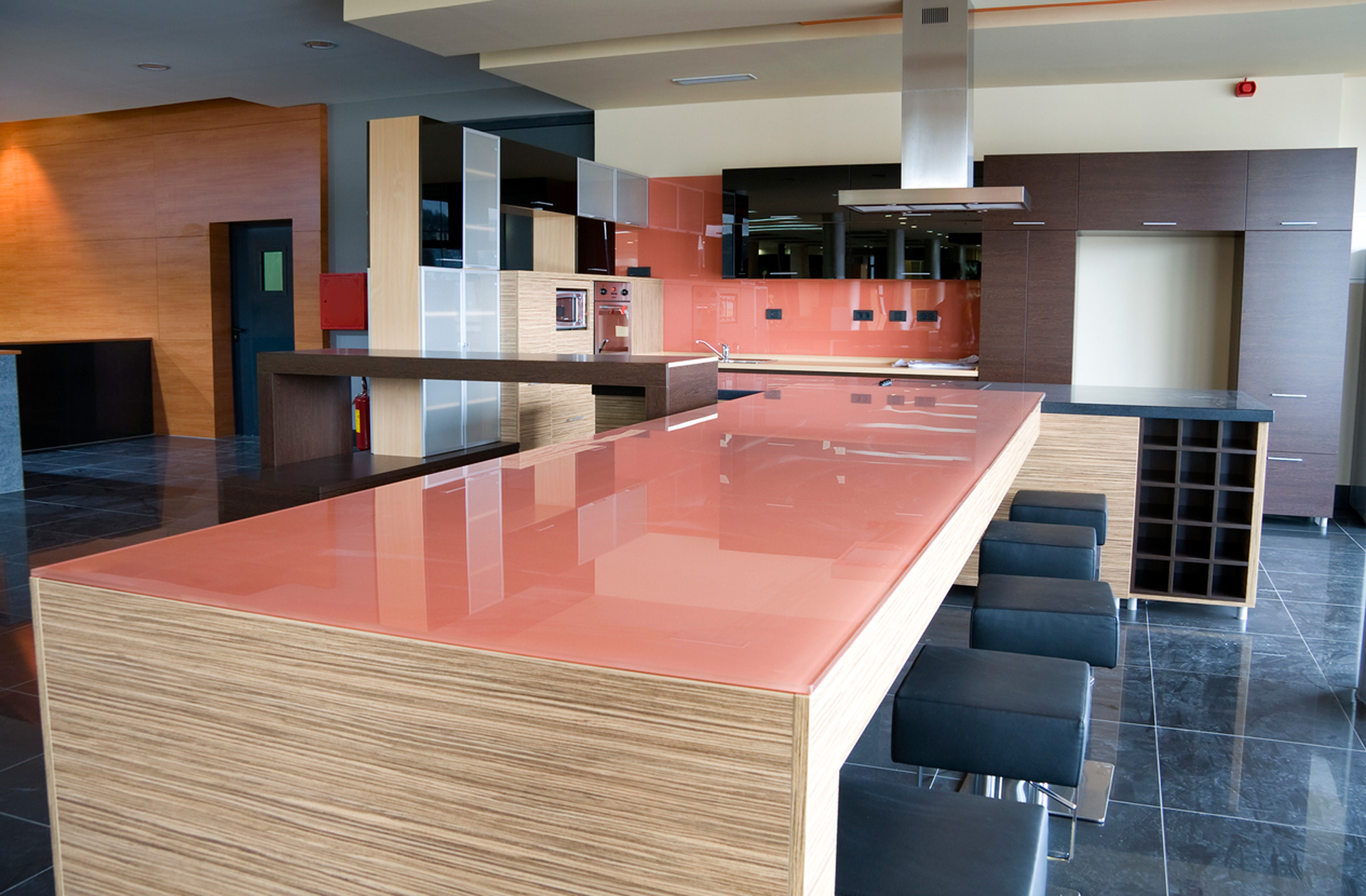 Competing closely with quartz for the top spot on 2018's kitchen countertop trends are glass countertops. These are also extremely durable, and since glass doesn't age, there are no worries of stains or any evidence of wear and tear. Unlike what you may think, glass countertops can also take more heat than other types and still be easy to maintain. They are non-porous so there are no cracks or crevices for dirt and bacteria to get trapped in. Since a lot of countertops are made from recycled glass, it also makes it a great eco-friendly option. All you green folks, here's the panacea for all your environmental guilt.
The Big Picture
Given all the above trends, it is a rather daunting task to zero in on the right kind of countertop for you. But keep in mind that the overall look of the kitchen must complement the decor of your home. So, make a wise decision and then open up that beautiful kitchen for everyone to see!