Why Are Shaker Style Cabinets So Popular?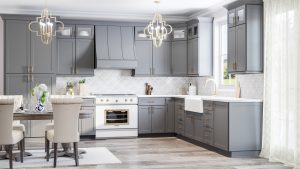 According to the Houzz survey of over 2500 homeowners, 61% chose semi-custom Shaker style cabinets for their updated kitchen. It is not hard to see why. Shaker style cabinets have clean lines, with a recessed panel in the middle of the door or drawer. This makes them an excellent choice in many different room styles. If you have a modern kitchen, Shaker-style cabinets will look nice there. If you have a transitional style kitchen, Shaker-style cabinets will look nice there too. 

The versatility of the Shaker style cabinet is one of the defining features. 
These cabinets are quite literally named after the Shaker religious group, who believe that material desires, excess, and adornment offended God. Their style of woodwork tends to have a very utilitarian look and focuses on function and durability. Qualities every kitchen cabinet needs to have. 
The Shakers cabinets are easily still favorites in the family kitchen and are not adorned with different paints, finishes, knobs, and handles to give it the right look depending on the home. But that doesn't mean they are boring or dull, on the contrary Shaker style cabinets blend easily with any style you have in your kitchen and home decor. 
What is the Shaker Style? 
At Cabinet Corp, Shaker-style cabinets have 1/2' plywood boxes with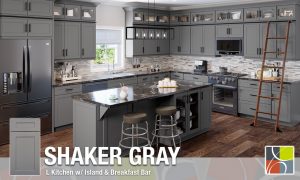 painted exterior. The interior is a UV coated, natural wood finish. All drawers are solid wood, full-overlay with dovetail doors and drawers. The drawers have full extension, epoxy soft-close glides, and doors have concealed European soft-close hinges. The doors have a five pieced recessed HFF front. 

The cabinets come in a choice of five finishes:
White

Antique white

Grey

Charcoal Grey

Dusk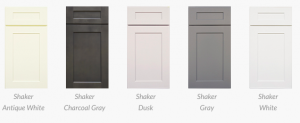 For those who are concerned, Shaker cabinets are not modern enough, may not have considered kitchen cabinets in white, charcoal, or grey. These colors continue to be high on the design trends but lend well toward modern design.