Cabinets are the focal point in any kitchen. A typical kitchen has 25 to 30 feet of space dedicated to kitchen cabinets. With that kind of real estate, the cabinet door style your client chooses will define the look and feel of the room. Unfortunately, decisions about a kitchen cabinet style can quickly overwhelm a client, especially if this is their first major remodel. As a contractor, it's your job to help homeowners get off on the right foot with an understanding of the differences among different cabinet construction methods and styles.
There are 7 main styles of kitchen cabinets to consider for your remodeling project:
Shaker cabinets
Traditional cabinets
Transitional cabinets
Beadboard cabinets
Glass-front cabinets
Flat-panel cabinets
Wood-grain cabinets
All cabinets come in two main types of construction: 1) Frameless and 2) Framed. 
Understanding the difference between framed and frameless cabinets
There are two main types of kitchen cabinets: framed and frameless. You and a kitchen designer can explain the types of kitchen cabinets for the homeowner and how various types will change the kitchen's look.
Framed kitchen cabinets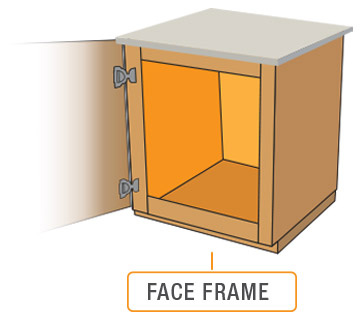 The most obvious feature to identify a framed kitchen cabinet is the face frame at the front of the cabinet box for your clients. This frame is where hinges and doors attach. Among framed cabinets, your clients can choose:
Full overlay, where the face of the door or drawer covers the entire cabinet frame.
Partial overlay, where there are equal amounts of cabinet frame showing behind the door and drawer face.
Inset,where the drawer and door face are flush with the cabinet frame.
Each different overlay – full partial or inset – creates different style opportunities. For example, three of the most common framed cabinet styles are the traditional, transitional, and Shaker-style cabinets used in moder  kitchens.
Frameless kitchen cabinets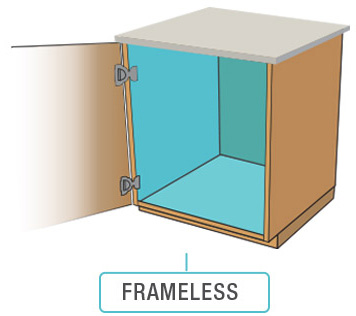 Frameless kitchen cabinets originated in Europe. Frameless cabinets feature full overlay doors that attach directly to the cabinet box via hinges on the cabinet's interior. As a result, frameless cabinets offer a more modern and contemporary look and have more interior space.
A full slab door is typical on frameless cabinets. Full slab doors are available in a range of beautiful finishes that include wood grain, high-gloss, and matte colors.
Here are seven kitchen cabinet styles for your clients to consider for their kitchen remodel.
7 different styles for kitchen cabinets
These seven styles enjoy ongoing popularity among today's homeowners.
1. Shaker-style cabinets
Shaker-style kitchen cabinets have long been at the top of the list for homeowners choosing framed cabinets. The timeless, simplistic design adapts to any decor. Shaker-style cabinets are versatile and suit kitchen styles that range from modern to transitional.
These white Shaker cabinets bridge between modern and traditional to give the room a clean appearance with simple lines and bright colors.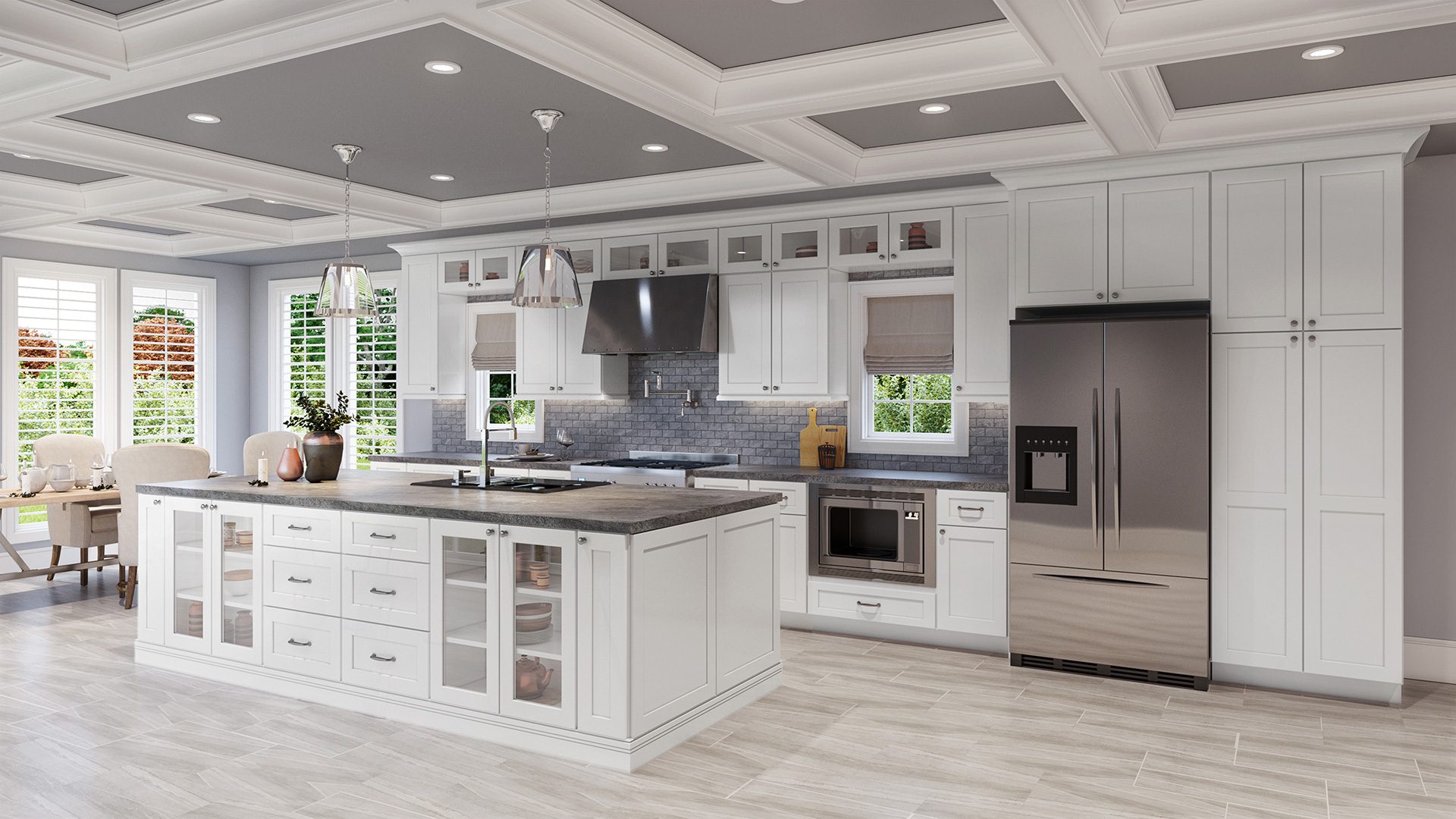 2. Traditional kitchen cabinets
With its beautiful overlays and beveling, the traditional-style kitchen cabinet is a direct contrast to Shaker-style cabinets. Traditional kitchen cabinets look more like furniture, with crown molding and corbels under the countertops.
These beautiful antique-white Cambridge cabinets make a statement of sophistication in this kitchen. The soft color blends nicely with the room decor, while the corbels and crown molding add dimension and elegance.


3. Transitional kitchen cabinets
In a transitional-style kitchen, a framed cabinet enhances the more traditional decor. The beveled edge of transitional-style cabinets creates a more contemporary feel. Often designers will choose transitional kitchen cabinets to provide a versatile backdrop for traditional or modern kitchen decor.
In this transitional kitchen, the dusk Tacoma cabinets bring a contemporary note to a traditional kitchen. With the over-the-countertop pot hanger and traditional kitchen table, these cabinets anchor an attractive transitional look.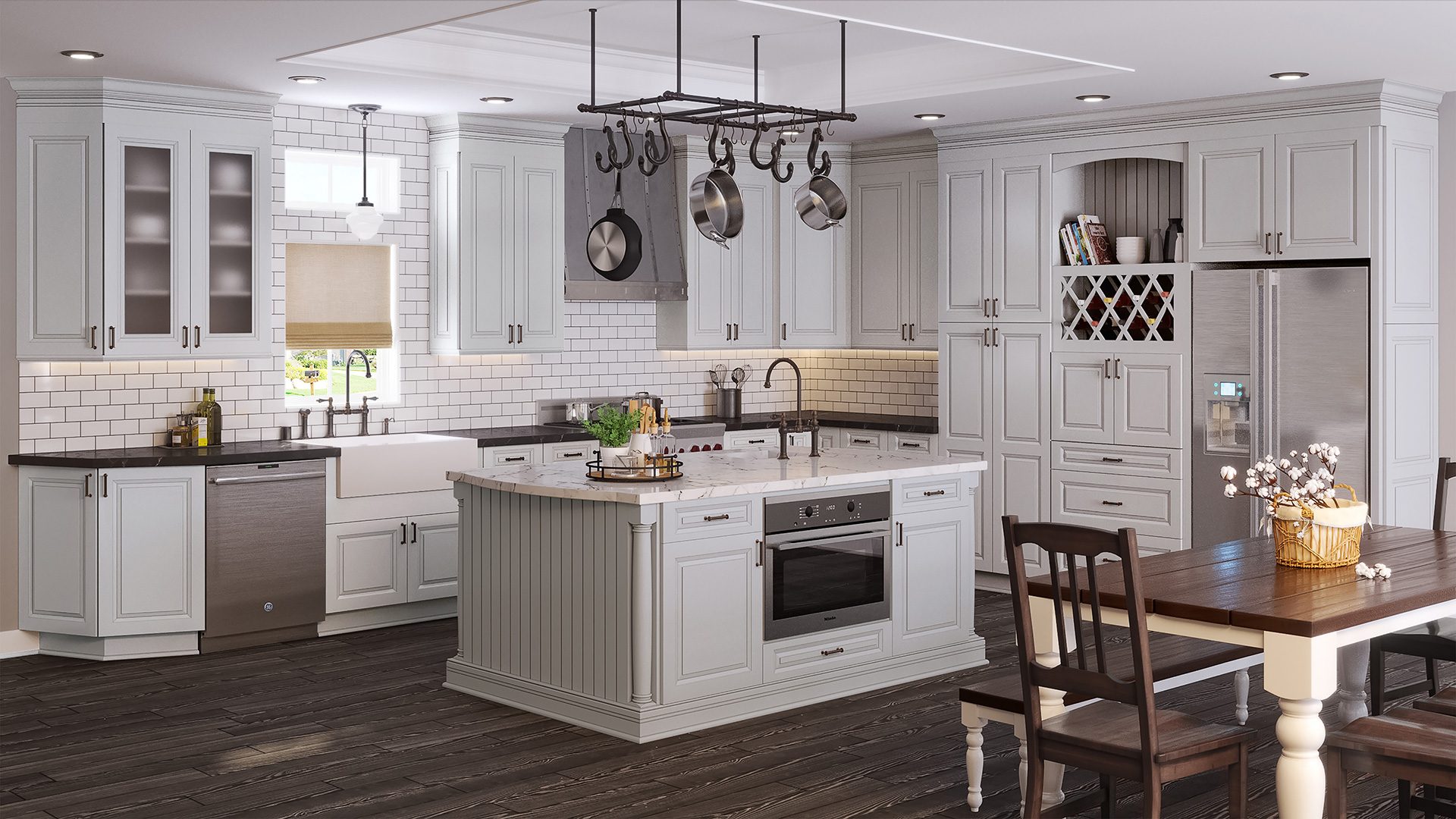 4. Beadboard kitchen cabinets
Beadboard kitchen cabinets have become a go-to choice for a modern farmhouse-style kitchen. In days gone by, beadboard added style and texture to walls. Now it's being used in cabinetry. Many homeowners appreciate how it gives their home a cottage or modern farmhouse feel.
For this farmhouse kitchen, the homeowners chose a kitchen island with beadboard. The beadboard adds dimension and visual interest to the island while blending nicely with the other Shaker-style cabinets and hardwood floor.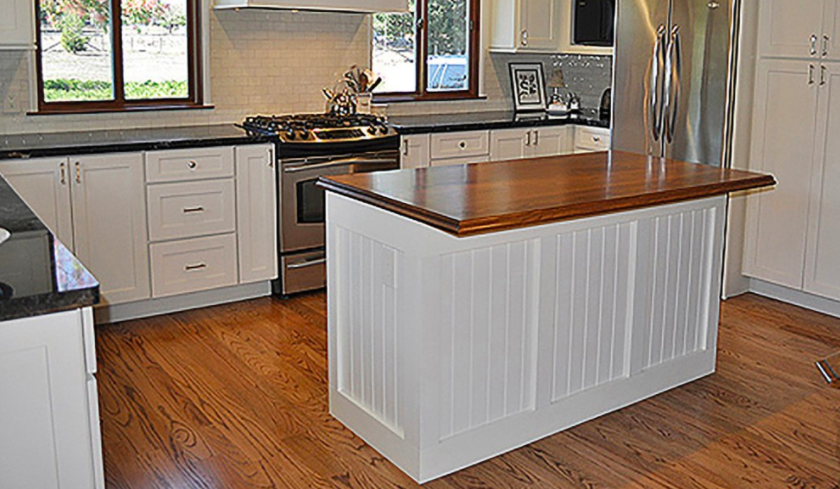 Source – https://www.cliqstudios.com/
5. Glass-front kitchen cabinets
Glass-front cabinets offer a way to showcase decorative dishes, glasses, and other pretty decorative accents. They create a visual break amid a run of solid-door cabinets. Glass reflects light to make the room seem larger, but this style is not for everyone. If your client will be bothered by a plate out of place or a glass that's not perfectly lined up with its mates, a solid-door cabinet is a better solution.
This kitchen bar area has a wall of glass-front cabinets. The bar glasses and accessories are showcased behind Glass, adding sparkly elegance to the at-home bar.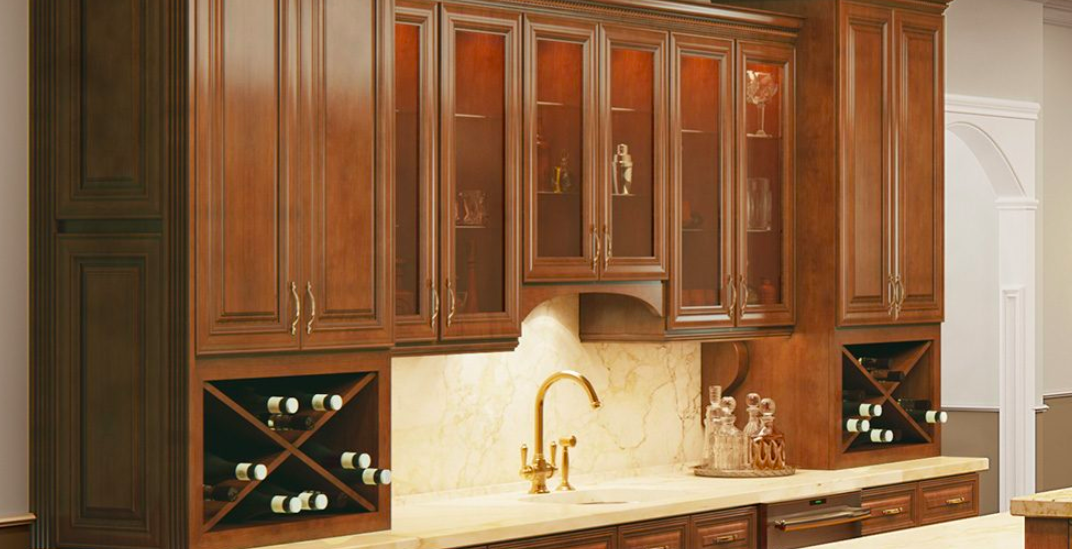 6. Flat-panel kitchen cabinets
Flat-panel cabinets typically feature a full overlay design that's seen mainly in frameless construction. The flat panels provide a beautiful accent that, in a neutral color, easily blends into the background. Finished in a strong color, they'll stand out in bold contrast to the rest of the room.
This bright, modern kitchen features high-gloss white flat-panel cabinets. Together with a neutral grey countertop, grey flooring, and stainless-steel appliances, the high-gloss white cabinets create a contemporary look.
These flat-panel cabinets provide a stark contrast to the white granite countertops and neutral stonework. The room's beauty comes from its bold nature, a perfect balance between retro and modern looks.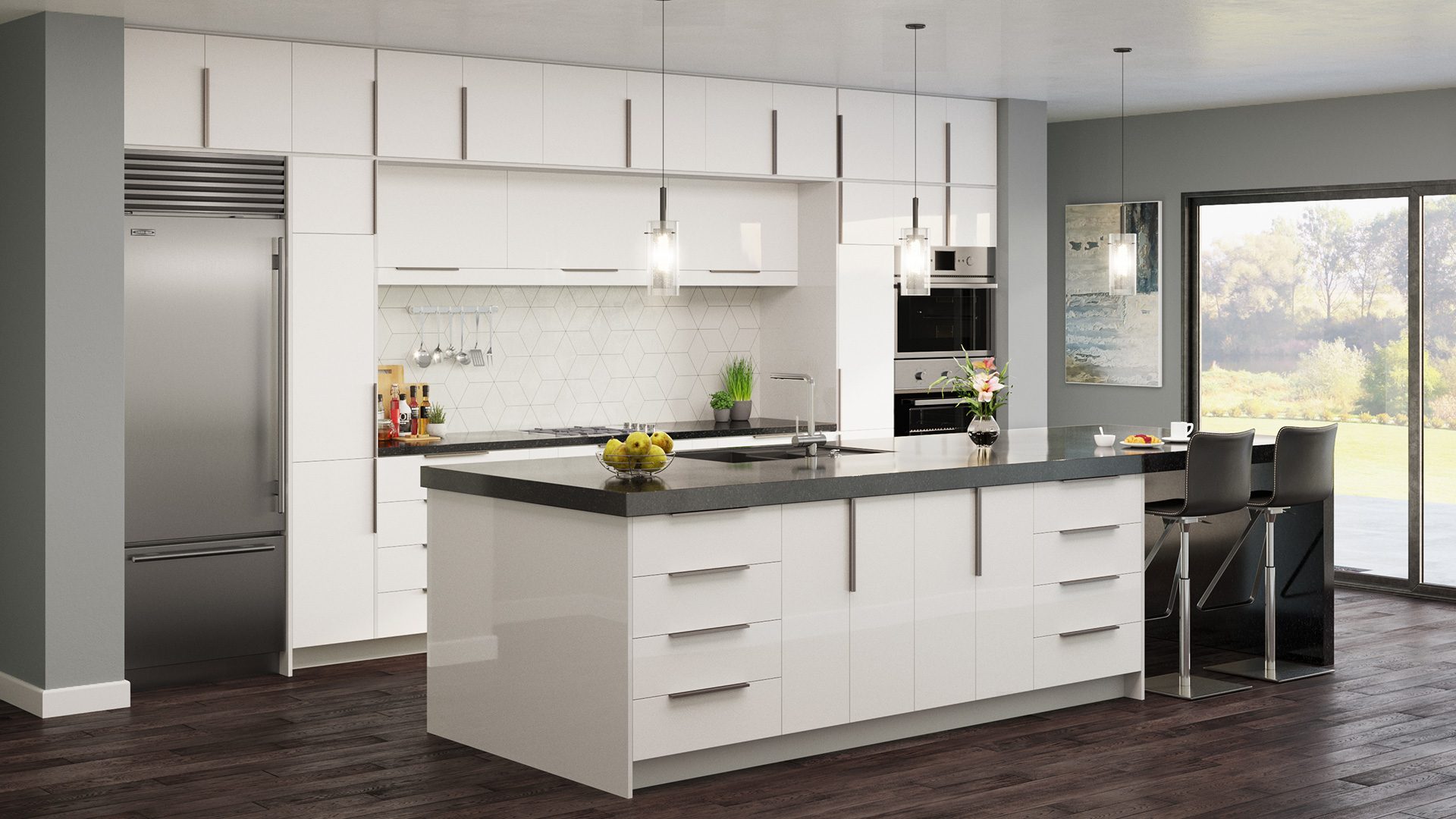 7. Wood-grain kitchen cabinets
Frameless cabinets can also be neutral and natural-looking: consider a flat-panel cabinet in a wood-grain finish. Wood-grain cabinets suit every style of kitchen, from traditional to modern.
This kitchen's light wood-grain flat-panel kitchen cabinets are framed with countertops in dark wood countertop and neutral grey. Seafoam green on the walls and stainless-steel appliances give this kitchen a modern beach feel.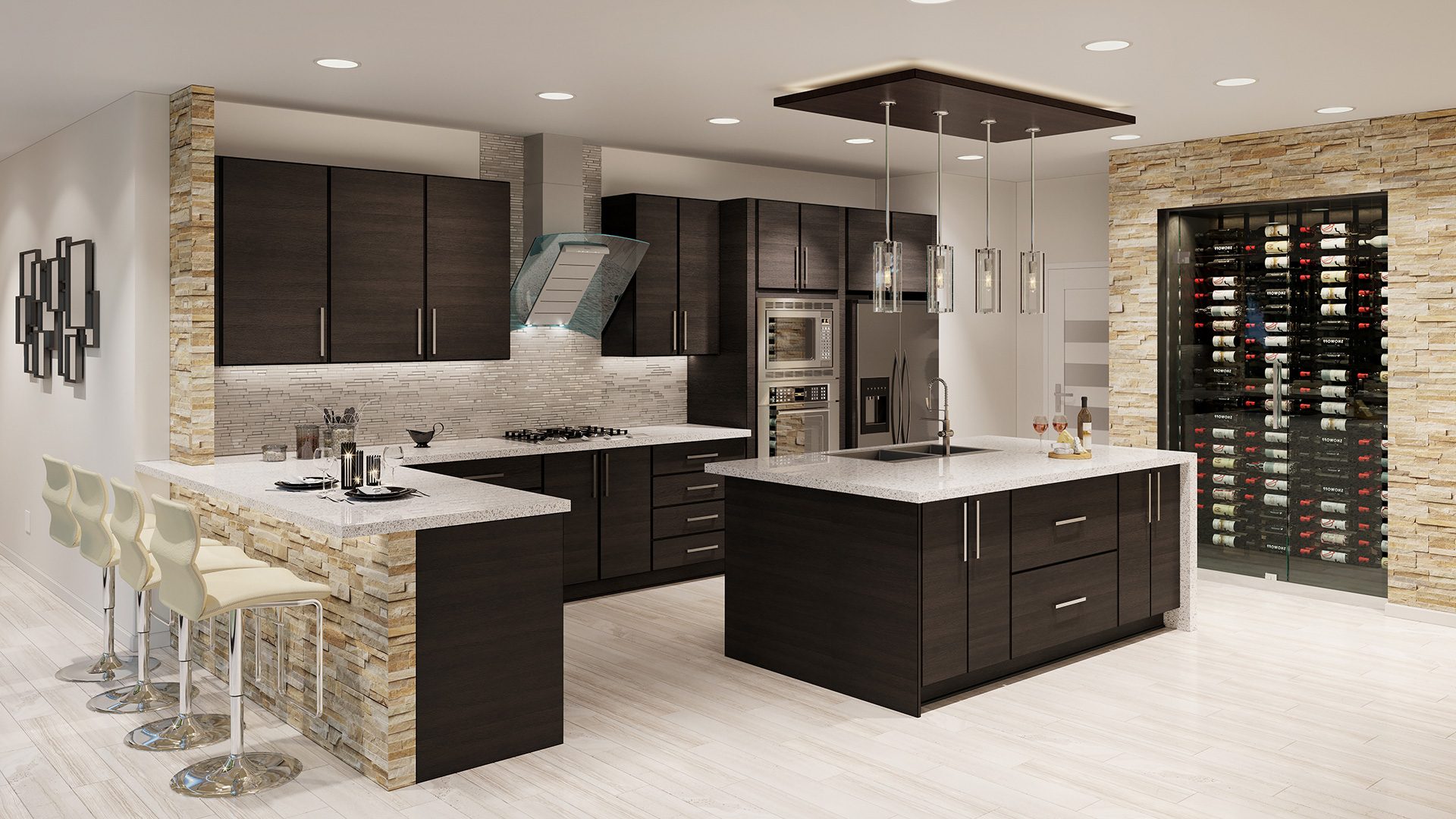 Help your homeowner clients choose the perfect style for their kitchen cabinet remodel.
As a cabinet dealer with CabinetCorp, you receive many benefits that help you serve your clients better. One such benefit is free cabinet design. While you are a remodeling expert, our certified cabinet designers are experts in kitchen layout and can help your clients choose the perfect cabinets for their kitchen remodel. Become a dealer today and take advantage of the FREE design services and 40% off retail prices,