As a professional kitchen contractor, one of the many hats you wear is as an advisor. Clients may ask about what's popular among different kitchen design styles, or about types of cabinets, and what might work best in their kitchen. You've seen trends come and go, but one that seems to be evergreen is the farmhouse style kitchen.
There are many great farmhouse kitchen cabinet ideas and designs available for any type of kitchen, from traditional to modern. The most prominent farmhouse kitchen designs have contemporary farmhouse kitchen cabinets in the shaker style, kitchen islands with stools, farmhouse sink or apron sink, and natural wood floors. 
What is a farmhouse-style kitchen?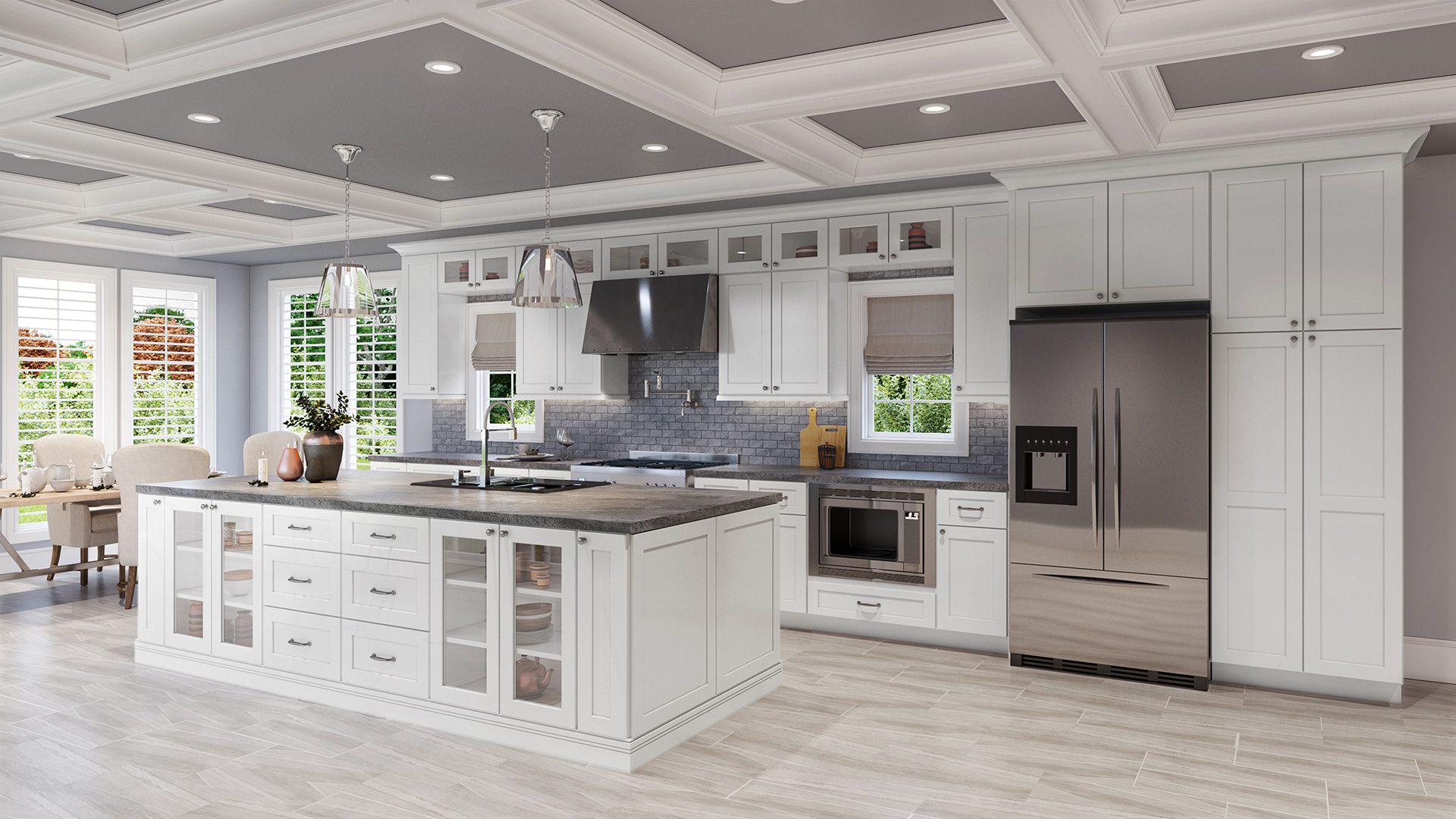 A farmhouse-style kitchen highlights natural materials and finishes, clean design, and often includes rustic elements. A kitchen like this lends itself to informal dining and often features a comfortable gathering area. Every item, from cabinets to décor, will reflect this warm and welcoming style.
5 main design features of a farmhouse-style kitchen
1) Farmhouse kitchen cabinets
There is no place for modern, sleek cabinets in a farmhouse kitchen! Farmhouse kitchen cabinets are all about character. Glass cabinet doors, floating shelves, and open shelving are staples of farmhouse kitchen style because they create opportunities for the homeowner to display treasured serving pieces and colorful kitchenware.
Farmhouse kitchens of the past often included a freestanding hutch as a focal point, one that accommodated needs for both storage and display. You can suggest a tall cabinet or two to bookend a run of cabinets and achieve the same end in the absence of a hutch.
What color are farmhouse kitchen cabinets?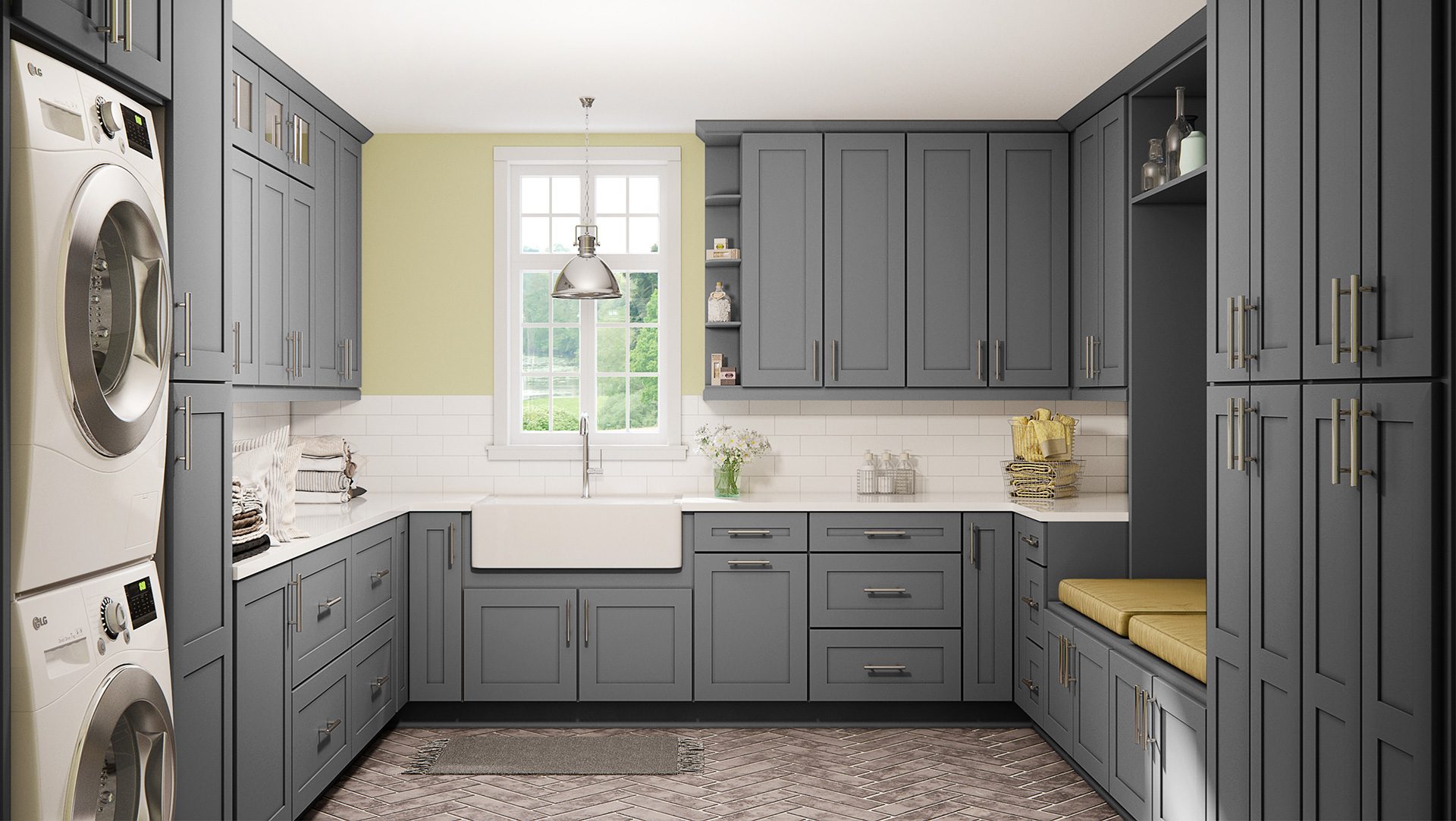 White or grey kitchen cabinets look best when developing a farmhouse kitchen style for your client. Neutral colors with warm undertones allow the homeowner to include an eclectic mix of both vintage and more modern fixtures and accessories within the warm and welcoming farmhouse style. For this style, your best whites include antique white or an off-white with grey undertones, often called "dusk." Good greys for farmhouse kitchen cabinets can vary from light grey to charcoal and even dark grey.
2) Kitchen islands and stools
Kitchen islands work well in any size farmhouse kitchen; in a smaller kitchen, an island can serve as a dining area and eliminate the need for a separate kitchen table. Islands add convenience and functionality by creating a different work/prep area and extra storage. Rustic-looking stools made from wood or metal work well in this context
3) Farmhouse kitchen countertops
Since you're going for a natural look, you can recommend any countertop material – marble, granite, quartz, butcher block, or soapstone – in a matte color, nothing too shiny or busy. You can help your client choose a calming pattern in a warm color that complements the cabinets and flooring.
4) Farmhouse kitchen sink
Elevated to star status on the home improvement shows in recent years, the oversized apron-front farmhouse sink has become a must-have for many homeowners. A large, deep sink like this is ideal when entertaining a large crowd. Although more expensive than many conventional sinks, this style of sink is versatile; it's a winning design solution for a farmhouse kitchen but adapts easily when the homeowner decides to change their look.
5) Farmhouse flooring
Your client will always appreciate a flooring material that's easy to care for and clean. Hardwood floors are a classic choice, but resilient vinyl tiles are also worth considering. This flooring product looks like hardwood but readily holds up to every kitchen battle without a lot of extra maintenance. Natural colors, wood grain, or complementary patterns will work well alongside farmhouse kitchen cabinets.
With a good understanding of the design basics that make up farmhouse style, you can easily advise your client on the choices they'll need to make for their farmhouse kitchen.
Here are 12 amazing farmhouse kitchen cabinet design ideas for any kitchen
Three white farmhouse kitchen cabinet design ideas
High-contrast kitchen cabinets with black accents.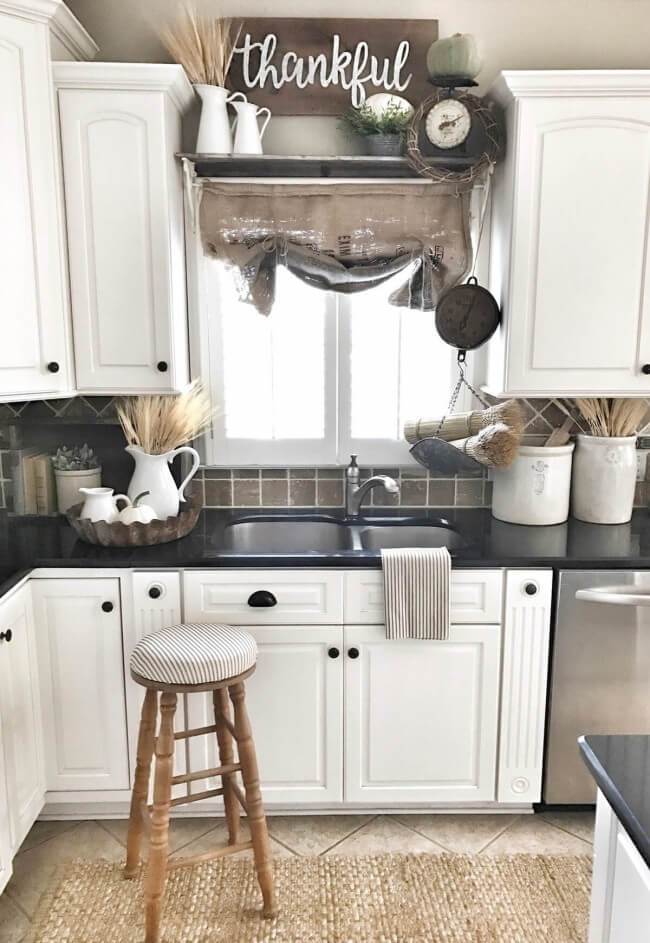 (Image source: inspectatlantahome.com)
Yes, you can create high contrast in a farmhouse kitchen if you do it right. Here, striking black hardware accentuates the soft white finish of farmhouse kitchen cabinets – this is a classic farmhouse with a touch of elegance.
White farmhouse cabinets with gold hardware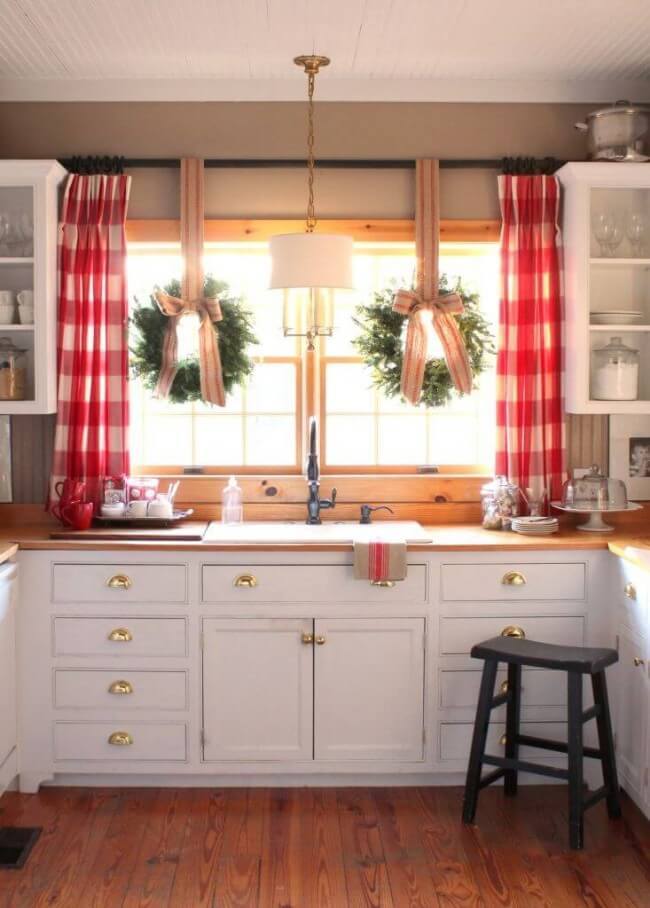 (image source: dailypatio.com)
White farmhouse cabinets come to life with the warm glow of gold hardware. This design brings in Shaker-style white cabinets and inviting accents.
Contrasting cabinets in wood grain and white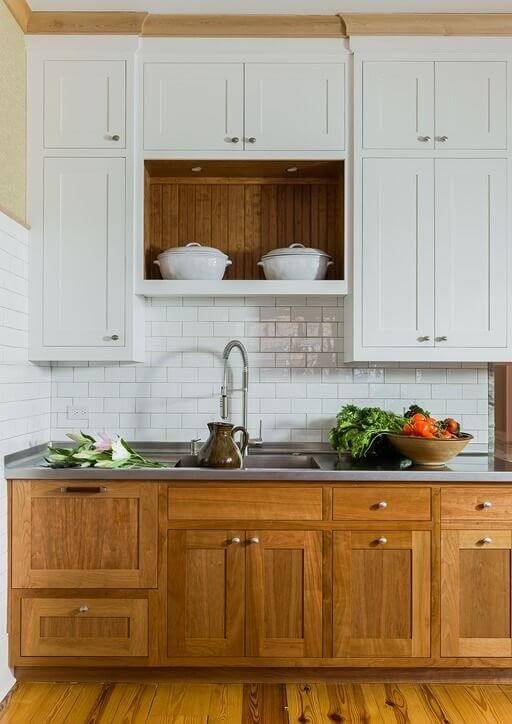 (image source: centsationalstyle.com)
Shaker-style cabinets in both farmhouse white and a contrasting wood grain create a warm ambiance with extra visual interest.
Three grey farmhouse kitchen cabinet design ideas
Dark grey Shaker-style cabinets with a rustic vibe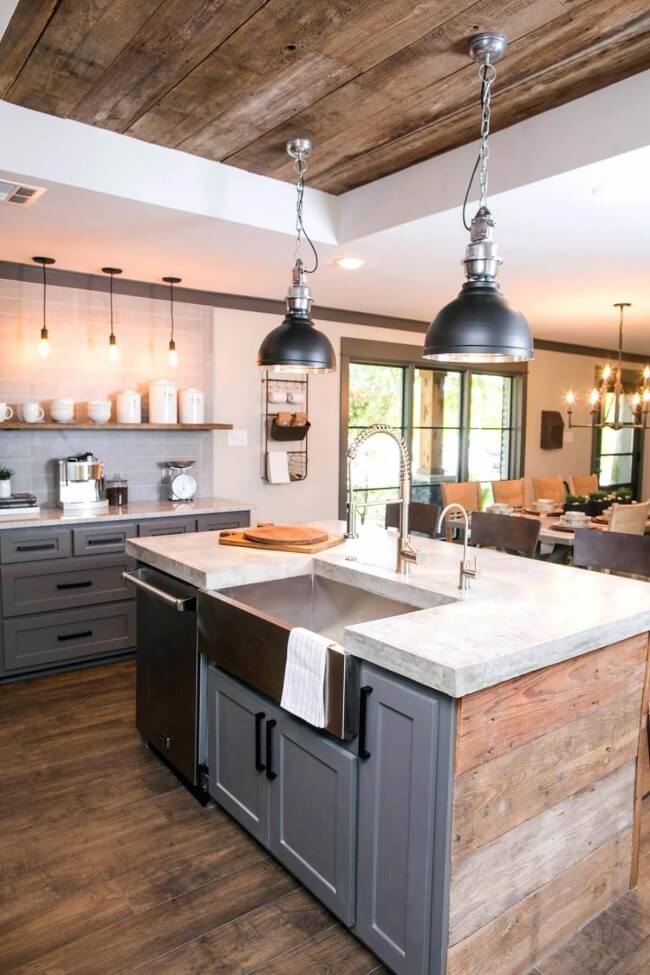 (image source: stefan-rummel.info)
These Shaker-style farmhouse kitchen cabinets in dark grey create a rustic feel and add a little color to this kitchen's clean and simple look.
Grey farmhouse kitchen cabinets with beige undertones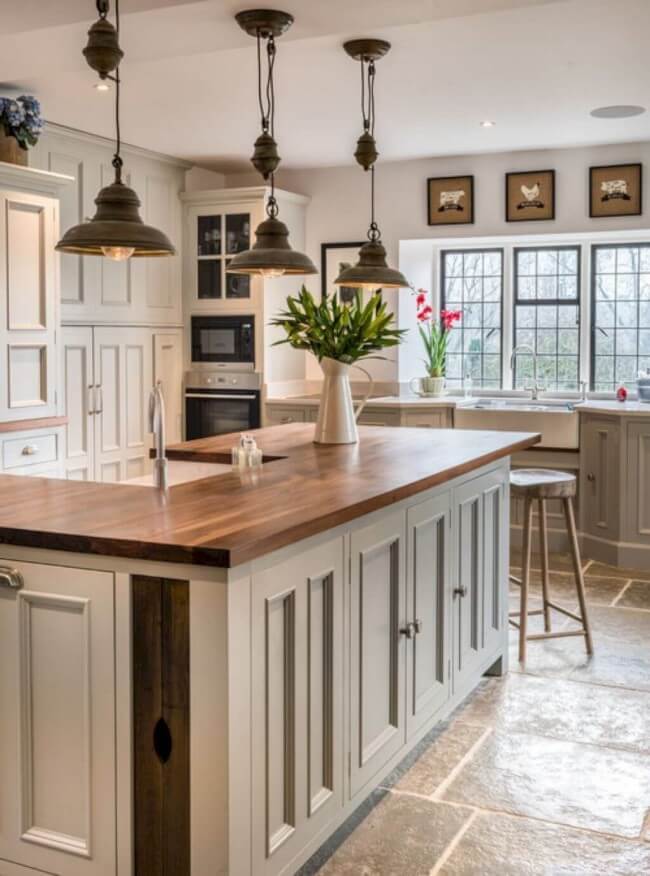 (image source: twitter.com)
These grey farmhouse cabinets gain warmth from the beige undertone. This welcoming open kitchen will be a magnet for your client's friends and family.
Light grey Shaker-style kitchen cabinets with contrasting white tile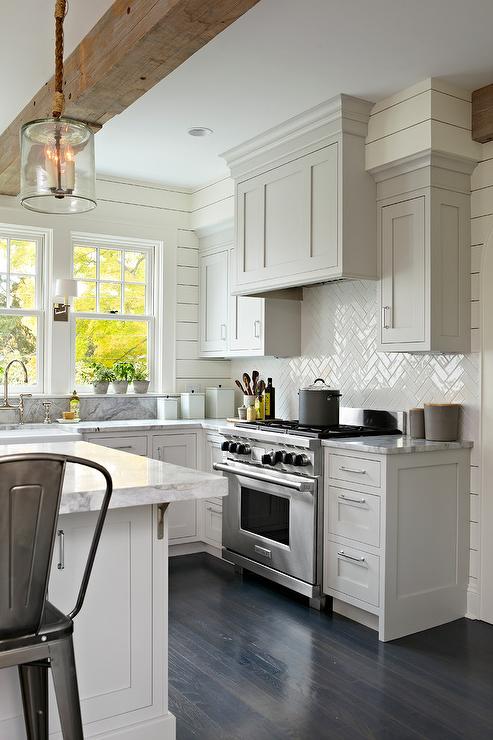 (image source: decorpad.com) 
These grey Shaker-style kitchen cabinets pair well with a bright white tile, and the homeowner can add farmhouse design elements like exposed beams or rustic pendant lighting.
Three modern farmhouse cabinet design ideas
Modern farmhouse light grey cabinets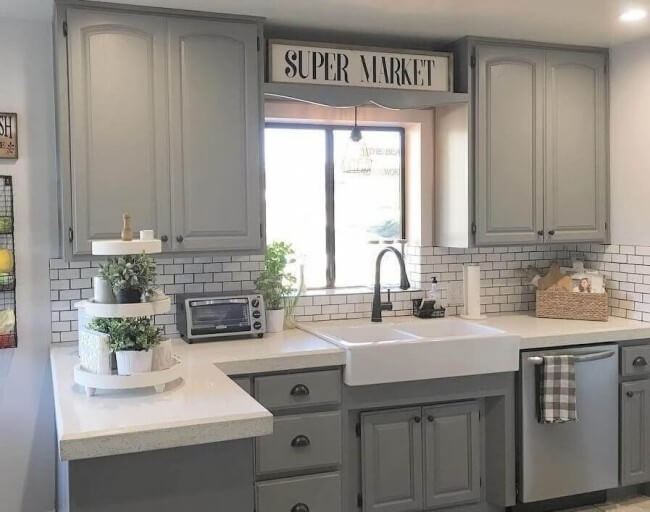 (image source: pinterest.com)
A farmhouse kitchen doesn't have to mean vintage. Light grey kitchen cabinets in a farmhouse kitchen will give it a modern makeover. This grey flooring also adds to the room's modern feel. These Shaker-style cabinets feature an extra overlay and beveling to maintain the farmhouse character in a modern setting.
The modern blended farmhouse kitchen: dark wood with bright white cabinets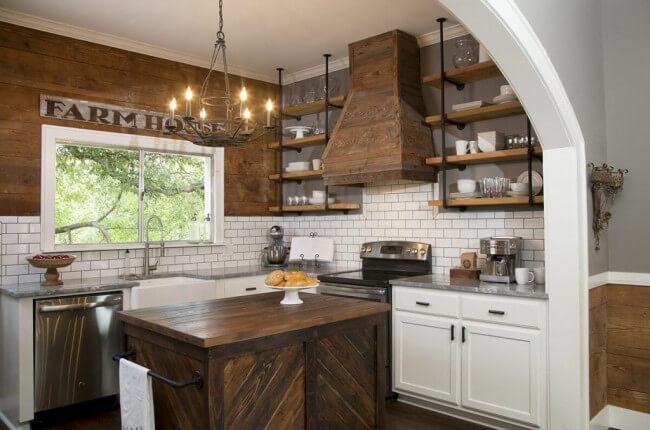 (image source: hgtv.com)
Dark wood combined with a modern, bright white farmhouse cabinet makes a great choice for an inviting farmhouse kitchen. Modern open shelving on upper cabinets with white farmhouse cabinets on the bottom creates an appealing blend of modern and farmhouse styles.
Modern antique-white cabinets with farmhouse feel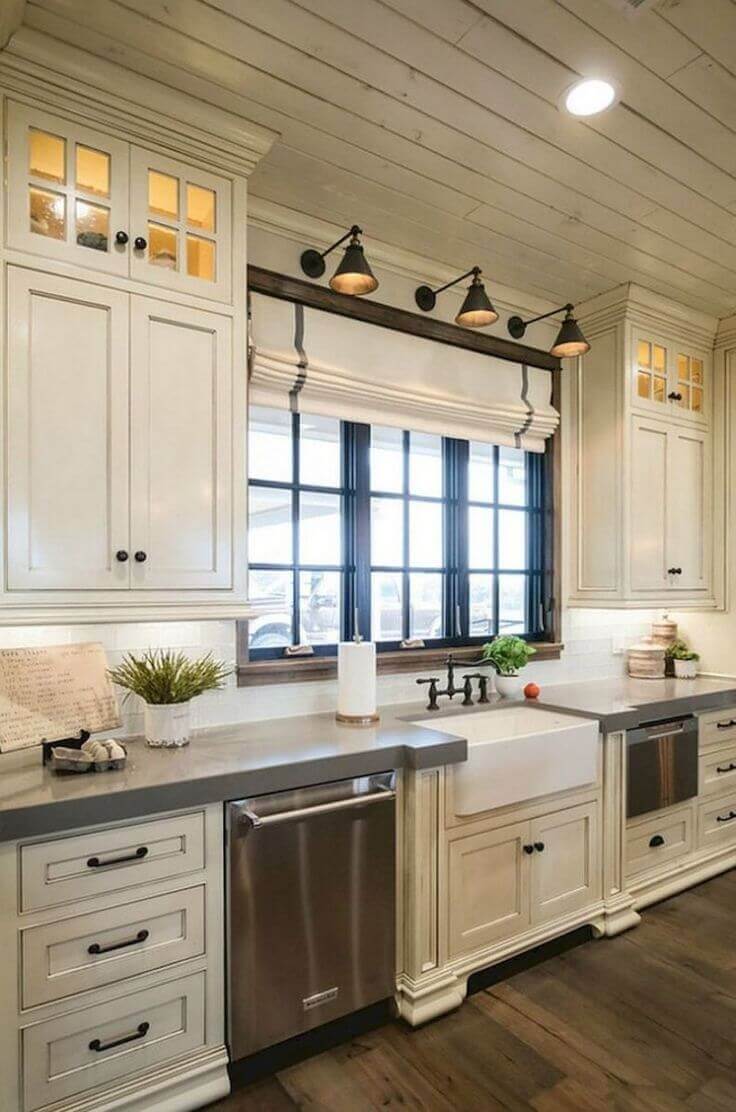 (image source: ysedusky.com)
A farmhouse kitchen can gain warmth with antique-white Shaker-style cabinets and still be called modern. This farmhouse kitchen gains a cozy feel from antique-white cabinets, even amidst the modern shine of stainless steel appliances and grey countertops.
Three farmhouse kitchen cabinet design ideas with other white kitchen cabinets
Dusk farmhouse kitchen cabinet ideas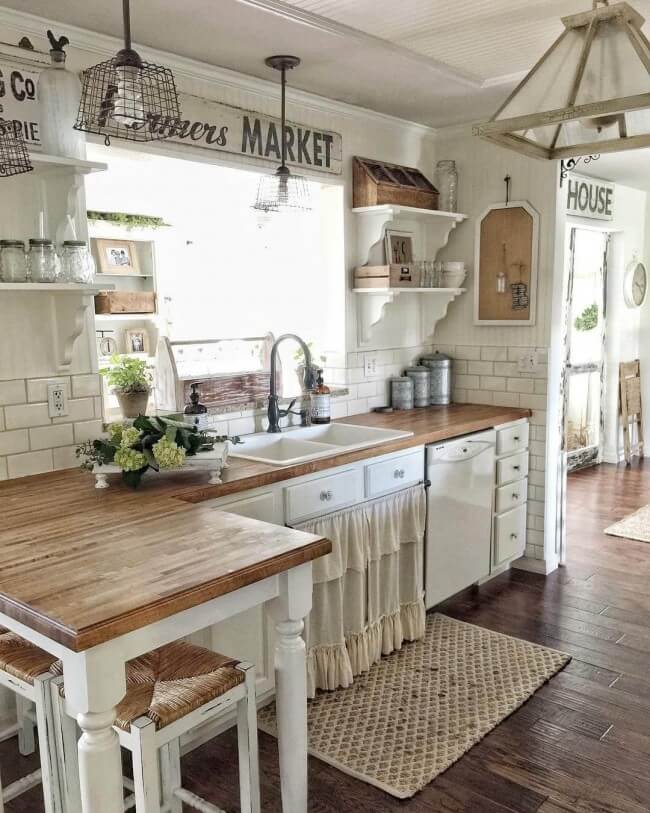 (image source: pinterest.com)
The off-white dusky white of the farmhouse cabinets in this kitchen design focuses on the wood's rustic features. Your client can dine at the kitchen's peninsula island and enjoy a cozy seating area for entertaining.
Wood and antique-white farmhouse kitchen cabinet ideas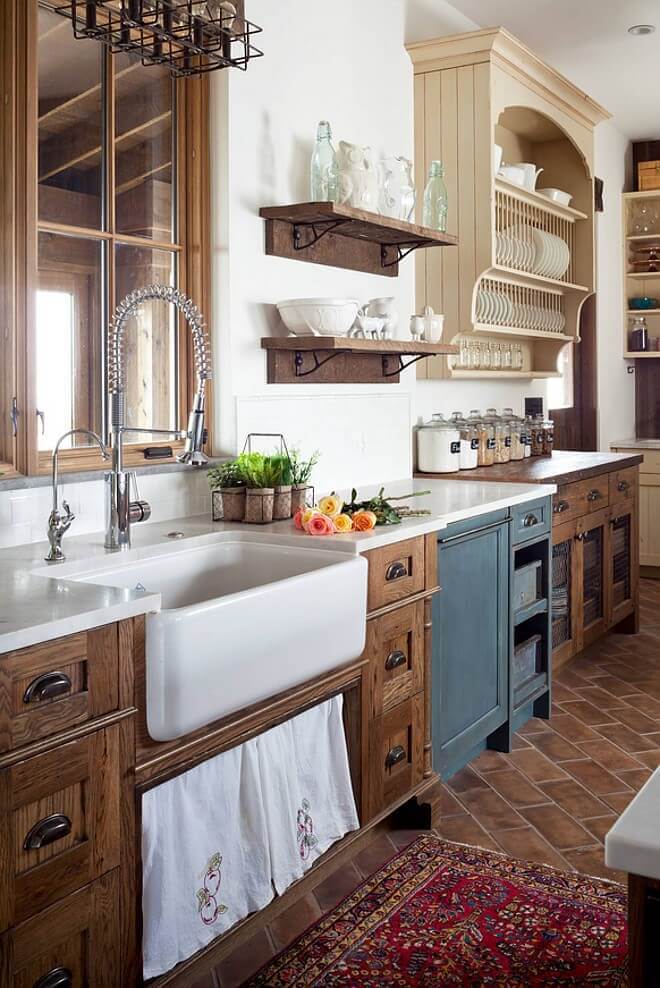 (image source: thecottagemarket.com)
These dark wood Shaker-style cabinets include additional accent cabinets with open shelving and plate organizers for this rustic farmhouse look. The mix of antique white and wood gives the kitchen a warm, welcoming feel, and the apron-front sink completes the farmhouse ambiance.
Bright white and beveling for a farmhouse kitchen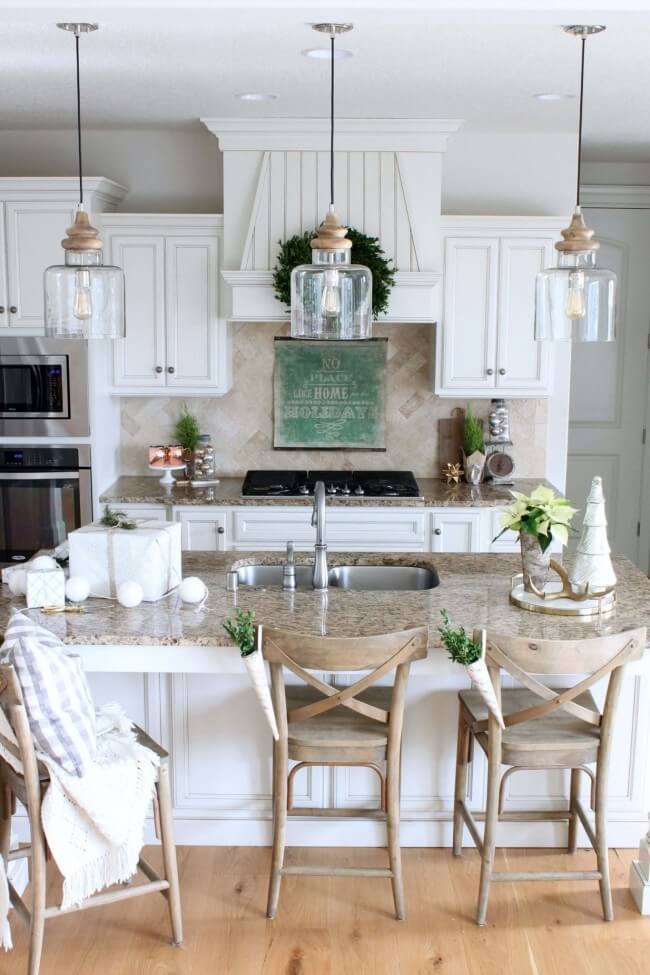 (image source: aehomestylelife.com)
More traditional-style kitchen cabinets also can be the focal point of a farmhouse kitchen design. These bright white Cambridge-style kitchen cabinets start with the classic Shaker cabinet, enhanced with a double overlay and beveling to add character and visual dimension to this farmhouse kitchen.
Ready to order kitchen cabinets for your client's farmhouse kitchen remodel?
CabinetCorp manufactures high-quality wholesale cabinets for every kitchen design –from farmhouse to modern, traditional to contemporary. Transform your client's kitchen into their dream farmhouse kitchen. As a dealer, you can order ready-to-assemble (RTA) and pre-assembled farmhouse kitchen cabinets at prices 40% less than you'll find at the home improvement store. Check out our free cabinet door samples to help you make compelling presentations to your clients.