There's no getting around it – the color of kitchen cabinets is a prime factor that affects a home's value, overall ambiance, and even how often a homeowner has to clean. In the 2020 Houzz Kitchen Trends study, 45% of homeowners indicated a preference for white cabinets, a finding consistent with previous years.
There are 7 main reasons homeowners choose dark cabinets for their kitchen. 1) They hide dings, scrapes, and scratches. 2) They provide a variety of design opportunities. 3) Dark cabinets give the kitchen a luxurious feel. 4) They provide the backdrop for contrasting styles. 5) Dark kitchen cabinets are welcoming and cozy. 6) They are perfect for large kitchens. 7) There are many color options in brown, gray, blue, purple, and black.
Two-tone cabinet designs ranked second in popularity, usually borne out as dark grey cabinets or other contrasting colors for the base cabinets or island, below white or light-colored upper cabinets. Interest in two-tone cabinets continues to grow year over year; as a kitchen contractor, you want to provide your homeowner clients with information about emerging trends to help them choose the right cabinet colors for their kitchen.
Why Go Light – or Dark – for Kitchen Cabinets?
Before you recommend a light or dark cabinet color for your client's kitchen, you'll want to help them think through room size, desired mood, and long-term value for their home. As you well know, there's always more than one right answer for the "best" kitchen design, so you serve them best by helping them consider all of the factors at play.
Kitchen size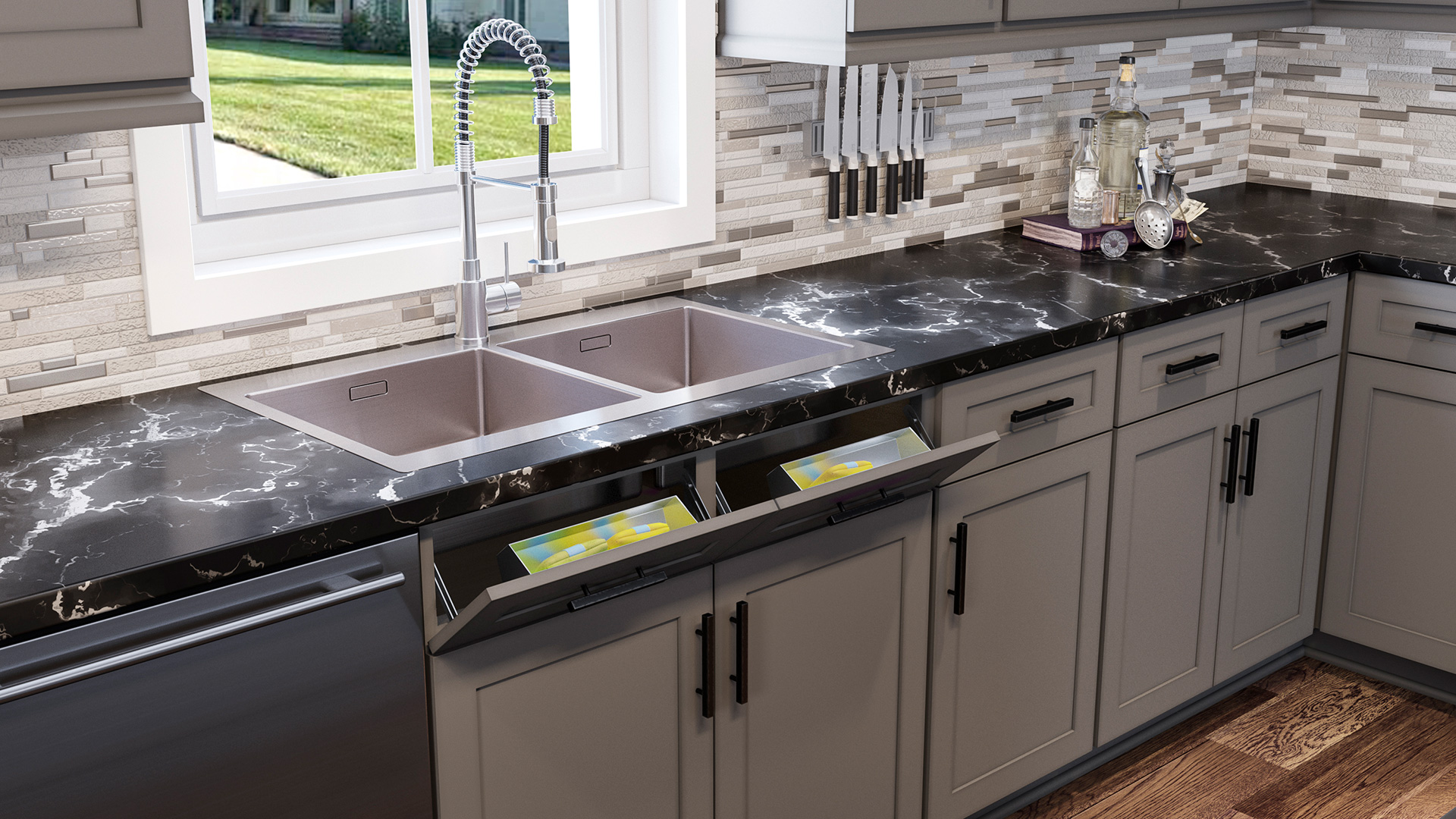 If your client's kitchen space is small and lacks natural light, dark-colored cabinets could make the area feel cramped. On the other hand, a lighter cabinet color will help a small kitchen feel more open and bright.
The room's desired mood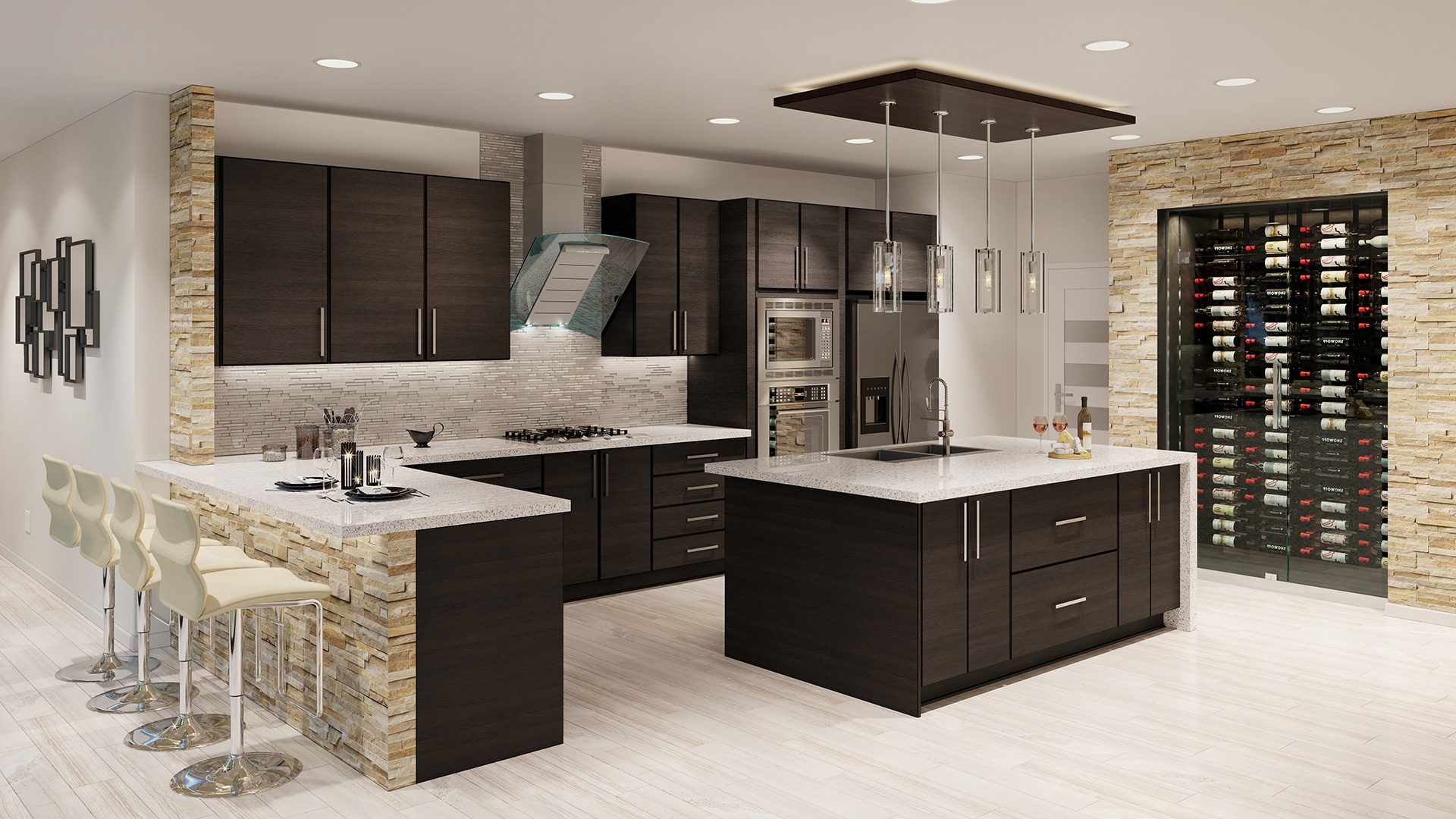 Kitchen cabinets occupy the most significant amount of visual space in the kitchen, so their color and style are strong drivers of the room's mood and feel. Your client will gravitate to cabinetry colors that reflect their personality and the ambiance they want to capture for the room. These dark brown cabinets paired with stone and marble give the room a contemporary feel.
Resale value for the home
Your client may – or may not – plan to live in their present home forever. If they plan to sell the house in the next 5-10 years, they should renovate their kitchen with that thought in mind. They can undoubtedly express their style and personality in a new kitchen with design and color choices that are timeless to appeal to the next owner.
Many cabinet options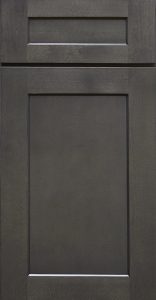 As you work with a client to design their new kitchen, online browsing galleries like CabinetCorp can provide helpful inspiration. You'll find many examples of dark cabinets mixed with various on-trend colors to give them a sense of different directions to consider. The styles vary from modern frameless dark cabinets or dark shaker cabinets in grey, brown, and black.
Are dark kitchen cabinets in style?
Suppose 45% of homeowners surveyed prefer white kitchen cabinets, that leaves 55% who choose some combination of dark or two-tone cabinets. Yes, dark kitchen cabinets are definitely in style!
White vs. dark cabinets
Many homeowners do love white kitchen cabinets. How can you blame them? Welcoming white cabinets bring a bright and open feel to the kitchen and make an ideal choice for a smaller kitchen or low-light environment. As a timeless neutral, white goes well with almost any decor or home style. White has the added advantage of being a calming color overall. Homeowners can add personality with colorful appliances and elegance with glass cabinets that showcase attractive tableware.
If white cabinets are so popular, then why would homeowners choose dark kitchen cabinets?
7 main reasons to choose dark cabinets for the kitchen
1) Hide scratches, dings, and stains easily.
If the kitchen is a busy crossroad in your client's home, dark cabinets may be the perfect choice for them. For homeowners with children and pets, and for those who cook to entertain extensively, dark colors will conceal daily wear and tear better than white cabinets.
2) Variety of design possibilities.
Lighter-colored cabinets are often used in the background to open up space and create a beautiful yet understated kitchen. Taking the opposite tack, dark cabinets serve as a natural focal point. Build design interest by mixing light and dark cabinets, and bring in color with lighting, flooring, and decor to give the kitchen a unique style.
As a contractor, you can deliver an impression of separate spaces with a design that incorporates dark cabinets. You can recommend a delineating wall with a contrasting color to visually separate the kitchen from the rest of an open concept room.
3) Feeling of luxury.
Dark cabinets add depth, richness, and a feeling of luxury to a kitchen's finishes. Unlike white cabinets, dark cabinets can give the kitchen an intimate ambiance and more formal elegance.
4) Contrasting styles.
Dark cabinets are bold. They can transform what starts as a bland, conventional kitchen into a vibrant and inviting room, a space where your client and their friends and family will eagerly gather. When you incorporate high-contrast colors – like a two-tone design that features white upper cabinets and dark base cabinets – the room will gain an energetic and playful feel. Homeowners can bring in more vivid colors with their choice of decor and accent pieces.
5) Cozy and welcoming.
Dark shaker kitchen cabinets in a combination of black and dark grey finishes can give the kitchen a welcoming and cozy kitchen atmosphere.
6) Perfect for large kitchens.
Light-colored cabinets in a large kitchen can feel institutional and dull. Dark cabinets will not only warm up the room but allow the homeowner to bring in a variety of different decor and accent pieces for an eclectic look. Contrasting lighting, flooring, and art will add pops of color to coordinate with dark cabinets.
7) Many color options
Dark cabinets come in a range of color options that include versions of black, grey, blue, purple, green, red, or dark brown wood finishes. The sky's the limit when it comes to dark paint and stain colors.
Dark kitchen cabinet ideas
With hundreds of dark shades to consider, you will undoubtedly find one your client will like. While grey, black, and walnut cabinets are what first comes to mind when people think of dark cabinets, the choice of dark colors is much broader.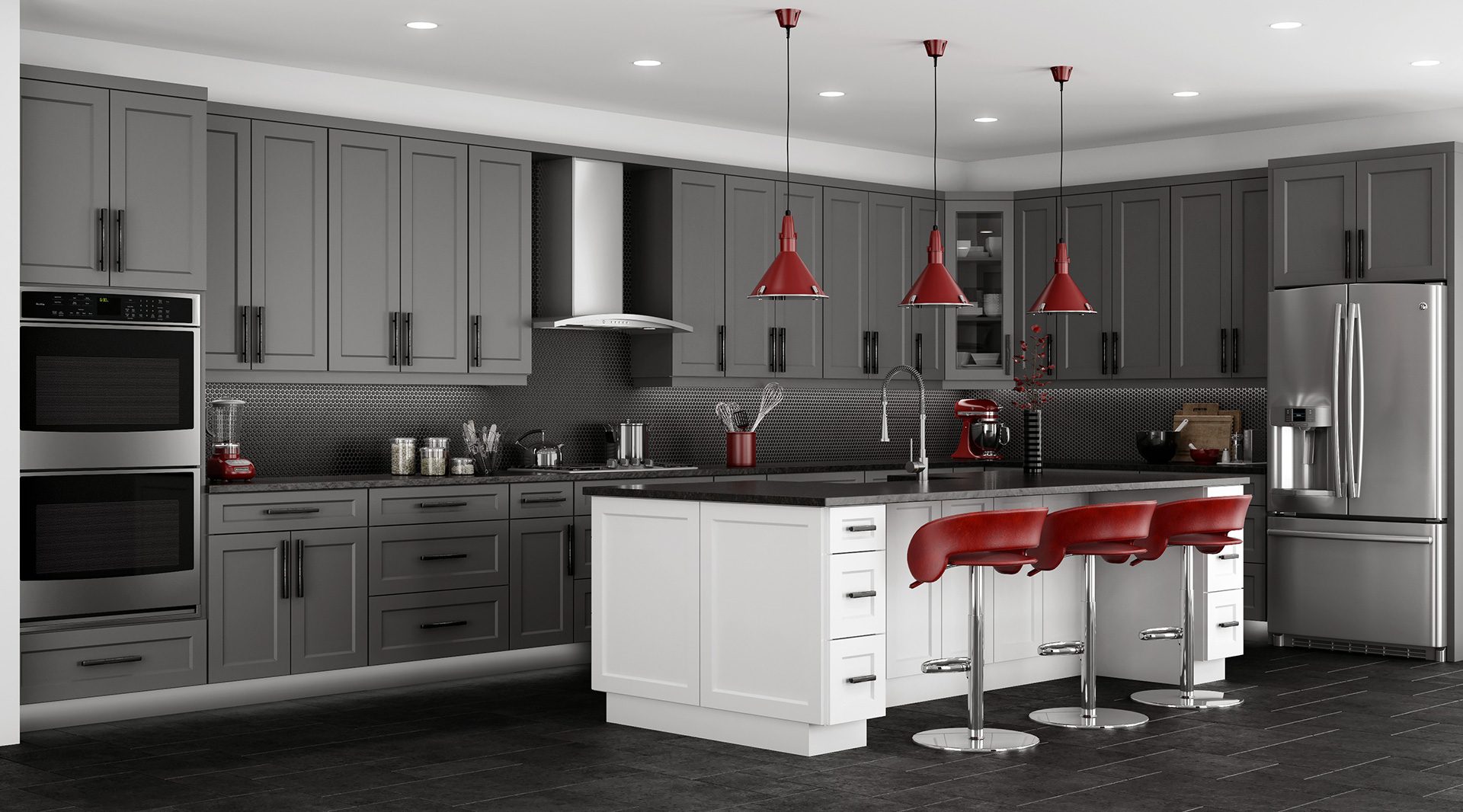 Dark cabinets in a Shaker-style black and grey bring an elegant and luxurious feel to the kitchen. Pair them with a bold contrasting color like red for a modern look. Or choose stainless steel appliances for a contemporary style kitchen.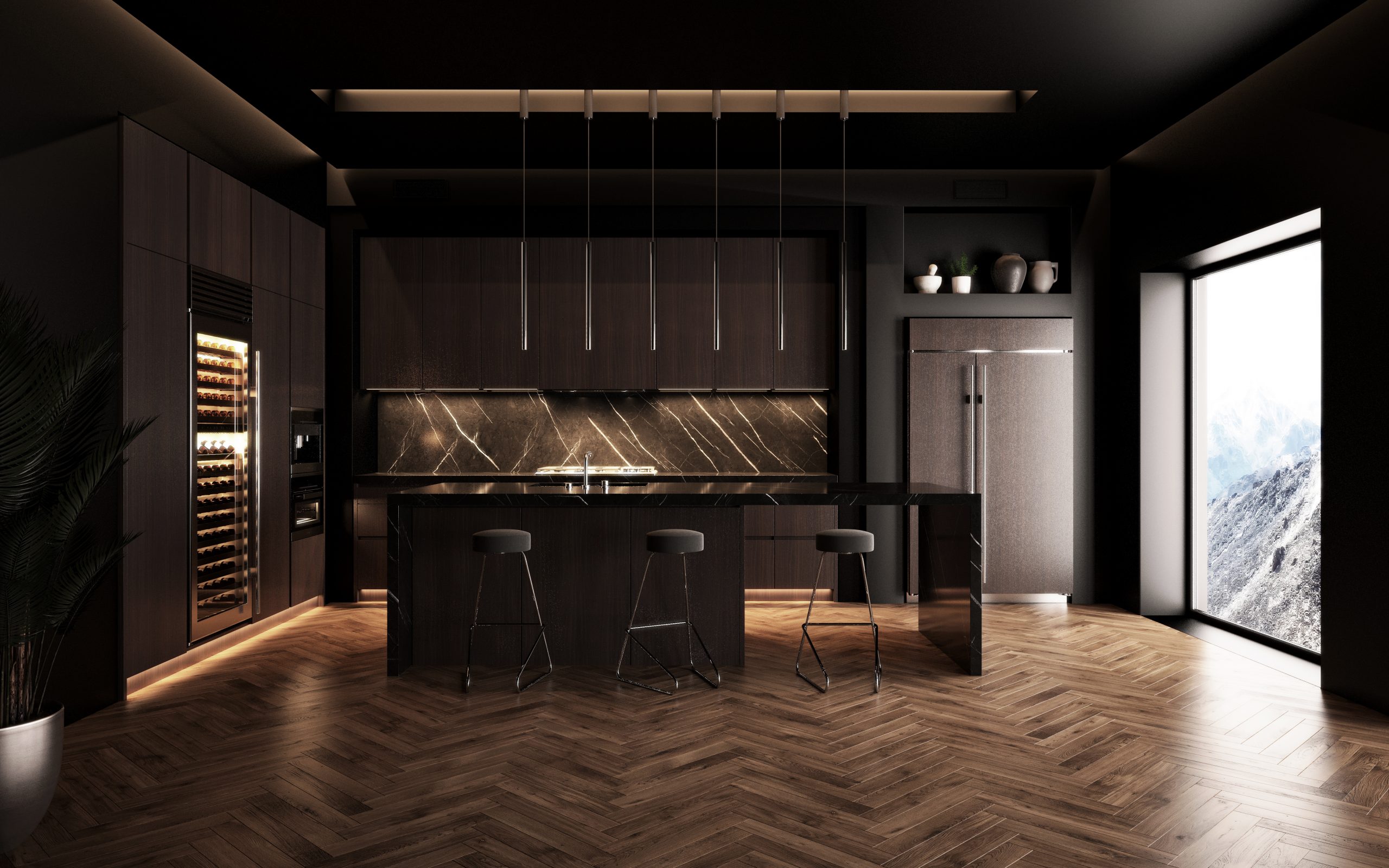 Dark brown cabinets work well with dark flooring. This monochromatic look adds a sleek yet inviting feel to the kitchen and creates a perfect atmosphere for entertaining and family dining.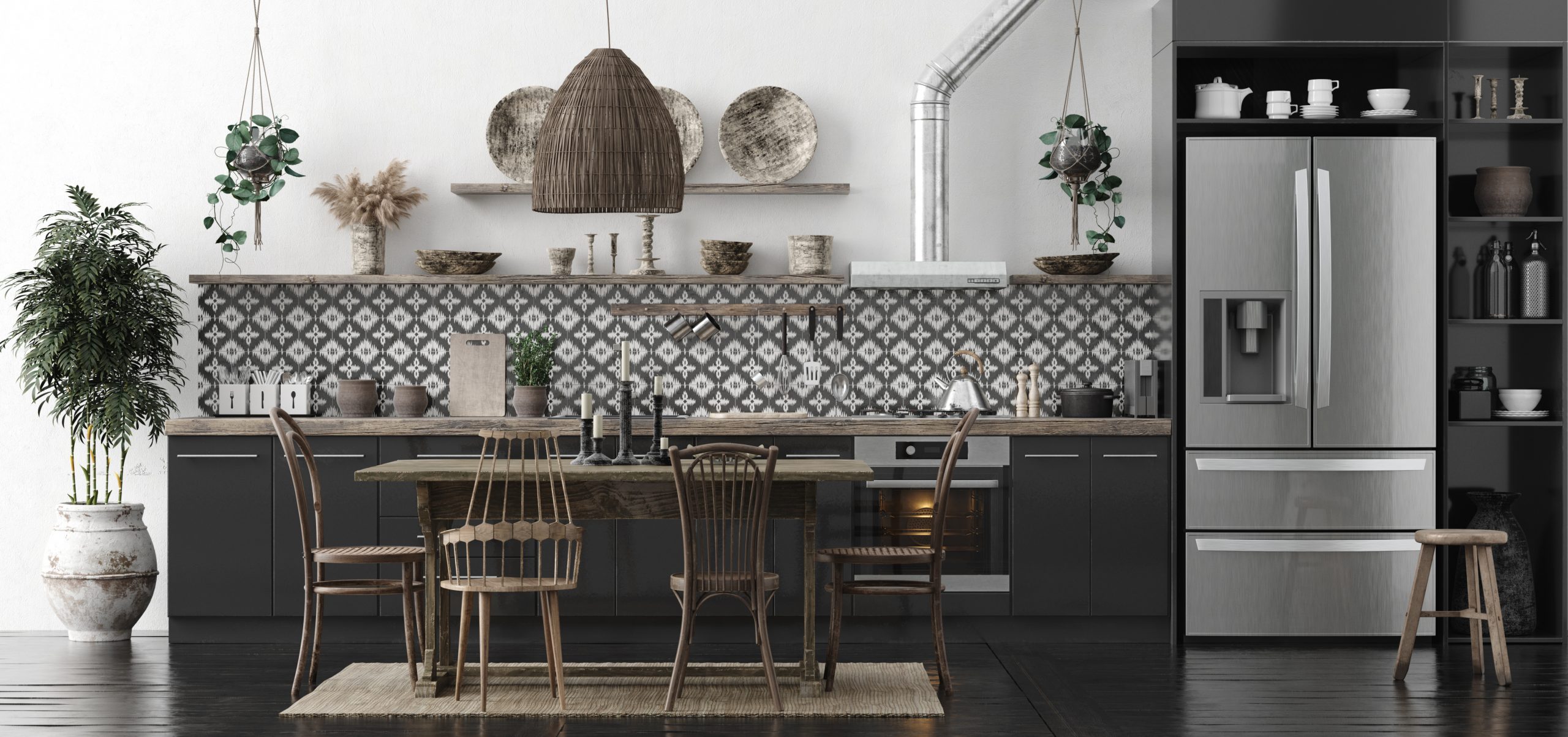 Black and white cabinets are a popular combination for a luxe kitchen look. White is a standard contrast color to black in many designs.
Spend some time with your client to figure which dark cabinet looks and finishes will complement other choices made for the rest of the kitchen to achieve the desired look.
Ready to explore dark cabinets for your next project?
CabinetCorp has been manufacturing high-quality shaker kitchen cabinets including dark grey cabinets to transform your clients' kitchens, bathrooms, and closets and sells for over 30 years. They sell them directly from the factory at wholesale pricing. As a Cabinet dealer, you can order ready-to-assemble (RTA) and pre-assembled kitchen cabinets at prices 40% less than you'll find at the home improvement store. Order your dealer's kit today – it provides you with 18 free samples of cabinet doors to use in your presentations and win more project bids.