When it comes time to renovate the kitchen, homeowners have a lot of decisions to make. Choosing a cabinet style and color is at the top of that list. Most people settle on one style and color, which is perfectly fine. For the more adventurous client, or someone searching for a more layered, up-to-the-minute concept, bringing two cabinet looks into the picture could be a great solution.
The two-toned kitchen cabinet style has been around for over a decade and it is a nice blend of two different colors in the kitchen to highlight specific features like an island, bring light into the room with bright upper cabinets but ground the space with dark lower cabinets. The colors work best if they are complementary and working toward the same goal in the kitchen design. That goal could be pulling out specific colors in the tile or countertop, or really wanting a feature to stand out like your kitchen island or lights. 
What are two-toned kitchen cabinets?
The two-tone kitchen cabinet style involves kitchen cabinets in two colors. This design trend works best when one color is the primary focal point. The second color comes in as an accent color for some cabinets and other parts of the room. Some homeowners and cabinet designers prefer to go bold with those color choices: They install upper cabinets in one color and base cabinets in a second, contrasting color with stunning results.
Are two-tone cabinets in style?
The two-tone kitchen cabinet concept has been around for over ten years. Early on, homeowners with a fashion-forward sense of style would paint some of their cabinets in an accent color to achieve a two-tone look. Now, they buy kitchen cabinets with two main colors in mind.
According to Lauren Holmes of Zen Staging With Lauren, "This year is the year of making a bold and fresh statement in the kitchen," says Holmes. "Two-toned cabinets brighten a room and make it feel bigger. The lower, more earthy tones add weight to the space, while the lighter tone on top makes the kitchen feel brighter and bigger. This is a perfect look for smaller kitchens or those with poor lighting."
Benefits of the Two-tone Look for Kitchen Cabinets
Why would you want to install two-tone kitchen cabinets in a kitchen? There are three main benefits to the two-tone look for a remodel.
1. Two-tone cabinets can make a small kitchen appear larger.
In a small kitchen, you want to help your client create the illusion of more space; you want to echo the space and ease of movement apparent in a larger kitchen. Draw the eye upward with a lighter color for upper cabinets, choosing finishes in white, light grain wood, or light gray. Then a dark color on the base cabinets adds definition to the kitchen space.
2. Two-tone kitchen cabinets improve the resale value of the home.
Attractive and timeless kitchen cabinets will always improve a home's resale value. Two-tone cabinets help your client span time by blending styles. White Shaker-style cabinets provide a versatile basic look. Add base cabinets in a bold tropical color like teal or bright blue, and the update provides excitement with a margin of safety for a future owner. That same teal or blue can carry a farmhouse or nautical theme when accented with different décor. Homebuyers typically focus on the kitchen when they evaluate whether a house is right for them. When they see timeless, well-maintained cabinets, they can easily decorate around, which helps seal the deal.
3. Two-tone cabinets are aesthetically pleasing.
Two-tone kitchen cabinets add a level of visual interest that you just don't find in a monochromatic kitchen. While pristine, all-white cabinets look great in the home décor magazines, two-tone cabinets add practical elegance and the chance to bring in another attractive color to anchor subsequent design decisions.
How do you install two-tone cabinets?
Most popular two-tone concepts involve upper wall cabinets in a lighter color. The homeowner can then choose base cabinets in a complementary or contrasting color – some even choose a different texture. Two-tone cabinets offer a lot of flexibility to the kitchen design. Certified kitchen cabinet designers can help contractors and homeowners consider good combinations to arrive at their new kitchen's perfect look.
Two-Tone Kitchen Cabinet Idea
Here are ten inspiring two-tone kitchen cabinet ideas you can present to your clients.
White Shaker-style kitchen cabinets with charcoal base cabinets … a solid choice.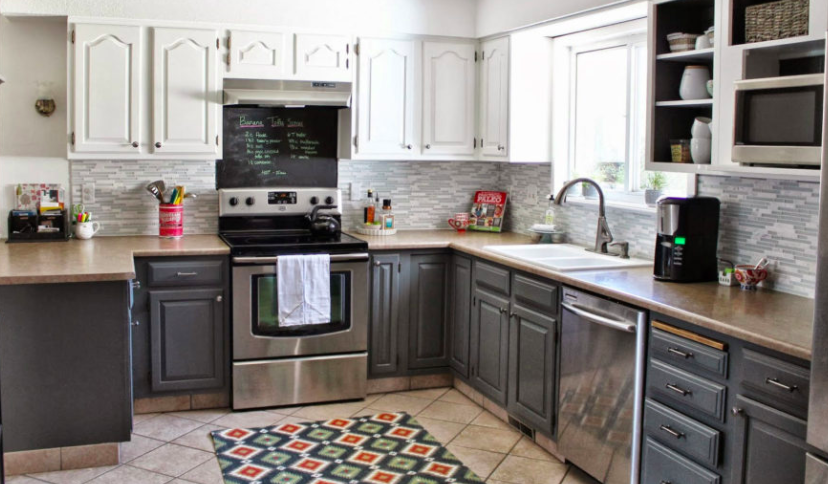 The white shaker cabinets on top give the room an open and airy look, while dark gray base cabinets and stainless appliances give the room a contemporary feel.
White Shaker-style cabinets with black base cabinets … the "tuxedo" look.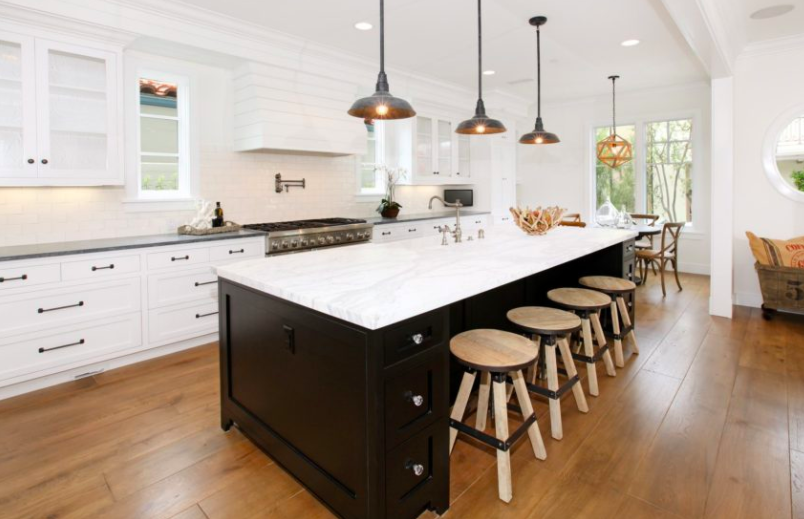 Here the black base cabinets define the room's space and allow the upper all-white Shaker cabinets to become the focal point for this kitchen's contemporary tuxedo style.
White Shaker-style kitchen cabinets with light gray base cabinets…add a little romance.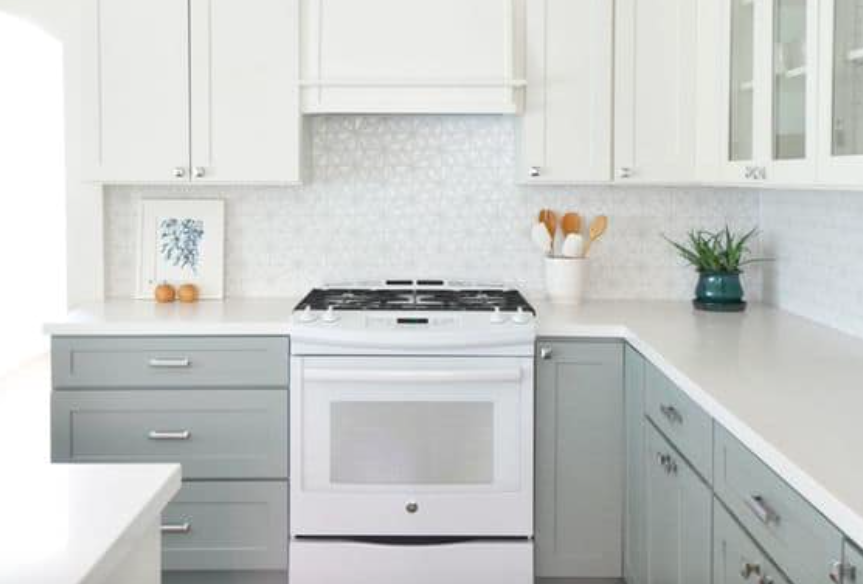 (Source https://centsationalstyle.com/2015/08/kitchen-remodel/)
The white upper cabinets add openness and light to the room, while the light gray base cabinets soften the look for a welcoming feel. This is a kitchen where time can fly.
White Shaker-style upper wall cabinets with navy base cabinets … all hands on deck.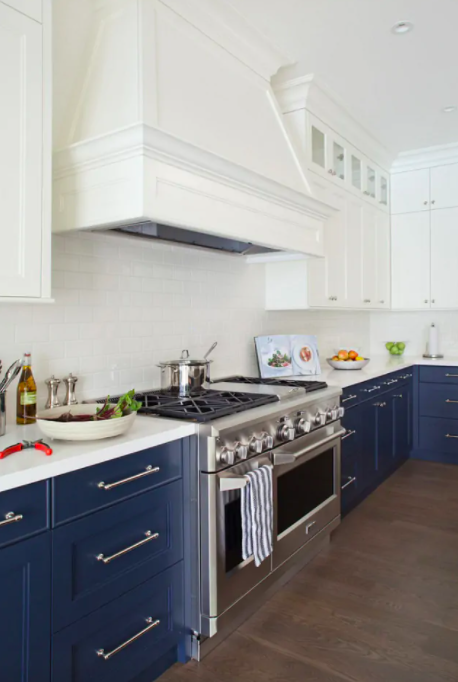 (Source https://www.homebunch.com/interior-design-ideas-93/)
This nautical kitchen theme pairs crisp white upper cabinets with deep navy base cabinets to evoke the high seas' clouds and water.
Antique white upper cabinets with a gray wood-grain island … French country warmth.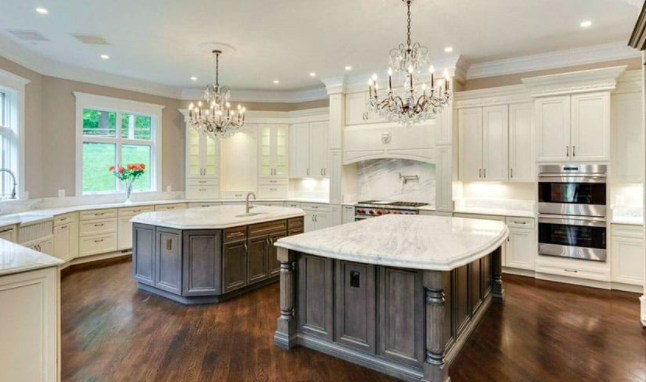 (Source https://designingidea.com/two-tone-kitchen-cabinets/)
The rustic look of the gray wood kitchen island is the perfect complement to soft antique-white Cambridge cabinets. The kitchen's warmth and romantic appeal send out a siren call for cooks and visitors to gather here.
Charcoal gray Shaker-style kitchen cabinets with a white Shaker island … a touch of luxury.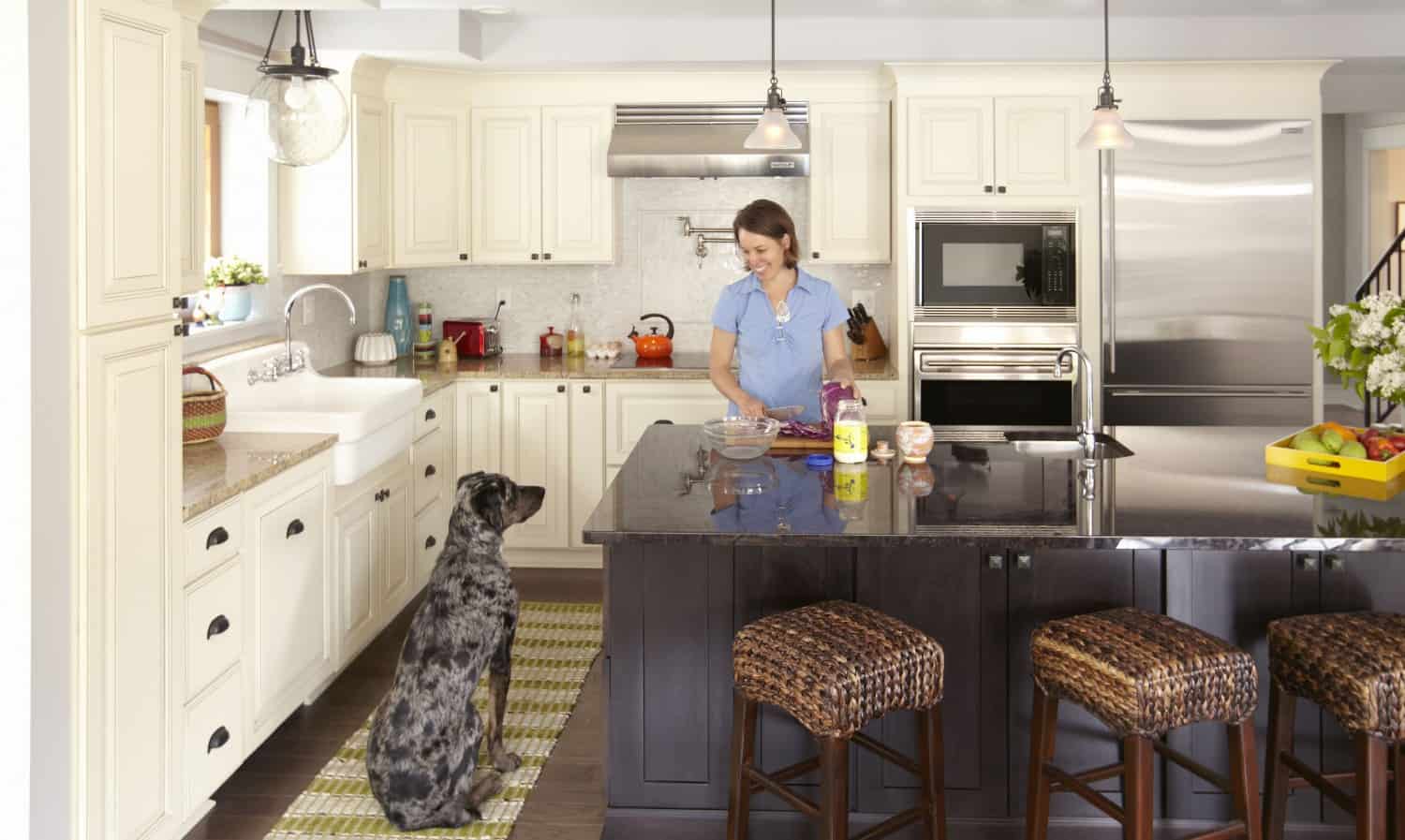 (Source https://www.trendir.com/two-tone-kitchen-cabinets/)
The elegant mix of dark gray cabinets and a white island gives this large kitchen a warm and comfortable feel that's ideal for dining and entertaining.
Frameless white upper cabinets paired with frameless light gray base cabinets … signal a super chic design sensibility.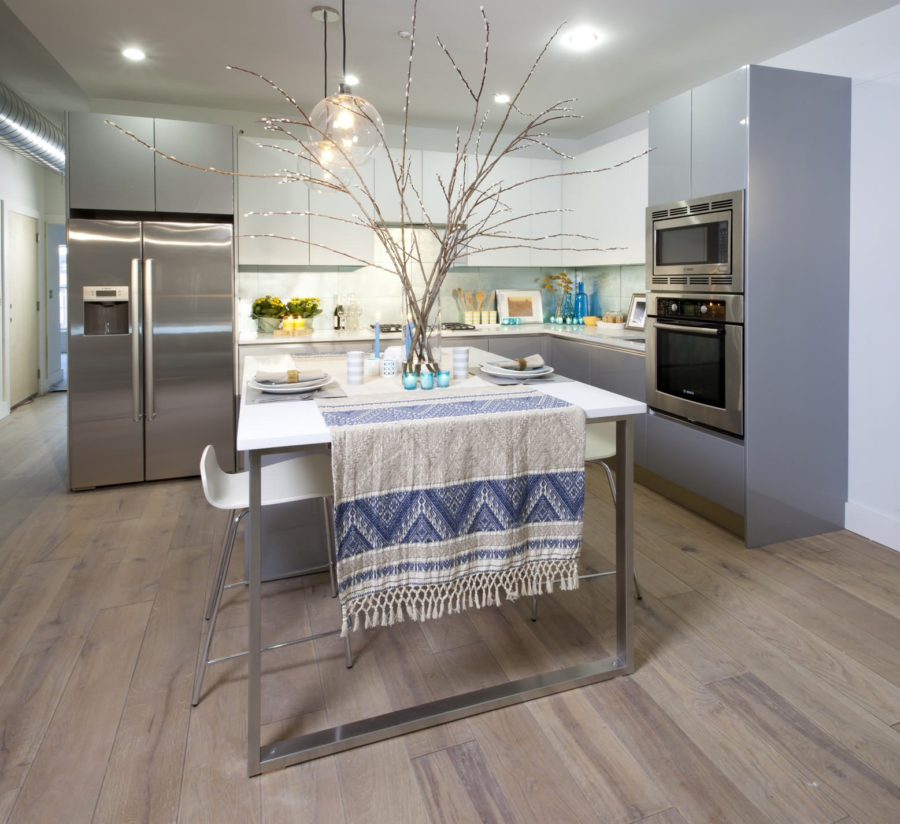 (Source https://www.trendir.com/two-tone-kitchen-cabinets/two-toned-kitchen-cabinets-pictures/)
This minimalist two-tone kitchen plays up the contrast between glossy white frameless upper cabinets and glossy gray base and tall cabinets. This chic look brings modern style to a small kitchen.
Frameless wood grain cabinets with a frameless white kitchen island … a contemporary vision.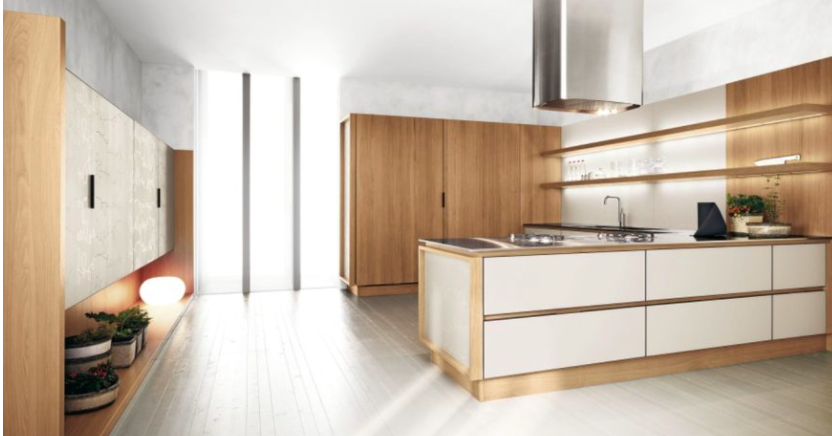 (Source https://www.trendir.com/two-tone-kitchen-cabinets/)
This warm, two-tone pairing of frameless kitchen cabinets brings a contemporary feel to this kitchen. The wood grain frameless upper cabinets bring an attractive visual dimension, while the island's white finish adds a chic accent.
Dark wood Cambridge uppers with an antique white Cambridge island … a nod to traditional sophistication.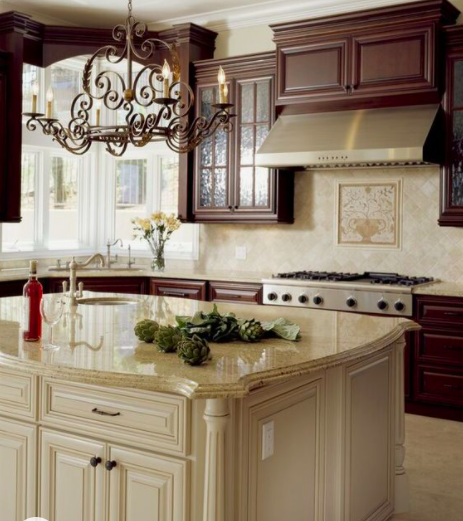 (Source http://www.kitchen-design-ideas.org/pictures-of-kitchens-traditional-two-tone-02.html)
This classy traditional kitchen shines with dark wood upper cabinets and an island in antique white —well suited to easy entertaining.
Antique-white Cambridge upper cabinets with a dark gray kitchen island … the perfect transitional style.
(Source https://www.trendir.com/two-tone-kitchen-cabinets/carlton-painted-linen-glaze-cabinets-oa-5203-e1432762424982/)
The gray kitchen island creates a contemporary feel, surrounded by more traditional antique-white cabinets. This mix of traditional and contemporary comes together for an appealing transitional style. Stainless steel appliances and high gloss granite countertop complete the look.
Ready to reinvent your client's kitchen with two-tone kitchen cabinets?
At CabinetCorp, you can browse every style of the cabinet – Shaker, Cambridge, and frameless cabinet– for both upper and base cabinets so you can help your client arrive at a custom, two-tone look they'll love. At 40% off the big box store prices, you'll love the pricing too. Not sure yet about how to tell the two-tone kitchen cabinet story? Not to worry, our expert kitchen designers can help you bring your client's dream kitchen to life.