Although many homeowners complain about tight kitchen quarters, there's much to love about a tiny kitchen when viewed through a different lens. It's worth a pause to appreciate the creativity and careful planning required to optimize a tiny kitchen. Plus, it takes less of just about everything to remodel a tiny kitchen with style – and that includes your client's investment for new cabinets. Cost-effective ready-to-assemble (RTA) cabinets from CabinetCorp make an ideal choice for a tiny kitchen overhaul.
How to make the best use of the available space in a tiny kitchen?
Tiny kitchen design revolves around building in as much storage as possible and creating the illusion of space at the same time. Keep in mind the three basic tenets: choose light colors, use every inch of vertical space, and add storage creatively.
Adding light colors to a tiny kitchen
Light colors reflect any natural light in the room to give it an open feel.
This includes light colors for kitchen cabinets. Shaker-style RTA cabinets in white, antique-white, or light grey will provide a neutral base for any kitchen style. If your client prefers frameless RTA cabinets, CabinetCorp's lighter colors of reef sand, reef coral, white prairie, or grey wilderness will work well in a tiny kitchen.
Using vertical space
Whether big or small, most kitchens fail to make good use of space above the kitchen cabinets. Upper cabinets sit at a height that is either18 or 24 inches above the countertops to leave wall space free for a decorative backsplash and accommodate small appliances. Unless you and your client specifically choose kitchen cabinets with 6 to 12 inches of additional height over standard cabinets, there will be dead space between the top of the cabinets and the ceiling.
To make the most of this space, choose taller cabinets (either 36 or 42 inches high, vs. a standard upper cabinet height of XX inches) and then build in additional shelving and storage accessories. Taller cabinets eliminate the dead space and easily house items your client doesn't use regularly or serve nicely as an overflow pantry for paper goods and kitchen utensils. Your client might consider glass cabinet doors to showcase decorative dishware.
Adding storage options
The smallest kitchen can work like a well-oiled machine when storage is approached with creativity and the right storage accessories. The secret is to find every unused space, no matter how small – between appliances and cabinets or behind the cabinet door – and convert it into a tiny pantry, spice rack, wastebasket holder, or pull-out appliance shelf.
With the addition of roll-out shelving sized for 3-, 6-, or 9-inch spaces, you can turn that empty gap between appliances and cabinets into a three-shelf pantry, kitchen utensil storage, or a place where your client can organize pans and serving trays. Forget about wasting prime cabinet space to house pots and lids horizontally. Add a glide rack to hang pots and lids vertically inside the cabinet, and you now have doubled the storage capacity. And there's still enough space for a roll-out shelf for small cookware or appliances.
You can also improve access to those deep, hard-to-reach corner cabinets with the addition of a two-tiered Lazy Susan or half-moon pull-out shelving. When you put this space to work, your client can store everything from pantry items to appliances that would otherwise take up room on the counter. CabinetCorp offers a complete range of Rev-a-shelf accessories to optimize a tiny kitchen.
Small kitchen design ideas with RTA kitchen cabinets
Here are four small kitchen design ideas to optimize the space in a tiny kitchen.
The one-wall space saver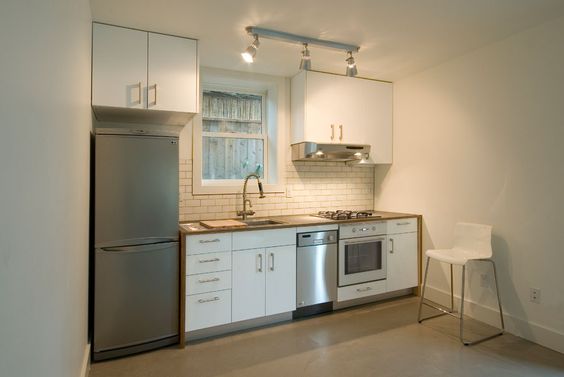 In this tiny kitchen, the single wall of cabinets and appliances features a bright white finish and stainless steel. Light reflected off cabinets and appliances creates an open feel. The upper wall cabinets use every inch of vertical space available to provide extra storage.
Minimalist small kitchen with island
Small kitchen designs can be bold and fun. This one-wall small kitchen starts with a single set of upper wall cabinets and adds a versatile kitchen island for storage and seating. The combination keeps the clutter to a minimum and includes kitchen-facing shelves on the island for more storage. Pops of contemporary color keep this design fun and light.
Small galley kitchen with ample storage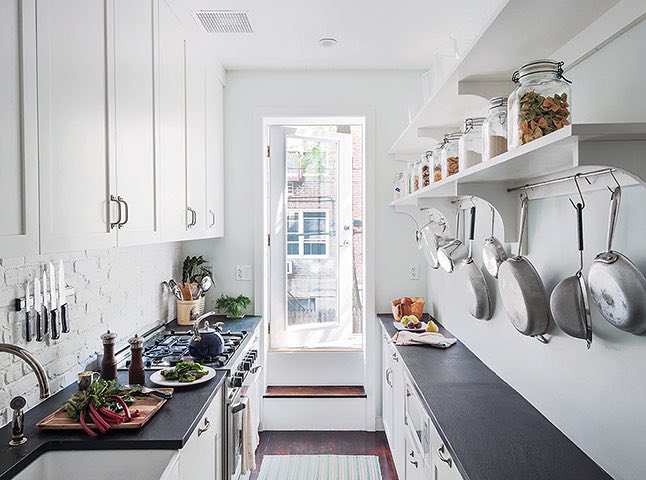 This is what it means to "go vertical" with RTA cabinets! This galley kitchen uses all available vertical space. With tall wall cabinets on one side and multiple shelving levels, every square inch of wall is put to good use.
Rev-a-shelf for any small kitchen design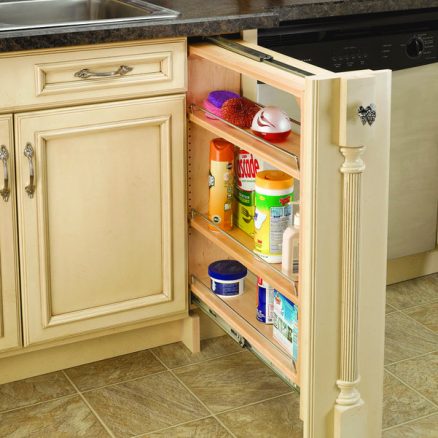 You can turn any small kitchen into an organizational showcase with Rev-a-shelf organizers. Whether there is unused space between cabinets or inside the cabinet, the right shelving system will add storage and convenience.
Are you ready to optimize a tiny kitchen with RTA cabinets?
CabinetCorp manufactures high-quality RTA cabinets at wholesale prices. for even the tiniest kitchen, bathroom, or closet and sells them online. Transform your client's small kitchen with the perfect kitchen cabinets and storage accessories. As a cabinet dealer, you can order ready-to-assemble (RTA) cabinets at prices 40% less than big box stores. Check out our dealer's kit with free door samples to elevate your next client presentation to a whole new level.