As 2020 wraps up, it's time to take a look forward to 2021 and the kitchen trends in store for kitchen contractors. Just like in years gone by, 2021 trend projections may leave some of us scratching our heads, while others will welcome colors and surfaces that create a natural, warm kitchen environment. Before we learn what's in store for kitchen cabinet colors in 2021, for context, let's revisit winning colors from the past and see how they set the stage for what's to come.
Kitchen cabinet color trends tend to change dramatically from decade to decade. However, some timeless trends keep up with all kitchen styles over time, such as white Shaker-style cabinets Shaker-style cabinets in other neutrals from dusk gray, to gray, to charcoal gray. Along with more traditional color and style paired with modern features for a transitional kitchen, the antique-white Tacoma and Cambridge cabinet styles can span many years.
Kitchen Cabinet Colors from Past Decades
Antique Home Style website goes way back to see just how far we've come from chopping down a tree to build our cabinets. Kitchens in the early 1900s were much more basic than today's kitchens. During this period, the kitchen was strictly for cooking with the functional, utilitarian cabinetry to prove it. Moving into the 1920s and 1930s, kitchen design started to break that mold, showing colorful flooring and rugs along with cabinets that were often painted in white.
Designs in the 1940s brought colors like gold, royal blue, and lavender into the kitchen. Colors then turned toward softer pastels in the 1950s, when pink, blue and yellow cabinets, and walls gained popularity. Another big look – the country kitchen – took off in 1950, with raw wood cabinets.
With the 1960s and 1970s came a new wave of colors and cabinet materials, with metal cabinets and a range of bold colors like orange and avocado green showing up. In the 1980s, wood grain cabinets came back in vogue, along with the country kitchen's resurgence. The popularity of the wood cabinet look continued into the 1990s and beyond.
Cherry cabinets and granite surfaces became top favorites before 2008, and the more modern look starting in the kitchen. 2010 re-introduced natural materials and aesthetics along with an all-white kitchen.
Today's Kitchen Cabinet Colors
Fast-forward to today's kitchen design world, and you'll see distinct styles – traditional, transitional, modern, and contemporary. These styles incorporate a mix of white Shaker cabinets or frameless cabinets, grey Shaker or frameless cabinets, and of course, wood grain with accents to complement any style.
What do the 2021 kitchen cabinet color trends have to tell us – other than more white and grey on the horizon? Plenty and some of it may surprise you.
2021 Color Trends
Houzz, a leading online platform for home design and remodeling, released their home design predictions for 2021. Along with paint companies and cabinet manufacturers like Cabinet Corp, here's what they see for kitchen cabinet trends.
A nod to warmer kitchen cabinet colors
The family of cool grey colors has evolved into "greige." This mix of grey and beige dominates the outlook for 2021 kitchen cabinet trends. Homeowners are reacting to this year's long periods cooped up indoors and look to warm colors to add comfort to their new reality. Browns are also making a comeback. While wood grain cabinets were never out of style, cabinet purchases last year being 17% wood grain. But the brown of the wood will be in addition to the taupe, beige, sand, and earth tones. White kitchen finishes are also moving to a yellow undertone, away from the bright cool tones of blue.
Color is not the only change
Kitchen contractors know that the work triangle is always the focus of a well-designed kitchen. 2020 became the year of many people in the kitchen at any given time, and no one expects that to change in the year ahead. This means it's not only a work triangle that is important to a functional kitchen.
Now, contractors, designers, and homeowners recognize that a multi-zone kitchen is the new design standard. This means areas for food prep, cooking, and cleaning – in addition to flexible space for work, homework, and snacks—a true multi-function kitchen.
The lighting just got a little brighter
Designers have always helped homeowners focus on the right lighting mix: ambient lighting for the whole room, pendant and task lighting for work areas, and accent lighting under cabinets. Now swing-arm fixtures and sconce lighting add flexibility to lighting design, used for both ambient and task lighting to add style and beauty to the kitchen.
What do these trends mean for the homeowner planning a kitchen remodel in 2021?
White kitchen cabinets remain high on the list of all-time favorites, but in general, expect to see a trend to warmer colors in the kitchen.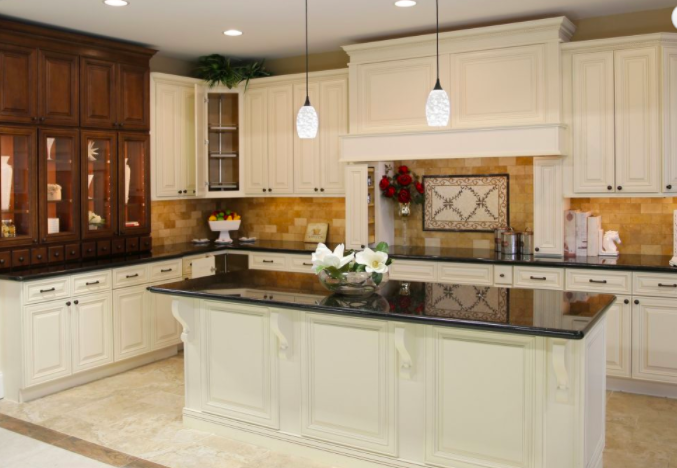 Greige kitchens will be everywhere in 2021, a nod to homeowners looking for comfort and neutral colors at the same time.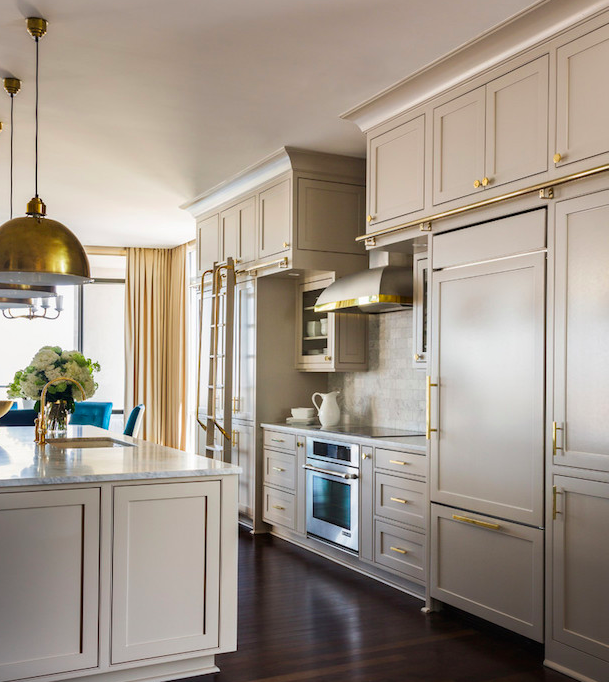 (Source https://www.decorpad.com/designers/Tobi-Fairley)
There's still a place for grey kitchen cabinets. Look for designs that bring in warmer tones around grey cabinets, or use a dark charcoal look for a natural neutral.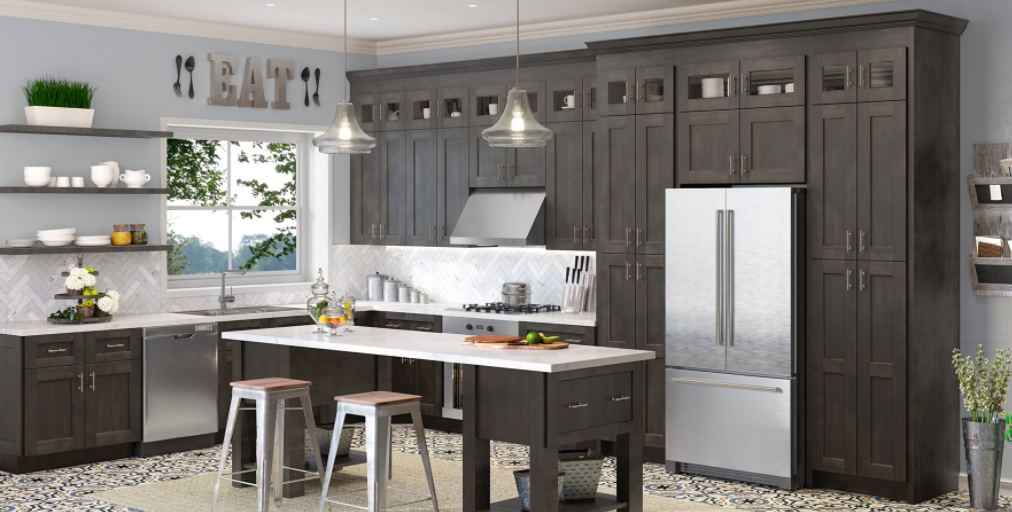 Expect to see a lot of sage green as a color choice in 2021. This 2020 favorite for decor and wall color is now a popular color for base cabinets and kitchen islands.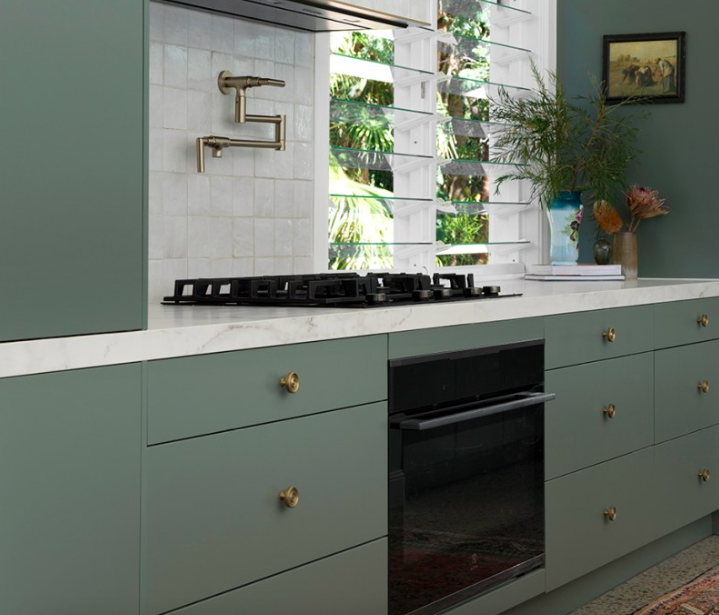 (Source PHOTOGRAPHY BY MINDI COOKE; DESIGN BY CEDAR + SUEDE)
You can have confidence that black and dark brown are neutrals that will stand the test of time. Don't worry about the tuxedo kitchen or dark brown modern kitchen you installed last year; it will still hold its value for the homeowner.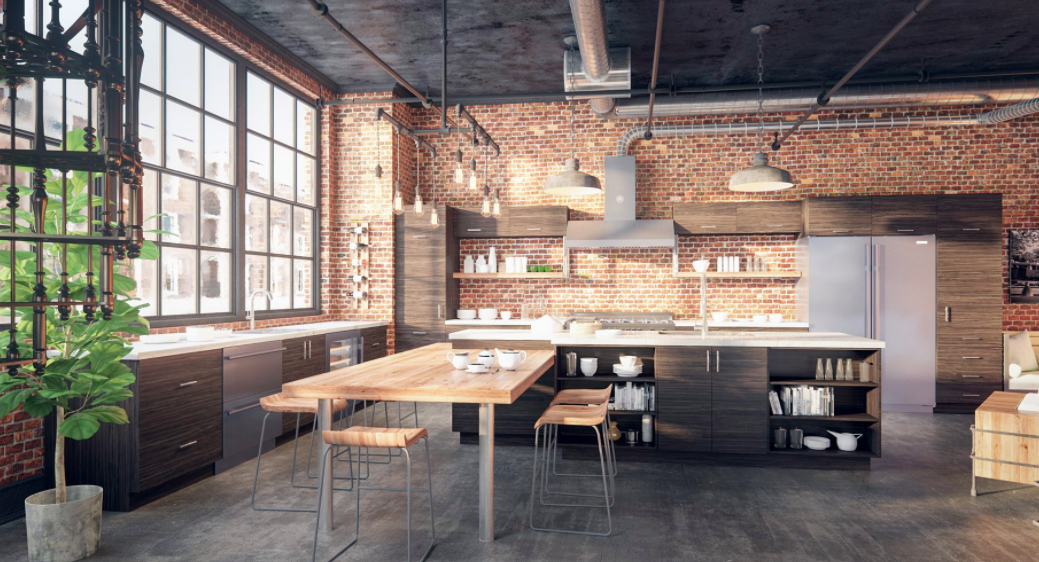 Help Homeowners Remodel Their Kitchen Cabinets with the Best Trends of 2021
Cabinet Corp's expert kitchen cabinet designers can help you transform your client's kitchen of today into their dream kitchen. As a contractor, you can help homeowners choose from a gallery of the latest kitchen cabinet styles and colors that will look good and hold value for many years to come. Find out how you can offer great cabinet deals to your clients and boost your bottom line when you become a cabinet dealer with CabinetCorp.