A U-shaped kitchen can be remarkably efficient, safe, and beautiful. This floor plan allows for plenty of storage and functional workspace, even in the smallest kitchens. Plus, there's no need to accommodate flow-through traffic, unlike a galley or L-shaped kitchen. The main constraint of a U-shaped kitchen is that it works well for just one cook at a time. As a kitchen contractor, you have a few design tricks in your toolkit to optimize a U-shaped kitchen for a result your clients will love.
What is a U-shaped kitchen layout?
The U-shaped kitchen layout consists of three adjoining walls of cabinetry and work surfaces, with one open end for access from the dining or family room. A U-shaped kitchen resembles a galley kitchen because it has two parallel cabinet runs parallel and includes a third set of cabinets that closes off one end of the room. The U-shaped kitchen is built for efficiency and functionality with all of the working areas within a 3 step radius and all of the storage within easy grasp.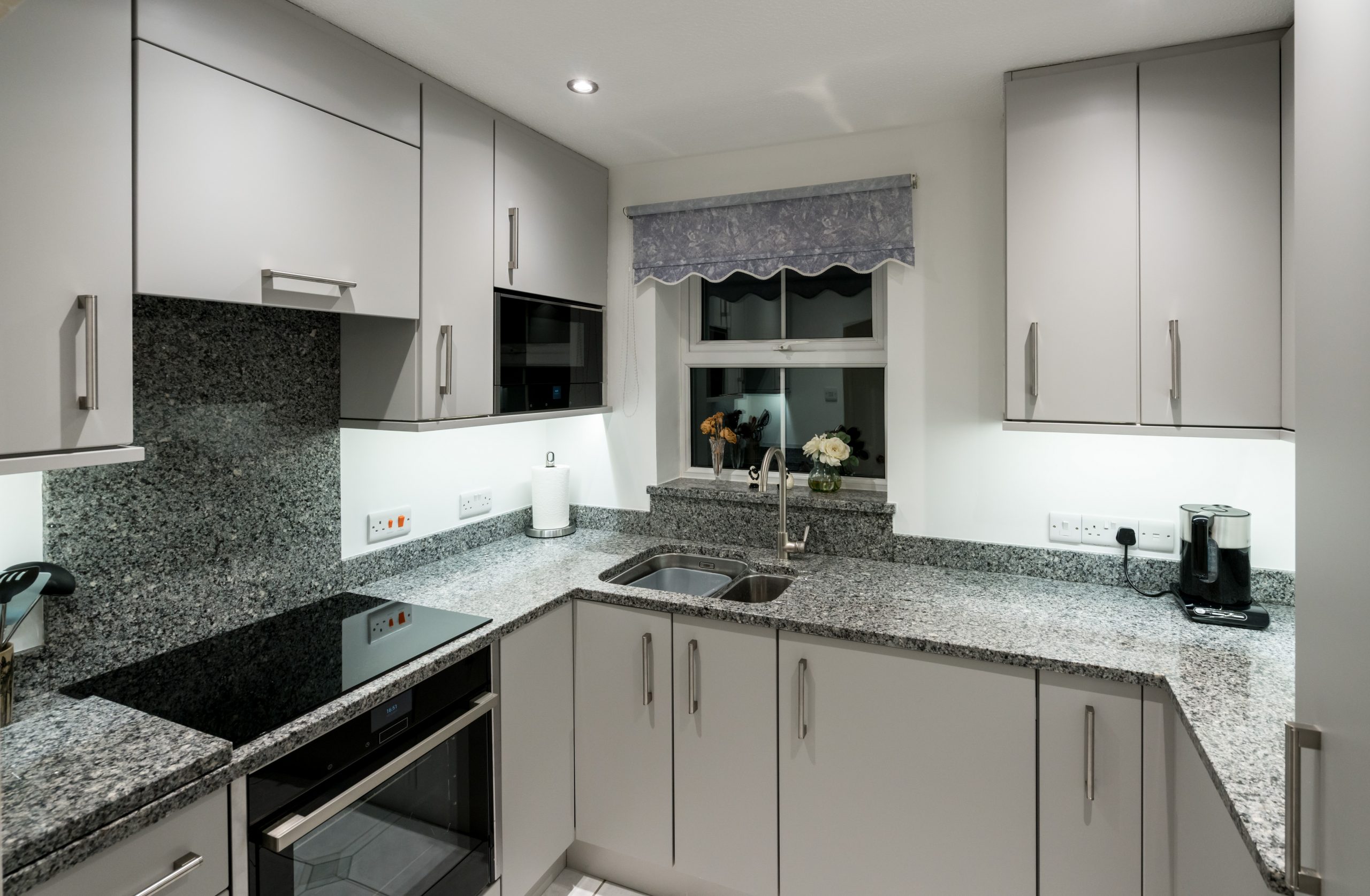 In a small U-shaped kitchen, you are already set up with an efficient work triangle as all appliances and work areas are just 2-3 steps apart. In a larger U-shaped kitchen layout, however, there may be too much space between work areas; if that's the case, you'll need additional cabinetry to increase efficiency.
Benefits of a U-shaped kitchen
A U-shaped kitchen has the ideal work triangle built right into the design. While the space between appliances, the sink, and the prep area will depend on the kitchen's size, you can improve any U-shaped kitchen design with the right mix of RTA cabinets and storage accessories.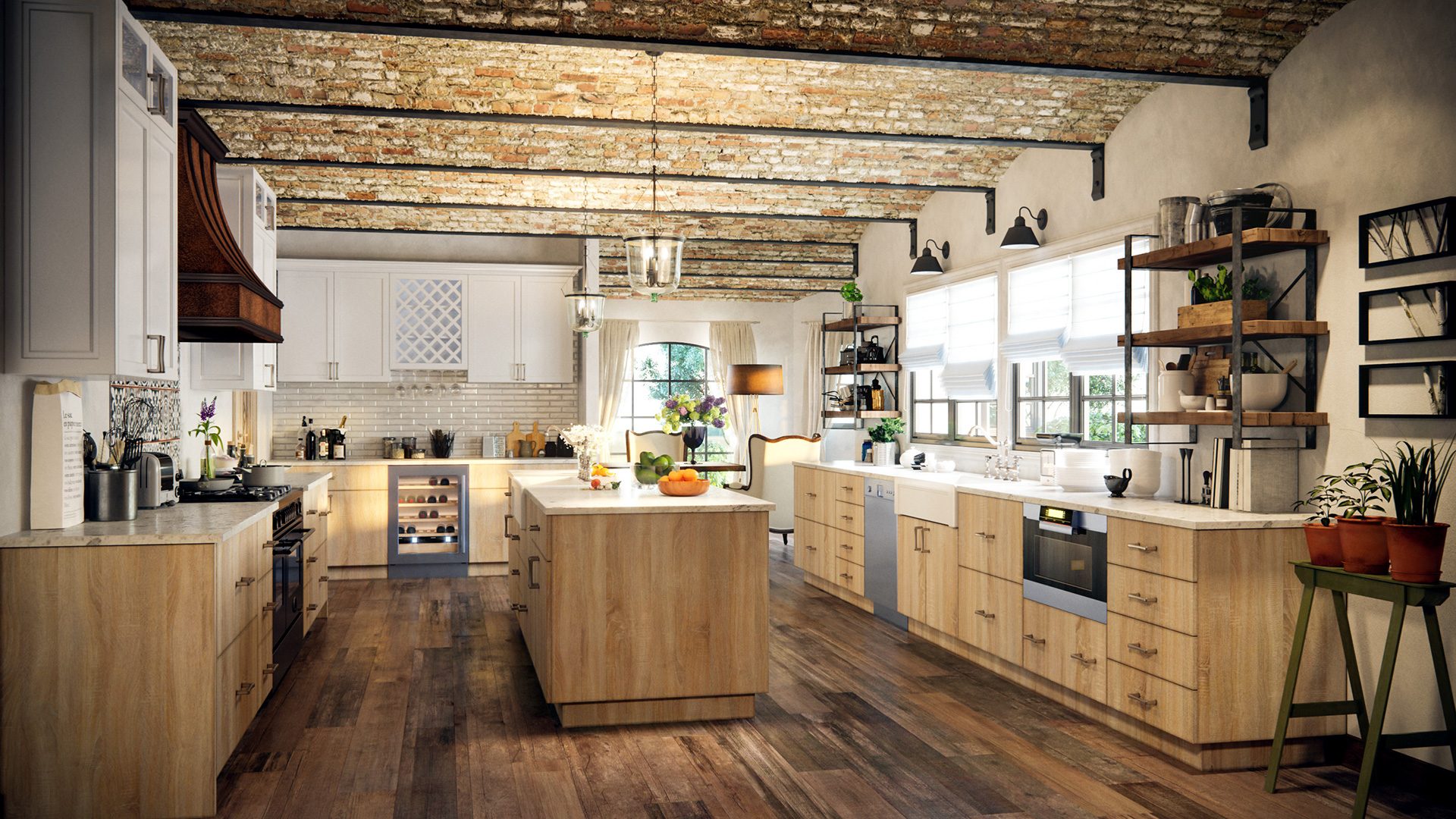 The U-shape layout works best when you customize the cabinet sizes rather than trying to fit stock cabinets from a big box store. You can save money for your client by purchasing RTA cabinets available in a greater range of sizes than you find for stock cabinets. With more choices, you can optimize storage capacity and efficiency according to your client's preferences. And only buy the cabinets and accessories you need for your client's kitchen.
While a U-shaped kitchen naturally offers a lot of storage, this storage becomes more accessible – and therefore useful – with the addition of cabinet storage accessories. Consider pullout cabinets for small spaces and rollout shelves (instead of permanently fixed shelves) in hard-to-reach areas. Improve the utility of a corner cabinet with moon-shaped shelving solutions or a two-tiered Lazy Susan.
Here are 10 Design Ideas to Optimize A U-Shaped Kitchen
First, look at the total footprint of your client's kitchen. Some ideas suit a large U-shaped kitchen better than a small one. With total available square footage in mind, you can help your client explore different U-shaped kitchen options to arrive at their dream kitchen design.
1) Maximize natural light with white Shaker cabinets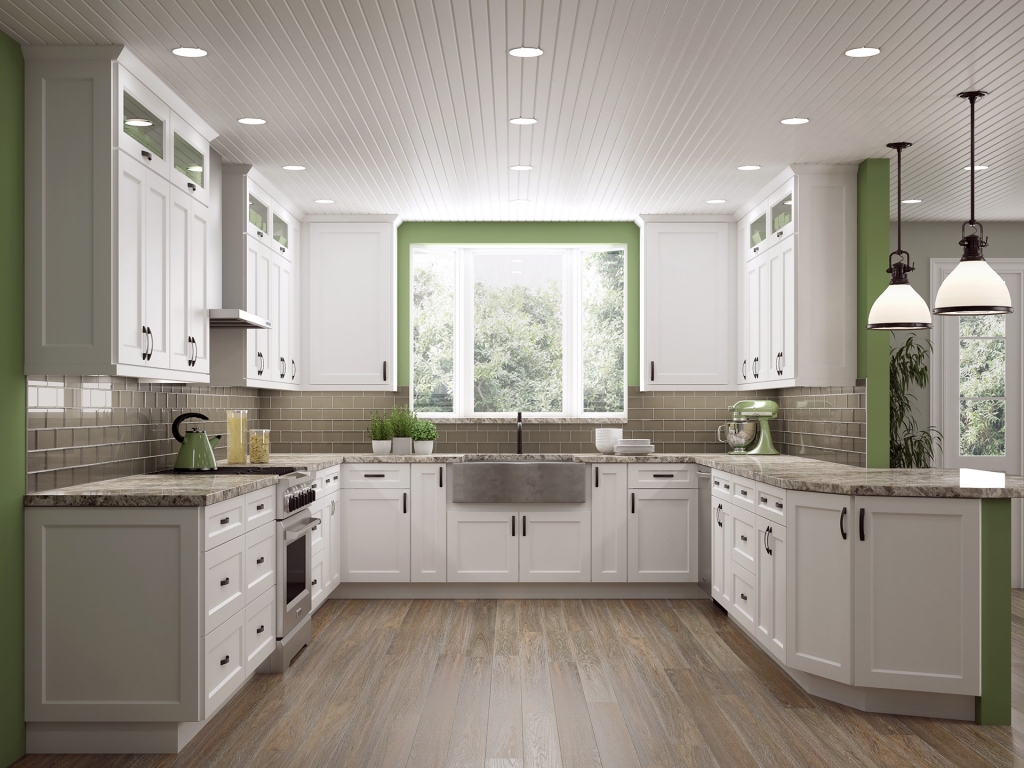 Due to the placement of windows, appliances, and cabinets in a U-shaped kitchen design, they are often bright. White Shaker cabinets for the upper wall cabinets will pick up and reflect the available light. In a small kitchen, white cabinets add the illusion of more space; in a large kitchen, white cabinets create an open, airy feel.
 2) Carefully position the sink and cooktop
A typical U-shaped kitchen features the sink in the middle of one cabinet run. The stove and refrigerator fit in the other two cabinet runs. In a small U-shaped kitchen, the sink is often in the longest set of cabinets. The deliberate spacing of the sink and cooktop, especially a small U-shaped kitchen, ensures that the homeowner has plenty of countertop work area.
3) Enhance visual interest with two-tone cabinets
The two-tone kitchen trend works well in a U-shaped kitchen layout. To make the most of the light in the room, consider white Shaker cabinets for the upper cabinets. Grey Shaker cabinets for the base cabinets, however, can provide dark contrast.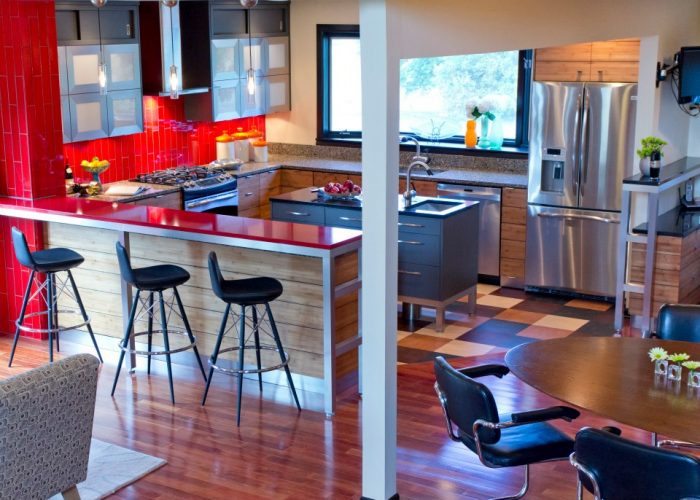 Or choose gray Shaker cabinets throughout the kitchen and bring in a white granite or quartz countertop for a reflective surface that maximizes light. Shaker cabinets with simple white and grey finishes create a relaxing space for preparing meals, dining, and entertaining in a small U-shaped kitchen.
4) Give the layout some symmetry
When the U-shaped kitchen design emphasizes a balanced look, it allows for relaxation and stress relief even in the busiest kitchen. Symmetry makes our minds happy. A balanced cabinet layout places each appliance at the midpoint of a cabinet run, with complementary storage, pantry, and tall cabinets lined up in a symmetrical design.
5) Hide the appliances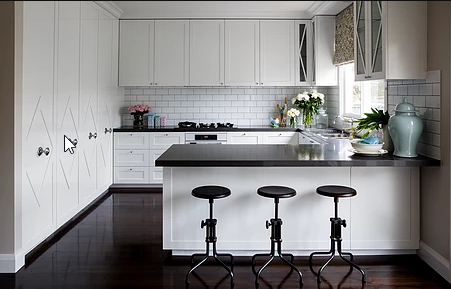 Large, open-concept U-shaped kitchens often flow into the living and dining rooms. If this is the case, you want to avoid site lines into the kitchen that lead directly to an appliance instead of the kitchen area as a whole. Look for opportunities to conceal appliances behind cabinet door fronts. This allows the homeowner to showcase the cabinet's look and style without unattractive appliance clutter.
6) Maximize efficiency in the workspace
In a well-planned U-shaped kitchen design, the cook only needs to take 2-3 steps between cabinets, work area, and appliances – this makes the kitchen both efficient and safe, especially during cooking. Help your client plan a layout that puts food prep, cleanup, and food supplies close at hand.
7) Add dining and seating with a peninsula
In a small U-shaped kitchen, there may not be space for a separate dining table. When you design the kitchen to incorporate a peninsula for seating and dining along one cabinet run, the room's function improves. Consider removing upper wall cabinets to create a peninsula countertop with open space. With a broader countertop, there's now an area for bar stools. In larger open-concept kitchens, a peninsula can visually separate the kitchen and the living area while adding space for seating and entertaining.
8) Add a kitchen island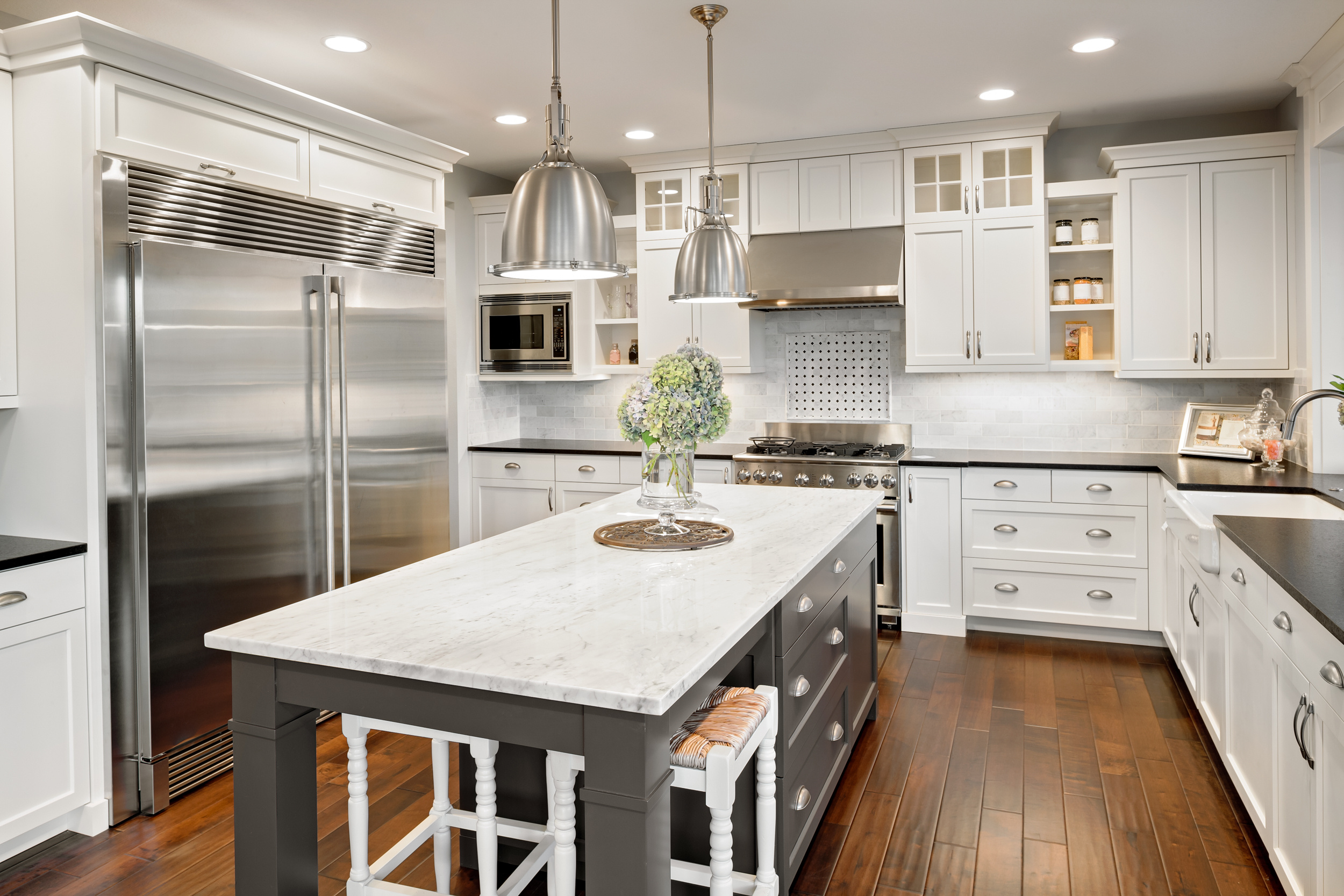 A kitchen island works well in a larger U-shaped kitchen design. As a rule of thumb, a kitchen island requires at least 3 feet of a walkway on all sides. To adequately accommodate an island, the kitchen would need to be 14 feet wide; cabinets typically extend 2 feet from the wall, and an island usually has a depth of 3 to 4 feet. A white Shaker kitchen island creates separation between rooms and provides seating and storage.
9) Be flexible with your U-shape kitchen design
The U-shaped kitchen offers plenty of design flexibility – take advantage of it. With so many choices available, from tall cabinets to peninsulas, islands, and various storage accessories, there are numerous design possibilities. When you work with RTA Shaker cabinets, you have even more options to customize your client's kitchen to suit their lifestyle.
10) Select a cabinet style that makes the most of the U-shaped layout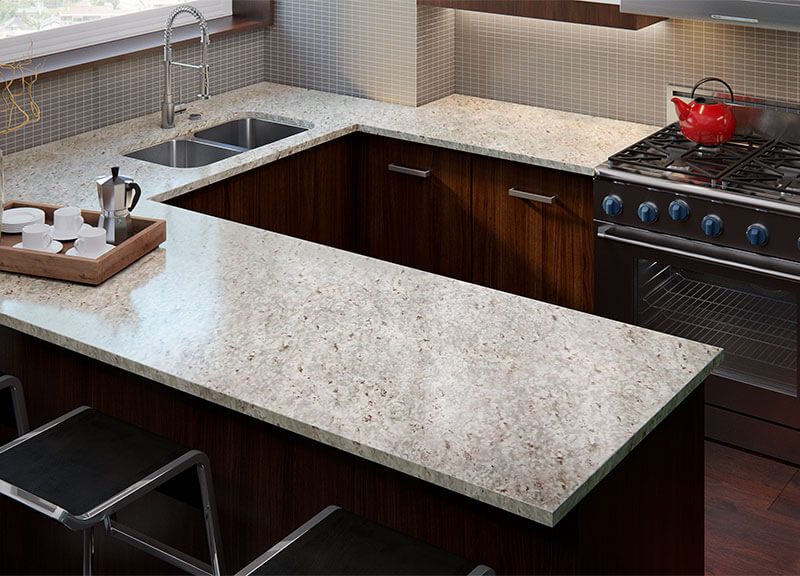 Installing the right style of cabinet in a U-shaped kitchen will help optimize the function without sacrificing the look. Kitchen designers often recommend Shaker cabinets for large and small kitchens because they are versatile and fit into any home style and decor. Homeowners can upgrade the cabinets with a special hardware or bring in other kitchen design elements to be the room's focal point.
Optimize a U-shaped kitchen with CabinetCorp RTA Cabinets
You have a broad range of options when remodeling a U-shaped kitchen. Cabinet Corp's team of expert kitchen designers can help you create the perfect U-shaped kitchen layout. Browse our RTA Kitchen cabinets collection today to find the perfect look for your client's new kitchen.