White kitchen cabinets are a timeless choice, popular among homeowners because the bright, clean look can adapt to a wide range of style preferences. Whether your clients have selected frameless smooth-front white cabinets or white Shaker-style cabinets, their choice of hardware will help set the tone in the room. If they are looking for elegance and luxury in the kitchen, gold is the answer – even white Shaker-style kitchen cabinets take on a high-end look with the right gold hardware.
The pairing of white cabinets and gold hardware can be beautiful and striking in any home. The pair can easily be updated for a new contemporary look or toned down for a more traditional kitchen. The mix of white kitchen cabinets and gold hardware provides versatility and creativity for the personality and style of your client's kitchen.
Here are nine combinations of white and gold kitchen design ideas your clients will love.
1. Traditional gold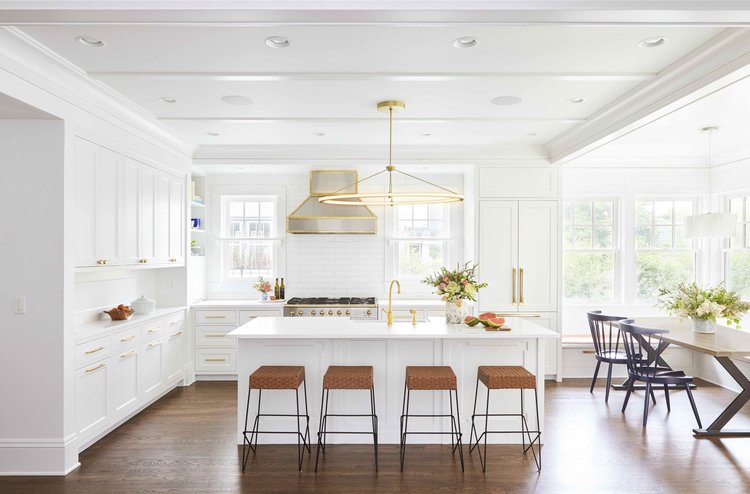 Source – https://brooke-voss-cxzz.squarespace.com/work/#/white-farmhouse/
Traditional gold hardware offers a "yellow" undertone. This is the default gold color that comes to mind when we think about gold. This kitchen presents an expansive white canvas for polished gold accents in both hardware and lighting.
2. Brushed gold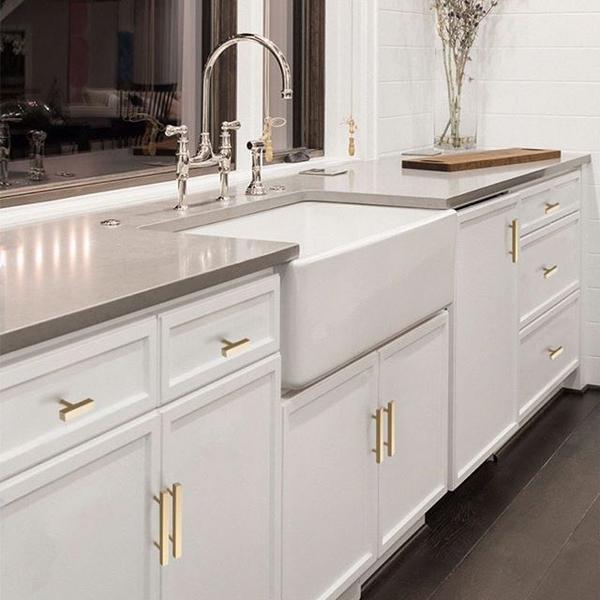 Source – https://faucetlist.com/blogs/buying-guides/modern-brushed-gold-finishes-for-your-2019-kitchen-bath
The brushed gold hardware on these white kitchen cabinets echoes the antique gold light fixtures but adds a contemporary twist. The muted shine of brushed gold adds a layer of sophistication.
3. Matte gold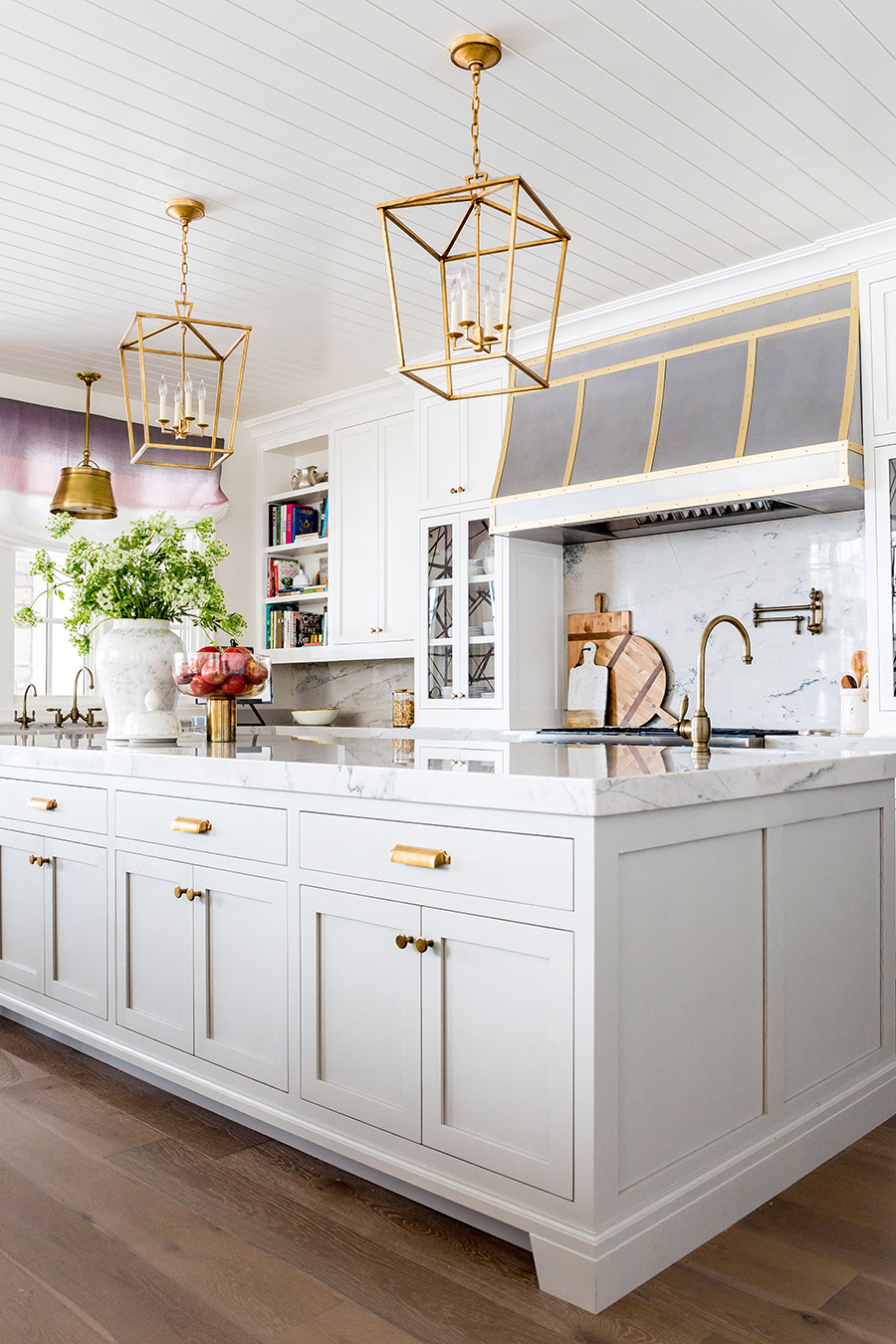 Source – www.livingaftermidnight.com
Matte gold hardware in this white kitchen warms up the bright white cabinets. The contemporary style of the matte gold handles and pulls add a layer of elegance to this transitional kitchen style.
4. Rose gold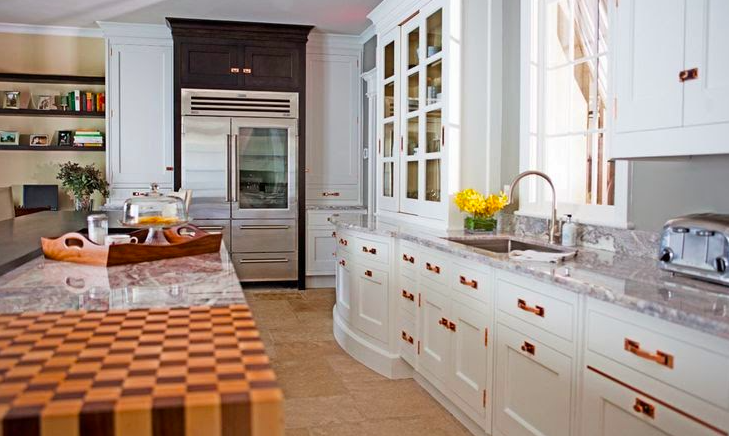 Rose gold is a few degrees cooler than yellow gold. Rose gold hardware works beautifully when paired with cool all-white cabinets to add a pop of color. Unlike other shiny golds, rose gold looks good adjacent to stainless steel appliances.
5. Golden champagne copper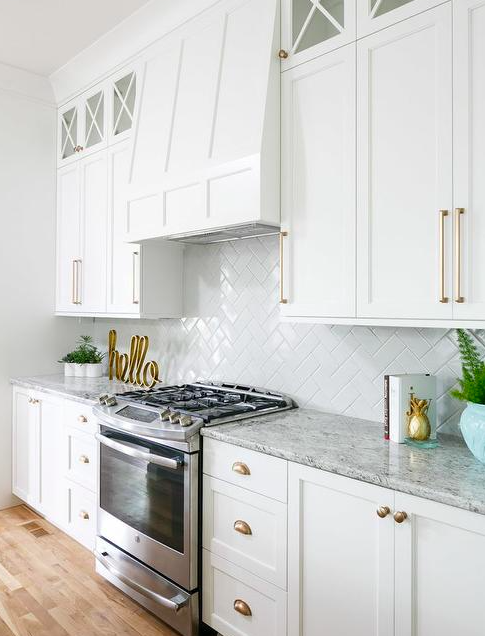 Source – http://artisansignaturehomes.com/
This champagne copper hardware warms up a kitchen with white Shaker-style cabinets. The champagne copper brings in a hint of pink, less brassy than traditional gold. This hardware is perfect for traditional, transitional, and contemporary kitchens.
Other metallics that add a "golden" look
6. Pewter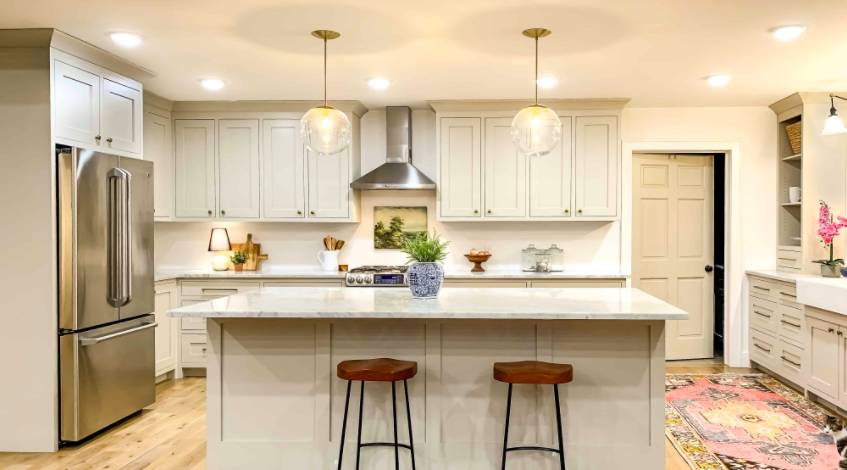 Source – https://www.paintedbykaylapayne.com/
This warm and welcoming white Shaker kitchen features pewter hardware with a subtle gold-tone. Pewter involves a blend of tin, silver, copper, and gold base colors that complements rather than clash with the room's stainless appliances and range hood. Pewter allows homeowners to mix and match both cool and warm decorative accents.
7. Antique brass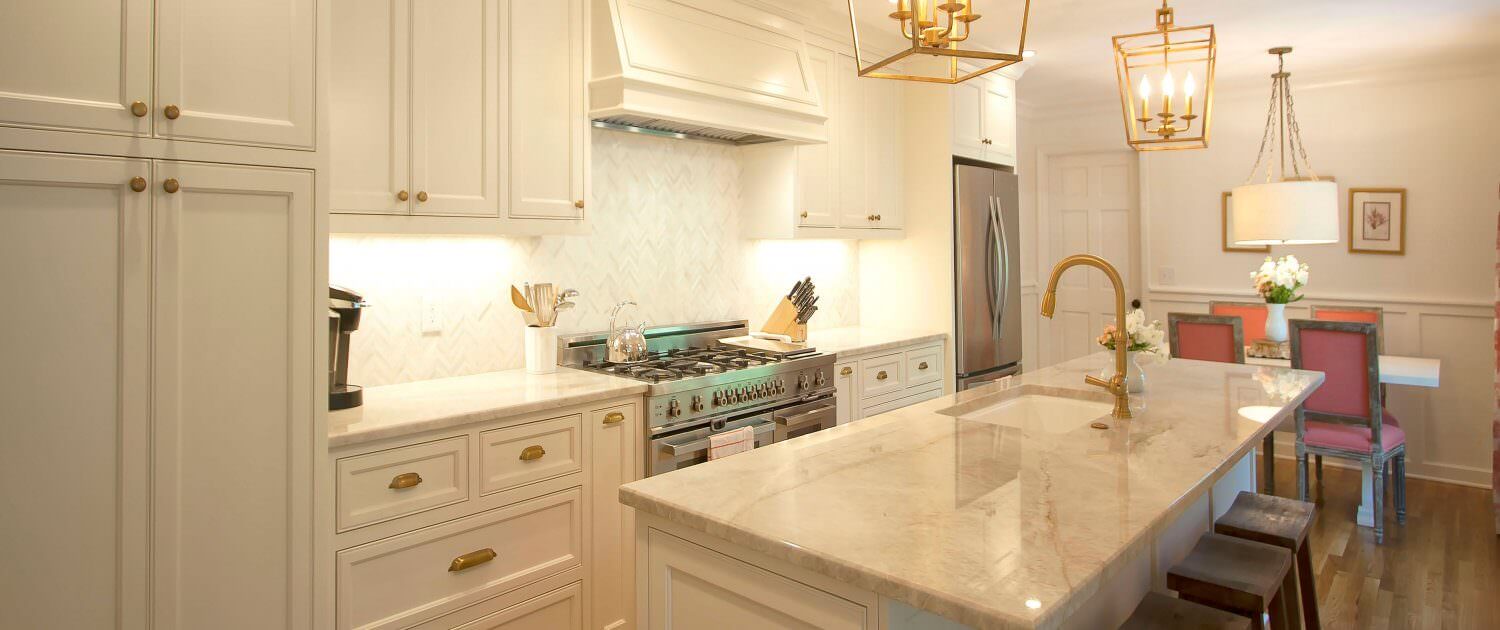 Source – https://walkerwoodworking.com/white-custom-kitchen-cabinets
Antique brass hardware brings an appealing vintage note to any kitchen. The brass's heavy "gold" coloring picks up other warm accents in the room to create a warm and inviting ambiance in this transitional-style kitchen.
8. Bronze with gold highlights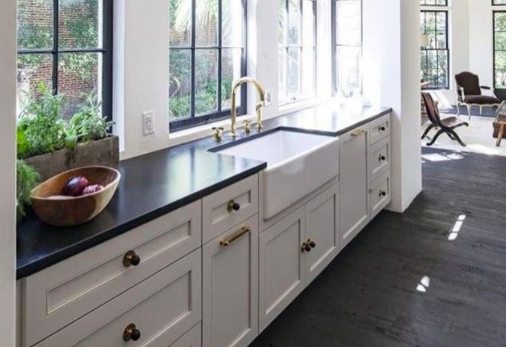 Source –  https://www.pinterest.com/reginacrodrigue/_saved/
This galley kitchen features bronze hardware and white cabinets. The gold highlights on the bronze hardware pick up the faucet's gold finish and add dimension and visual interest to the cabinet fronts.
9. White hardware with gold highlights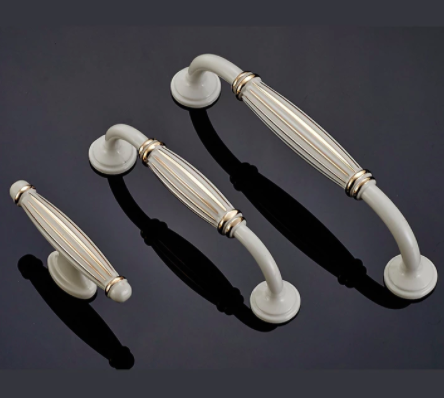 Another path to white and gold in the kitchen is hardware that mixes the two. This unique hardware brings a welcome – but not overwhelming – touch of gold to all-white Shaker cabinets for a sophisticated contemporary look.
The enduring versatility of white kitchen cabinets makes them easy to upgrade with any shade of gold hardware. Whether your clients want a fully remodeled kitchen or a high-impact update, gold hardware can make the kitchen feel new and contemporary.
Give your clients' white cabinets a facelift with gold hardware.
Cabinet Corp carries nine cabinet lines in various white shades and finishes, including warm and cool tones and glossy or matte finishes. With an understanding of your client's style direction in mind, browse our cabinet gallery and preview our selection of gold hardware for ideas to update your client's kitchen. Cabinet Corp's expert kitchen cabinet designers can help you transform your client's kitchen into their dream space for cooking, dining, and entertaining.
Find out how you can offer your clients great cabinet deals and boost your bottom line when you become a cabinet dealer. As a Cabinet Corp dealer, you'll have access to wholesale cabinet pricing that can save 40% off retail store prices.