When it comes to timeless kitchen styles, you and your client can't go wrong with Shaker cabinets. Whether your client leans toward white and its endless possibilities or prefers more subtle gray tones, Shaker cabinets make a versatile style choice. Shaker style works well for transitional, contemporary, modern, or traditional kitchens.
Shaker-style kitchen cabinets have been popular since the mid-18th century when the Shakers started building their high-quality, simple, clean-lined furniture for their homes. The craftsmanship and versatility caught on and have only evolved into the contemporary and minimalist designs we see in kitchens today.
What are Shaker-style kitchen cabinets?
Shaker style emphasizes simplicity and functionality. The result is cabinetry with a minimalist style, produced with the quality craftsmanship that's a hallmark of all CabinetCorp cabinets. Shaker-style cabinets feature a flat center panel and square edges with minimal detailing. You can expect a practical design with clean, symmetrical lines and little or no decorative embellishment in a Shaker kitchen.
Why are Shaker cabinets so popular?
The understated elegance of Shaker-style cabinets explains their ongoing popularity – they are functional, durable, versatile, and look beautiful in various design environments.
Why are Shaker cabinets an ideal choice for any kitchen?
Clean lines and lack of embellishment ensure that the simple design of Shaker cabinets fits well with any kitchen design style, from modern to rustic. CabinetCorp offers Shaker cabinets in colors that include various whites, gray, black, and wood tones. The use of blue and green for Shaker cabinets are also trending in the latest kitchen designs.
15 Shaker cabinet ideas for your kitchen remodeling project
1.Timeless Shaker-style kitchen
A Shaker-style kitchen installed 20 years ago can look as modern, clean, and inviting as one of today's brand-new kitchens. Shaker-style cabinets are the main style of framed cabinets used in American design and construction.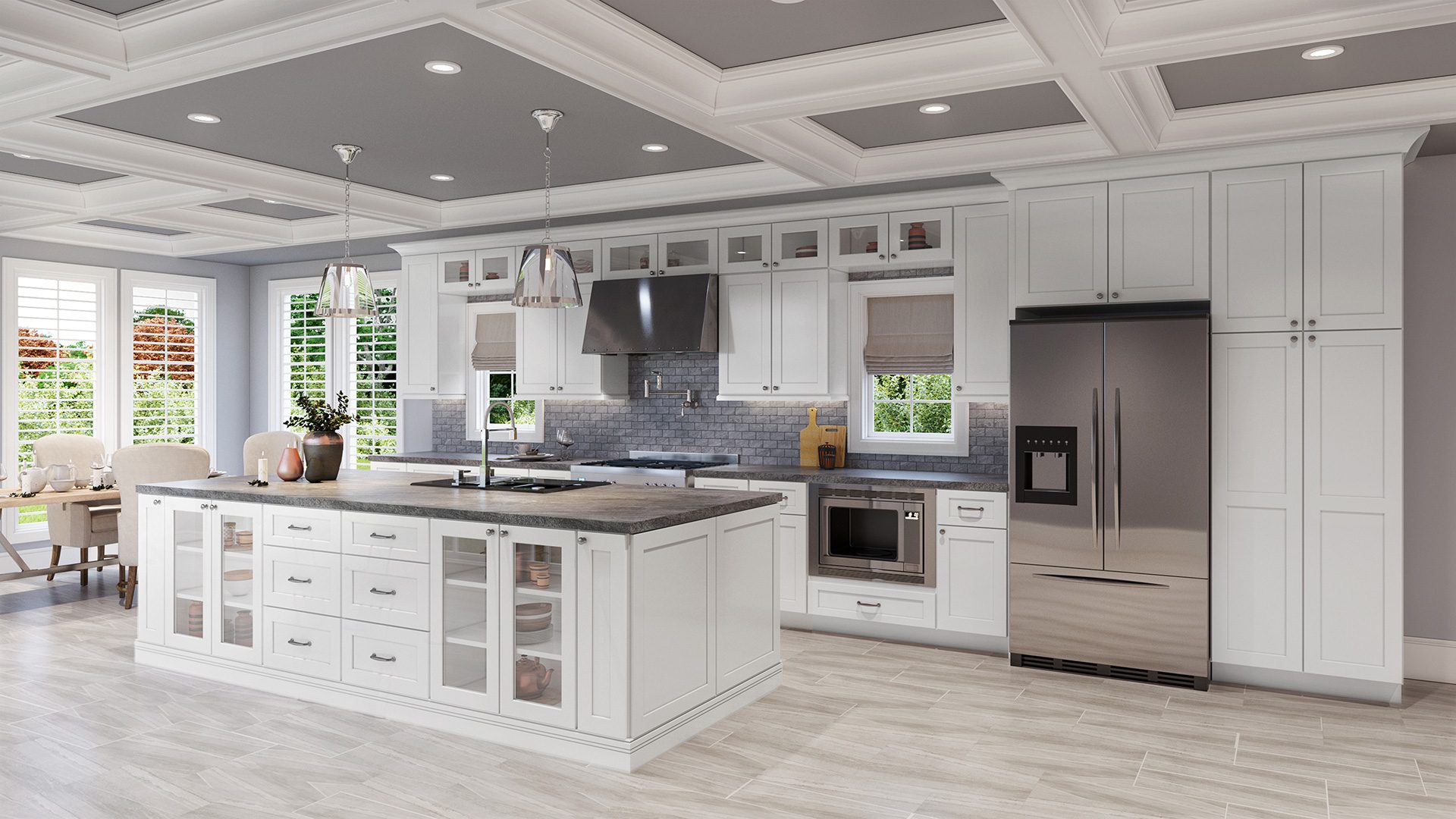 This white kitchen design pairs white Shaker cabinets with white and gray granite countertops and stainless steel appliances.
2. Modern white Shaker cabinets
White Shaker cabinets make a natural choice for modern kitchens. The clean lines work well alongside the most modern touches, like smart appliances, contemporary artwork, and decorative accents.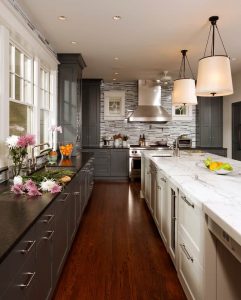 This luxury home interior boasts a beautiful gray and white kitchen with Shaker cabinets in white and gray.
3. Cost-effective Shaker style
Shaker-style cabinetry may cost less per unit than other cabinet styles that feature elaborate millwork.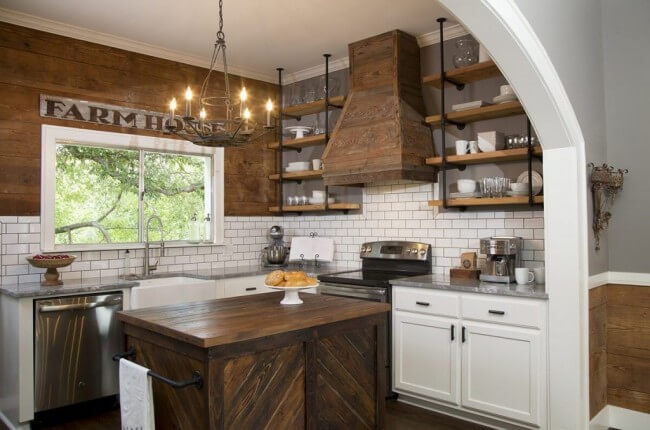 This farmhouse-style kitchen features white shaker cabinets with granite countertops, subway tile backsplash, and a butcher block kitchen island.
4. Easy-to-clean kitchen with Shaker style
Ornate, embellished kitchen cabinets look beautiful but can turn into a cleaning nightmare. Shaker-style kitchen cabinets' simple lines mean they attract less grime and dust, making them easy to clean and maintain.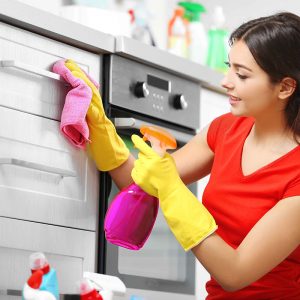 Easy-to-clean white Shaker cabinets require only mild cleaners and water.
5. Simple, calming design
The simplicity of Shaker-style kitchen cabinets creates visual calm. If your goal is to create a low-stress home environment, a white Shaker kitchen cabinet design may be the right choice.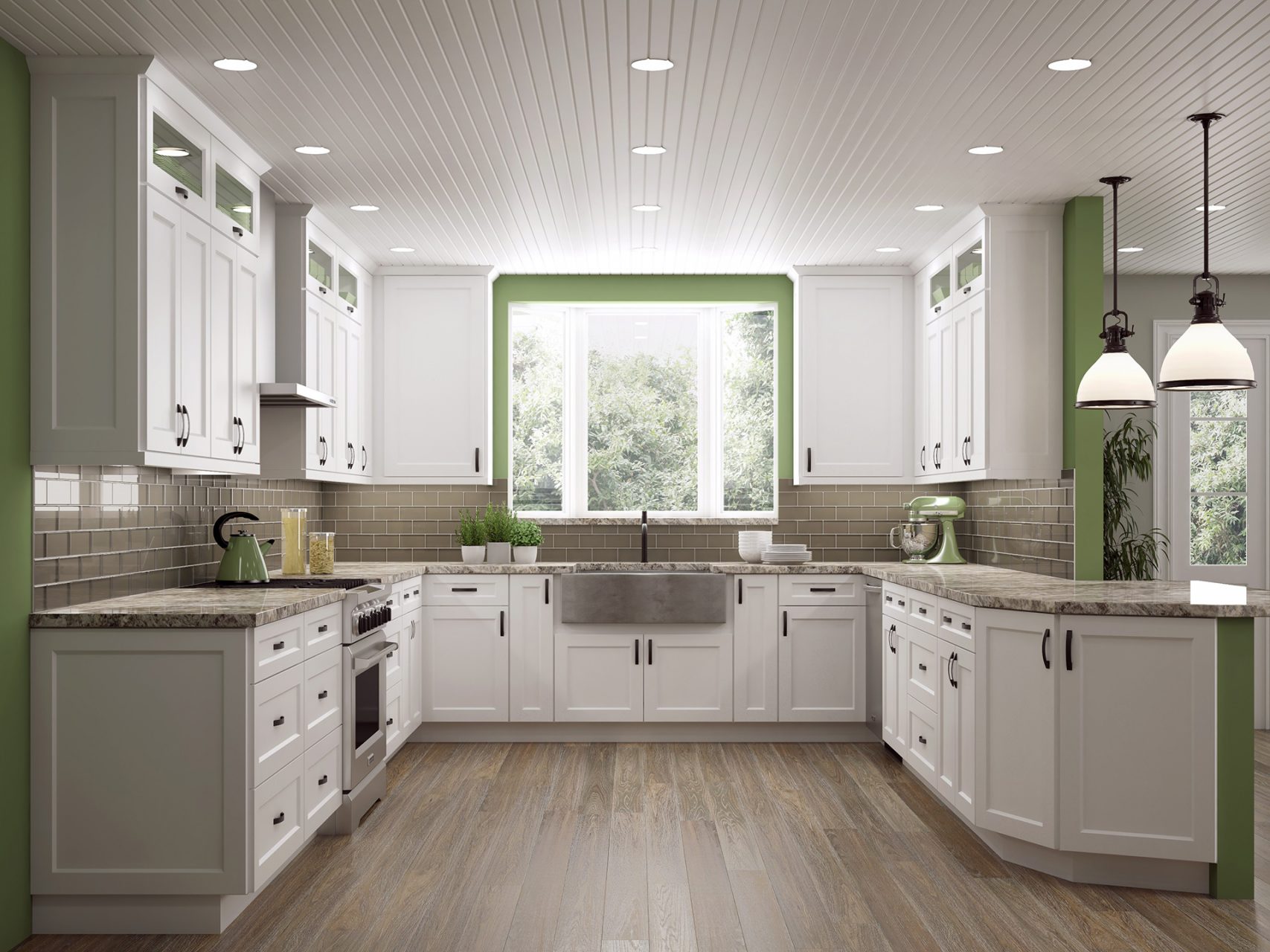 Open counter space and white Shaker cabinets bring bright airiness and a calming feel to the kitchen.
6. Vertical lines add height
Shaker-style cabinets feature solid, flat cabinet doors with border trim in the same material and color. This simple trim style creates the illusion of height to make the kitchen seem larger.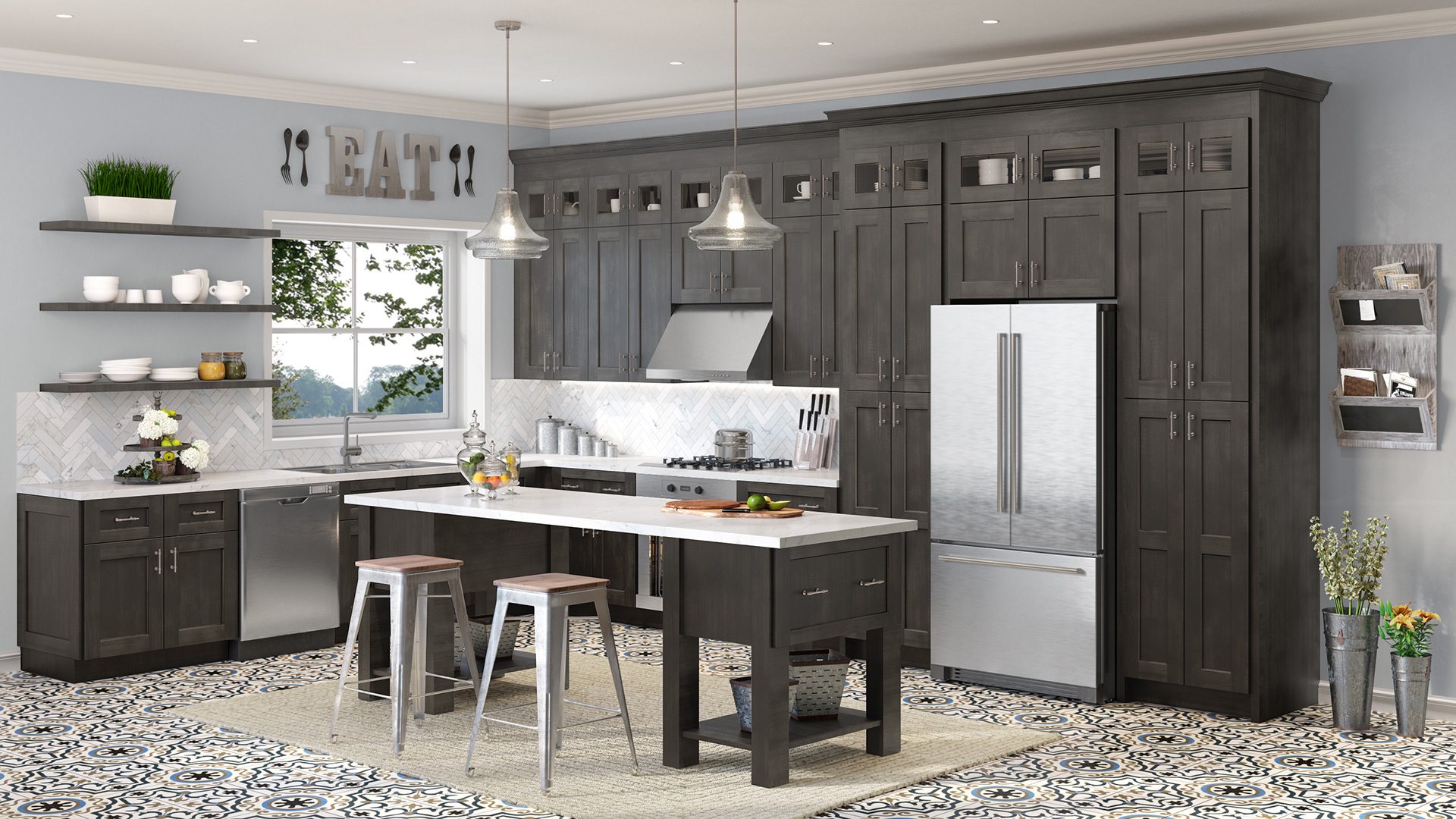 This home interior showcases a bold, contemporary gray kitchen with gray shaker cabinets.
7. Shaker cabinets for a classic kitchen
Many kitchen cabinet designs use the classic look of Shaker cabinets as a template.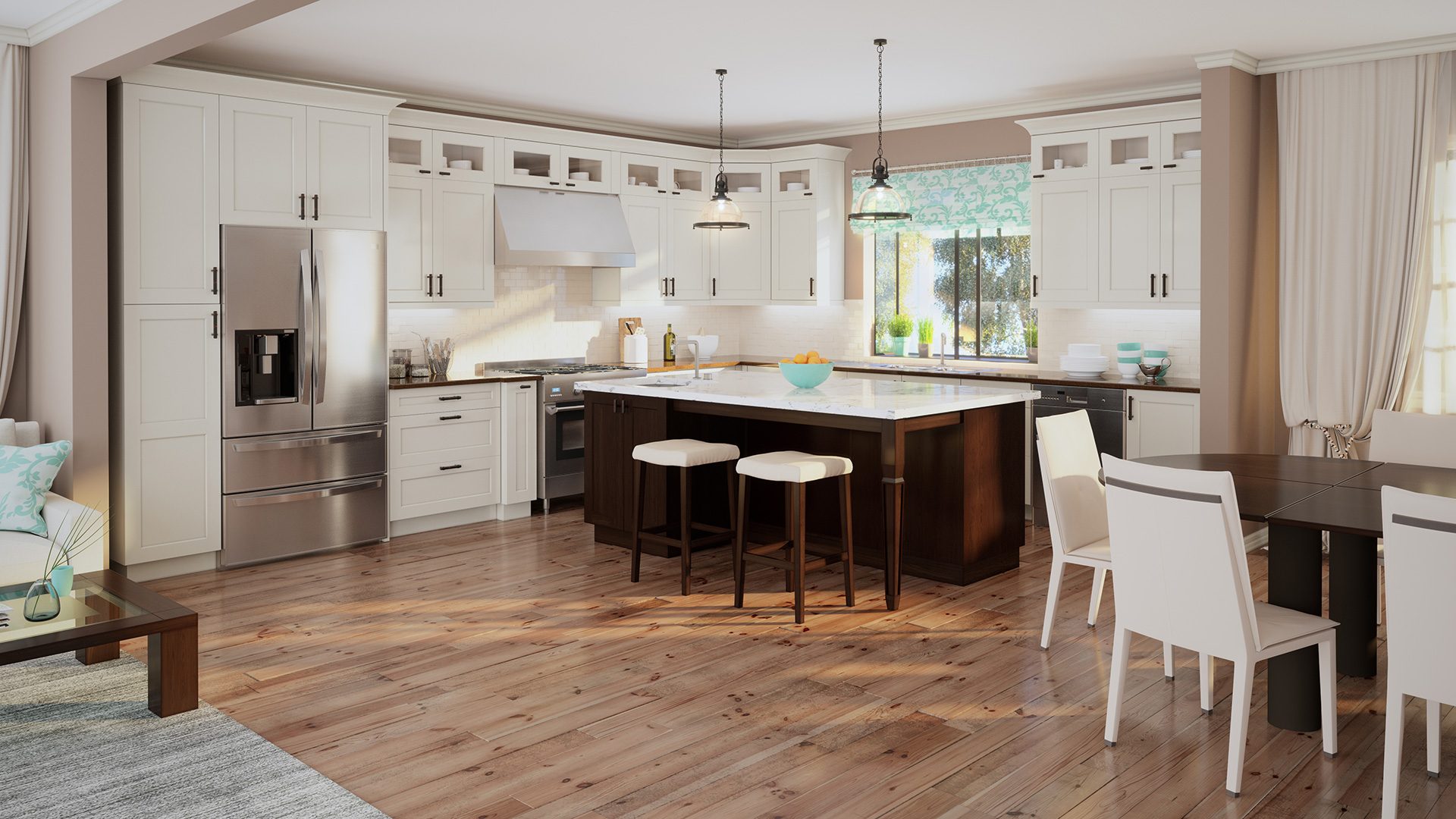 This welcoming open-concept kitchen shows white shaker cabinets paired with a dark wood kitchen island.
8. Sturdy, lasting wood construction
Premium quality, semi-custom Shaker cabinets from CabinetCorp are made from all-plywood construction. Woodgrain choices can vary from the tight lines of maple to the broader texture of oak in various natural and stained colors.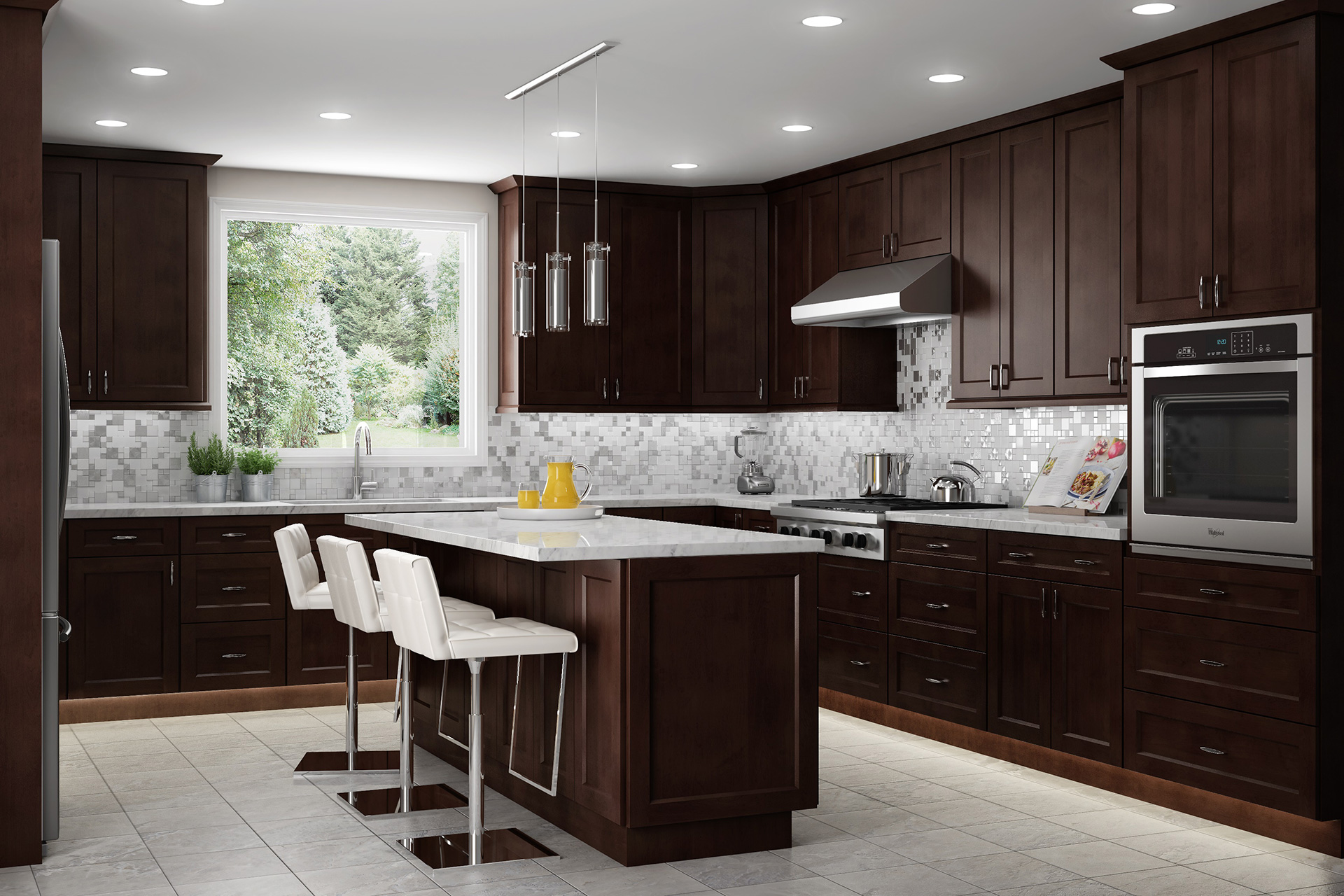 This beautiful kitchen pairs dark oak Shaker cabinets with white granite countertops and a white and gray backsplash.
9. Popularity of white Shaker cabinets
According to the Houzz Kitchen Trend Survey of 2020, 61% of homeowners prefer white Shaker cabinets to create a clean, open kitchen experience.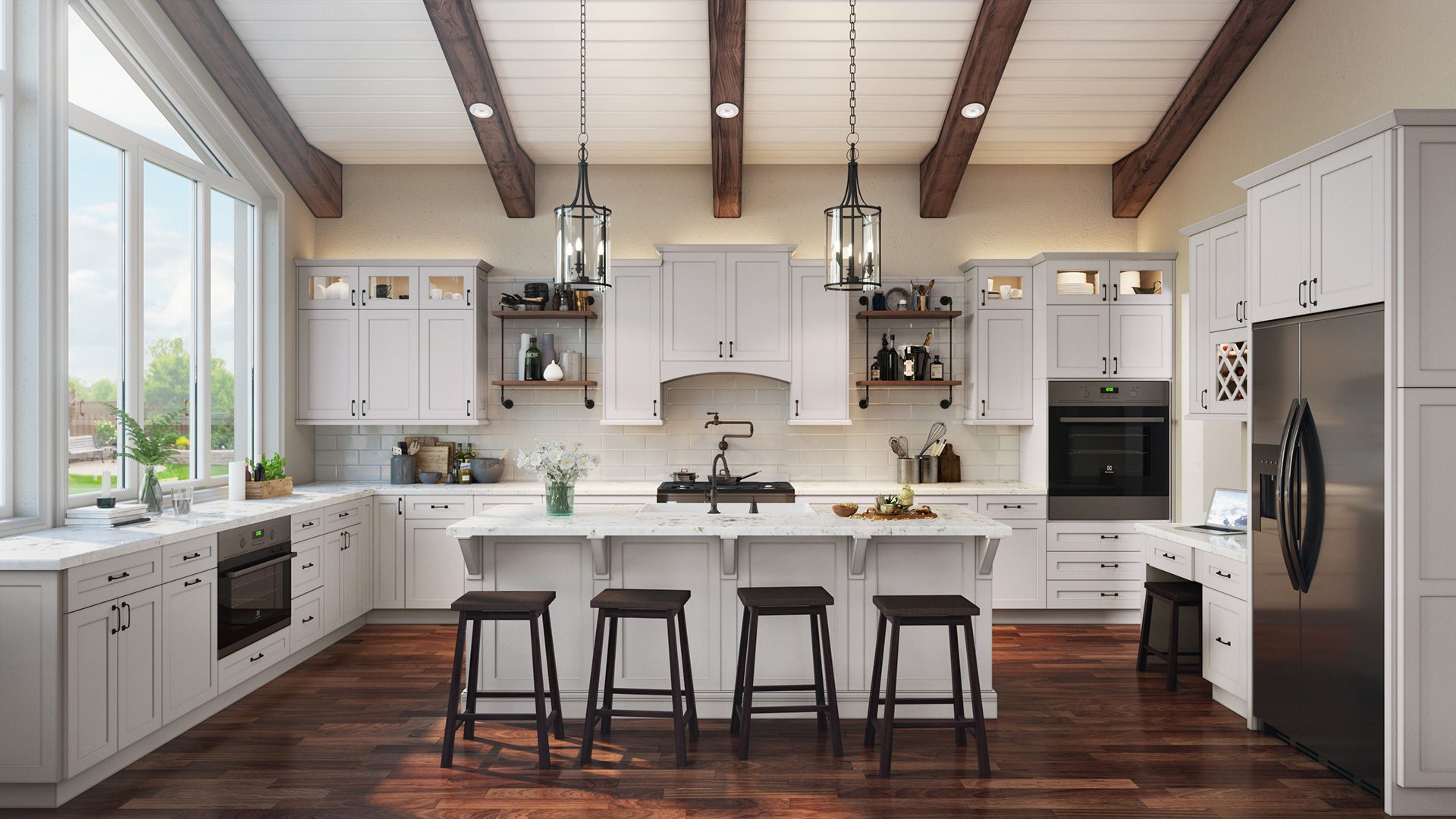 These white Shaker cabinets align beautifully with white granite countertops, dark hardwood floors, and stainless steel appliances.
10. Shaker-style cabinets paired with modern appliances
The simple geometric lines of Shaker kitchen cabinets fit well with modern appliances. More embellished cabinet styles lack the versatility of Shaker cabinets. Match the simple classic style of a Shaker cabinet with your appliances.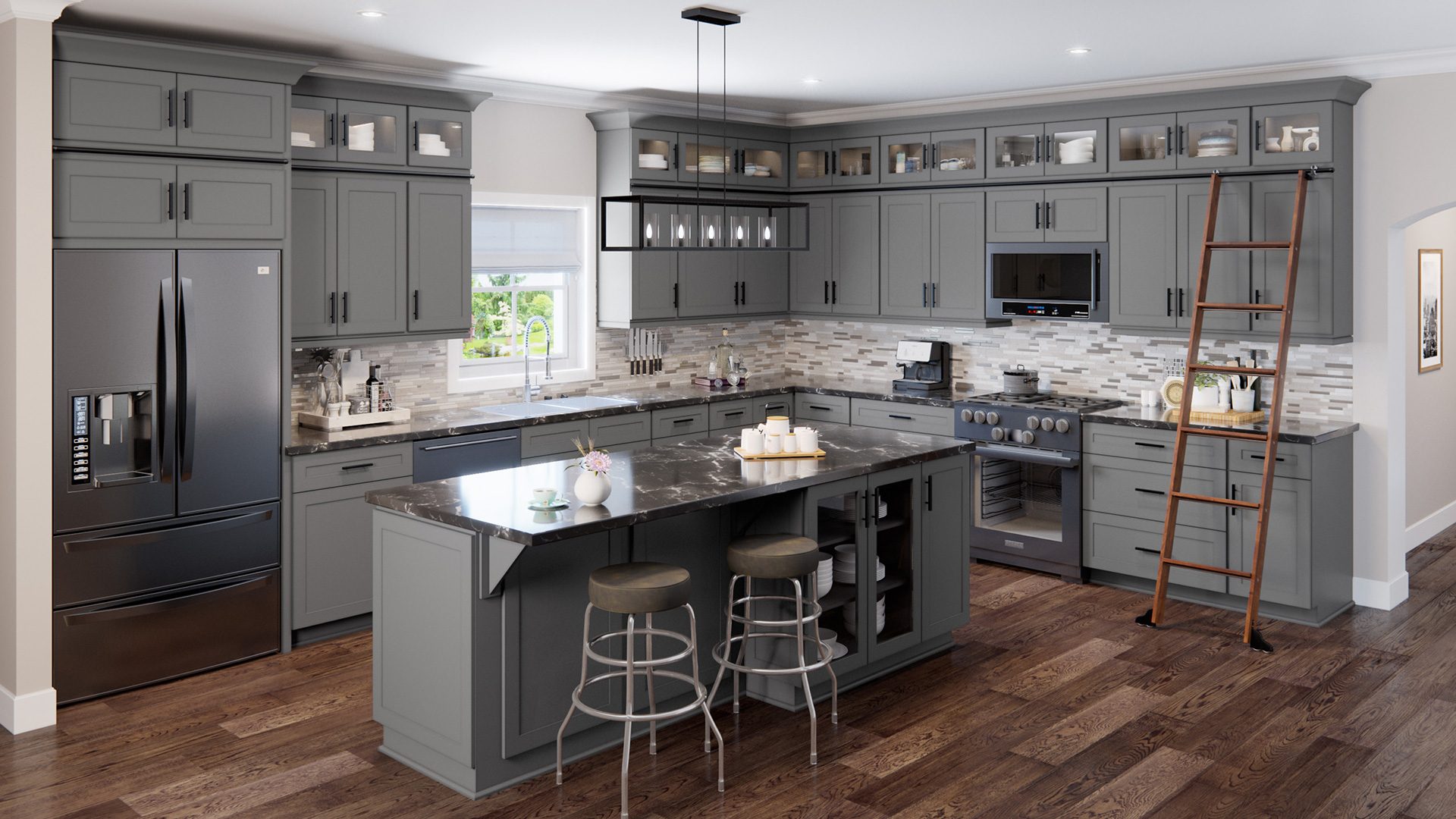 With smart appliances in stainless gray, these gray Shaker cabinets complete a modern look. The cabinets' geometric lines fit with the appliances and countertops in black and gray
11. Shaker cabinets paired with open shelving
The classic, simple, and refined look of Shaker kitchen cabinets work well with the trend toward open shelving. This look calls for a well-organized kitchen!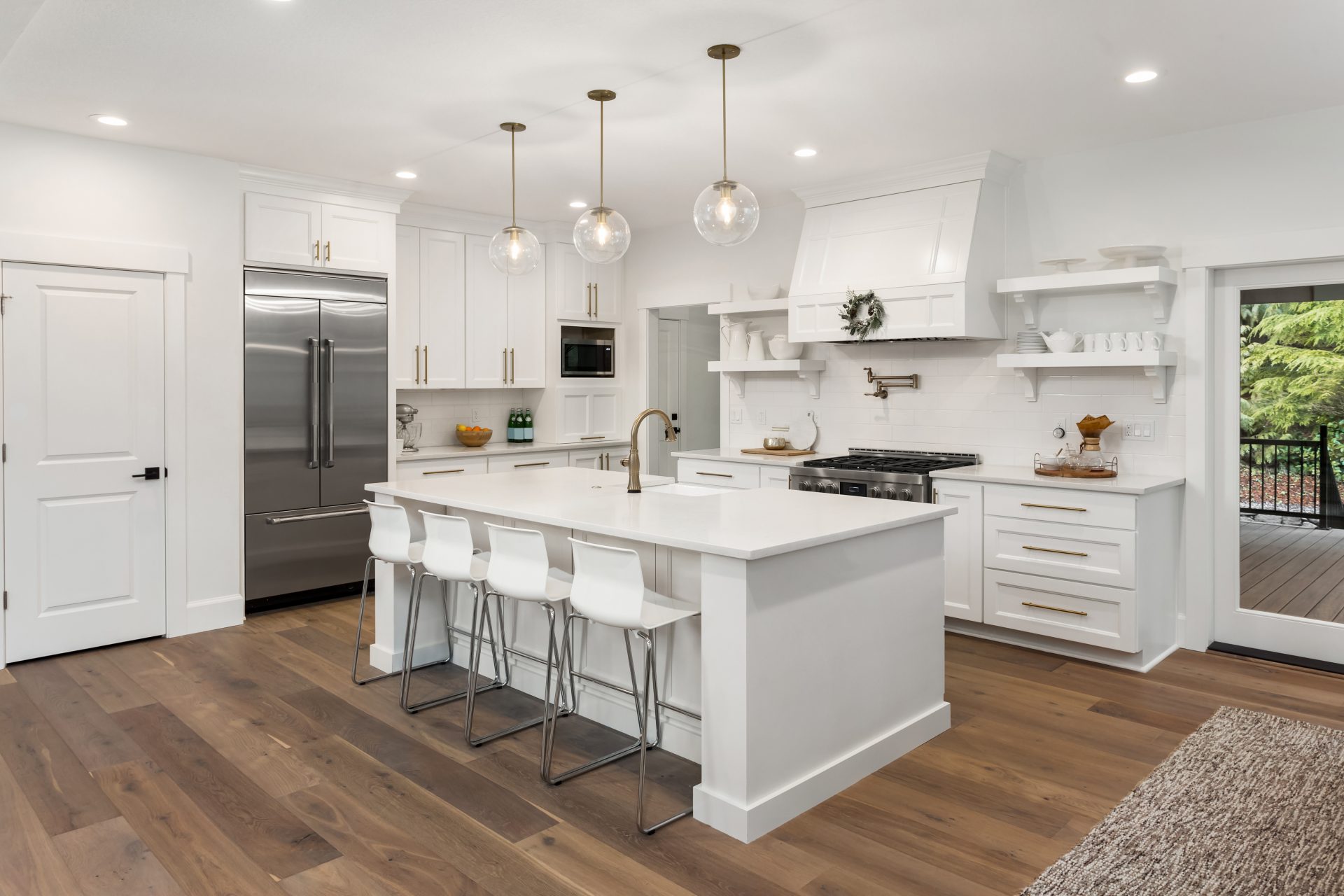 The open shelving in this all-white Shaker kitchen presents all-white dishware and serving pieces as decorative elements.
12. Shaker kitchen cabinets for contrast
Combine two or more unrelated design elements to create attractive design contrast. The key is to find a balance between materials and colors that complement each other. The neutral backdrop of Shaker cabinets makes it easy to add pleasing visual contrast.

These gray Shaker cabinets pair with a white Shaker island and red pendant lights to give this kitchen a retro look.
13. Shaker cabinets with a statement backsplash
Most homeowners get to the kitchen backsplash as an afterthought. Shaker kitchen cabinets work well with decorating ideas like adding a tall backsplash.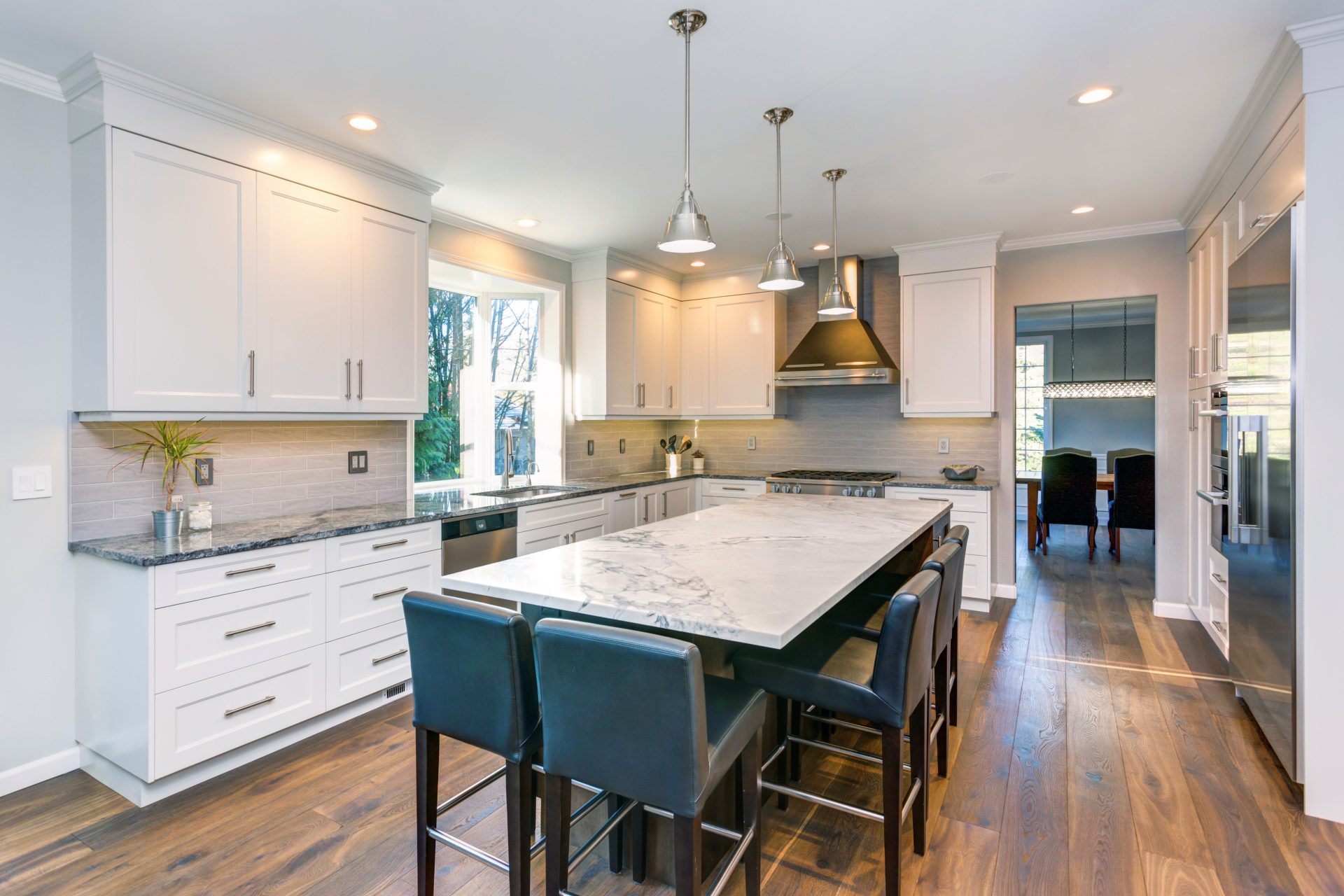 This gray subway tile pairs beautifully with the white Shaker cabinets and the blue kitchen island.
14. Shaker cabinets with unique accessories
Unique door handles and hardware add variety and character to any room. You'll find ample choices in wrought iron, nickel, and even glossier materials like chrome, silver, brass, and gold.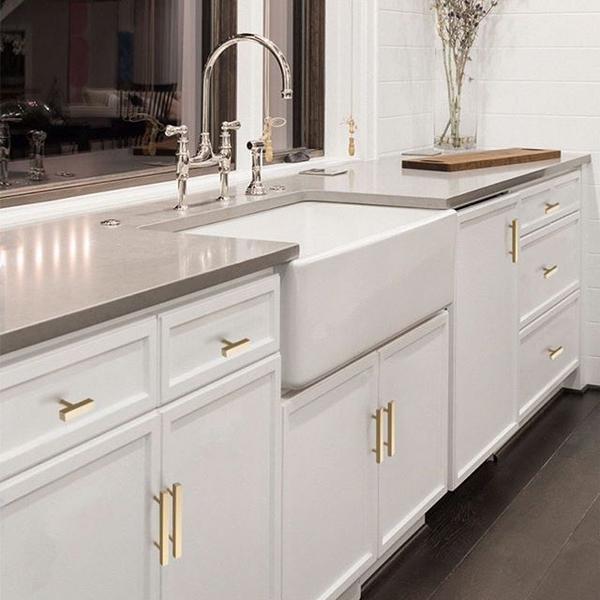 This gold hardware adds a little luxury to white Shaker cabinets.
15. Shaker kitchen cabinets available as ready-to-assemble (RTA) cabinets
RTA cabinets are easy to purchase, assemble, and install. CabinetCorp offers a full line of RTA Shaker kitchen cabinets.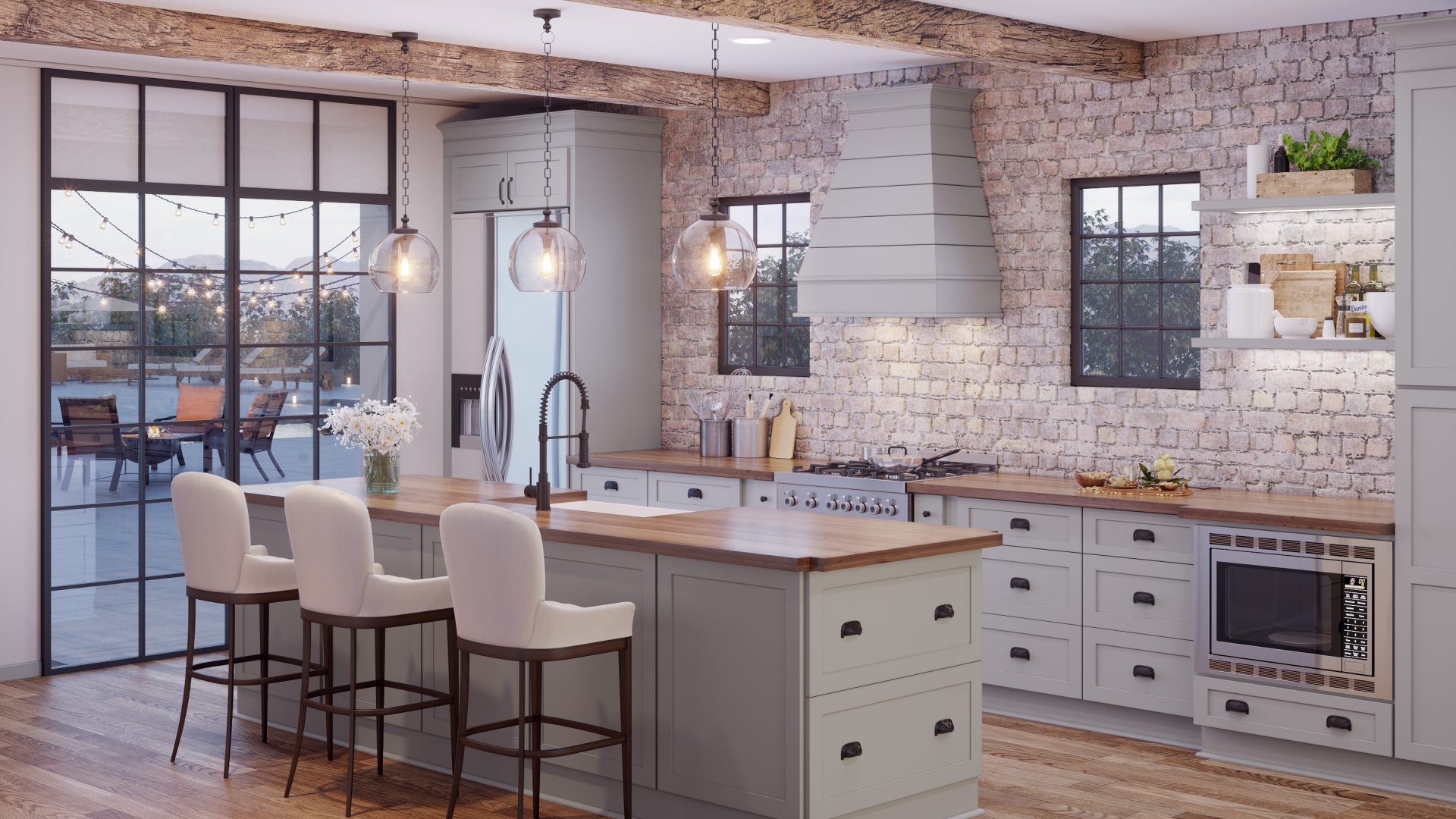 These light gray Shaker cabinets make a perfect neutral for the stonework on the kitchen wall. Pulled together with a light wood floor and wood countertops, this kitchen is comfortable and welcoming.
Ready to design your next project with Shaker cabinets?
CabinetCorp's high-quality Shaker kitchen cabinets in gray or white can transform any kitchen. You can purchase directly from the factory at wholesale pricing. As a CabinetCorp cabinet dealer, you can order both ready-to-assemble (RTA) and pre-assembled kitchen cabinets at prices 40% less than you'll find at the home improvement store. Order your dealer's kit today – you'll receive 18 free cabinet door samples to bring your presentations to life and win more project bids.