White, white, and more white – no matter the vast array of other color choices, white kitchen cabinets remain a top choice for homeowners. As a kitchen contractor, where do you turn when your client insists on white kitchen cabinets but wants to avoid the extreme coolness of bright white? Antique white kitchen cabinets offer a great solution, bringing in a timeless white look with notes of warmth and comfort.
Antique-White  kitchen cabinets have an ornate door style with traditional mitered door frame, beveled raised center panels, and hand glazed in a rich golden brown accent that gives the kitchen a warm and comfortable feel of luxurious traditional cabinets. The antique-white can add a warm neutral to any room and provide the sense of extravagance to the traditional or transitional home design. 
Three different styles in creamy, dreamy antique white
Wholesale cabinets from CabinetCorp come in 3 distinct styles that fit well with every type of kitchen, from modern to traditional:
Each beautiful version of cabinets in antique white creates an opportunity for your client to express their style.
Antique White Shaker Cabinets
The clean, simple lines of Shaker construction, finished in this signature creamy color, will elevate any kitchen, no matter the style. Create appealing contrast by installing cabinets in antique white and a dark island. This combination works well with both stainless steel and black appliances.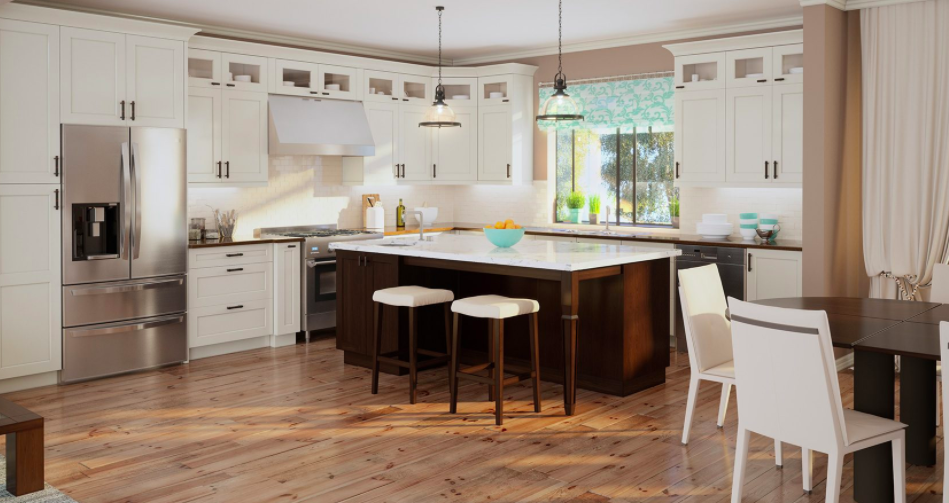 Or, pair antique white kitchen cabinets with countertops and floors in black or another dark color for contrast that's less stark than it would be with bright white cabinetry. Similarly, darker hardware, fixtures, and accessories pair well with our Antique White Shaker kitchen cabinets.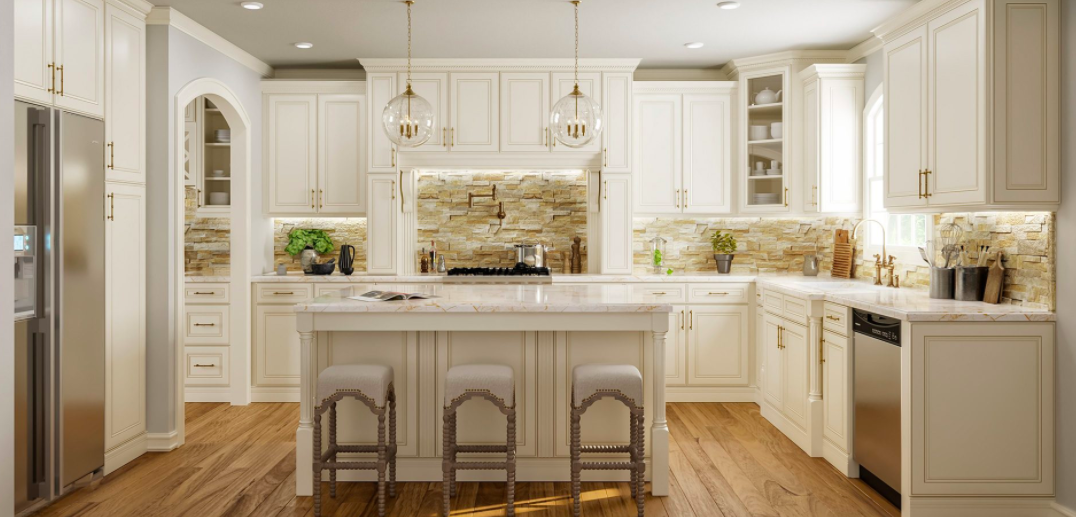 Antique White Yorkshire Cabinets
CabinetCorp's Yorkshire cabinet line features an extra overlay on doors and drawer fronts for the client who prefers a more traditional and elegant style. Complement the darker stain that outlines the cabinet construction layers with either warm or cool accent colors.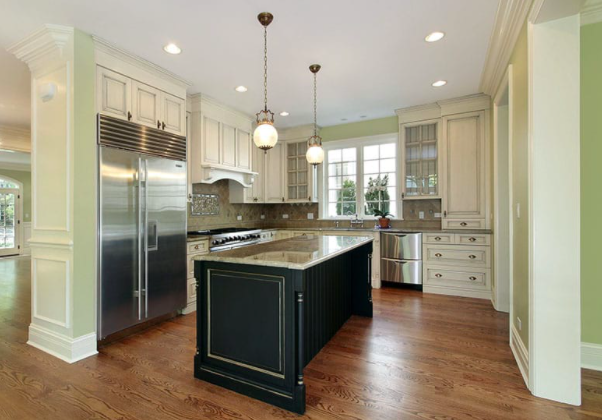 Source – designing idea.com
Consider a backsplash in earth tones and wood flooring, or the warmth of peach and grey for countertops and backsplash; this updated traditional look with antique white Yorkshire cabinets will add value to the home.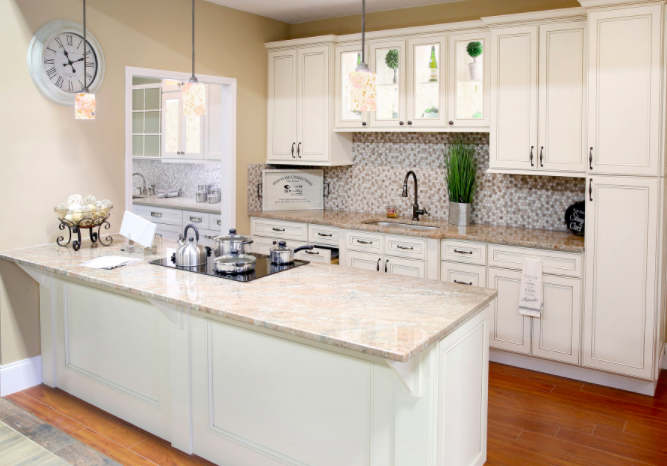 Antique White Cambridge Cabinets
The Cambridge line of antique white cabinets brings in a rich golden brown accent around the door's frames. All Cambridge doors and drawers start with a simple recessed panel; note how the raised and framed birch overlay with a beveled edge creates the warm and comfortable feel of traditional cabinets.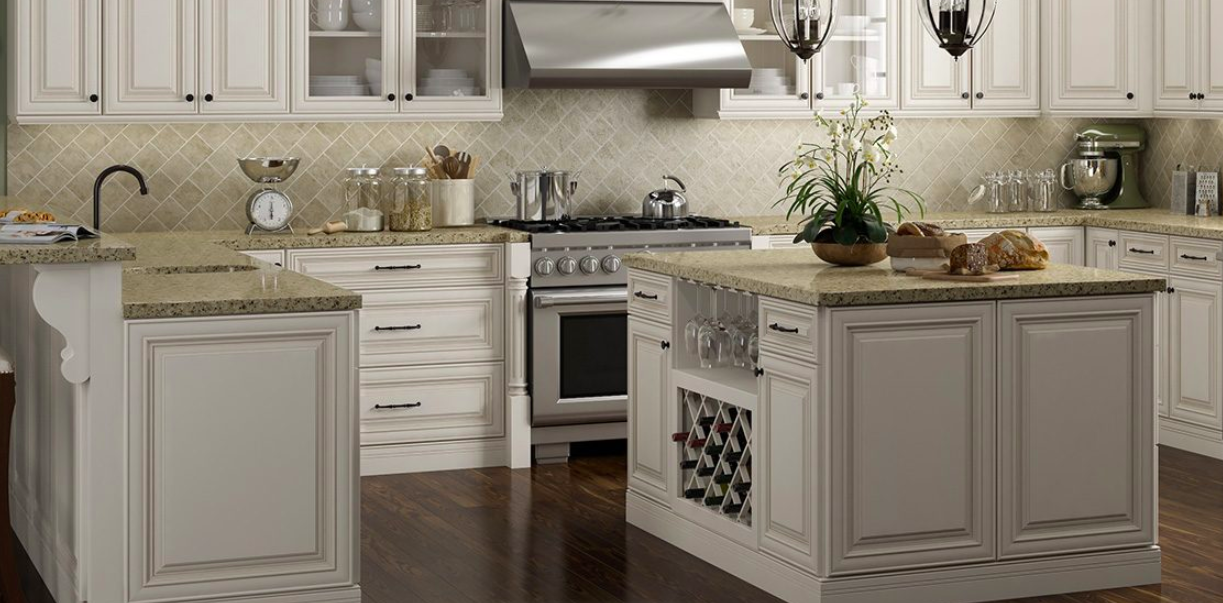 If your client's home features mainly warm tones, and they are drawn to the classic lines of crown molding and beveled baseboards, Cambridge cabinets in antique white might be the right fit.
Pair these antique white cabinets with dark hardwood floors or black granite countertops to add a contrasting kitchen color.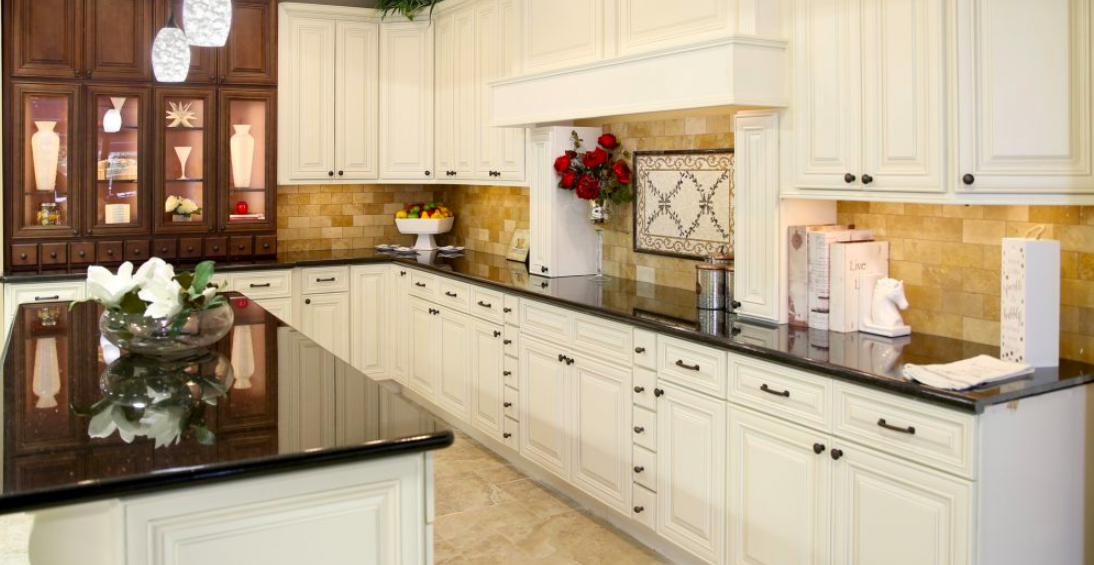 How do antique white cabinets compare to white cabinets?
The difference between white and antique white cabinets comes from the color's undertones. A yellow undertone results in creamy antique white, while a gray undertone gives you a dusky white or off-white color. Bright white cabinets bring in a light, airy, high-energy ambiance to the kitchen, while antique white cabinets set up a vibe that's relaxed, warm, and comfortable.
Antique white cabinets adapt well to a range of different transitional and traditional styles. You'll see bright white cabinets more often modern and contemporary kitchen designs.
Are antique white cabinets still in style?
Everyone loves white cabinets, but not everyone wants their kitchen to glow white. If that's the case with your client, antique white cabinets fit the bill. A quick online search for kitchen designs with antique white cabinets will turn up ideas for a traditional, transitional or contemporary kitchen.
Does gray go with antique white?
Gray and antique white look dreamy together. See how the antique white wall cabinets are pair beautifully with a gray kitchen island in this kitchen. Gray accents show up in the backsplash, the wood frame of the range hood wall, and the window treatments to pull this kitchen look together with elegance and style.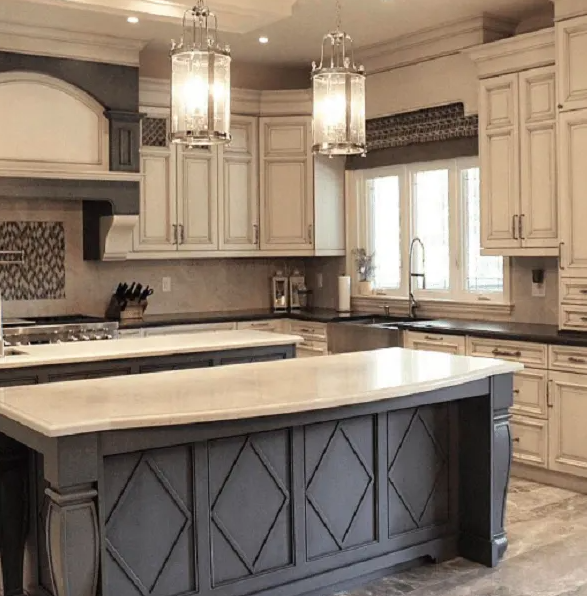 What color of countertops goes with antique white cabinets?
Antique white cabinets pair well with almost any of today's popular countertop colors. The antique white works as a neutral even with its warmer undertone. Whether your client chooses a butcher block countertop or one in the granite that brings in colors like brown, black, grey, peach, or bright white, antique white cabinets will look great.
Are you designing an antique white kitchen for your client's remodel?
You can purchase antique white kitchen cabinets from CabinetCorp at wholesale prices, delivered as RTA or assembled cabinets. As a CabinetCorp dealer, you can take advantage of significant cost savings, usually 40% less than retail prices. Visit the cabinet dealer program page today to get started.