Updated: 3/20/23
When you're building a client's new house or simply remodeling a kitchen, custom cabinetry will eat up the budget in a hurry. There is, however, a way to stretch that budget to include semi-custom cabinetry without sacrificing quality or style. When you purchase RTA kitchen cabinets wholesale from CabinetCorp, you get premium quality and an excellent style selection – all at a reasonable price.
6 advantages of buying wholesale kitchen cabinets from CabinetCorp
There are 6 main advantages of buying wholesale kitchen cabinets from CabinetCorp
A discount of 40% compared to retail stores
A wide variety of inventory
Quality not available in big box stores
Expertise from industry professionals
Bulk inventory for all of your projects
Free shipping on qualified orders
40% off retail prices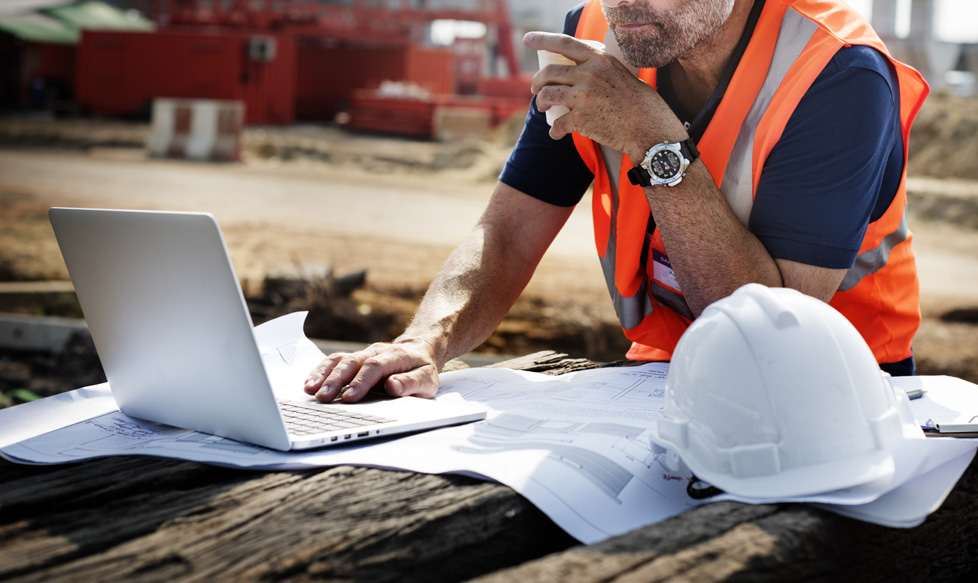 Many kitchen contractors purchase cabinets from local retail stores because it's convenient. Plus, there's always a seasonal sale or promotion underway, so they assume they are getting the best available deal. Keep in mind, however, that all big box stores are middlemen. These retailers buy cabinet products from various wholesalers, distributors, and manufacturers. They then mark up the price to sell these cabinets in-store to make a profit. There's always a role for retail sales, but purchasing at retail will not save you money if you are a contractor.
CabinetCorp offers an extensive selection of high-quality kitchen cabinets at wholesale prices for kitchen contractors to purchase online. Unlike most online kitchen cabinet stores, we manufacture every piece of cabinetry that we sell. Because we sell directly to you, you'll save 40% over big-box retail prices with no cut for the middleman. As one example, we can offer a basic 10' x 10' set of RTA cabinets for $2504.
Wide variety of cabinet inventory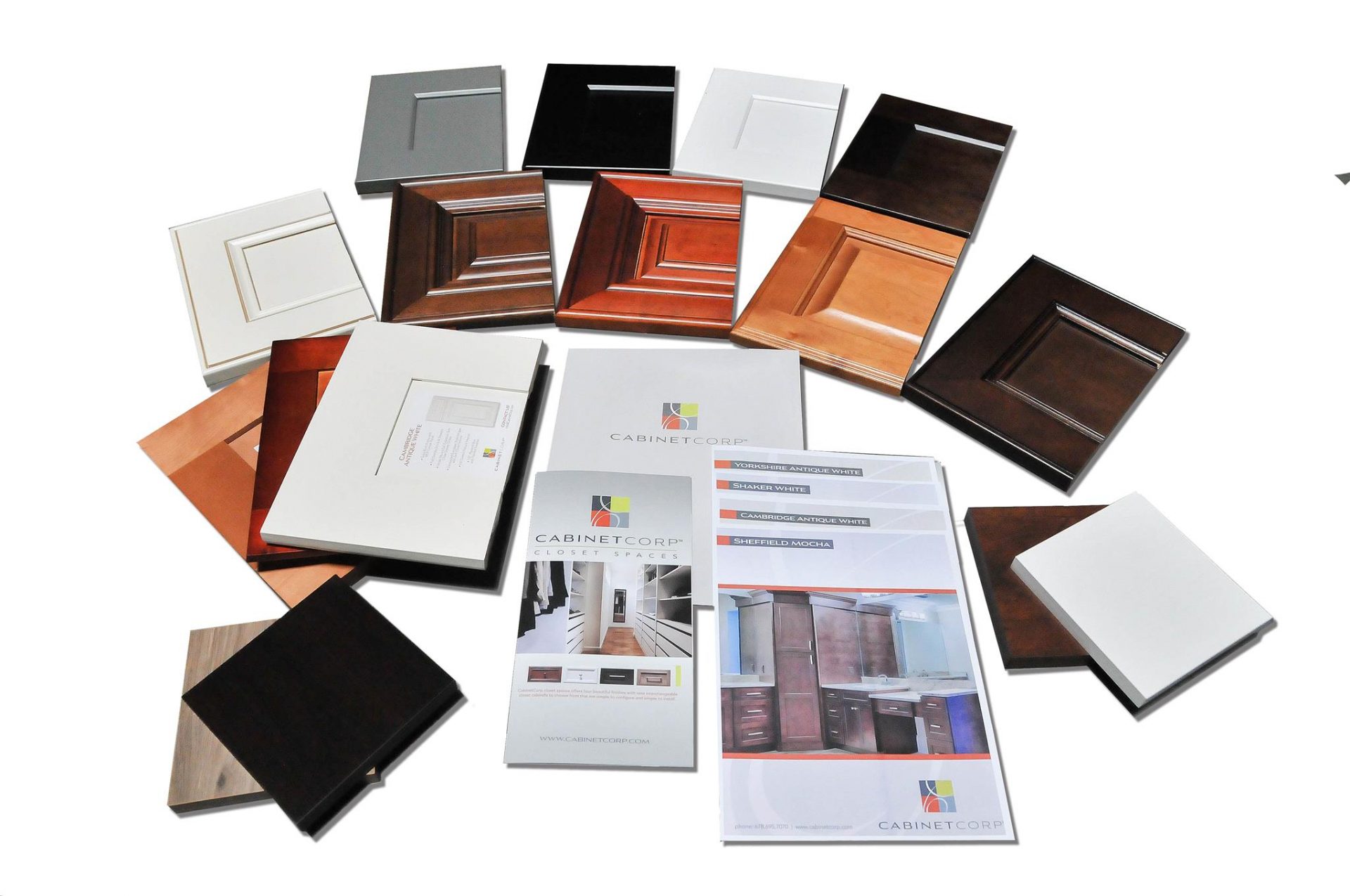 In a retail store, you only see a small offering of what's available on the market. Online wholesale companies like CabinetCorp offer a wider variety of cabinet styles and finishes. You have numerous options to customize these units for your client's kitchen remodel to create their perfect kitchen.
CabinetCorps' expert kitchen designers can help design the style and look your clients want in their kitchen. Download our Contractor Catalog to find a variety of different styles for your clients to consider.
Get the latest Contractor Catalog, Today!
Quality cabinets not available in retail stores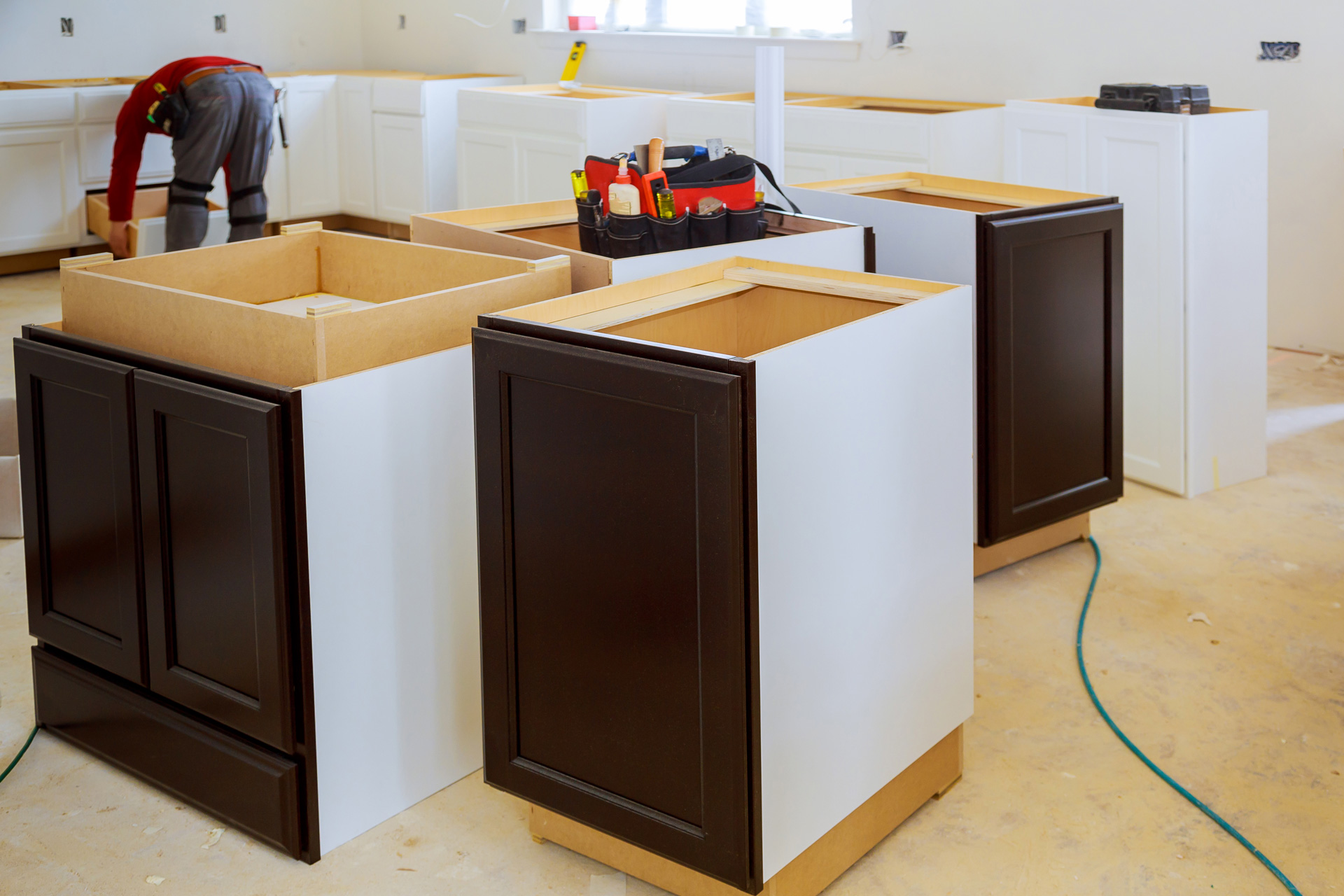 When you purchase quality cabinets from an online wholesale cabinet company, you save money by cutting out the middleman, not sacrificing quality. CabinetCorp's highest priority is to build quality into every cabinet at every step in the manufacturing process. No matter what style your client prefers, always guide them to the two most essential features that signal high-quality cabinets: all-plywood construction and a full back panel.
All-plywood construction anchors screws, fasteners, and ensures glue's adhesion better than multi-density fiberboard (MDF) or particleboard.  Plywood is both strong and moisture-resistant. It is made from layers of wood fixed together with the grain running in alternate directions on each layer. Most big-box retailers offer cabinets made from particleboard or medium-density fiberboard (MDF) rather than all-plywood. These less-expensive materials mean a lower price point.
A full-height back panel ensures the strongest cabinet back possible. Also, well-constructed cabinets usually have a back panel at least ⅜ inches in width.
By contrast, most retail cabinets feature thin back panels, which require metal hanging rails with brackets, rails, and a picture frame construction. Some manufacturers cut corners even further and leave the back panel entirely, which degrades a cabinet's strength and allows the wall to show through. Other inferior quality cabinets may include a particleboard back panel, usually only ⅛ – ¼ inches wide., at the unit's full height.
Expertise from cabinet industry professionals

CabinetCorp craftsmen represent more than 100 years of experience in the cabinet industry. Every step of our manufacturing process uses this expertise to ensure high-quality cabinetry that will hold up for many years of daily use.
Whether you select RTA kitchen cabinets for your client because of the fast turnaround or choose factory-assembled cabinets, our team of experts can help. Every team member – our craftsmen, interior designers, and customer service representatives – knows each cabinet product inside and out, so you can count on expert assistance from design to installation.
Bulk inventory for all of your project needs
CabinetCorp provides wholesale RTA and assembled cabinets to kitchen contractors, remodelers, builders, and construction companies. If it makes sense for your business, our cabinet dealer program allows you to purchase bulk at discount prices. When you join our dealer program, you receive marketing materials and cabinet door samples to help you present more effectively and win the bid on any project. Visit our website to find out how to qualify for the dealer program.
With our expert kitchen design services provided at no additional charge, you save money because you don't need to hire a designer. Plus, you eliminate design time from your schedule. As we get to know you and your projects, we can also ensure you have the cabinet inventory you need, when you need it.
Free shipping on qualified orders
Many online cabinet stores pad their profit margins by charging steep shipping fees. When you order from CabinetCorp, you receive quality cabinets at great prices – and you'll qualify for free shipping if your pre-tax order totals $3,900 after any sales or discounts have been applied. Free shipping is available for qualifying RTA cabinet orders and does not apply to orders for assembled cabinets.
If your order includes cabinet accessories, a separate shipping fee will apply because the accessories ship from a different warehouse.
Take advantage CabinetCorp's excellent service and profit-building discounts
With over 100 years of combined construction and cabinet-making experience, CabinetCorp guarantees high-quality cabinets at wholesale prices because we eliminate the middleman. Become a cabinet dealer today, and we'll send out your set of 18 cabinet door samples right away. You can use these samples for your next client presentation, plus the samples make it easy to match cabinets with the right choices for countertops and flooring. Let our expert designers help you create beautiful kitchens for your clients.