Minimalism is getting plenty of attention these days. It's a lifestyle philosophy that emphasizes "less is more"; designing a home life means being thoughtful to acquire fewer possessions and live with less clutter. Minimalist kitchen design simplifies and streamlines a step further by insisting on supreme function and organization in the kitchen. Done well, the result is clean, clutter-free surfaces, efficient, out-of-sight storage amid sleek cabinets and intentional decor.
What is a minimalist kitchen?
A minimalist kitchen prioritizes cleanliness, simplicity, functionality, and spare, unembellished lines. It typically features modern kitchen cabinets, low-maintenance flooring, and lighting fixtures with clean lines – executed in a monochromatic or neutral color palette. Popular neutral colors include white, beige, black, grey, with accents of metal or wood.
How do you create a minimalist kitchen?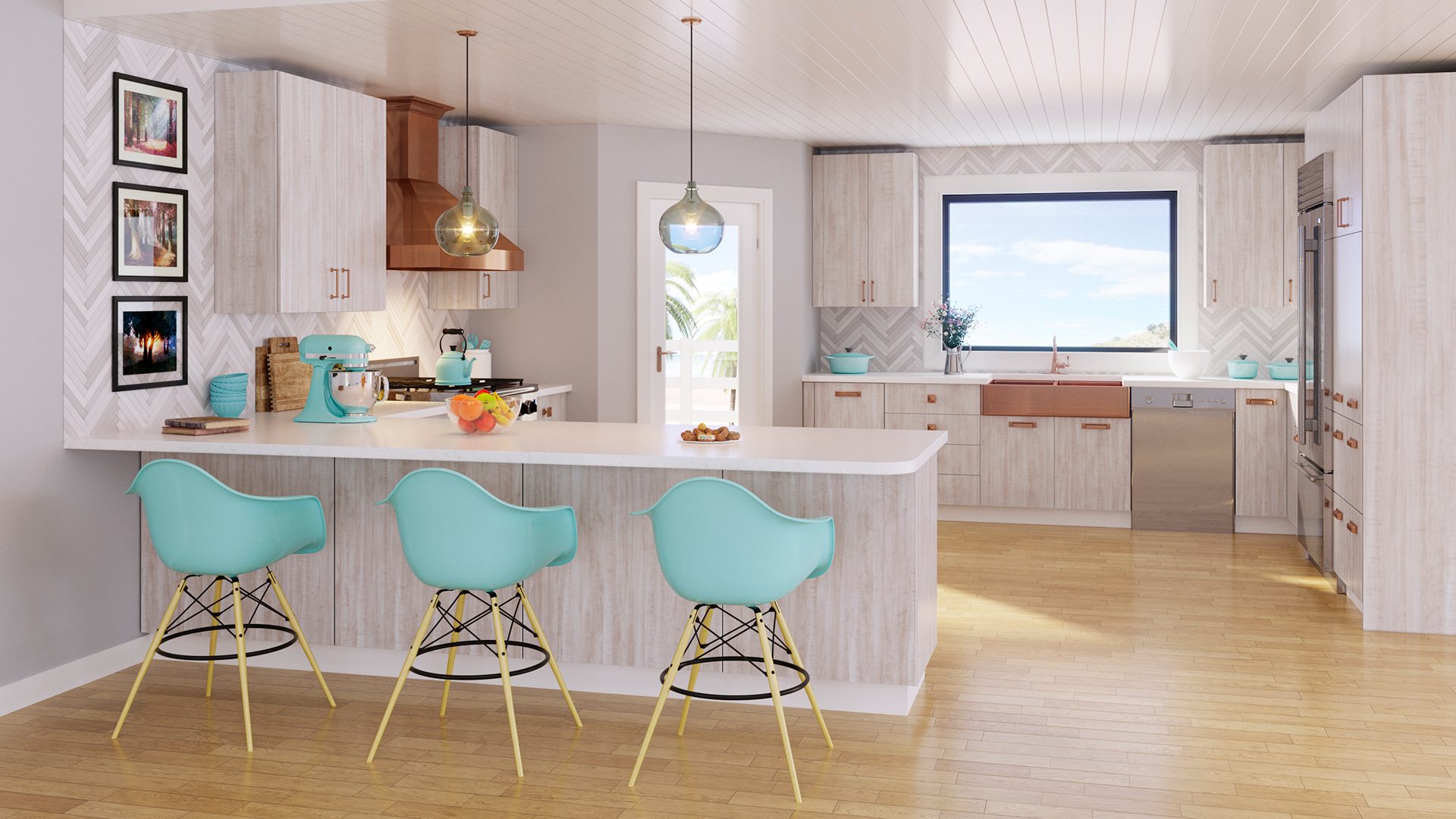 Minimalist cabinets feature clean lines, as you see in Shaker for Frameless cabinets. With these cabinets, hardware for door and drawer pulls should also have clean lines; alternatively, look for designs with no handles at all. The minimalist design suits a small kitchen perfectly but works well in kitchens of all sizes.
With the addition of an island, you pay homage to one of the main ideas in minimalist design: multi-purpose functionality. A kitchen island can serve as space for food prep, dining, entertaining, storage, and workspace. Scale your island to leave 42-48 inches around it for a walkway to ensure an open, uncluttered ambiance.
How to transform your kitchen into a minimalist kitchen?
If you're remodeling a kitchen, you have an opportunity to start from scratch with your design. Expert kitchen designers can help you create the perfect minimalist kitchen layout and recommend low-maintenance cabinets, countertops, and flooring to arrive at an uncluttered look and feel for your client's kitchen.
Before any transformation can begin, the homeowners must declutter; as a kitchen contractor, you need to get a feel for the kitchen space. You should advise homeowners to get rid of items they won't use and keep what they have under control because there is less to organize and clean.
These 4 steps can help you transform your client's kitchen into a minimalist kitchen.
Clean lines. The kitchen cabinets should have clean lines. Frameless cabinets have a sleek and smooth finish that works well with the minimalist design. Shaker cabinets have one clean line around the door and the drawer frame that lends well to this design.
Clutter-free kitchen counters. Appliances and items on a kitchen counter cause visual clutter. Clutter causes homeowners to spend more time cleaning. They have to wipe under, around, and behind the clutter rather than wiping down a flat countertop and backsplash. Advise them to store weekly or occasionally used appliances inside the kitchen cabinets.
Make sure everything has a home. When all kitchen items have a home, it's easier to put the items away. If they can't find a space for kitchen tools, consider a multi-purpose tool instead and giving away the single purpose items.
Organization is key. To help keep dishware, plastic containers, and cookware organized inside the cabinets, you'll want to suggest they invest in cabinet storage systems. With different organizers, peg systems, and pullout shelving, homeowners can easily organize food and dishware.
Minimalist kitchen design ideas
Design Ideas for a minimalist kitchen can span a variety of style preferences and budgets. Always keep the focus on clean lines, neutral colors, and simplicity. These five minimalist kitchen design ideas can have your client celebrating the zen of clean lines and less clutter in no time.
All-white frameless cabinets
These all-white frameless kitchen cabinets' high gloss finish expresses minimalist kitchen design and adds welcome light to space. Straight-line hardware adds to the clean feel.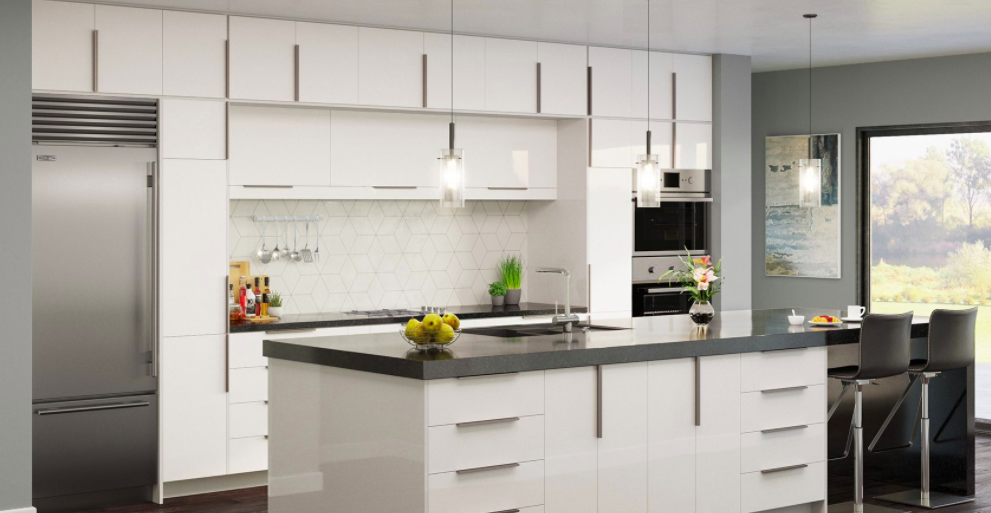 Sleek and neutral frameless cabinets
The minimalist kitchen doesn't need to be monochromatic. These coral shell frameless kitchen cabinets add warmth and comfort to spare lines and uncluttered surfaces, boosting the room's visual appeal. The kitchen island incorporates multi-purpose functionality to the minimalist design.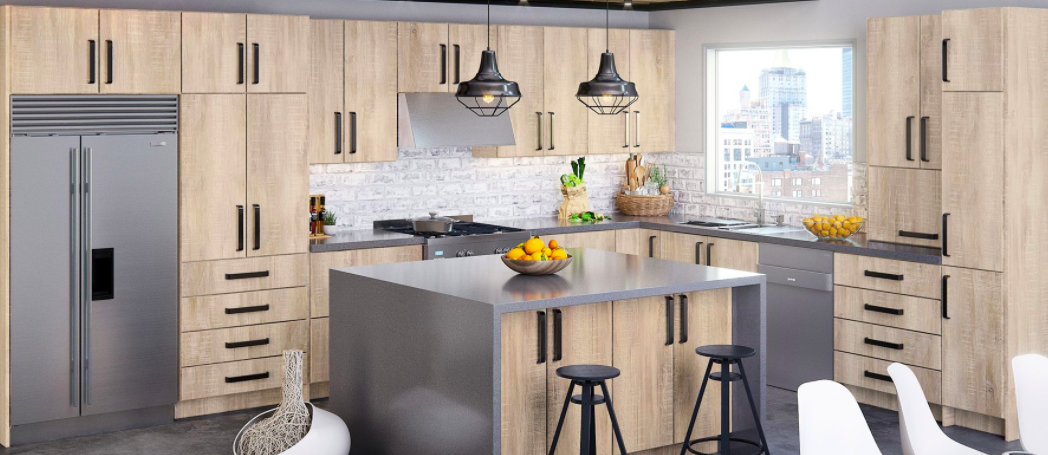 Bold – yet neutral – minimalist design
These Shaker-style kitchen cabinets add a subtle dimension to this minimalist kitchen design. Finished in charcoal gray, the cabinets provide a neutral background for a style-statement floor. Open shelves encourage uniform stacks of dishes for visual appeal, while ample counter space and an island allow for easy food prep, dining, and a work area.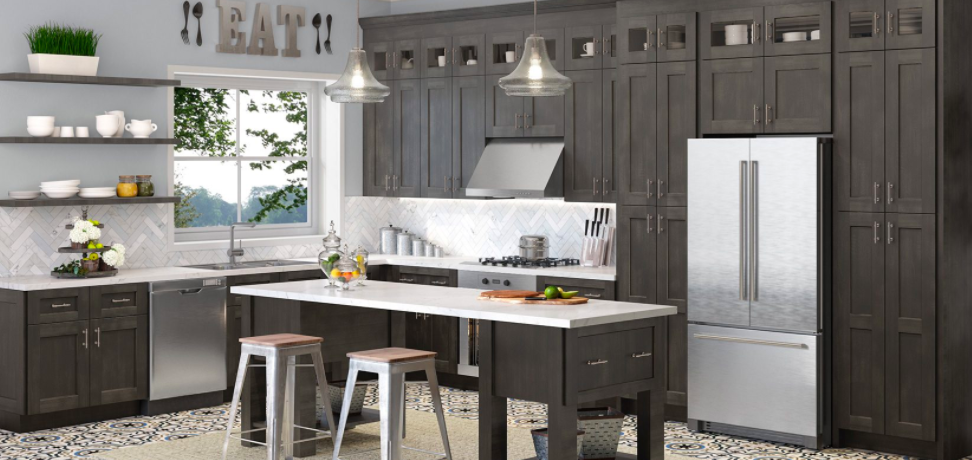 Amplify light and height
This minimalist kitchen design incorporates natural light from the large kitchen window and the room's extra height to create the illusion of more space in the kitchen – a proven minimalist design trick for small and large kitchens alike. The rich wood of the ceiling beams offers a dramatic contrast to white cabinets. Even with additional design elements like a mix of open and glass shelving, this minimalist kitchen feels open and airy.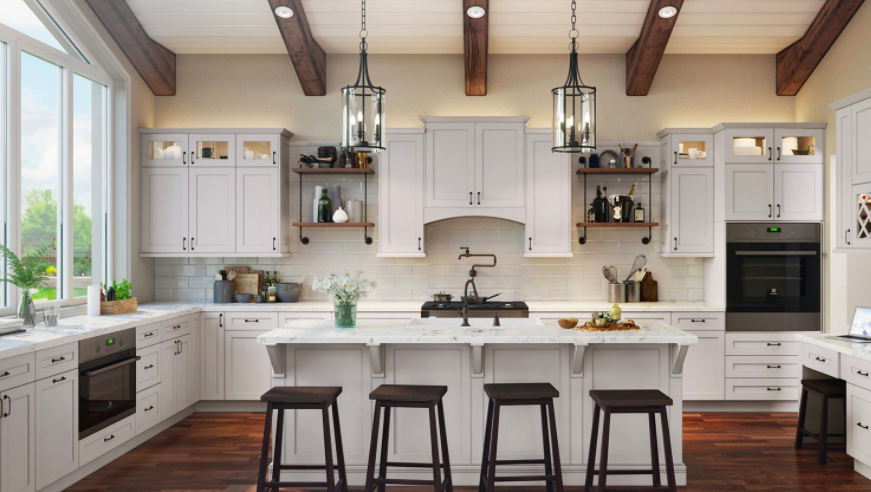 Get help designing a minimalist kitchen
If you have a kitchen remodeling project and need help with the design to provide your clients with a minimalist kitchen, we can help. CabinetCorp has expert kitchen designers that work with CabinetCorp customers for free. Transform your client's kitchen into their minimalist dream kitchen today. You can also help advise and inspire your clients by viewing the Kitchen photo gallery. These are the current styles and trends homeowners are searching for, and as a kitchen cabinet dealer, you can get ready-to-assemble (RTA) and pre-assembled kitchen cabinets at 40% off of home improvement store prices. Check out our free cabinet samples to use in your presentations to homeowners.