Despite a longtime association as a moody color, gray has never been more on-trend than today. Many people choose gray kitchen cabinets, countertops, and tile colors for their kitchens, whether their overall style preference is traditional or more contemporary.
Will A Gray Kitchen Work for You?
Gray kitchens are flexible, span many styles, add warmth, are neutral giving you the ability to have it stand out or blend into kitchen's background. 

Gray is flexible
As one of today's key neutrals, gray is a supremely adaptable color. You can work it into a lighter color palette or one with darker tones. Gray has three undertones: green, blue, and purple. This is why gray kitchen cabinets work well with so many colors.
The brain responds to different colors by releasing hormones. These hormones can affect the mind, emotions, and even your energy levels in several ways.
Psychologically, gray registers as neutral and compatible with any decor and style. It can add to a hint of mystery and depth while incorporating a sense of luxury and elegance.
The gray trend spans many styles
Gray has often been associated with a minimalist modern look. Step into a modern gray kitchen, and you will think you are in a luxury high-rise or condo somewhere in a major urban center. No matter where it's used, gray brings in an unmistakable classic style.
Gray can add warmth
In its warmer tones, gray can be relaxing as in a "greige" color or a beige and gray mix. Earth tones are very relaxing for people. Or gray can be energizing by adding more light and shine to the room. When applied to contrast with nearby colors and textures, gray can cause deep relaxation or sparking excitement.
Gray is neutral
Gray is indeed one of the most classic neutral colors. It can stand out or blend in seamlessly – depending on how you pair it with your appliances, backsplash, flooring, and other colors in the room. You may choose to have your kitchen cabinets thoroughly blend into the background to create a grounded, peaceful atmosphere. You can also dress up different kitchen components in gray and make them into a kitchen focal point.
How to use different gray tones in your kitchen?
Light gray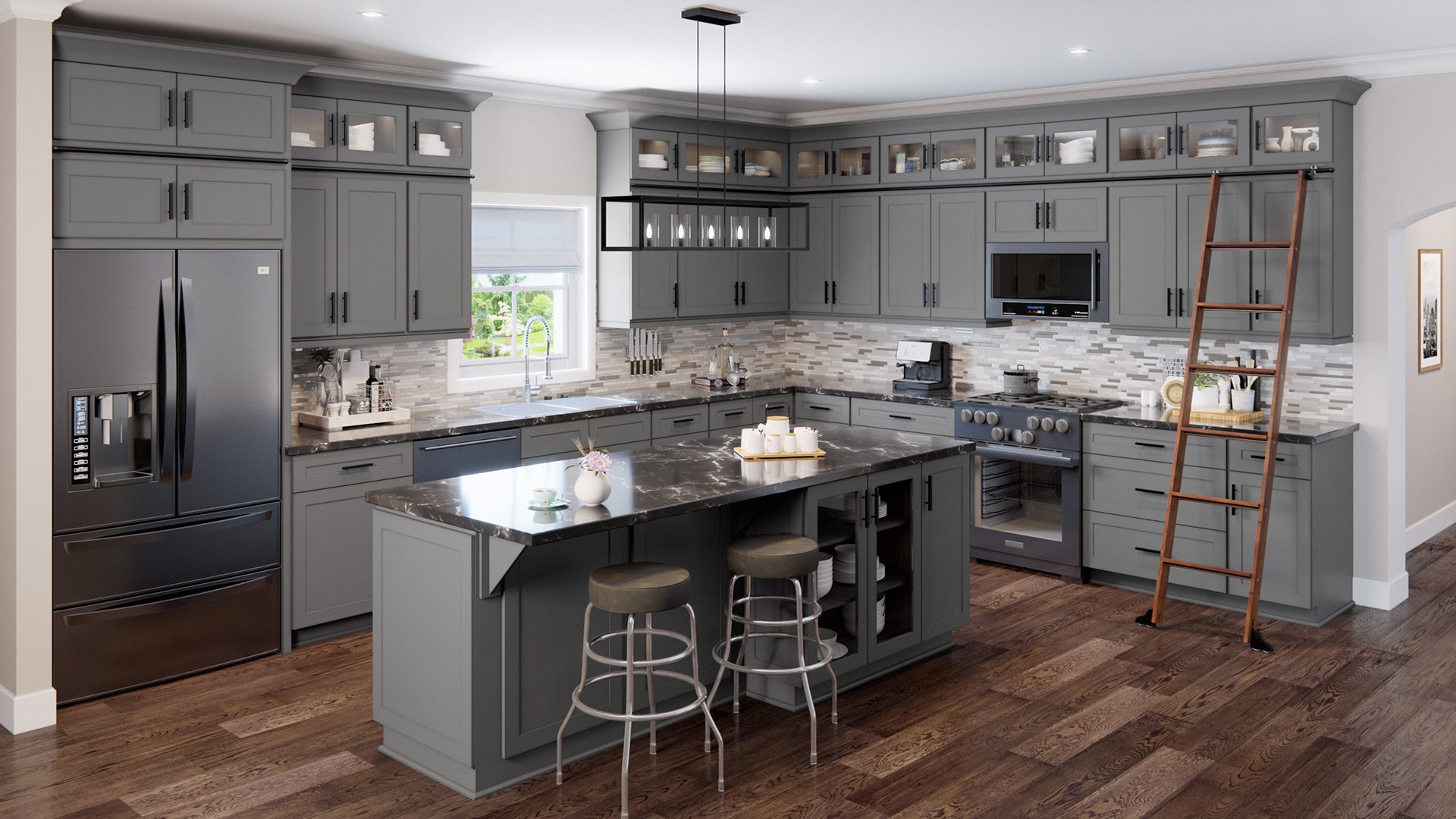 Light gray generally creates a relaxed feeling in any room. It sets a calming mood throughout the room. Because light gray is less eye-catching than other colors, you can then turn to furniture, light fixtures, and other decors to express the room's personality.
These Shaker kitchen cabinets in dusk gray create an ideal backdrop for the homeowner who desires a kitchen's transitional style. The gray cabinets mix nicely with the dark wood vinyl resilient flooring and countertops in gray and white granite.
The light gray choice for these frameless cabinets mixes well with the floor's light wood finish to give this kitchen a relaxing yet modern look.
Dark gray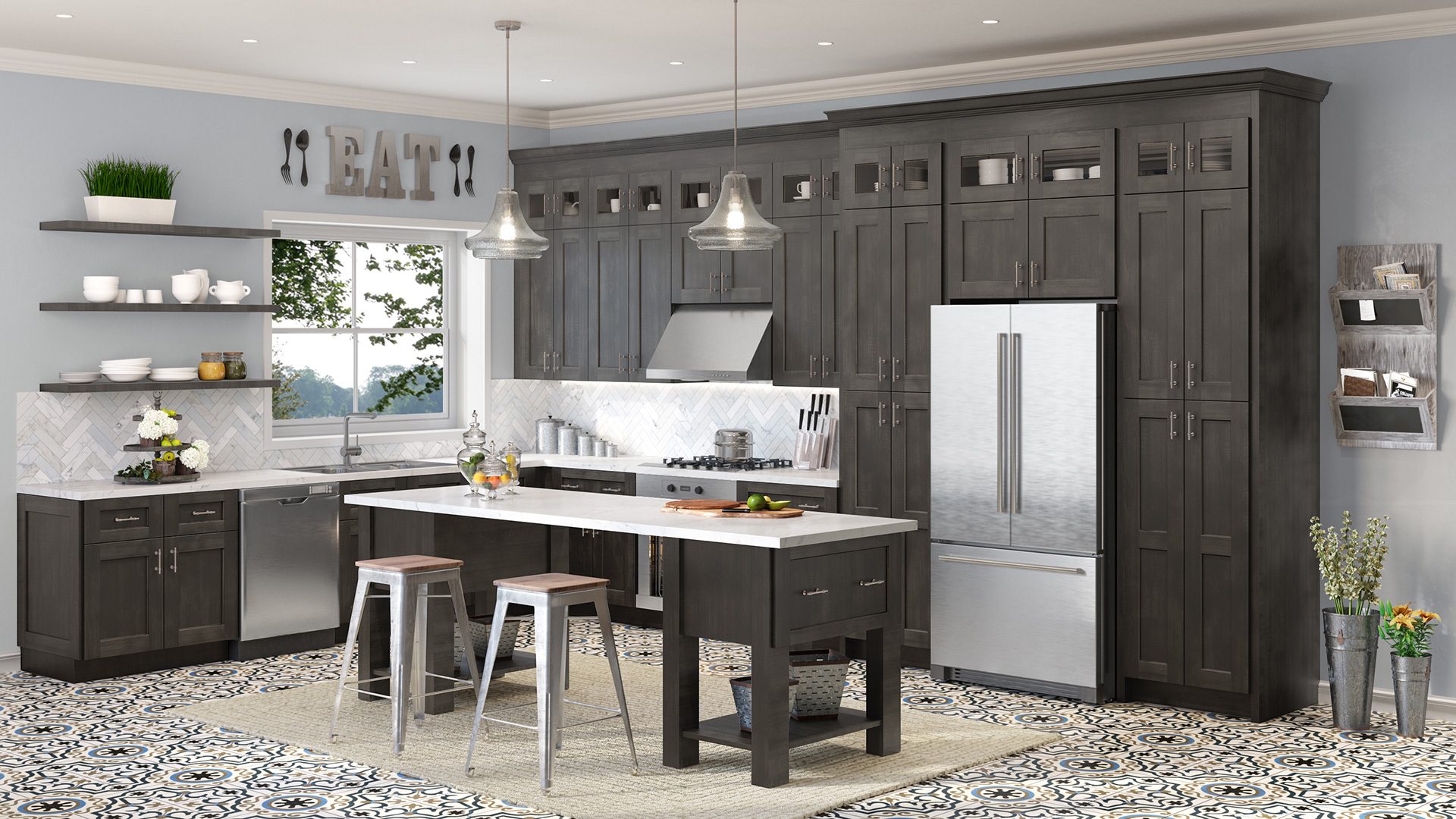 Dark gray can add a bold statement color to a wall or a ceiling, and it works well with other bright, bold colors as its accents – like white, blue, brown, or yellow. Charcoal gray kitchen cabinets in a Shaker-style can add a modern touch to a transitional-style kitchen. This style allows other items in your kitchen to shine while the cabinets blend beautifully in the background.
Medium gray
Choosing medium gray for flooring, backsplashes, or cabinets can bring high-impact results to your kitchen. Shaker-style cabinets in medium gray will enhance your kitchen's fresh feeling and serve as long-lasting fixtures in a room that you can easily update down the road with new colors and different decor.
Gray and white kitchen ideas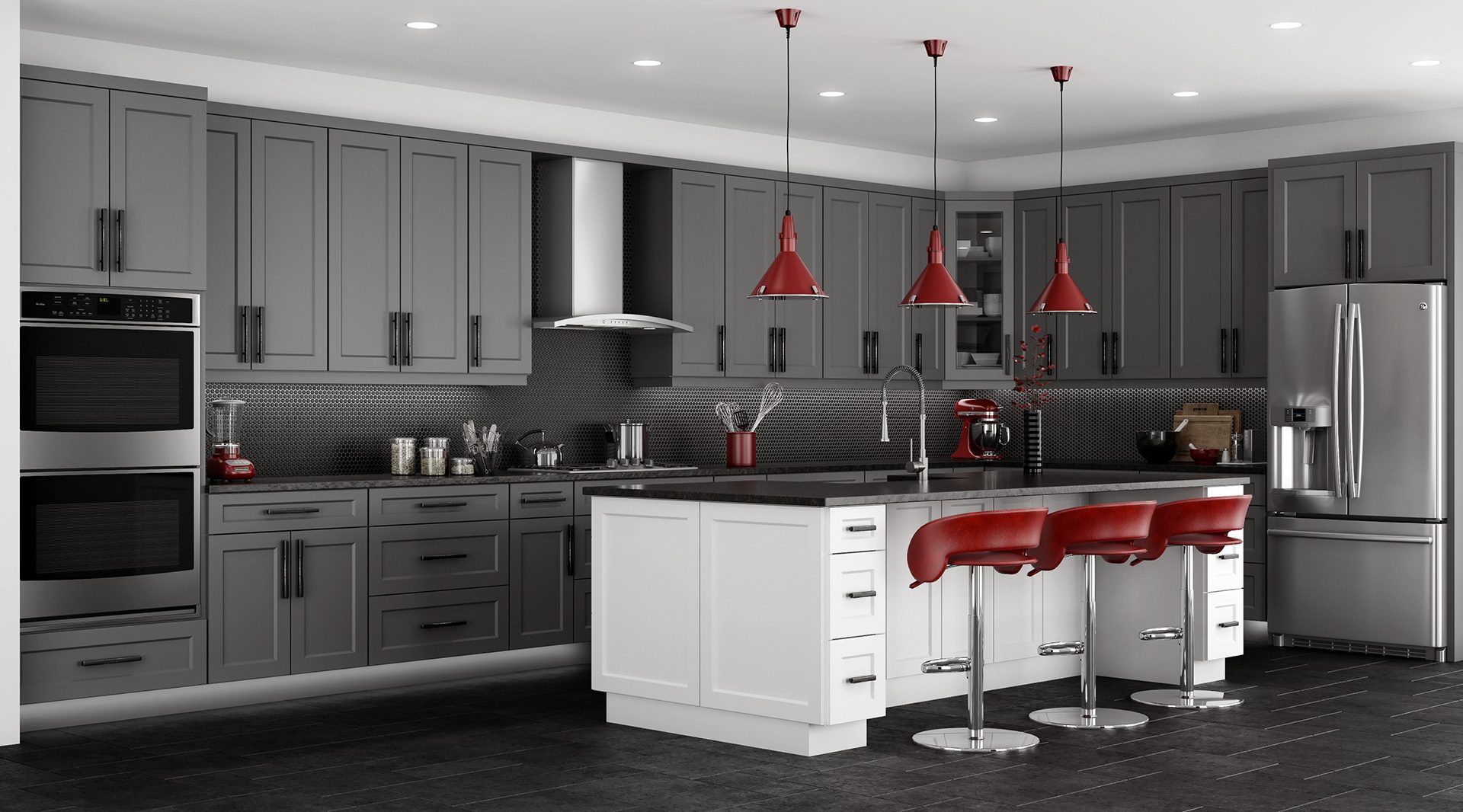 One always-popular option is to mix white and gray kitchen cabinets, which creates a gentle contrast. As seen in the examples above, you can achieve an attractive result with gray cabinets and a white countertop or gray cabinets and a white-and-gray backsplash.
You could also install upper kitchen cabinets in white and lower cabinets in gray.
Whites and grays pair well as white tile flooring and gray kitchen cabinets – or gray flooring with white cabinets.
Yes, gray is neutral, but that doesn't mean it has to be boring! Used creatively, gray can be exciting and unique. It can also project attributes such as wisdom, knowledge, peace, and cleanliness into the room. You can transform your kitchen into a haven of relaxation, tranquility, and warmth – even if your preferences tend toward modern style.
Check out our photo gallery for just the right look for your next project.