For kitchen contractors, spring means new projects. Homeowners want their kitchen remodeled, and they want someone to help them stay on top of the latest trends. Summer is the perfect time to start a kitchen renovation project.
As homeowners have been gathering ideas, contractors should talking with kitchen designers and keeping up on what's available and trending in kitchen cabinet styles and colors.
Here
'
s what
'
s new for kitchen cabinets this summer
The cabinet styles for 2020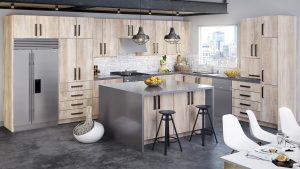 The minimalist style is still trendy this summer. Clean lines, smooth doors, very little in for embellishment, handleless or hidden handles and hidden appliances, are giving kitchens a sleek look. Frameless cabinets fit nicely into this category. Kitchen contractors are experts when it comes to installing frameless cabinets. Unlike framed cabinets, installation is the key to them lasting a long time. 
Colored cabinets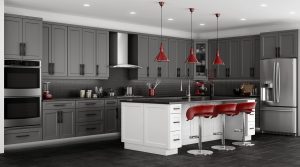 Bold cabinet colors are still popular. A couple of years ago, we saw the addition of blues, purples, and grey along with the staples of black, white, and wood grain cabinets. This year you'll see an increase in two-tone cabinets, often with colored cabinets for the base set and white or neutral color for the upper cabinets. All-black cabinets are also making a statement in minimalist design. With dark cabinets, you want to watch the size of your area. Dark colors can make it feel small and cramped instead of trendy. 
43% of homeowners still choosing neutral cabinet options, like all white or wood. Homeowners can bring in extra color by adding lighting, a backsplash, or painting an accent wall. These changes add personality and style without having to worry about another kitchen renovation in 5 years. 
Countertops in all types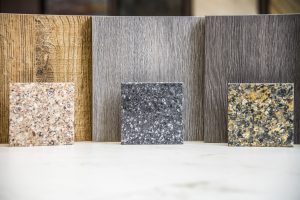 The three types of countertops have high durability and will last a long time with the proper maintenance. They are quartz, granite, and marble. These countertops add beauty and elegance when paired with the right cabinet color. Quartz is the most cost-effective. It also offers the same color and style as the marble and granite offer. 
However, the natural look is out; you'll want to choose one that stands out and has specific design elements and darker colored lines.
Cabinet functionality is high on the priority list
A kitchen designer can help homeowners get the most out of their kitchen cabinets. Many homeowners are tired of overcrowded drawers, messy corner cabinets, and overflowing pantries. Functional cabinet accessories organize the mess in an easy to use way. Pantry items are finding new homes, not only with a corner pantry but also utilizing those in-between gaps that would otherwise be dead space between cabinets. This space is perfect for a pull-out shelving system for the pantry or spices. 
With a garbage can and recycling pull-out, you can create an additional prep area for food with pull-out cutting board over the top. Along with cabinets with deeper drawers with pan and pot, organizer and roll-out shelves offer homeowners the opportunity to have everything in its place and right at hand. Homeowners can keep the countertop clutter-free with produce drawers and appliance pull-outs.
Corner counters can have interiors lights and lazy Susans to help keep all the items accessible and well lit. Otherwise, this is an underutilized space often filled with clutter.
Kitchen Islands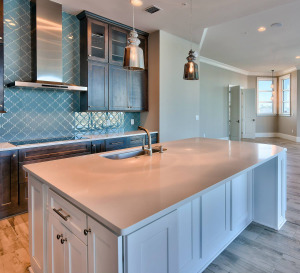 In open-concept housing designs, a large, multipurpose kitchen island provides a divider between the kitchen and dining room. The kitchen island has become very versatile. They are larger to accommodate more a sink, storage, and extra counter space. In some larger kitchens, two islands are being installed with multiple storage options on all sides and a walkway in-between. This moves wine bottles, appliances, and other items that take up counter space, to an easily accessible lower storage position.
Hidden appliances
Why look at the dishwasher or the refrigerator if you can cover it with a beautiful door front instead? Many homeowners are opting for hidden appliances with appliance paneling that will match your kitchen cabinetry. 
Hidden appliances are becoming very trendy in the minimalist look of a modern kitchen.
When you are helping to plan a kitchen remodeling project, keep in mind that trends change. You want to advise homeowners to keep their remodel relatively timeless. They can add bright colors and modern styles, but it may date their home if they go too far. The kitchen designer can help you give your clients the best advice.  Visit the kitchen design center to learn more.