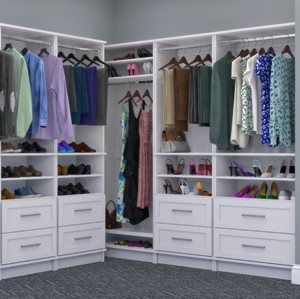 Almost any closet can be a storage haven, but it can quickly become chaotic without a sound strategy to organize its contents and the right storage system. As a cabinet contractor, you can simplify and create storage solutions for your clients using various closet systems. A good closet storage system can help maximize vertical space and make it exponentially easier to keep stored contents – clothing, outerwear, shoes, accessories, etc. – in order and readily accessible. To ensure the job is done correctly and safely, it is best to hire a professional contractor. 
What is a closet system?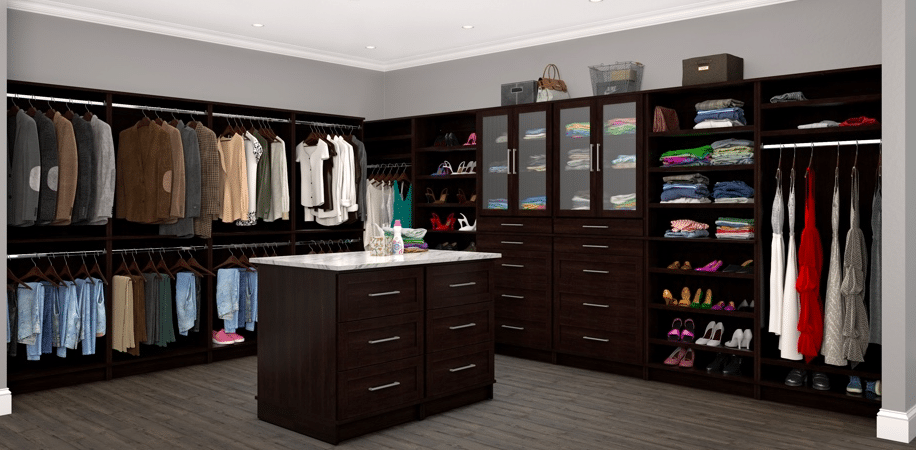 A closet system is a semi-custom, adjustable shelving unit with multiple options that are easy to configure and install. The best closet storage organizers give clients much-needed shelving, ample hanging space, open cubbies, cabinets, and drawers and set them up with an efficient and tidy closet. 
Where to start when choosing a closet system
Prices of closet organizers range from very affordable to extravagant. As a contractor, it's essential to work within your client's budget. After you've helped them establish the budget, you can work with them to design their closet system and select a style and color that blends with the rest of the home.
Each piece of the closet system has a particular function. When designing your client's closet, your first order of business is to determine which closet organizer will work best in their existing space. 
Nine interchangeable closet system organizers you can use to turn your client's closet into their "dream closet." 
1. Full hanging units – This can be a wall-mounted or freestanding unit for full-length dresses and coats. 
2. Double-hanging units – for sport jackets, dress shirts, and blouses in one section and trousers, slacks, or skirts in the other section. This can be a wall-mounted or freestanding unit. 
3. Half-hanging units- for an upper unit with hanging capability and free space underneath. This is a wall-mount-only unit.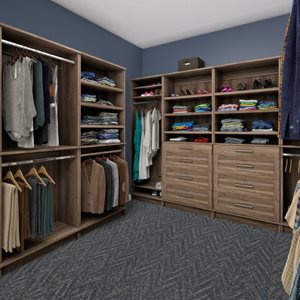 4. Full shelving units – A full unit has flat shelving for folded items, storage boxes, or bins and baskets. This can be a wall-mounted or freestanding unit. 
5. Half shelving, half tilted shoe shelves – This unit has flat shelving on the upper or lower half, with tilted shoe shelves for footwear storage on the other half. 
6. Half shelving with drawers – This configuration has flat shelving on the upper half, with a middle drawer for jewelry or small accessories, a smaller middle smaller shelf, and two full-size storage drawers in the lower section.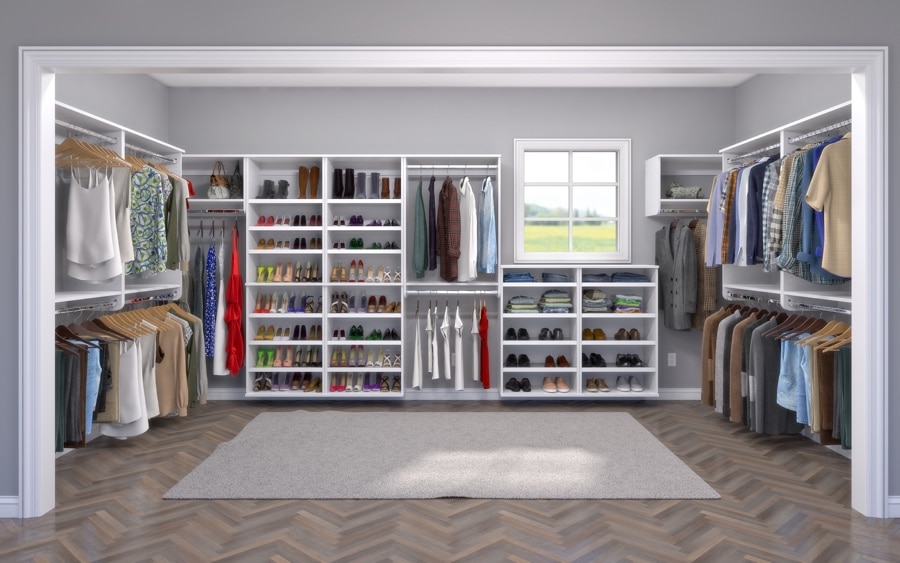 7. Closet cabinet with half-shelving and drawers – This unit has a closet cabinet in the upper portion of the storage unit, a middle drawer, and a shelf, with two full-size drawers in the lower section. 
8. Closet cabinet with shelves – This unit has a closet cabinet in the upper portion and flat shelving in the lower portion. 
9. Full tilted shoe shelves- This unit has tilted shoe shelves in both the upper and lower portion of the closet unit. 
The beauty of these different interchangeable pieces in the closet system is that your clients can choose different sizes and put together hanging, shelving, and drawer storage elements to suit their needs and space in different rooms. They also have the flexibility to add components to their system if they decide over time they would like to customize their closet further.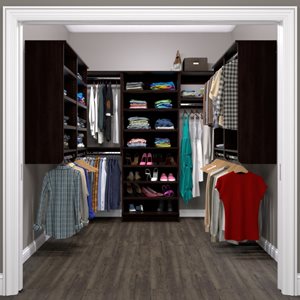 Closet systems come in 4 basic colors: white, salt oak, espresso, and cherry – with either a modern Shaker-style door or drawer front or a more traditional Cambridge style. These versatile colors and styles can work well in a traditional, transitional, contemporary or modern home.
Best closet systems to maximize vertical space for walk-ins, reach-ins, and freestanding closets
The best way to make use of all available closet space is by using vertical space. Semi-custom closet systems capitalize on vertical space and work within walk-in closets, reach-in closets, and freestanding closets, providing on-trend solutions to your client's storage needs. 
Walk-in closet organizers are designed to fit closets at least six and a half feet in width to ensure easy access. The actual capacity and efficiency of a walk-in closet are only as good as its design. This walk-in closet has additional hanging space beyond the cabinets installed but could incorporate more cabinets later. Cabinet system units can be purchased in widths 18", 24", or 30". They can also be mixed and matched with other sizes. This closet provides ample hanging space using simple rods and features an open shelving unit with drawers for smaller accessories.
Freestanding closet organizers are closet systems that stand securely and safely without the need to anchor the frame to the wall. This type of system is ideal if your client rents their home because the organizer comes with them when they move. Any closet system unit can be assembled and installed in any room or space – bedroom, bathroom, office, basement, garage, or attic, to add freestanding closet space.
Reach-in closet organizers fit into any reach-in closet, from a hall linen closet to the coat closet at the front or back entry. With different widths in closet units, your clients can add shelving, hanging, and drawer storage in widths of 18", 24", or 30" or mix and match to fit the closet size.
Installing closet systems
You can offer clients complete closet design and installation services, or you can serve as an expert resource by helping them select a good system for them to install themselves. Freestanding closet systems are typically the easiest for clients to install themselves, as these units stand alone and don't need to be secured to the wall. If they purchase wall-mounted units, they will need to locate the wall studs or install heavy-duty drywall anchors. 
Tools required include a stud finder, a drill with 0.25-in and .5-in. drill bits, 25-ft. measuring tape, Phillip's head and flathead screwdrivers, fine-tooth saw, level, ladder, and pencil. 
Standout closet system features
Soft-close drawers and doors
Soft-close doors and drawers are a must for a high-quality closet system. Especially for cabinets and drawers installed in or next to a bedroom, soft-close drawers and doors have a catch that prevents slamming, so both early risers and night owls can get in and out of the closet without bothering others. 
Shoe storage
Dedicated shoe storage is a crucial feature for today's closet systems. Whether the footwear collection is small or sizable, tilting shoe shelves keep shoes off the floor and readily accessible. Shelf storage also keeps shoes in better condition as they are not thrown in a pile or stacked on top of one another. 
Growth-friendly Design
Some closet systems are expandable. If there is space, clients can add sections with drawers, shelves, rods, or racks. These systems are ideal for children's rooms as storage needs increase as children get older and acquire more gear. Expandable systems offer versatility and flexibility and are ideal for anyone planning to expand their closet down the line.
Frequently asked questions about closet systems
Can clients install a closet system themselves?
Clients can likely install most closet systems as long as they have the right tools. It is easier to install closet systems with two people on the job, especially when installing multiple units. For clients who are not that handy, we recommend they hire a professional installer.
How do clients plan a closet organization system?
The first assignment when planning a closet organization system is to measure the space. With measurements in hand, they can decide what features they have room for and how best to arrange them. For example, if they have multiple dress shirts to hang, they might want a closet organizer with a two-tier garment rod. If they need to store a handbag collection, a tower unit with shelving would be a good choice. 
If the closet design process seems to be a struggle, many cabinet manufacturers have designers on staff to assist with every step of the process. 
How do clients build a closet in a room without a closet?
Clients can create storage in a room without a closet by installing a freestanding closet system. Freestanding units can be arranged against any wall without being secured to the wall. They typically have drawers, shelves, and garment rods inside. A wall-mounted closet system creates the look and feel of a walk-in closet.
Visit CabinetCorp for the best closet systems available
At CabinetCorp, professional cabinet contractors can find the latest closet systems to provide clients with on-trend colors and styles and create the functionality your clients are hoping for in an organized closet. Take advantage of 40% off retail pricing by joining our dealer program, giving you access to an in-house design expert for all of your cabinetry projects. You will also receive professional marketing material that includes cabinet door samples, catalogs, and brochures. Become the go-to closet guru in your area when you join our dealer program, and help your clients create the most fantastic closets ever!