When a client comes to you for help with their closets, it's a safe bet they're frustrated with a lack of storage and organization in their home. Steering them to the right type of closet cabinet for their home can take a little work, especially if they have an older home and many different storage needs.
There are wide varieties of closet systems, closet types, versatile styles and space-saving closet accessories available in the market today. You can help your client step closer to their dream of an organized household with closet solutions that suit different home areas – hallways, bedrooms, kitchens, laundry rooms, and entryways.
First things first: What is a closet?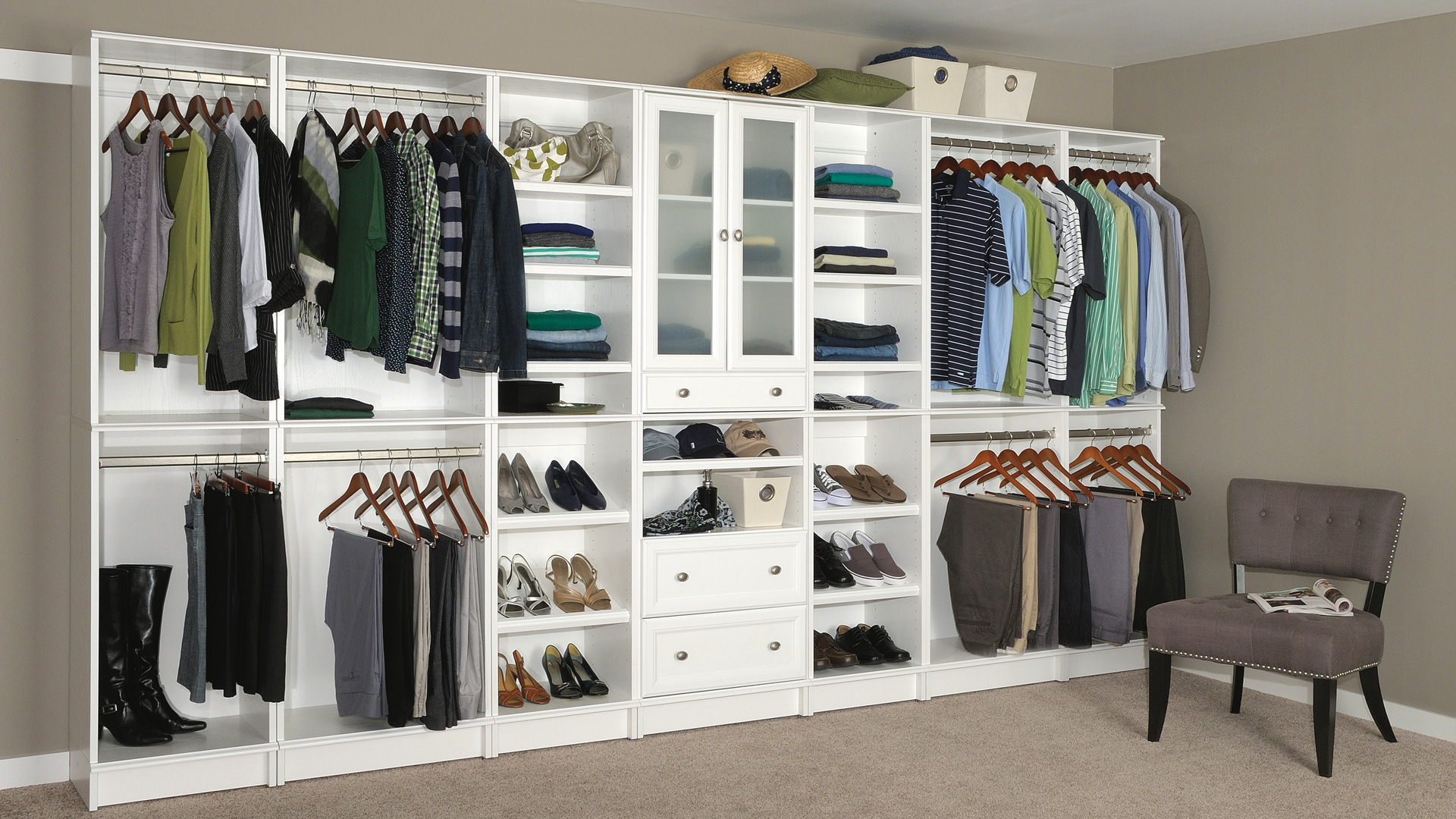 This answer is straightforward: While it can take many forms, a closet is an enclosed space to house clothing, food, items that need seasonal or longer-term storage, or items used more frequently that need a practical and accessible home.
No matter what room it serves, the killer closet incorporates maximum storage and useful features to serve specific needs such as hanging capacity, shelving or drawers, or pullouts.
When you help a client decide on closets or cabinets for their bedroom, for example, you can point out different features designed to store clothing and shoes, which will be different from options for a pantry closet in the kitchen.
What are the different types of closets? 
Think about your own home; you don't use all of the closets the same way. Based on the type of closet and location, you have specific shelves, drawers, hanging rods, and pullouts you'd incorporate into the closet design.
Six most common types of closets
 Reach-in closets
Reach-in closets are usually found in hallways and bedrooms of older homes. These closets typically feature one single hanging rod under a storage shelf. Most reach-in closets are three to eight feet wide, with a depth just slightly greater than a standard hanger, usually 24 inches to 30 inches. But with the right closet cabinet system, a contractor can turn even the smallest closet into a fitted wardrobe and storage area with a surprising amount of capacity.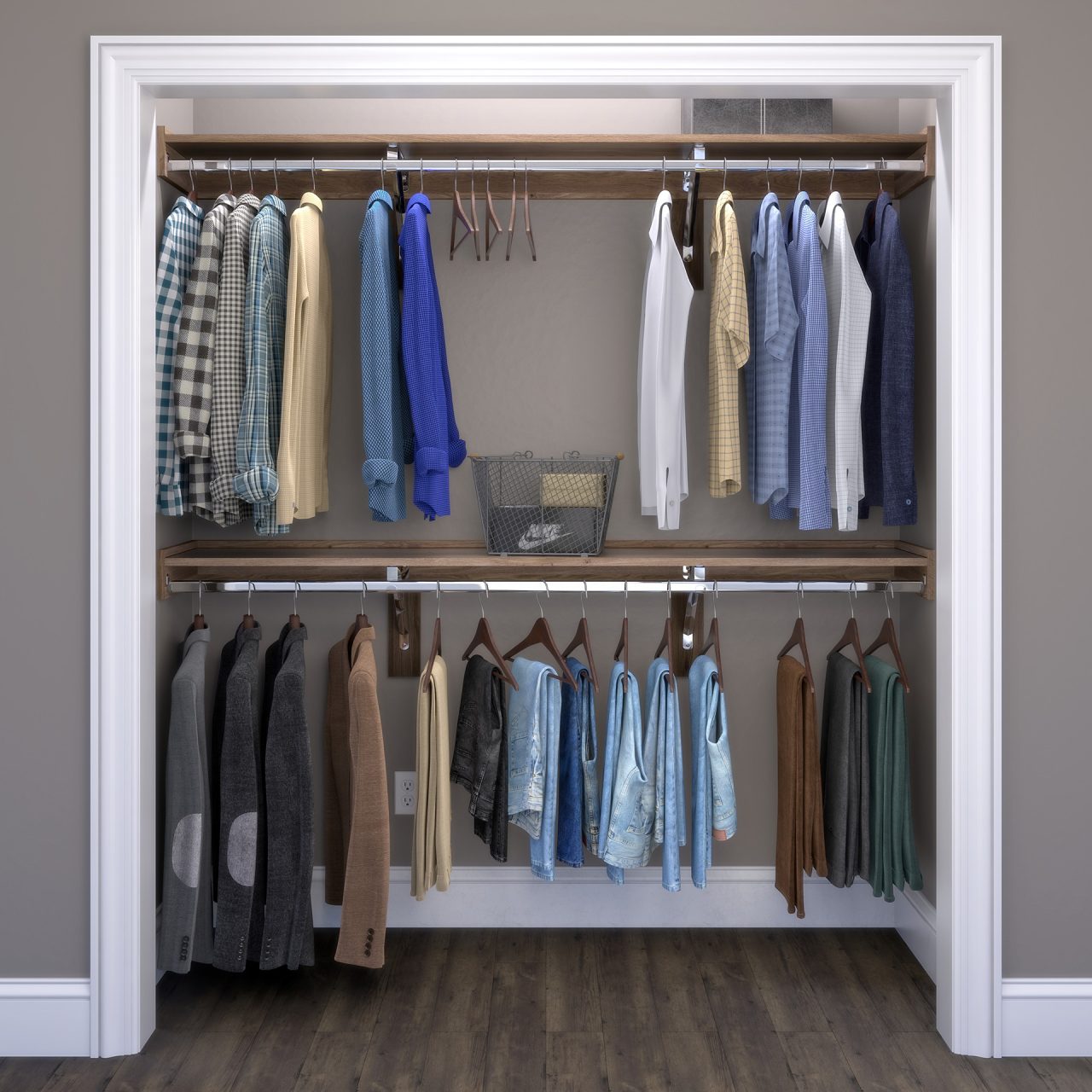 One benefit of the reach-in closet is that with the addition of an actual closet cabinet, you can get as much as double the hanging-only area by incorporating a lower rod for folded pants, skirts, jackets or blouses, and retain some space for additional multi-tiered shelving. Multi-function closet cabinets have a cabinet on top, and the variety of choices available in closet doors can complement any room's style. The client can also choose from open shelves (fixed or pullout), drawers, or built-in shoe racks.
For many homes built in the past 30-40 years, the reach-in closet doors are the traditional accordion doors that fold outward in the middle. Other reach-in closets have regular solid doors, which allow extra storage opportunities with hanging hooks, shoe racks or other storage hidden away on the inside of the closet door.
Linen closets
The linen closet is usually a smaller version of the full reach-in closet. Typically concealed by a single solid door, it has a stack of permanent shelving inside. The shelves are usually 30 inches – 36 inches wide. The linen closet is often in a hallway between the bathroom and bedrooms and serves as storage for bed sheets, bedding, pillows, and bath towels. With various closet cabinet options to consider, you can help your clients upgrade their linen closet to improve storage capacity significantly.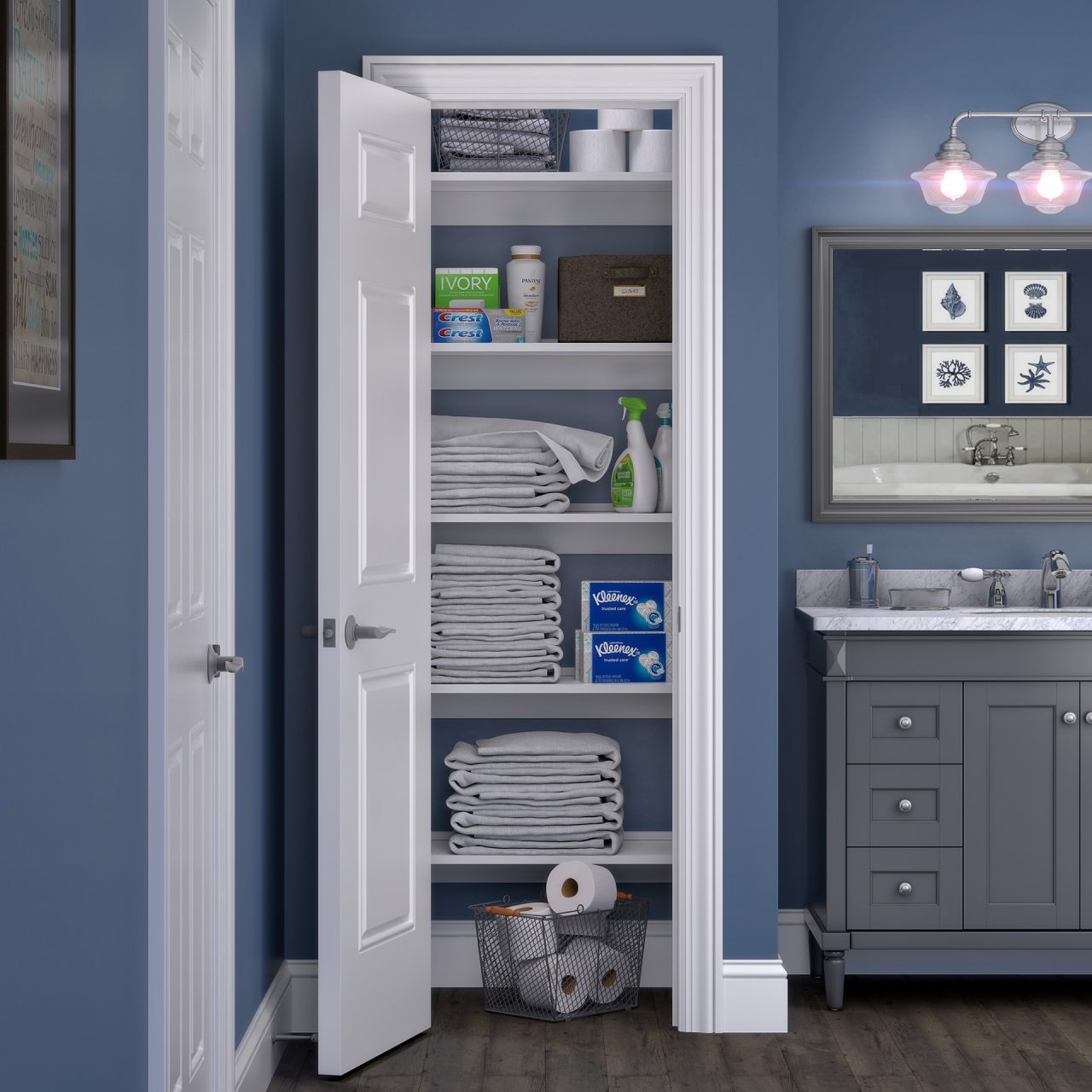 If the homeowner is weary of looking at open shelving, you could recommend a closet cabinet system with a cabinet on the top with several cabinet doors. These closet cabinets also feature drawers, permanent shelves, pullout shelves, or shoe racks incorporated in the lower unit. Even for a 30-inch closet, you can design an accessory mix to include hanging space or double the shelving to improve the organization.
Walk-In closet
Every homeowner dreams about walk-in closets. As a contractor, you can help them decide if their dream walk-in closet is really the best use of their bedroom space – especially if they are on the smaller side. If you can realistically make a walk-in closet work, you can use many types of closet cabinets to maximize storage and functionality.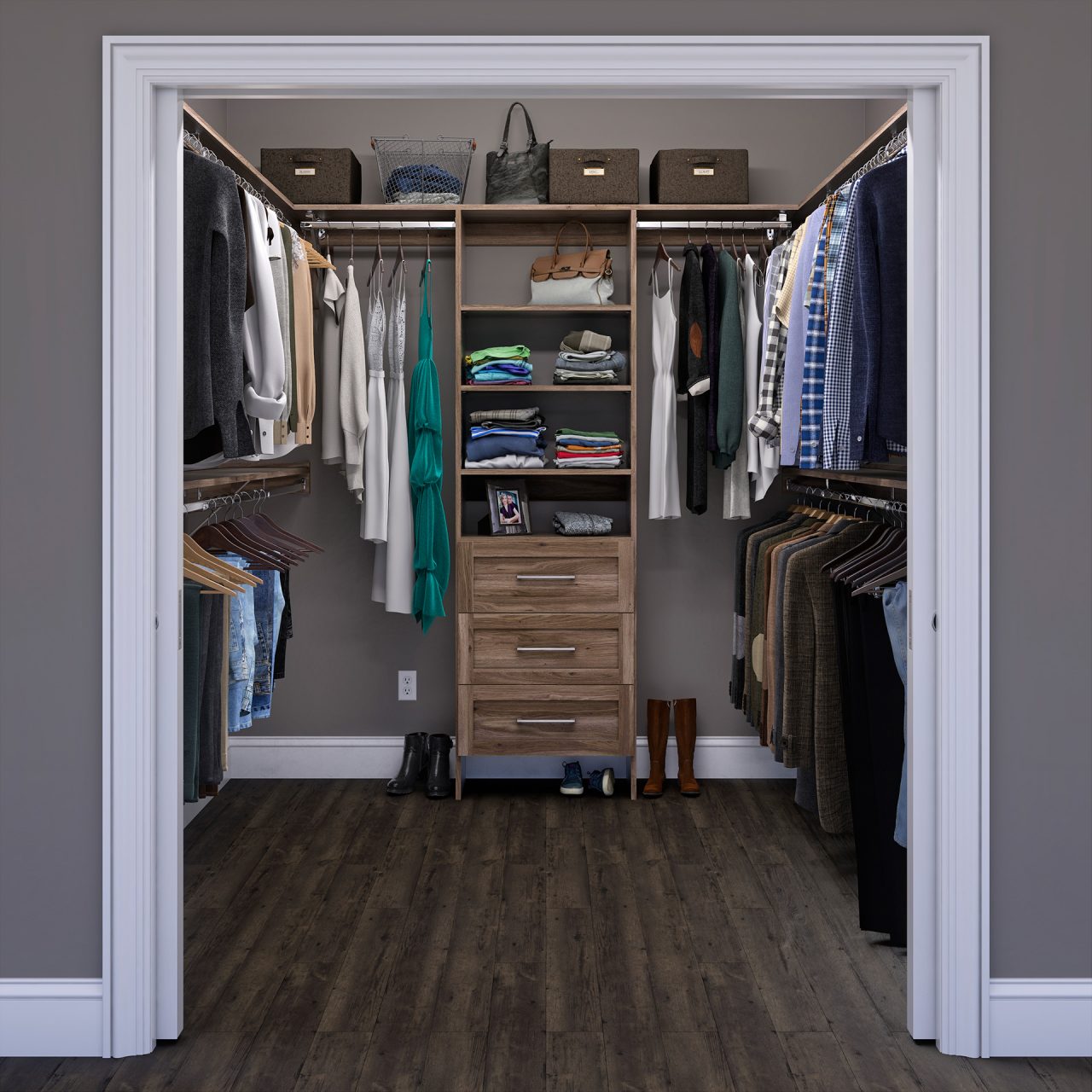 Considerably larger than the standard reach-in closet, walk-in closets can be as small as a few square feet or as large as a bedroom. A walk-in closet needs at least six and a half feet of width for easy access. But on a cautionary note, the actual efficiency and capacity of a walk-in closet are only as good as its design. Many contractors install a hanging bar along the top of each wall, which automatically limits the storage for folded, boxed, or smaller items. A storage island is a wonderful solution to this problem, but not all walk-in closest have adequate space for an island.
A mix of closet cabinets can maximize both function and storage in the walk-in closet. With a suitable space dedicated to hanging sections (and some with both upper and lower rods), you can install shoe shelves, closet cabinets or open shelving with drawers or pullouts on the closet's back wall. This will make the entire closet feel larger, more open, and improve its efficiency.
When feasible, the walk-in closet offers a larger storage area for both hanging and folded clothing and can eliminate the need for another dresser or armoire in the bedroom. Drawers can be customized to store jewelry, belts, cuff links, and other smaller accessories. Shoe shelves will keep many pairs of shoes organized and reduce clutter in the rest of the house. Many homeowners use their walk-in closet as a private changing room and welcome it as a sanctuary for a little alone time.
Coat closets
The coat closet traditionally shows up in the entryway of the home, next to the front door. While intended for the storage of outerwear, jackets, hats, gloves, and other seasonal items, coat closets can quickly become overstuffed and messy. Like for the linen closet situation, there are closet cabinets ideal for the entryway, with features to help homeowners capture and tame the chaos.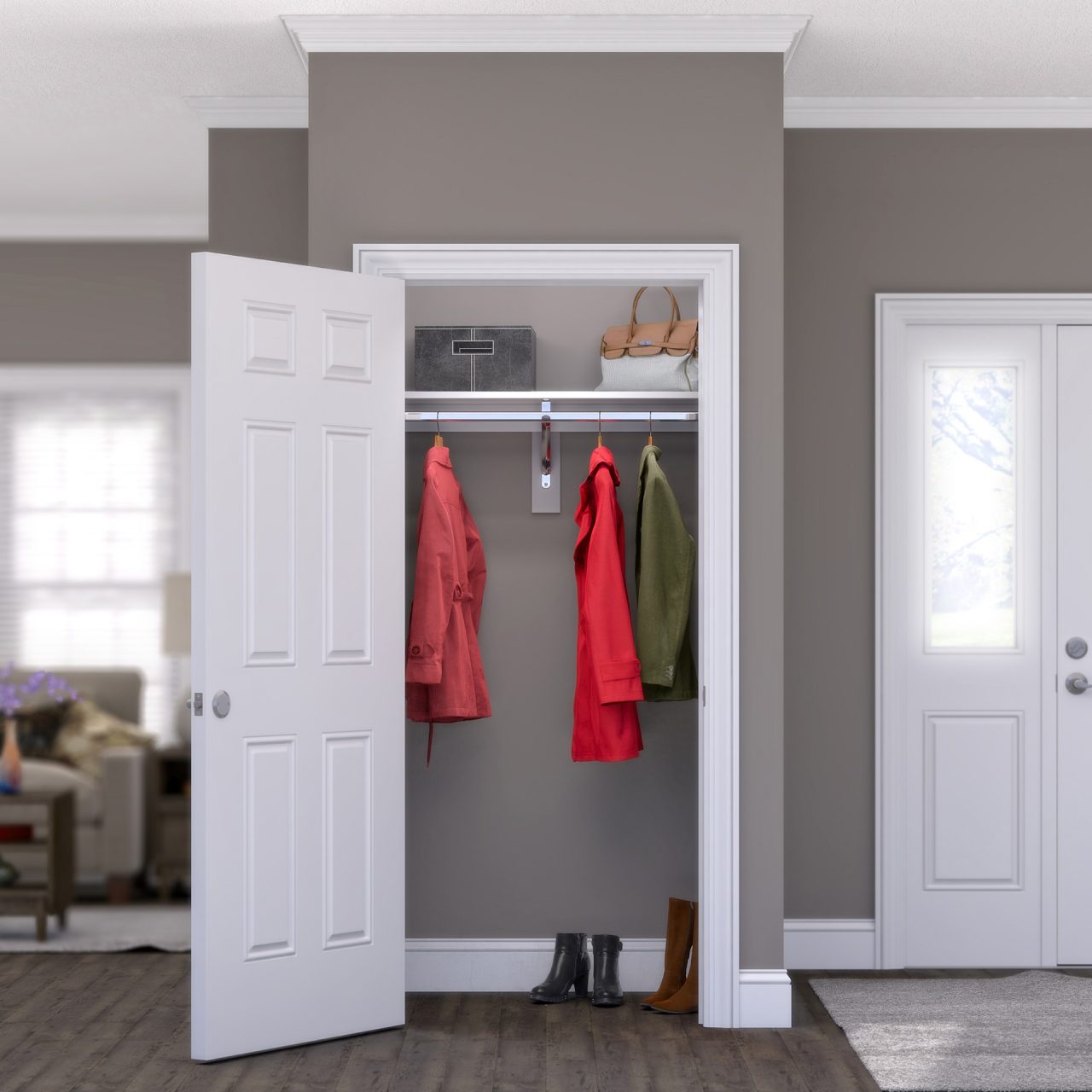 Standard coat closets are usually similar in size to a linen closet at 30 inches to 36 inches wide. The homeowner has several options for installed cabinets. A double hanging closet cabinet creates storage for adult jackets and coats on the top bar and kids' coats on the bottom, where they can reach them. A closet unit with a closed cabinet on top can hold baskets of hats, gloves, and smaller items, while open shelving or shoe racks in the lower unit will keep items off the floor and in one place.
With a wider coat closet, you could install a larger cabinet unit and still have space for full-length coats and jackets, and other hanging items.
A coat closet's significant benefit is its capacity to keep seasonal items organized and stored neatly behind a door, rather than letting them stray away to other out-of-the-way parts of the home where they get lost or separated from their mates.
Laundry closets
A laundry closet can resemble a larger reach-in closet or linen closet. It can accommodate a washer and dryer in either a stackable or side-by-side configuration. Ideally, it includes storage space for laundry items like detergent, fabric softeners, stain-fighters, and even the iron and ironing board.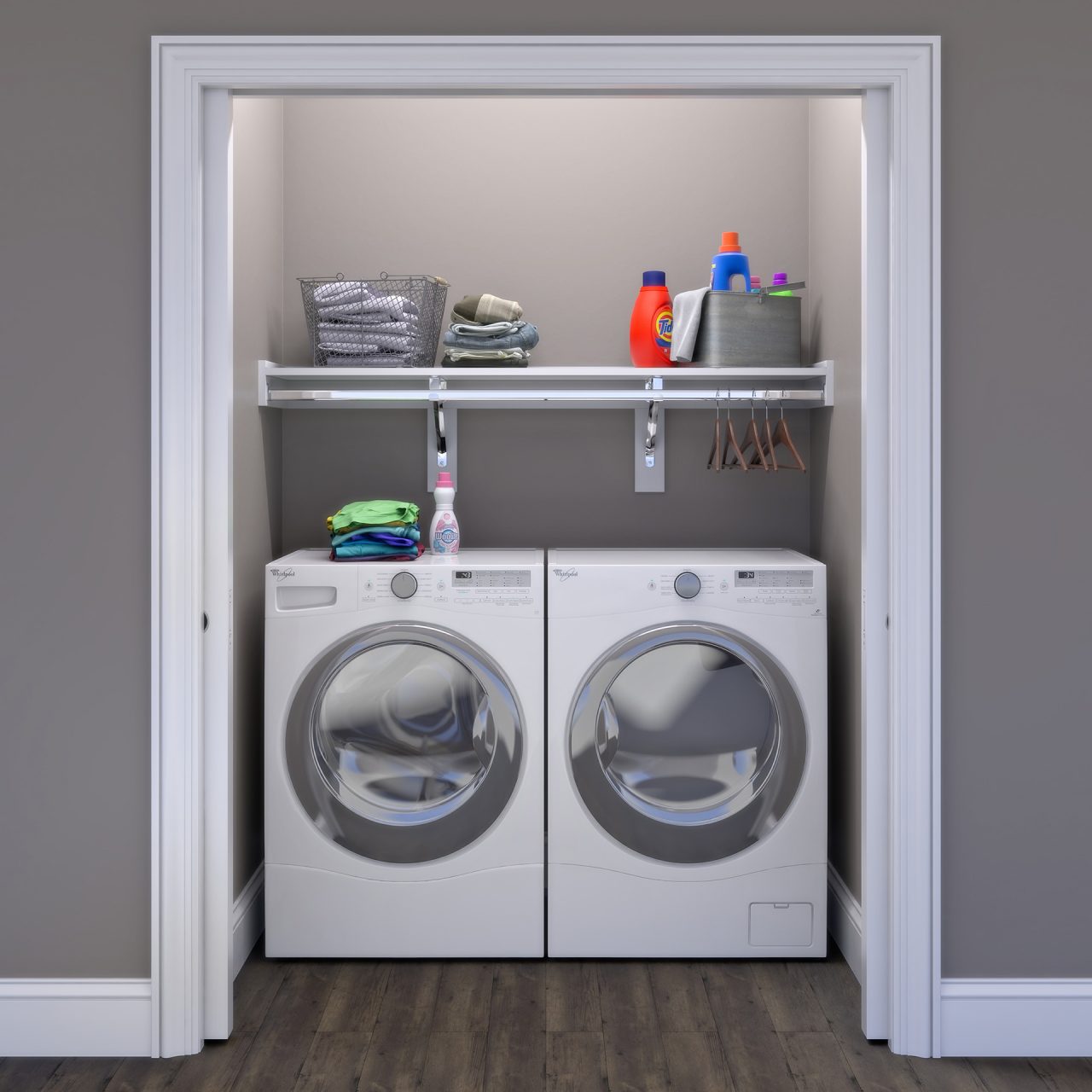 A split closet cabinet can transform this space into an efficient laundry center with room for a fold-out ironing board, cabinet with doors, and shelving for supplies, plus hanging space to dry and store clothing before it's put away and avoid that wrinkled pile in the laundry basket.
Pantry closets
Pantry closets offer numerous design opportunities, depending on the space available and the nature of other storage in the kitchen. A contractor can design a pantry with various pullout shelves, permanent shelves, fold-out storage doors, and drawers. With closet cabinets units available in sizes that range from 18 inches – 36 inches and the option to incorporate tall kitchen cabinet pullouts in widths of 3, 6, and 9 inches, a pantry closet can be as custom and functional as the homeowner desires.
Most homeowners appreciate the ability to store spices, canned and boxed goods in one convenient pantry closet. This type of storage keeps drawers and cabinets free for dishware, small appliances, and cookware.
Where do I find the best closet designs?
The most functional and attractive closet designs are those created by a certified cabinet designer. Contractors can partner with cabinet companies, like CabinetCorp, where there are professional cabinet designers on staff. These designers work with both contractors and homeowners to optimize an existing layout and turn it into an accessible storage area with much more capacity than before.
If you've been relying on the design desk at your local home improvement store, you miss out on the opportunity to recommend today's best closet designs and cabinet types to your clients.
For your next closet cabinet project, visit with the designers at CabinetCorp. They can help you deliver the highest-quality closet cabinets at discounted prices and delight your clients with amazing designs.