2021 has seen a 40% increase in kitchen cabinet sales, even before the year is done. Can we expect demand to stay strong, and what are the new kitchen trends in 2022? As the housing market continues to run hot, kitchen remodels remain a top priority for homeowners, whether they plan to sell or improve their current homes.
The kitchen cabinet trends for 2022 are leaning toward a minimalist style. This style calls for clean lines in shaker cabinets or smooth frameless cabinets. Wood grains are also a popular way to incorporate natural features into the kitchen design trends in 2022. As a contractor, you know that costs to remodel continue to rise. It's helpful to share information about average costs to remodel a kitchen and guide your clients to sound decisions about their upcoming remodeling projects.
What is a minimalist kitchen?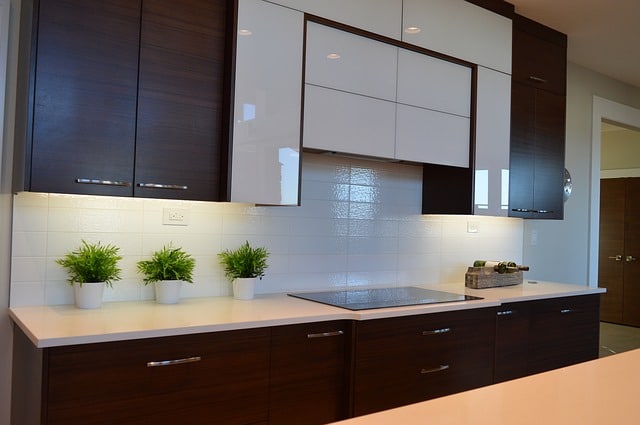 A minimalist kitchen pairs simple, clean, organized design with modern style. The result? A functional kitchen with sleek surfaces, clean lines, and no tolerance for countertop clutter.
Minimalist kitchen design often includes clever hidden storage, spare expanses of countertop, and bright, neutral color schemes. Many also rely heavily on modern design elements such as the waterfall island and lacquered flat-front cabinetry. Although they emphasize simplicity and function, modern minimalist kitchens create opportunities to showcase unique style and personality with on-trend color accents, fetching stone surfaces, wood elements, and aged metal finishes.
What types of cabinets are best to use in minimalist kitchen design?
Frameless cabinets are the natural choice for a minimalist kitchen.
These cabinets feature slab or flat-front doors that close over a full-access cabinet interior with adjustable shelves. The smooth, sleek door can be finished in bold or neutral colors to suit the homeowner's style. Although some homeowners choose to add hardware that reflects clean and simple style, these cabinets typically have no handles, such as slim-bar pulls. These cabinets provide a more stable, thicker cabinet box that gives you durability and strength. Frameless kitchen cabinets increase access to interior items and work well in smaller kitchens.
The best kitchen cabinets 2022- frameless
Contempo-prime frameless: Contempo-prime frameless cabinets feature the sleek, smooth door-front of contemporary, modern cabinetry. They come with an open cabinet box to allow full access to dishware and cookware. The doors and drawers feature soft-close hinges and full extension glides. This line comes in high gloss white, dark gray, light gray, and beige.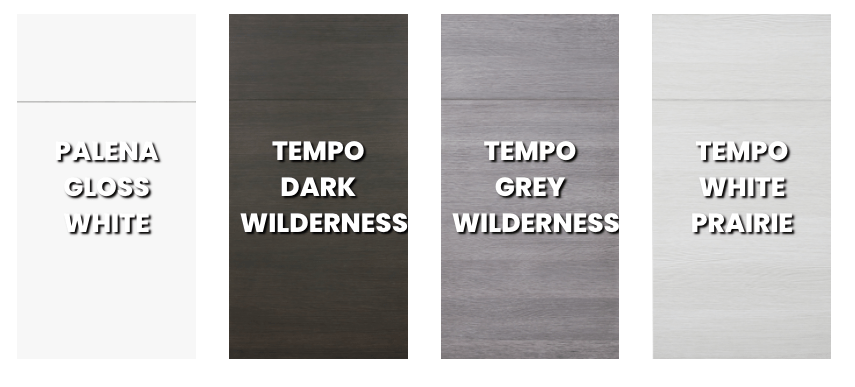 Arlen-style frameless: Arlen-style frameless cabinets are ideal for those homeowners who like a mix of modern and contemporary styles. The Arlen-style cabinets are similar to Shaker cabinets with a simple framed door but mounted on a frameless cabinet box. This line comes in bright white, navy, and gray.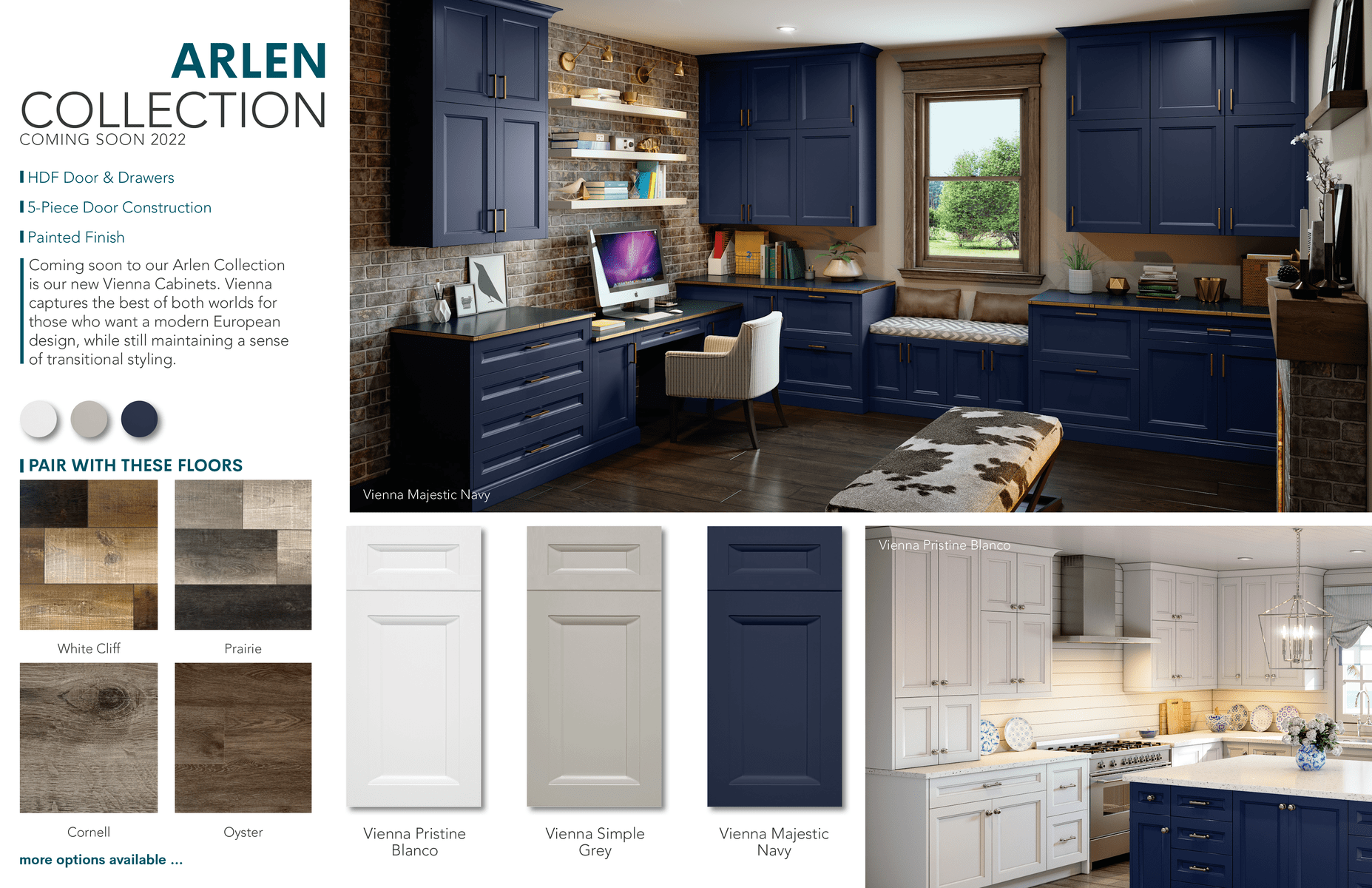 Contempo-custom frameless: These cabinets feature the frameless cabinet box and smooth doors but come in various colors and finishes. The Luxe-style cabinets have a high gloss finish. The Zenit-style has a super matt silk touch finish. The Syncron-style has a natural wood grain finish. These lines come in various colors of light grey, beige, and dark brown.
What are the trending kitchen cabinet colors 2022?
The kitchen cabinet colors are usually neutral in a minimalist kitchen, as the rest of the room often incorporates accessories in bright, bold colors. Still, it's not unusual for kitchen cabinet trends to lean toward a pop of color in a modern, minimalist kitchen.
White remains the most popular color choice for minimalist kitchen cabinets. The key is to balance the color palette with other neutrals, natural wood or metal, and muted green, blue, black, or grey.
With colored cabinets, you can have many design combinations, including the addition of bold accessories like countertops in bright white or black, metal hardware and faucets, or smart appliances in stainless steel or black.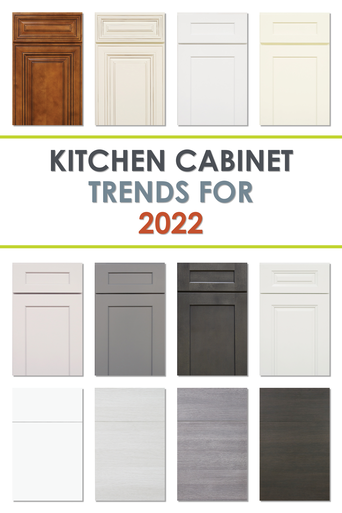 Share this Image On Your Site
How much is remodeling the kitchen going to cost?
According to the Houzz 2021 Kitchen Trends Study, major kitchen remodels – involving new kitchen cabinetry, layout changes, and smart appliances – cost $35,000. A minor kitchen remodeling project involves replacing cabinet fronts (but keep cabinet boxes), new hardware, upgrading countertops, new appliances, repaint, or new flooring— averaged $8,000.
There are factors other than cabinetry and appliances to calculate the cost of a remodeling project. They include any changes to the kitchen layout – which always add to the basic costs – whether a designer's services are involved and what types of cabinets accessories are selected.
Here are some kitchen ideas 2022 to design the perfect kitchen.
1. Floor plan
As a kitchen contractor, you know that once the homeowner starts to change the kitchen layout or floor plan, the cost of a remodeling project will increase. There are always extra costs in labor and project management when you need to move electrical or plumbing. However, contractors can help homeowners keep a tighter rein on costs if they show them how to work within their current floor plan but upgrade their cabinets' style, color, and function.
2. Premium RTA cabinets
Contractors can buy premium all-plywood RTA cabinets for the perfect minimalist kitchen by working with the right cabinet manufacturer. Because they eliminate the time and cost of pre-assembly, RTA cabinets are the best value for the money and help keep total project costs down. With RTA cabinets, you also avoid the risk of possible damage during shipping, which would also delay the timeline for the kitchen renovation. Cabinet Corp's RTA cabinets are constructed with premium all-plywood materials, flat-packed for zero movements during shipping, and can ship out 4-6 days after finalizing a kitchen design and order.
Related – Everything You Need to Know Before You Buy RTA Cabinets
3. Kitchen designer
When contractors work with CabinetCorp, they do not need to hire an outside interior designer. CabinetCorp provides access to an expert in-house kitchen designer who works on the contractor's behalf to help the homeowner design a functional and beautiful kitchen. There is no extra cost to the contractor or homeowner for design services, saving everyone money in the remodeling process.
4. Accessories
Any homeowner can find themselves overwhelmed by the sea of accessories presented at a big box home improvement store. If the goal is to choose accessories that will optimize functionality in the new kitchen without blowing the budget, an in-house designer can help. A designer can ensure your client selects cabinet organizers, drawer accessories, or in-cabinet pullouts designed explicitly for frameless kitchen cabinets. Such accessories are available for all cabinetry sizes, from a base or upper cabinet to a tall pullout pantry. The right accessories can keep a minimalist kitchen clean and clutter-free.
Frequently asked questions about kitchen cabinets 2022
What is the trend for kitchen cabinets in 2022?
The minimalist kitchen design will remain popular in 2022. Homeowners are choosing frameless cabinets with smooth, flat-front doors for a sleek and modern look.
What color cabinets are in for 2022?
Colors range from the minimalist neutrals of white, gray, black, beige, and wood grain to pops of color with navy and mauve.
Working with the right cabinet supplier can help contractors stay on time and within budget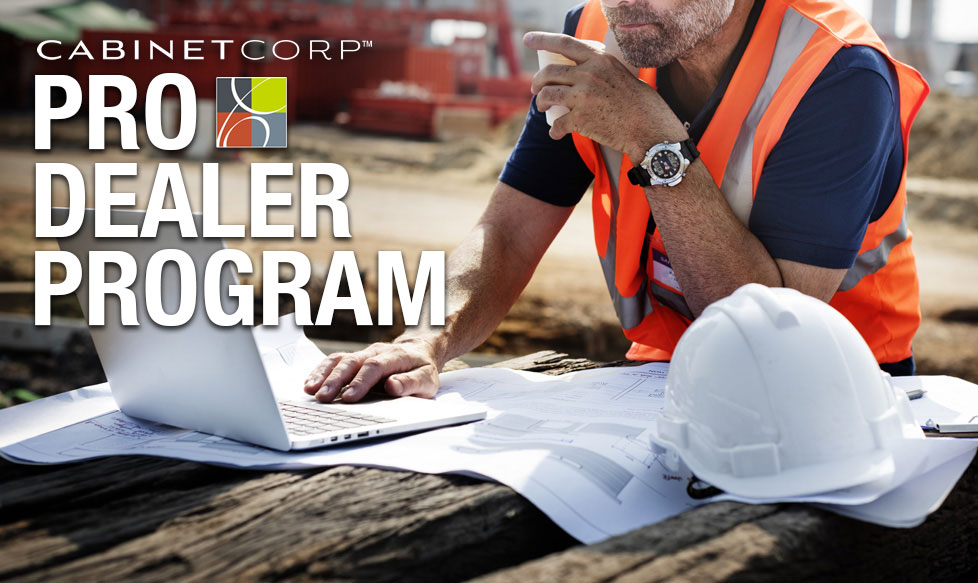 When you're searching for the best cabinet supplier, it's essential to find a reputable manufacturer who will stand by the quality of their products and ensure timely shipping and delivery. You need a cabinet supplier who can provide the cabinets the homeowner wants while giving you a reliable, high-quality product to install and supporting you with excellent service. Many cabinet suppliers have created special dealer programs for contractors to help them save money, provide designers, and give their marketing a professional advantage.
The dealer program at Cabinet Corp does all of that and more. When you choose our dealer program, you'll receive:
A sample kit that includes the entire line of cabinet door styles, closet door styles, and available finishes to show your homeowner clients so they can see and touch the product in person.
Free professional kitchen/cabinet design services for delivering the best and most cost-effective layout for the homeowner.
A welcome packet with detailed instructions to navigate our website and brochures to support your marketing.
Optional mini-base cabinet sample (for an additional fee) for in-person meetings to see the product upfront.
Save money on your next kitchen remodeling project when you sign up for Cabinet Corp's dealer program today. You can offer professional design services and show your clients an exact sample of the type of cabinets you'll install in their kitchen. Equipped with an outstanding line of cabinet products and services, you will be the go-to contractor for 2022!