BLURB: Memorial Day is an important date in our annual calendar. The day has a somber tone, which should be at the forefront of our minds. But, the holiday also presents an opportunity to turn our thoughts towards summer. The weekend usually acts as the start of the summer holiday season, presenting an opportunity for people to get out of town for the first time after a long winter. You might be wondering what any of this has to do with kitchen cabinets! Well, the summer holidays can have a big influence on people's mood and what is color if not an expression of mood? As Memorial Day reminds us summer is here, there are some interesting new trends afoot in the kitchen cabinet market. Particularly, in relation to the colors, people are favoring their kitchen cabinets. Well, what are the current kitchen cabinet color trend and why should you consider them for your kitchen refit?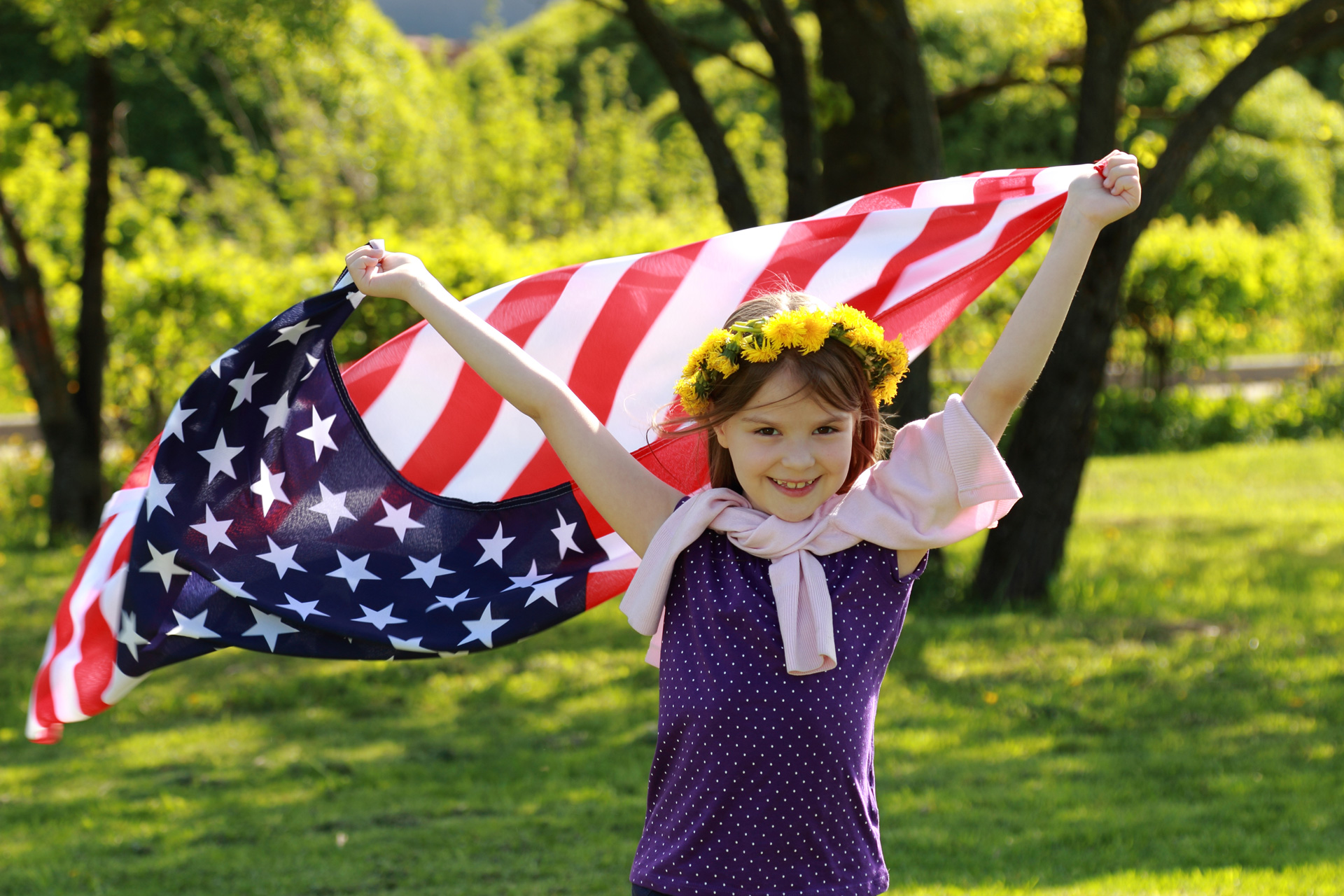 Memorial Day inches closer and we turn our thoughts to all the people who lost their lives serving the US in our armed forces. The long weekend gives us all an opportunity to reflect and for families to take the time to leave flowers on the graves of their loved ones. Others may lay flowers at historical graves or at monuments to the unknown soldiers who never returned home. While we remember and reflect on the somber topic of Memorial day, let us remind ourselves the holiday is not intended for us to focus on negative feelings. Rather, the holiday is a time to refocus our thoughts and remind ourselves that all those treasured people did not die in vain.
The holiday also reminds us the beginning of the summer holiday season is here. Perhaps, we can count our blessings and enjoy the time, because not everyone is able to do so.
Now, when people think of summer, they look forward to the light summer evenings. Next, their thoughts will turn to the fact that they'd soon have guests to entertain. After that, the next thing on their mind is the realization that their kitchen needs a new look urgently. If you are thinking of treating yourself to a kitchen refit before summer really kicks-in, then thinking about the color scheme for your refurbishment is a good place to begin.
New Kitchen Cabinet Color Trends
This year, the new colors on the block in the kitchen cabinet scene are navy blue and purple. You might find this surprising – but if we scratch the surface a little we can quickly understand why. Perhaps, in school, you learned about color theory and if you need a little reminder, colors can reflect and influence our mood. All the colors in the spectrum are organized on a color wheel. The wheel considers some colors "warm" and some "cool".
The Color Wheel Low-Down
The colors yellow, red and orange are warm. When you sit in a cozy yellow kitchen you feel just that, cozy and warm. All because your mind sees yellow and reads warm, comforting, and sunny.
The colors green, blue and purple are cool colors. This means when you are sitting in a kitchen with a blue color scheme you are likely to feel chilled out and cooled down.
Now, is it making more sense why navy blue and purple are the two new hot trends as summer approaches? Of course, there isn't one particular reason why a color begins trending at a given moment. However, the fact that people are anticipating the approaching heat of summer seems a simple driving force towards choosing cooler color schemes.
The Trends – Introducing Navy Blue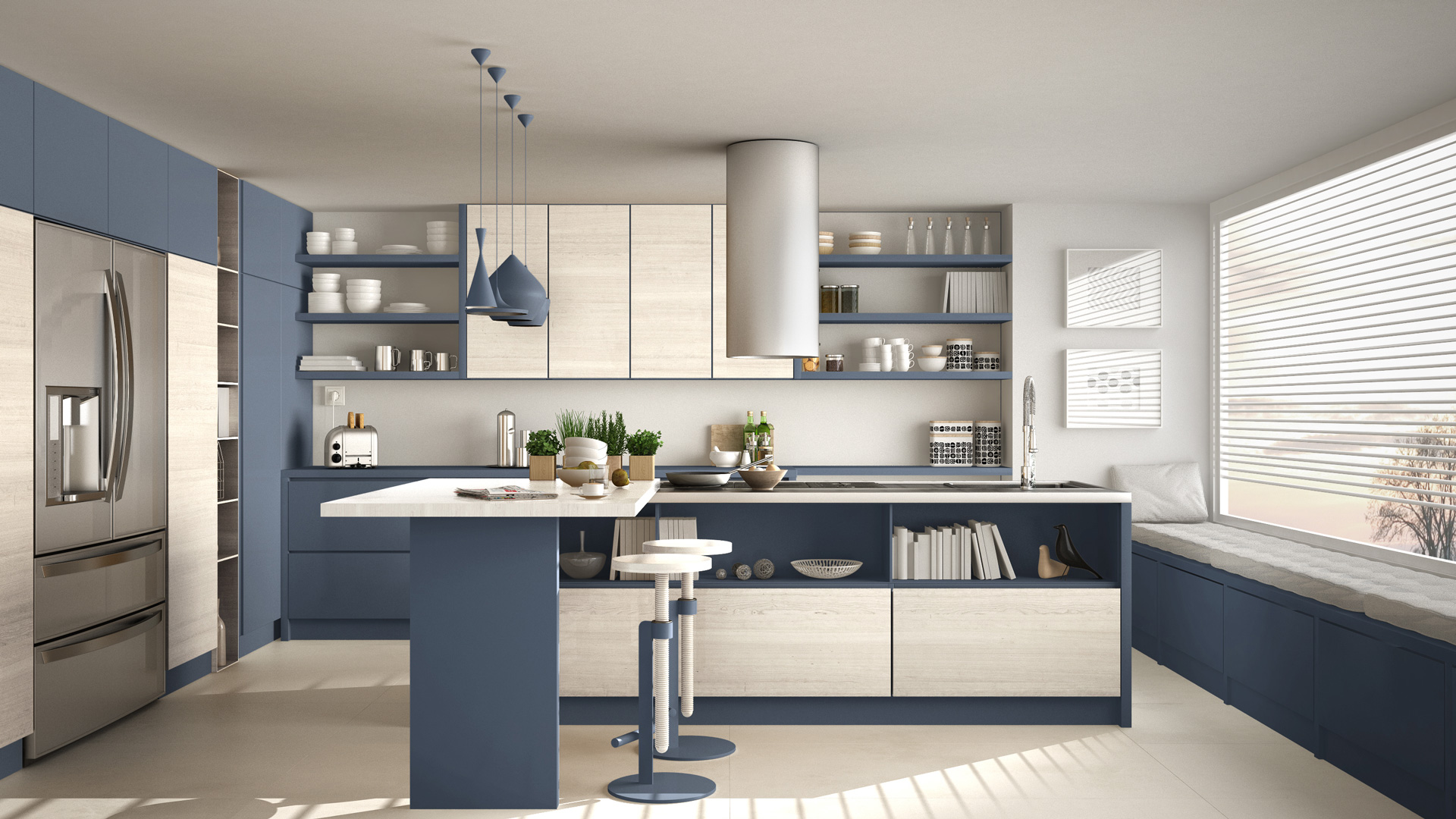 Navy blue is a delicious color which often goes unsung and unappreciated. However, at the moment, navy blue is trending and finally it's moment of glory has come. At the moment, we can see kitchens using navy blue cabinets splashed over every magazine and blog.
The color is very versatile and works well on cabinets in a kitchen with contrasting lighter colors. For example, in a two-tone color kitchen with white and blue, the navy blue cabinets act as a strong contrast with white walls and wood highlights. In a one-toned blue color kitchen, the navy blue cabinets can contrast with other blue elements used in lighter tones.
Navy blue comes in a wide range of different tones. You can find rich shades of the color, to more muted shades which lend well to matt textures. Once you know you want to use navy blue in your kitchen, you can choose the shade you would like based on the other colors you plan to use in your kitchen makeover.
Navy blue gives weight to the room, and the lighter elements act as a contrast. The result? A modern space, a new take on classic forms, and a refreshing space for you to entertain in.
The trends – Introducing Purple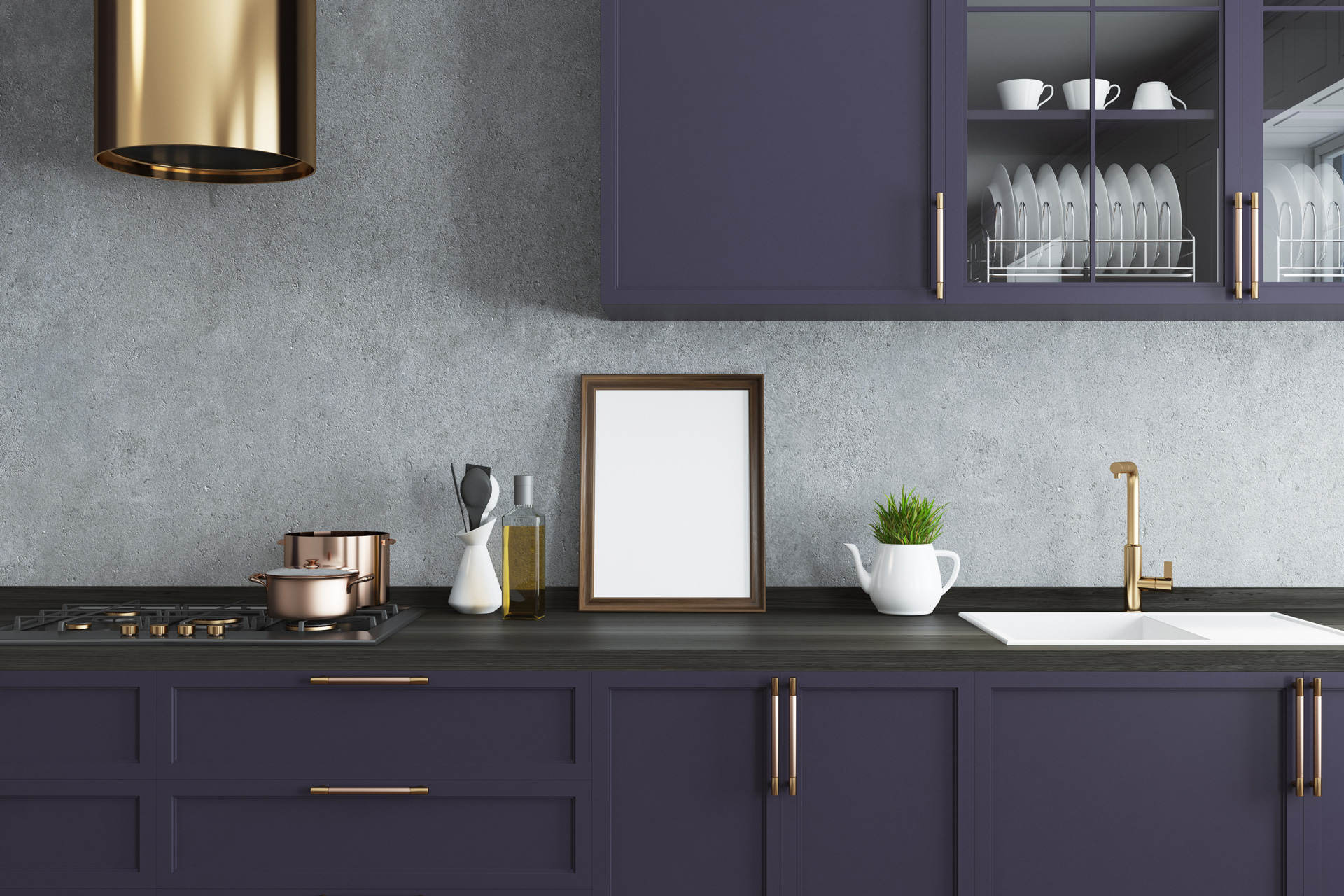 Purple is a strong color reflecting creativity and innovation. This year, the color is trending in the design world. Perhaps, it is no coincidence Pantone chose UltraViolet as their color of the year for 2018.
Even so, as a powerful color, you need to use purple with care. Purple is not a color to create a one-tone kitchen with purple everywhere. Of course, there is nothing to stop you but you might raise a few eyebrows! Rather, you can use purple as an accent tool, and in this way introduce sparks of creativity into your kitchen space.
You can use bright or pastel purple kitchen cabinets to add a dash of spirit to your kitchen. The cabinets then act as a focal point. You can combine purple kitchen cabinets with a lot of white or grey elsewhere in the kitchen which balances the power of the color very well.
Purple also comes in darker and more muted tones, so you don't have to think purple necessarily has to mean big, bright, and dramatic. Not necessarily. By using darker eggplant tones on your kitchen cabinets, you can create a beautiful smoldering room. Darker shades of purple work very well with metals, and grey colors elsewhere in the room.
The Existing Favors – Introducing Neo Colors
A less surprising trend in the kitchen design world is the ongoing use of neo colors. This means the three colors, black, white and grey.
White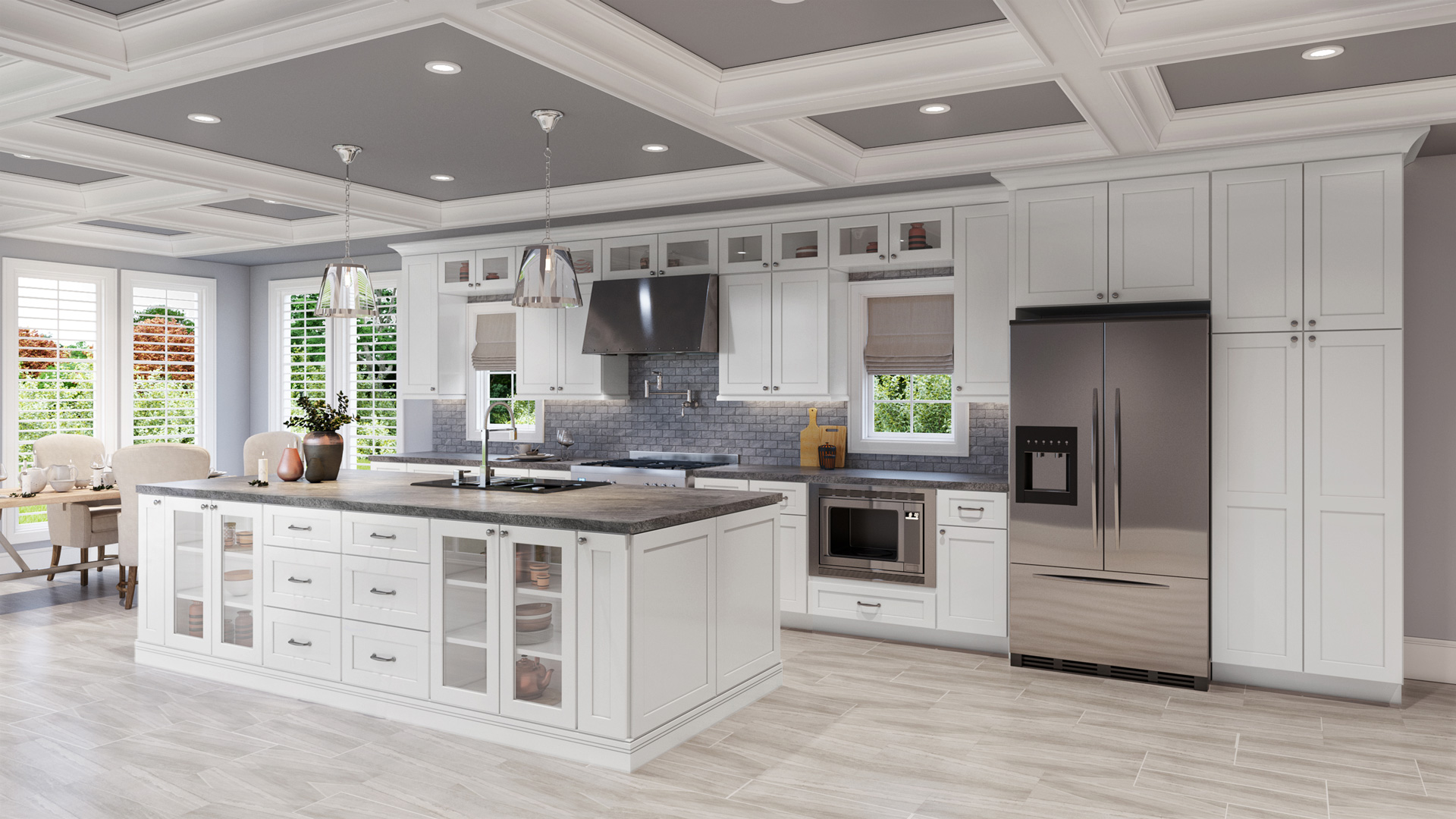 It's a well-established fact that white is a popular choice for kitchens, and continues to be an essential color tool. White is a great choice for a one tone kitchen but works well with any other color in a two-tone kitchen as well. Using white is a good way to make space in your kitchen for bright colors. This is because white doesn't compete and allows the brighter color to do it's thing while tempering down the color's boldness so it doesn't overwhelm.
Grey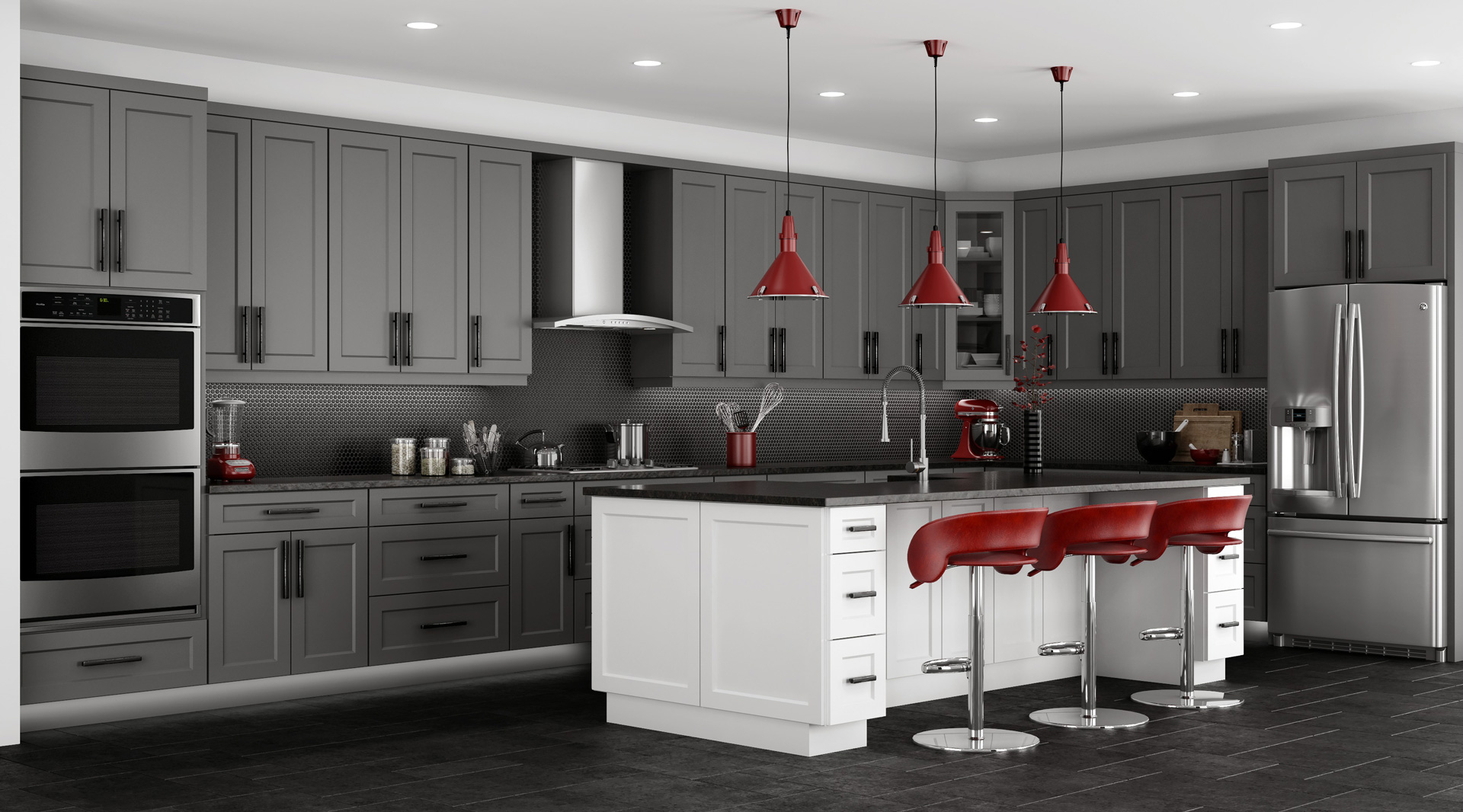 Grey has been steadily rising in popularity in kitchen color themes over the last number of years. While grey sometimes gets a bad rap, the color is actually very versatile and useful. With some care, you can use grey in the kitchen and achieve some truly beautiful results.
When using grey, think about the colors you can partner with it. Gray works well with carefully placed bright accent colors and the result can give a very modern feel to the room.
You can also use grey as a stepping stone between white and black in the kitchen. In general, too much dramatic contrast in the form of white and black in the kitchen doesn't work. However, you can use well-placed grey features to temper the contrast between them.
Dark Colors (Black, Espresso, Dark Grey)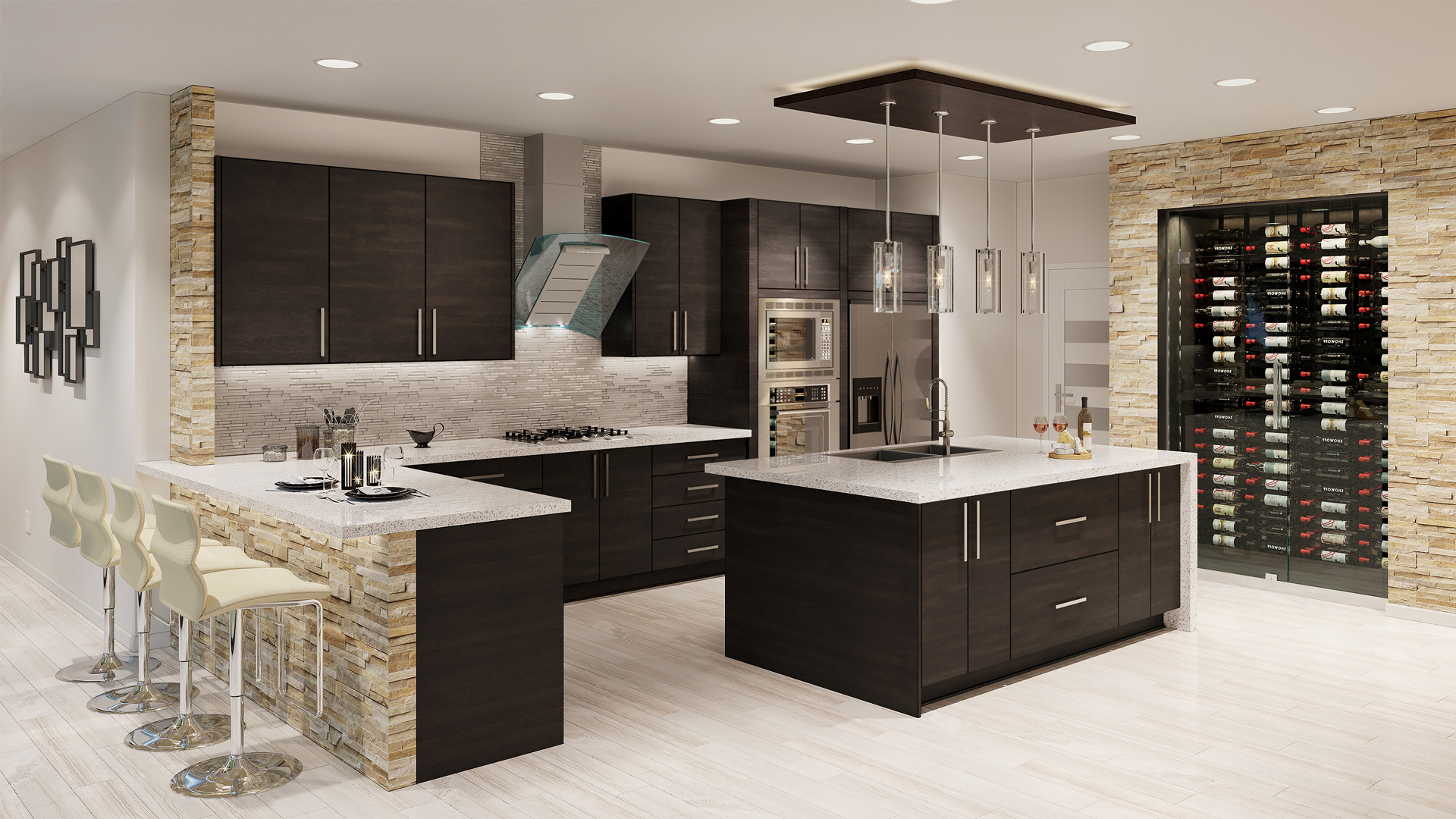 Dark goes with everything and works great in the kitchen. Especially, if you are itching to do something bright and bold. Some carefully placed black elements with bright highlights or accent walls can create a kitchen with a big wow effect. But, take care not to go overboard with dark. The color needs other colors to contrast with or to temper it down.
Pushing Boundaries
Most kitchen designers will avoid partnering black appliances with white cabinets. This is because the design world deemed the high contrast between black and white to work better in different circumstances. The idea of having such a strong contrast, in the close proximity of appliance/ cabinet hasn't been a preferred choice so far.
However, a new trend is emerging as designers push past accepted boundaries. This means many of them have started using white cabinets with black appliances and found some great success. So, it's a good idea to keep an eye on this trend and see what they come up with next!