With so many color and style options available within the RTA market, choosing suitable cabinetry for your clients can be an incredibly involved process. However, there is a way for the decision-making process to be less complicated for you and your client.
One way to determine the best door profile and finish choice for your client's kitchen and bathroom cabinets is by matching your client's preferred kitchen style to their lifestyle. This will help reveal which door style and color speak to your client's personality.
For example, try asking your client some personal questions that help to identify their lifestyle, such as do they entertain guests, are they busy professionals, do they have small children or what is their favorite piece of clothing. Knowing these things may help you get a sense of what design style would suit them, if they tend to be more eclectic or reserved with their daily personal style decisions there is a good chance that they may want their home to reflect that too. Also, asking your client to pick a color palette and what features they want most in their kitchen will give you good insight into their design preferences.
When considering the colors and styles of your client's kitchen or bathroom cabinets, taking your client's personality into account will significantly help with the overall design scope of the project which will ensure that they receive stunning and lasting results for the dream kitchen they have always wanted
Look at some kitchen cabinet offerings that match people's lifestyles today.
Framed Kitchen Cabinets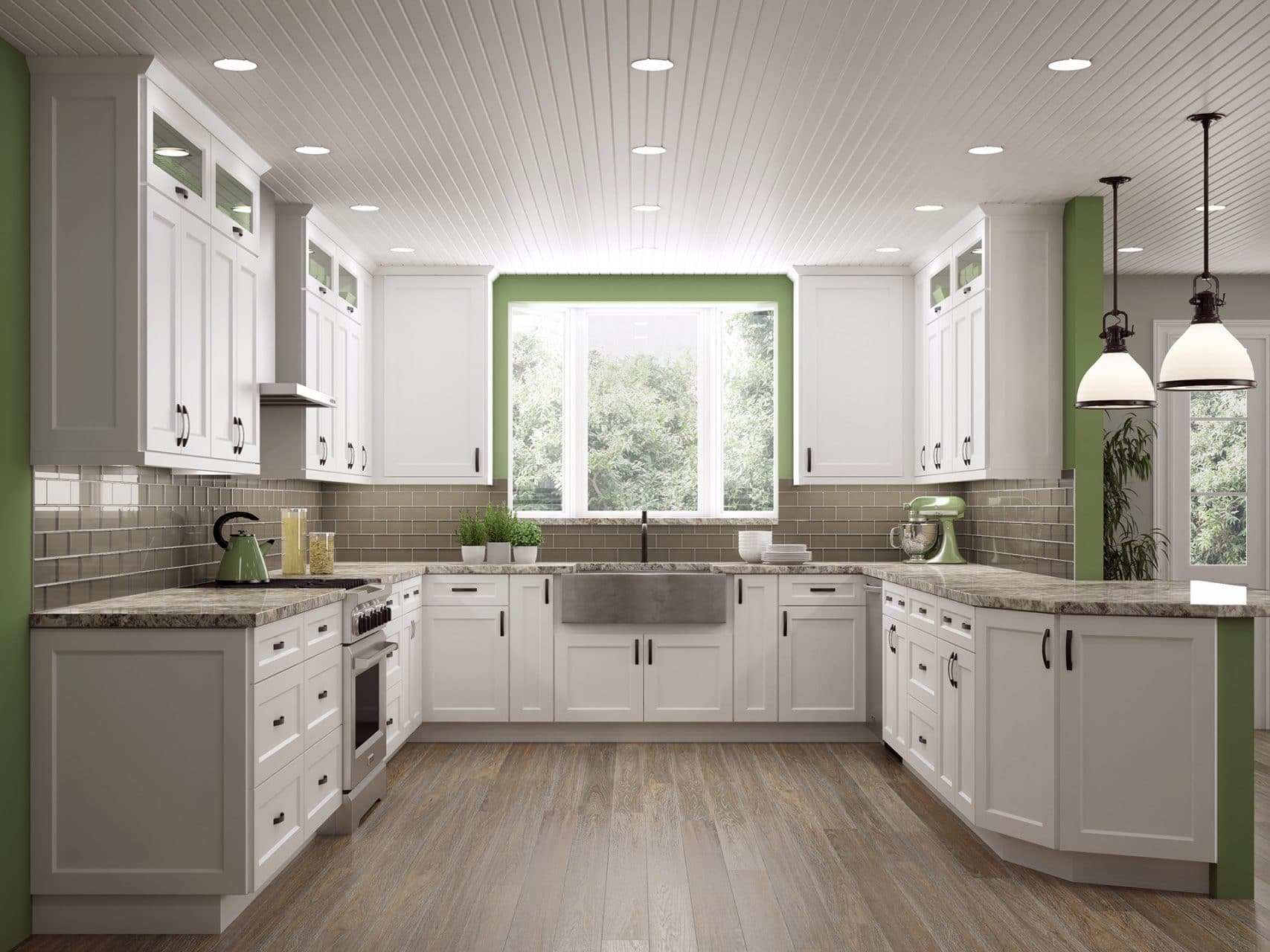 Framed cabinets are the preferred cabinet amongst most homeowners because their durability and detailing display the quality craftsmanship that has been around for ages. This cabinet style is classic and timeless which is sure to make your client's personality shine. Framed cabinets are typically full overlay, made from solid wood or plywood.  The door profiles will usually be recessed panel or raised panel doors available in a variety of painted colors or stains. Add options such as corbels, decorative moldings, or glass doors to give the kitchen a more customized look.
For clients who want their kitchen to feel bright and cozy while also having a modern feel, Framed Shaker White Cabinet is an excellent choice. This will bring a classic airy feel to space but if your client's lifestyle does not completely mesh with an all-white kitchen pair it with an extremely popular Shaker Grey Island to provide variation and depth because its neutral tone tends to create warmth and soften the space. If your client has more traditional energy, lean towards a raised panel stained cabinet to give them a lasting dream kitchen.
Frameless Kitchen Cabinets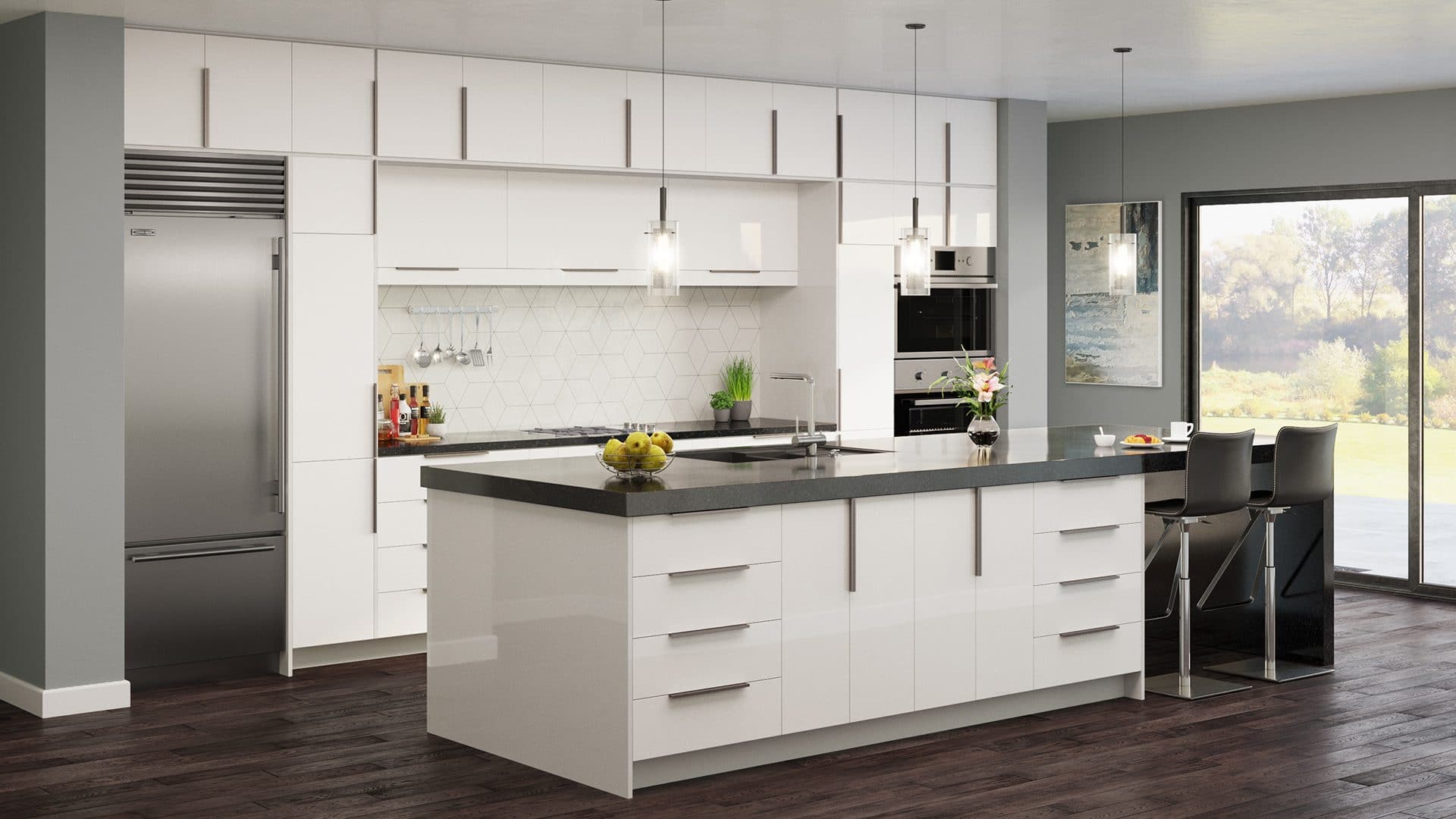 European style Frameless cabinets are space-saving due to them not having a face frame and they have exceptionally clean lines that deliver a contemporary style and minimalistic feel. These cabinets are typically made from wood and various laminates and come available as slab door fronts in many finishes such as gloss, textured woodgrain, and matte. No door and drawer hardware are required but simple hardware can be added for a glorious finishing touch.
If your client has a lifestyle of entertaining guests, lives in a high-end condo, or just likes easy-clean this may be the cabinetry for them. Use a Frameless High-Gloss White Laminate to create a fresh high-end look or purchase in a flat panel textured laminate for a contemporary feel. You can always mix up the look by adding wood floating shelves to soften the monochromatic tone.
Your client's choice of cabinet styles and colors truly show off their personality so be sure to provide them with the best cabinet options to really add flair to their kitchen, bathroom, or closet project. Through small details, hardware accents, and installed accessories you can offer affordable customization to your client's kitchen based on what is suitable to them and their lifestyle.
Related Article –2021 Kitchen Cabinet Color Trends Are Here
Look no further to choose the best cabinet style for your client.
CabinetCorp is here to support industry professionals in making your ideas a reality, whatever your project needs are. Sign up for our Exclusive Dealer Program so that you can start utilizing our free design services, receive your complimentary Dealer Kit, and gain nationwide access to quality cabinetry at exclusive dealer-only pricing!