If you're a kitchen contractor or homeowner who has tried to order cabinets for a remodeling project, it's no surprise these days to see lead times of 6-8 weeks instead of what used to be 7-10 days. Why this big change? Over the past 18 months, the pandemic wreaked havoc up and down the supply chain for raw materials. Lockdowns led things off, leading to labor shortages and shipping problems that are still causing problems today.
The cabinet industry and other manufacturers have worked with government officials to address these supply chain issues. Still, the web of interdependency across all industries means that any solution will require slow and steady collaboration. There's no quick fix even as demand for wholesale kitchen cabinets rises. Understanding the supply chain and how it affects your business is the best way to stay ahead of any issues and continue to grow while others lag. 
How a raw materials supply chain works
Whether we're contractors or homeowners, most of us have had little reason to pay attention to how the finished products we purchase off the retail shelf or from a warehouse get there in the first place. The supply chain for raw materials has to connect four links before the final product is available for purchase and installation.
Steps in the supply chain of a kitchen cabinet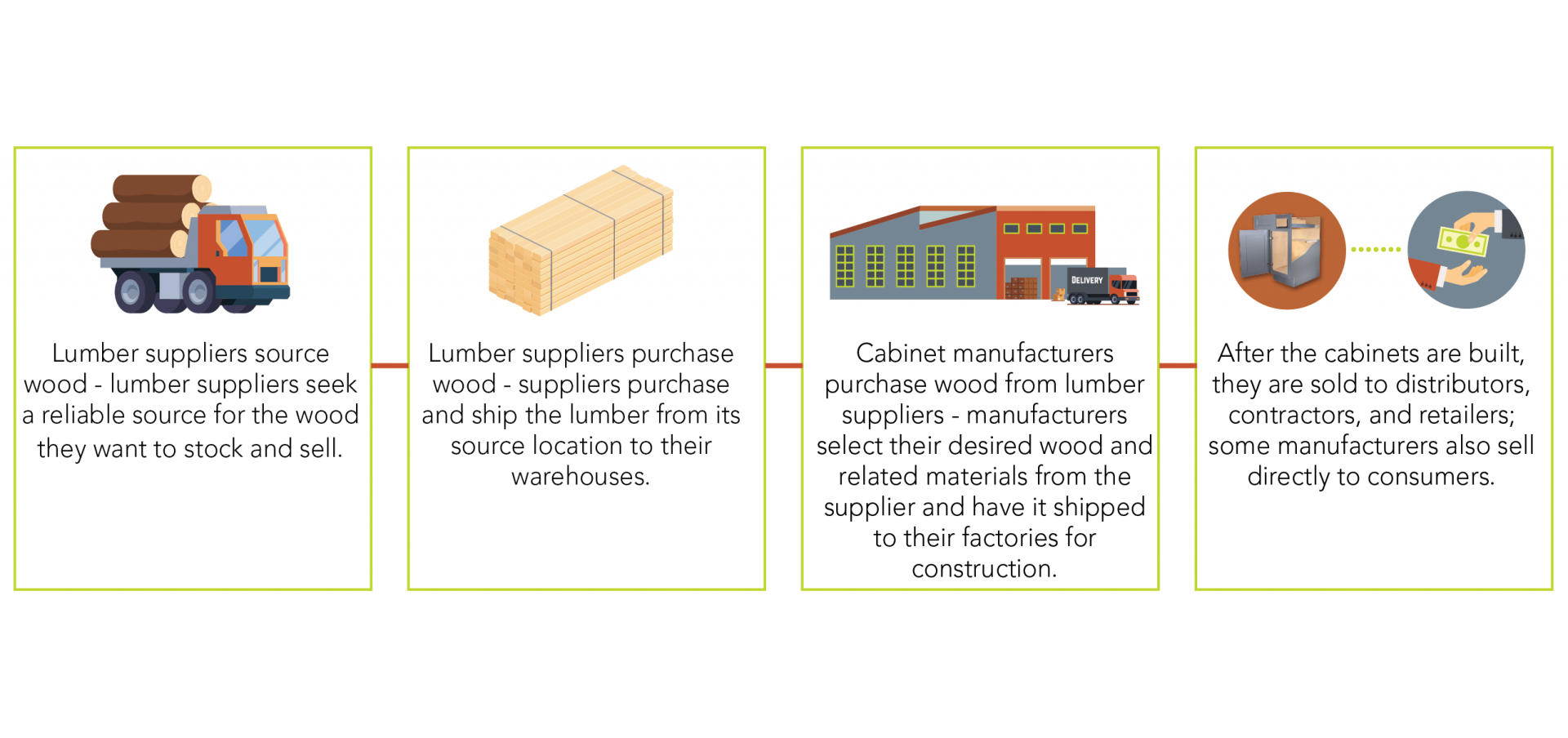 Lumber suppliers source wood – lumber suppliers seek a reliable source for the wood they want to stock and sell.
Lumber suppliers purchase wood – suppliers purchase and ship the lumber from its source location to their warehouses.
Cabinet manufacturers purchase wood from lumber suppliers – manufacturers select their desired wood and related materials from the supplier and have it shipped to their factories for construction.
After the cabinets are built, they are sold to distributors, contractors, and retailers; some manufacturers also sell directly to consumers.
At every point along the way, a shortage of some or all raw materials and/or a shortage of labor will cause a delay at the next point in the chain.
What's going on with the cabinet manufacturing supply chain today?
Economics 101 tells us that rising demand causes prices to go up too. A surge in demand has driven up the cost of raw materials for cabinets. With people at home during last year's lockdowns, many homeowners decided to make changes to their living spaces, and kitchen remodels are consistently high on the priority list. If you look around, it seems like everyone is building or remodeling!
Employee shortages are another significant piece of the puzzle. There are employee shortages at shipping ports, transportation hubs, trucking companies, and factories. Demand means there's plenty of work to do, but not enough of the right people – in the right places – to do the work.
Today, kitchen cabinet manufacturers must somehow solve the problem of more expensive materials and harder to procure, as well as a lack of workers. Some manufacturers have managed to mitigate shortages on the materials front by finding different suppliers, but high costs remain an issue.
Near the end of the chain, kitchen cabinet contractors experience a shortage of cabinet parts and longer lead times for delivery, making it challenging to complete a project on time. And homeowners are unhappy because their kitchen renovation, which would have taken approximately eight
weeks total in 2019, could now take 6-8 weeks just for the cabinets to arrive.
How cabinet manufacturers are navigating supply disruptions
Cabinet manufacturers faced drastic increases in the expense of importing materials. Swings in the supply and demand for shipping containers have caused shipping prices to rise. Most manufacturers have had to increase product costs or shipping fees as high as 20% to continue supplying products, switch to lower quality lumber and parts to keep costs down, or some have completely been unable to keep up with providing cabinets to their contractors.
Only cabinet suppliers with extensive manufacturing and warehousing capabilities have maintained strong inventory levels despite all the current industry challenges. They have achieved this by focusing on contractors' and homeowners' most popular cabinet styles for their remodeling projects.
Cabinet manufacturers in Atlanta are doing it right
Industry-leading cabinet manufacturers like Atlanta's CabinetCorp have done exceptionally well in minimizing the effects of these industry challenges on their dealers, absorbing as much of the additional cost to stay competitive and having a dedicated inventory team focusing on nationwide warehousing of the most in-demand styles and SKUs. They can be a kitchen contractor's saving grace because they provide accurate inventory information, reliable shipping dates, and stock plans for customers' renovations and remodeling projects.
How CabinetCorp keeps track of inventory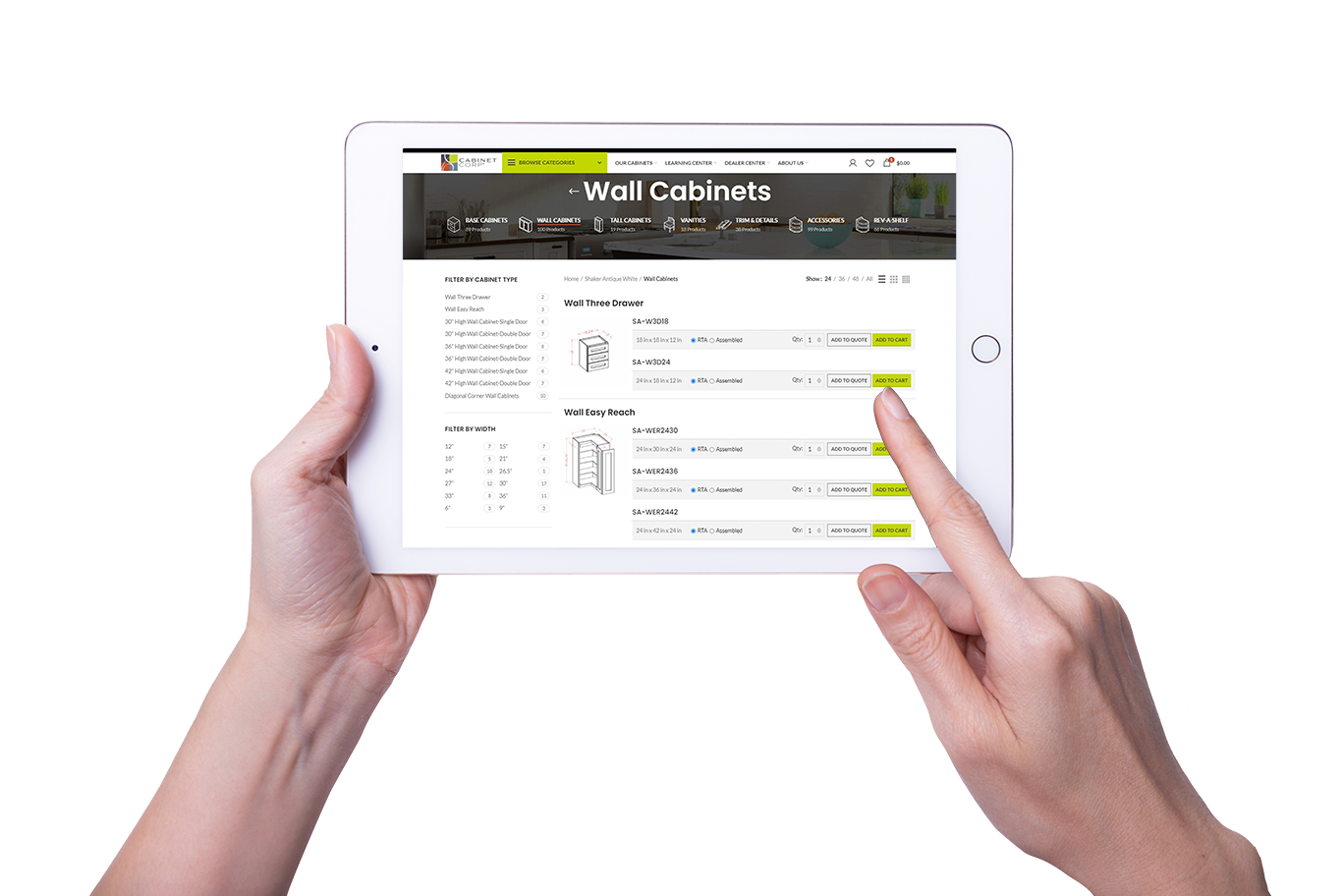 CabinetCorp's website operates a live inventory system with a tracker, so it updates in real-time as each order is placed to account for inventory sold and heading out the door.
The inventory team uses two database systems to ensure accuracy about available stock.
Complete inventory cycle counts occur at least twice a year at each warehouse location to keep inventory status accurate and up to date.
Each item has a barcode, and our warehousing team digitally scans each item when picking orders; the database systems update in real-time.
Related – Contractors: You Can Buy Wholesale Kitchen Cabinets Direct
Current shipping times for CabinetCorp cabinets
RTA cabinets: 2-7 business days
Pre-assembled cabinets with no modifications: 15 business days
Pre-assembled cabinets with modifications: 20 business days
How CabinetCorp is upgrading operations to improve inventory availability:
More container arrivals each week
Manufacturing priority for the most popular cabinets and door styles to ensure the availability of the products that our cabinet dealers want and need.
Implement new processes to overcome supply chain challenges by reaching out to more suppliers and ordering more at the time.
Become a cabinet dealer today to secure the best prices, access to inventory, and priority customer service.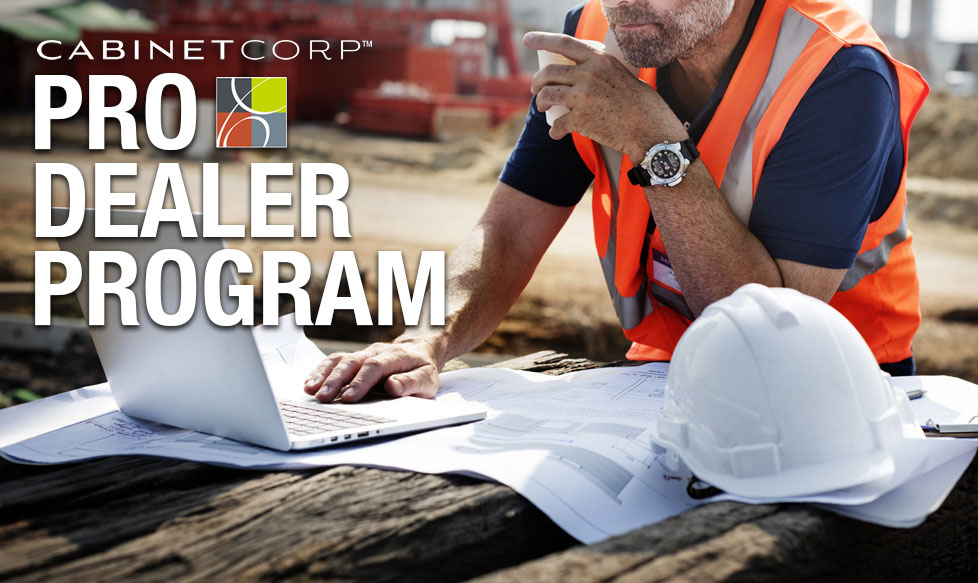 CabinetCorp offers a cabinet dealer program specifically for contractors who want to lock in the best prices, access to inventory, and priority customer service. As a dealer, you have access to an expert cabinet designer to assist you and your clients in developing an ideal solution for the look and layout of a new kitchen. Cabinet dealers can select stock from any of CabinetCorp's nationwide warehouses. When you become a dealer, we support you with priority customer service to stay on top of your orders and deliveries and ensure you deliver a quality kitchen remodel from start to finish.