As we move into the 4th quarter of 2021, it's worth a look back over the year to track renovation trends and anticipate homeowner priorities going forward. The 2021 Houzz and Home survey gathered input from 75,470 participants, including 36,569 U.S. homeowners, who shared insights about their 2020 home renovations and plans for 2021. Survey results reveal that homeowners have focused on cabinetry renovations in 2021 throughout the home – upgrading everything from the kitchen to bathrooms and closets. This is good news for cabinet contractors as they can help homeowners complete more than one remodeling project.
The time is right to make changes
As we all know, many homeowners spent more time at home than in previous years. According to the survey, 44% said now is the time to get renovations underway, up from 36% in 2019. Homeowners are finally getting down to business: 36% said the funds available to cover the kitchen renovation cost. Most projects have a goal to adapt the home to lifestyle changes and make it a better place to accommodate work and family activities.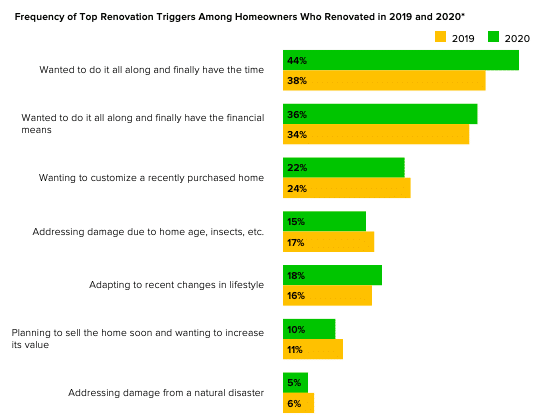 Source – Courtesy of Houzz 2021 Survey
Significant changes planned for kitchens, baths, and closets
Historically, many homeowners make plans to renovate their kitchen within months of buying their home. Sometimes that schedule pans out, and in other cases, homeowners end up waiting for the "right time" to take on more extensive renovations. In 2020-2021, the stars aligned to bring the perfect mix of time, funding, and urgent necessity into homeowner's lives. They are moving forward to remodel the kitchen and often include upgrading to matching cabinetry in the bathrooms and closets.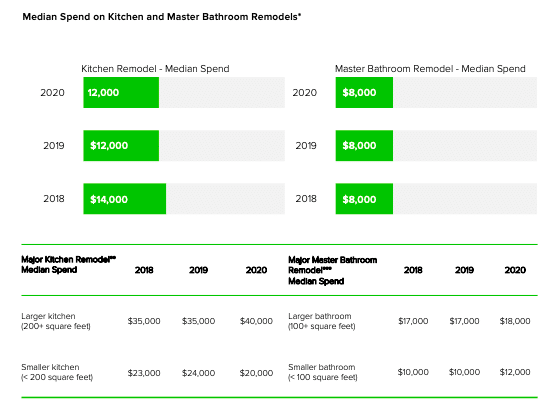 Source – Courtesy of Houzz 2021 Survey
According to the survey, kitchen remodels topped the list of upgrades at 27%; the average cost to renovate a kitchen remained stable at around $12,000 in 2020. For those with larger kitchens, 200 sq. ft. or more, remodels cost about 14% more, ranging up to $40,000. For smaller kitchens, the cost was 17% less than in 2019. It's no surprise that kitchens are a top priority, with families now using the kitchen for dining, school, and work – with so many demands on the kitchen, everyone wants a more efficient and useful space.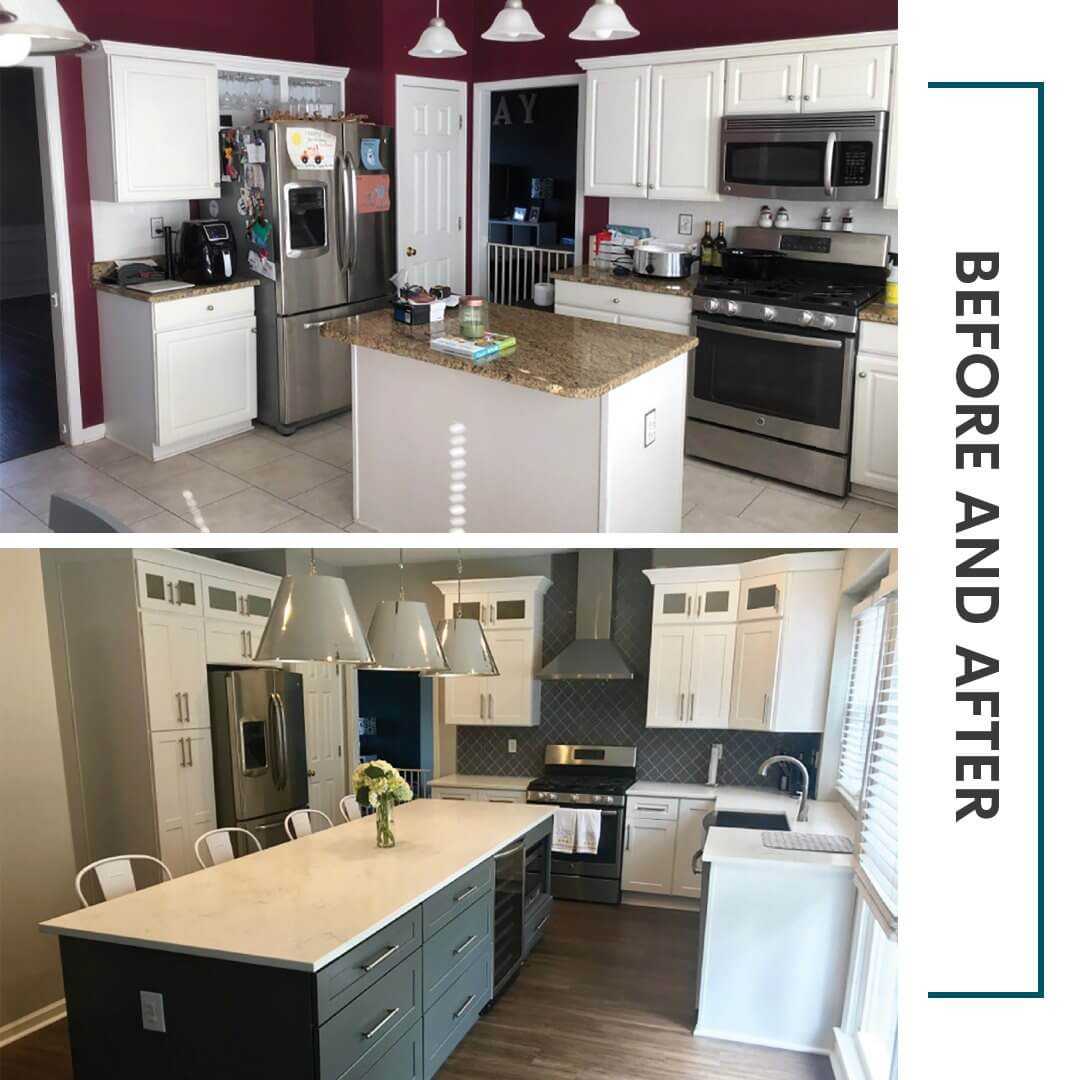 At least 1 in 5 homeowners renovated their master bathrooms in 2020. The amount spent on master bathroom renovation stayed stable at around $8.000. In contrast, homeowners on average spent 20% more on renovating the main bathrooms and small bathrooms than they spent in 2019.
Closets were also big business in 2020. The median spend on a closet upgrade was up 43%, to $1,000.
Why would this matter to a kitchen contractor? It could mean more work for you if you could also replace the cabinets in the bathroom and the closets while you are renovating the kitchen.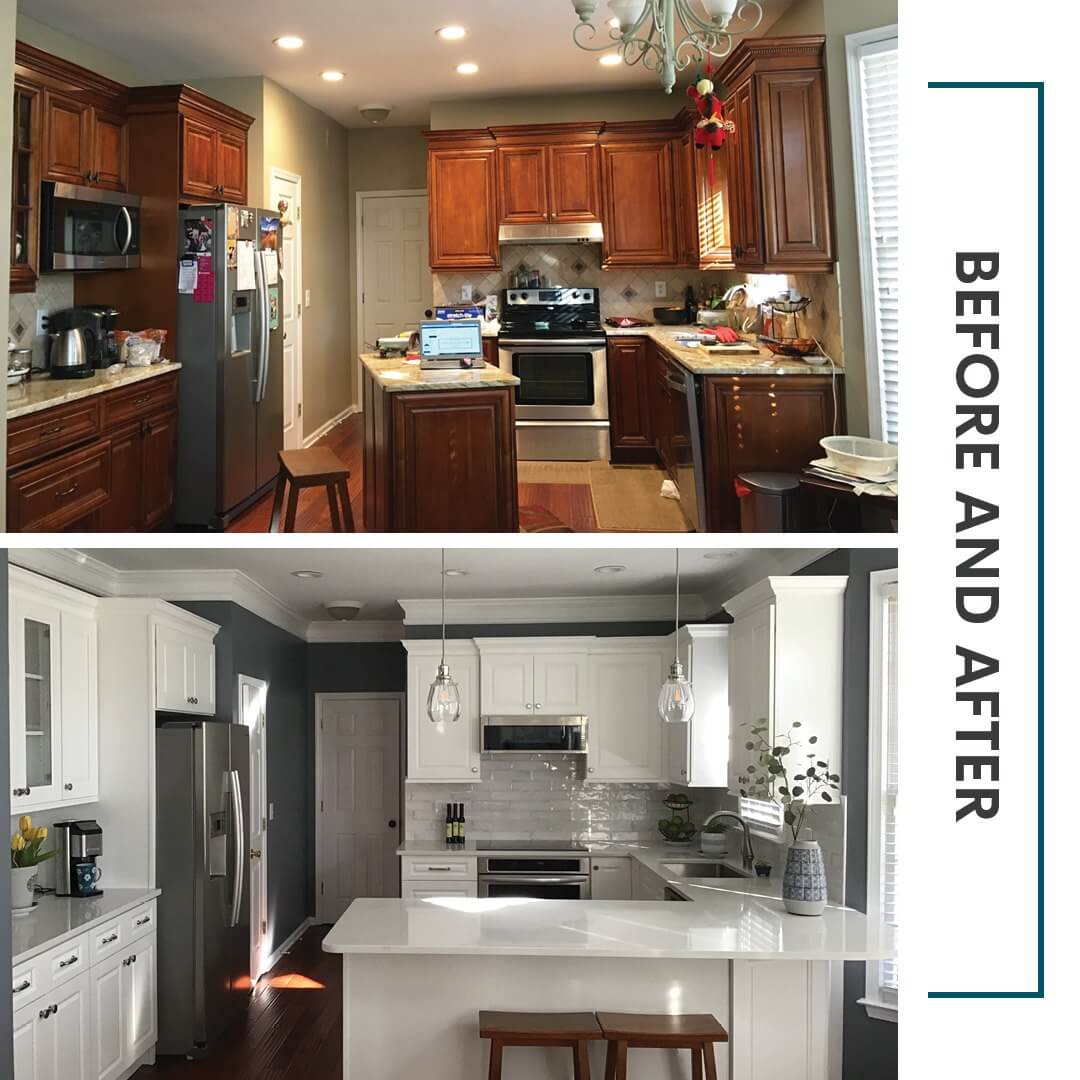 Homeowners have made significant changes this year and have more renovation projects planned for the rest of 2021. According to the survey, 56% of homeowners expect to complete a renovation in 2021.
It's not all DIY- Contractors play an integral role in renovation projects
While DIY home renovation is an ongoing trend amplified by constant media attention, DIY is for every homeowner. In 2020, 7 out of 8 homeowners hired professionals for their renovations and welcomed the contractors' expertise and project management. 49% hired specialty contractors, 36% hired construction professionals, and 18% hired professional designers to help with their projects.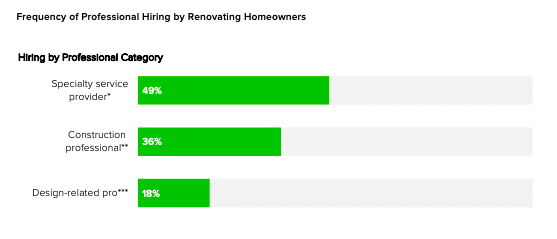 Source – Courtesy of Houzz 2021 Survey
26% hired general contractors, and 26% hired construction professionals instead of taking on their own DIY renovation. Another 6% hired specialized kitchen contractors and bath remodeling companies; 2% chose to work with design-build firms.
Homeowners across all generations hired professional contractors; 39% of seniors and 50% of baby boomers said they were likely to hire professionals. Millennials and Gen Xers are less likely to hire out their projects, but many still go the contractor route.
Contractors can improve their margins with the right cabinet wholesaler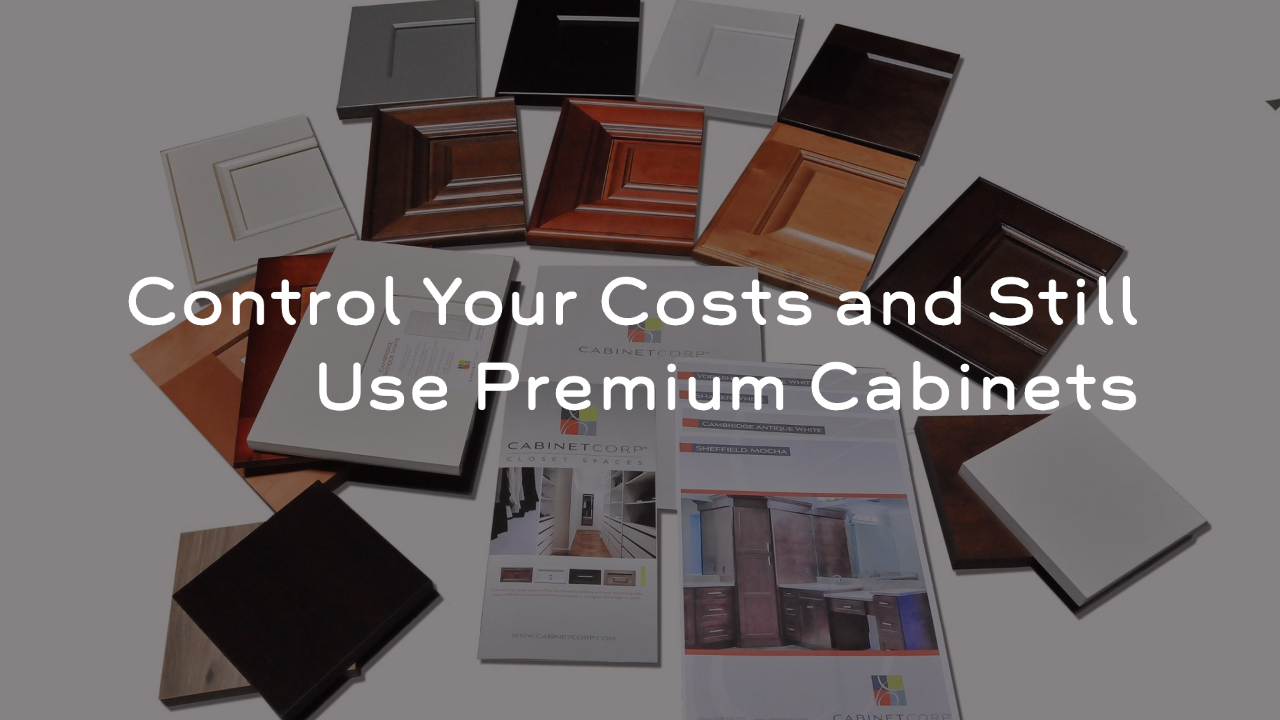 As a kitchen contractor, you're in a great position to profit from the kitchen remodeling project explosion. You have the experience and expertise to advise your clients on their cabinet selection and complete a successful installation. Your role becomes even more valuable when you provide design services and work with a cabinet manufacturer that has reliable stock availability so you can guarantee a timely remodel. Lock in your market leadership by choosing a relationship with the right cabinet wholesaler, like Cabinet Corp. Cabinet Corp has a Dealer Program to serve cabinet contractors directly and help them run a more profitable business.
Gain better margins on your kitchen remodeling projects when you join Cabinet Corporation's Dealer Program today.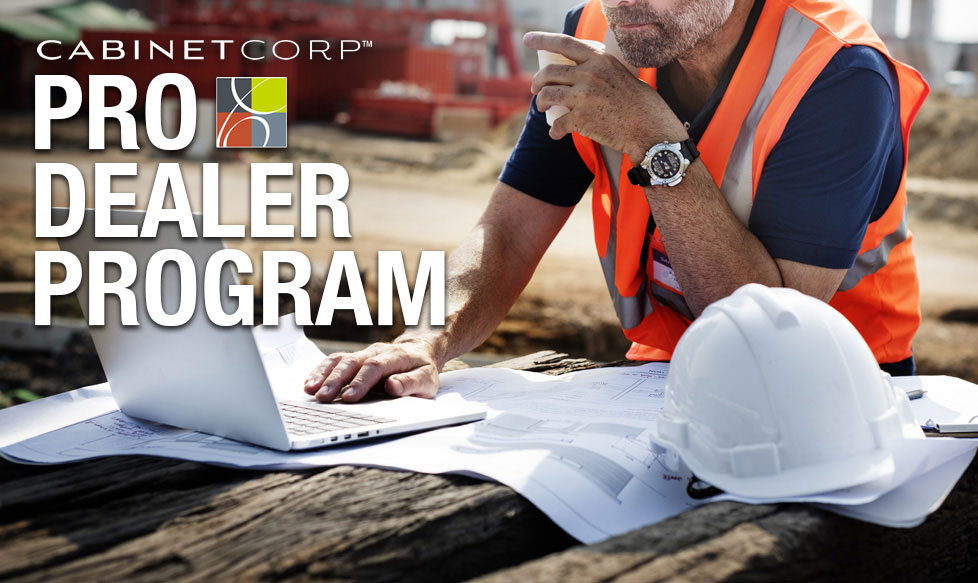 The Dealer Program provides access to live customer service, professional design assistance, and consistent inventory availability, plus a complete marketing kit that includes:
Samples of the full line of cabinet door styles and finishes.
Closet samples
Dealer welcome packet and brochure with detailed instructions on how to navigate the cabinetcorp.com website
Mini-base – optional, for an additional fee
Access to an excellent customer service team, design services, and consistent inventory of cabinets.
Click here to join the Dealer Program today, and start earning better margins on your next kitchen or bath remodel.